Martial Arts Puzzle Mat Flooring Material
By Paige Cerulli Created: February, 2018 - Modified: June, 2020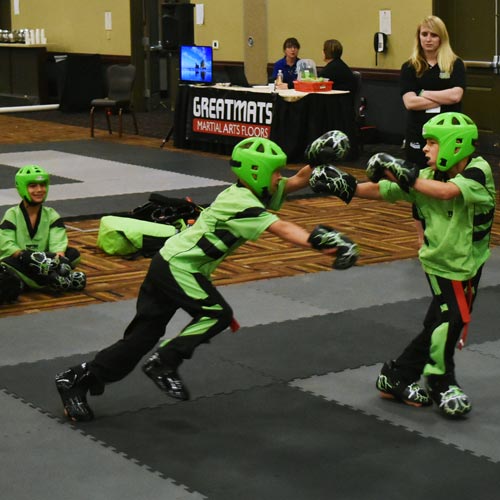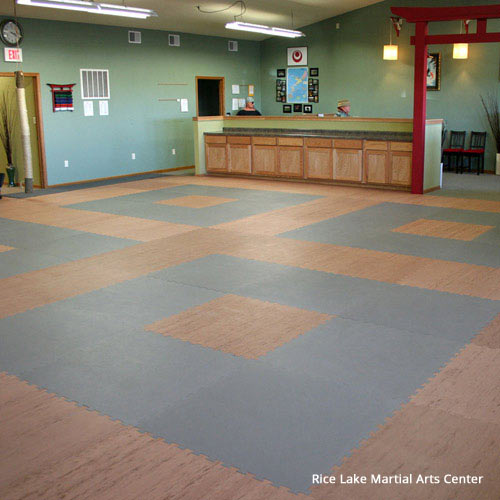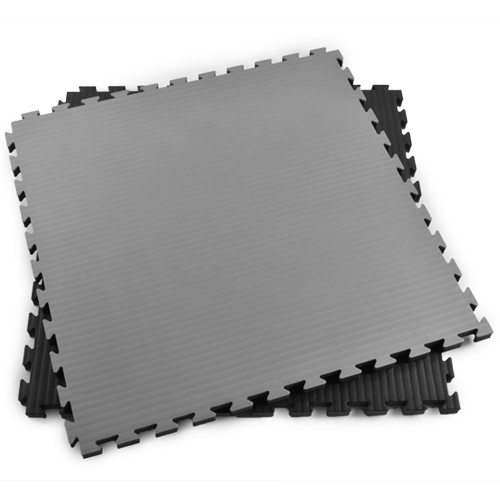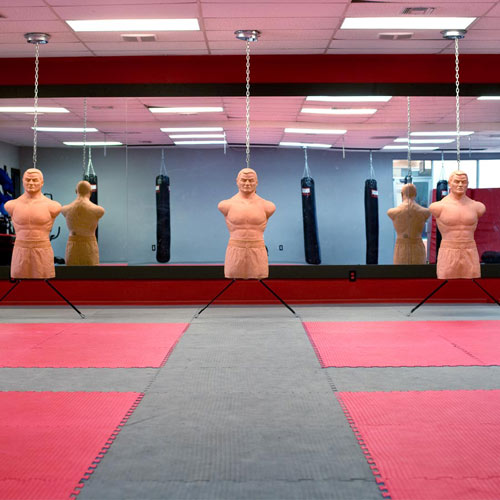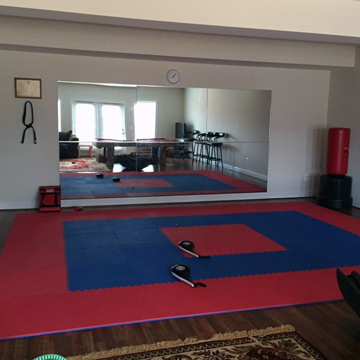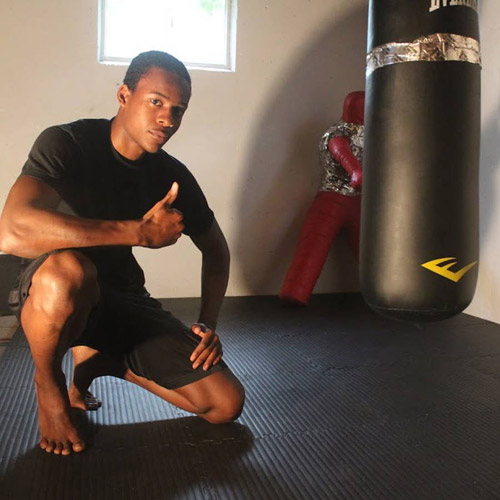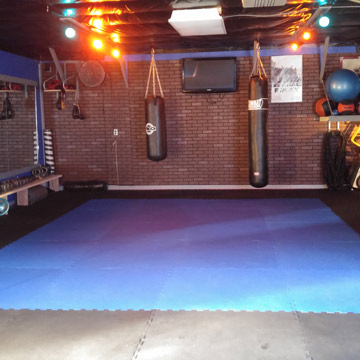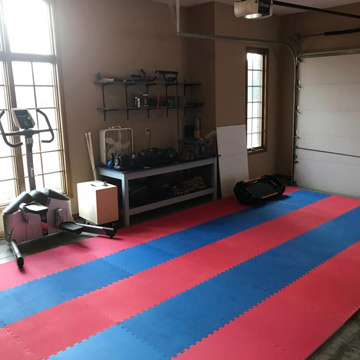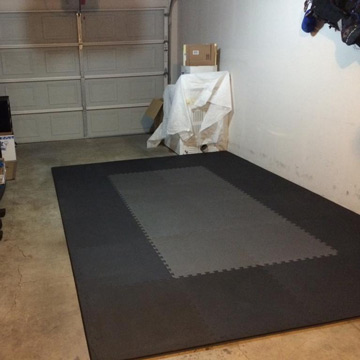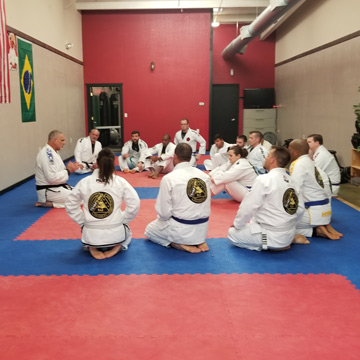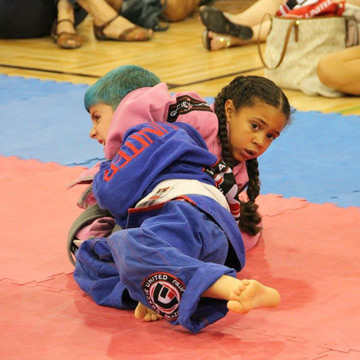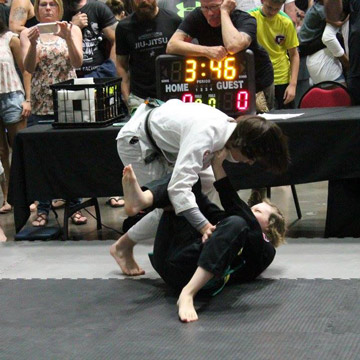 If you're creating a martial arts training space in your own home, tournament venue or in your professional studio, then investing in interlocking martial arts mats is a must. These mats are specifically designed to give athletes exactly what they need in terms of support, traction, and the ultra-important shock absorption. They're able to do this because they're made of a special foam with unique properties.
Here's a more detailed look at the composition of puzzle mats.
EVA Foam: The Puzzle Mat Foam
Interlocking martial arts mats and puzzle tournament mats are made of a material called ethylene-vinyl acetate, also known as EVA foam. EVA foam is a closed-cell foam with elastic properties that give it a rubber-like softness and flexibility. It doesn't actually contain any rubber, but it's often referred to as a ''foam rubber'' or ''expanded rubber'' foam. Because the puzzle mat material is so elastic, it offers excellent shock absorption.
EVA foam has a glossy finish, and it resists both UV radiation and cracking. The foam is waterproof, so it's easy to clean and disinfect.
Because EVA is a closed cell foam, it's firmer than open cell foams. EVA foam allows athletes to make subtle movements without having so much give or flexibility that they risk losing their balance, rolling an ankle or getting their foot stuck during a spin.
EVA foam, which serves as the puzzle mat foam, offers many benefits to martial artists. Martial arts puzzle mats create an ideal surface in terms of functionality, safety, and convenience.
Why EVA Foam Is the Right Choice for Martial Arts
Martial arts mats need to be able to support athletes properly, remain durable enough to withstand both practices and competitions, and yet stay flexible enough to absorb significant shock as athletes jump, are thrown or tumble down onto the mats. That's a lot to demand of any puzzle mat material.
EVA foam is up to the task. The composition of puzzle mats is essential in providing a safe area for athletes, and that's why EVA foam is so popular. One of the greatest benefits that EVA foam offers is its excellent shock absorption. This puzzle mat foam is firm enough to support athletes, giving them a surface to push off of and land on without throwing them off balance or being so soft that it impedes their movement. However, this foam offers such shock absorption that it can take the sting out of a throw or take-down. The shock absorption helps to minimize the chance of injury, whether during training or during an actual competition.
But that's not the only reason why EVA foam is such a great puzzle mat material. EVA foam is waterproof, so the mats are easy to clean. This is an essential quality that you'll want for health and hygienic purposes. You can vacuum and mop most mats with mild household floor cleaners (but please refer to the maintenance instructions for the specific product that you buy).
Lastly, EVA foam is durable, so martial arts puzzle mats last longer than other foam mats made up of softer foams. Martial arts mats can support significant weight and can withstand plenty of use. Many mats are reversible, so you can use both sides and maximize the use you get out of the mats.
Choosing The Right Martial Arts Puzzle Mats for Your Needs
Now that you're familiar with the composition of puzzle mats, how do you choose the mats that are right for your needs? You'll want to weigh a number of different factors when evaluating puzzle mats for martial arts studios and training spaces.
Composition of Puzzle Mats
Pay particular attention to how the mats are made, and the material used within them. As noted above, EVA foam is ideal for martial arts mats. At Greatmats, we stock a selection of quality puzzle mats all made of EVA foam. If you're shopping elsewhere, though, you might see mats advertised for martial arts use that have a different composition.
Make sure that any mat you consider is both firm enough and offers adequate shock absorption to help keep athletes safe. Buying a low-quality mat that isn't specifically made for martial arts may result in a surface that athletes find difficult to train on. It could also put their safety at risk.
Thickness
Even if a mat is made of EVA foam, it's still important to make sure that it's of an appropriate thickness for martial arts use. The thicker the mat, the more shock absorption it can offer. You may find thinner mats measuring 1 inch or less that are advertised for martial arts use. These mats are designed for striking arts, but are not generally recommended for throwing or grappling arts.
For grappling martial arts use, we recommend a thicker mat, which can help to optimize safety. Our thickest martial arts puzzle mats measure 1-5/8 inch and offer a 4-foot critical fall height rating, which creates a nice, thick surface to help keep athletes safe.
If you already have puzzle mats but they're too thin or don't offer enough shock absorption, using a foam underlayer can help. We offer a number of foam rolls in various thicknesses. Placing a foam underlayment beneath your puzzle tiles can lead to increased impact absorption, and may work as a temporary fix. Make sure that you don't just use the foam underlayments alone; they are designed to be covered by another surface and can be damaged if they're used as the only flooring layer.
Safety Surfaces
If you've ever been thrown onto a mat and made contact with your bare skin, then you probably know how painful a friction burn can be. That's why some puzzle mats are made specifically to help prevent this painful problem. Many of our martial arts mats, such as our Home MMA BJJ Mats, feature a no-burn tatami surface. This helps to prevent rug burns, allowing you to practice and compete in comfort.
Waterproof Qualities
Look for martial arts mats that are waterproof. A waterproof, non-absorbent mat is a healthier option for a practice or competition space. It also makes for a surface that is easy to clean up, since you can damp mop and easily disinfect the surface if needed. Plus, if someone spills a water bottle, it's no big deal and can be easily and quickly cleaned up.
Reversible Design
If possible, it's a good idea to purchase martial arts puzzle tiles that are reversible. This is beneficial for a number of reasons. If you're working with colored tiles, purchasing dual-sided tiles that have different colors on each side means you can easily create fun patterns or mark competition rings. Just flip the tiles over to reveal the different colors, and let your creativity run wild.
But there's another benefit to reversible tiles: If one side gets worn or damaged, you can flip the tile over and keep using it. This design allows you to get the maximum use possible out of the flooring, which is a real benefit if you use the flooring heavily.
Strong Interlock
Puzzle tiles are easy to work with because they fit together like puzzle pieces. You can remove, reinstall, and even expand the floor by adding on new tiles in the future. Do keep in mind, however, that if you've been using your mats for an extended period of time, some compression may have taken place and it my take a little time for the new tiles to match up uniformly in terms of thickness at the interlocks.
When choosing a flooring product, make sure that the tiles fit together securely, so that they won't separate during a training or competition. At Greatmats, all of our martial arts mats are made to be the highest quality possible. While it's easy to connect the tiles, the seams fit tightly, so they remain secure while the floor is in use.
You may also want to look for a product that comes with border strips. If you're performing an island installation in the middle of a room, you can add border strips on to the exterior edges, giving the floor a clean, finished appearance. This also helps protect your interlocking edges.
Buying the Right Martial Arts Mats
If you have questions about any of our martial arts mats available, then please contact our customer service team. We would be happy to send you product samples and provide you with a quote, and our flooring experts can even help you to decide which product is right for your needs.
Most of our puzzle mats ship in cartons right to your door for your convenience. Larger orders may ship via freight.
When your mats arrive, you can get right to work on installing them. The mats are conveniently sized and easy to carry, so a single person can handle the entire installation. There's no adhesive required, and the mats can be installed in just minutes.
Whether you're creating your own practice space at home or want to renovate your existing professional martial arts studio, puzzle mats may be the ideal solution. Just make sure that you purchase quality mats made of EVA foam in order to provide your athletes with the best protection possible.
Which Martial Arts Mats Are Right For You