Vic Teran - 2017 Martial Arts Instructor of the Year Nominee
By Created: October, 2017 - Modified: December, 2019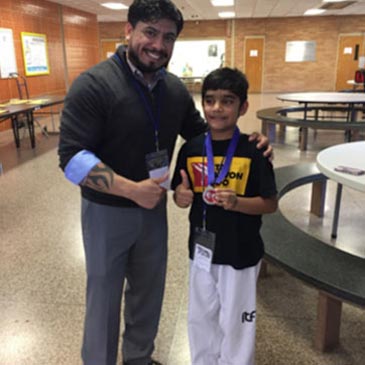 (If the ballot does not load, please visit https://www.facebook.com/Greatmats/ - Look for the voting photo album and like the photo of the person you'd like to vote for.)
It is with great pleasure to nominate Mr. Vic Teran from International Taekwondo Academy School for consideration Martial Arts Instructor of the Year in recognition of his outstanding leadership and tireless efforts in helping each student to train them in the way which is most effective for the kids by making them believe in their own confidence instead of just forcing them to do it.
Following his life experience in US Military and being the Grand Master of having 7th degree of Master Black Belt Mr. Vic Teran sir knows the best way to train his students, not only for learning Taekwondo from a fighting perspective, but also teaching how it is important in our lives, how to respect it and value it by providing valuable guidance to each student.
Also, I would like to highlight the key points about this teaching skills, where I can say he is truly dedicated towards his work which shows in terms of training, he is motivating person, where he helps his students not just to learn Taekwondo but helps them to grow in other perspective also by taking them to competition and importantly making each student that they can do it.
So overall after having just a 6 months of experience with this school and especially Vic Taren sir, I can say he is skilled, trained, dedicated, motivating and most importantly a down to earth person who always like to boost enthusiasm in his students.
Learn more about the
Greatmats National Martial Arts Instructor of the Year Award
or the
3rd Annual Greatmats National Award Series
.
Vic Teran
International TKD Academy
Jersey City New Jersey 07307