Master Ron Poholik - 2017 Martial Arts Instructor of the Year Nominee
By Created: October, 2017 - Modified: January, 2018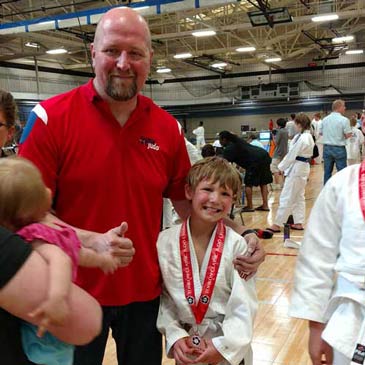 Master Ron Poholik named 2017 Greatmats National Martial Arts Instructor of the Year.
Read his story.
---------------------
''I studied the martial arts since I was 7. I am now 48 and have a 9 year old.
I spent 2 year's looking for a good school that not only taught good skills, but also the values I felt were important in life. Then I found Pride and Master Ron.
He runs an organization that is fun, professional, and teaches the core values to the students. He created a family environment as well!
I then started back in the martial arts after stepping away for 12 years. Now, my son and I spend most of our spare time with our martial arts family training and enjoying our time there with everyone!
I am a Scout leader, and I feel I have a high standard of criteria for what values are important. Being honest, stand for justice, being friendly and courteous, and helpful to others. These are traits Master Ron Poholik endorses! It's an honor to nominate Master Ron Poholik!''
Learn more about the
Greatmats National Martial Arts Instructor of the Year Award
or the
3rd Annual Greatmats National Award Series
.

Master Ron Poholik
Pride Martial Arts
New Lenox IL 60451