MMA Puzzle Mats Raw Egg Drop Test from 68 feet
By Paige Cerulli Created: June, 2017 - Modified: January, 2021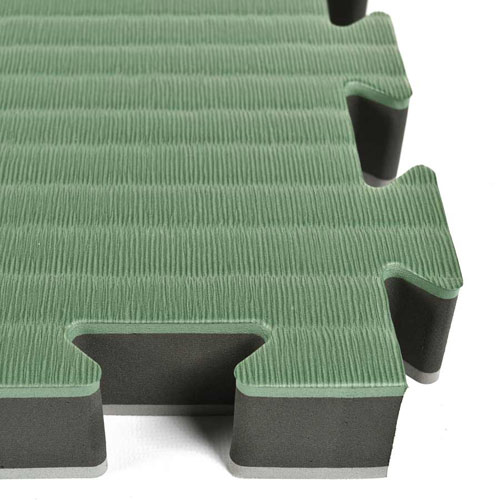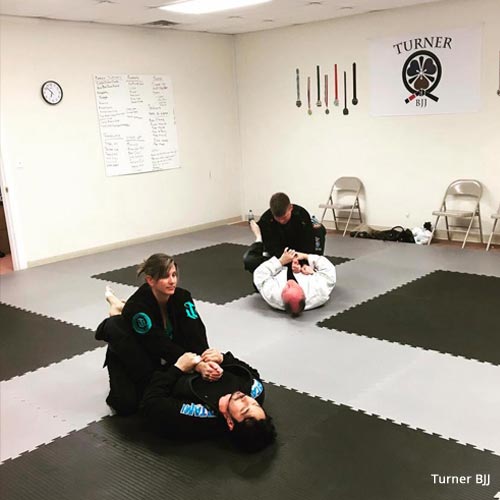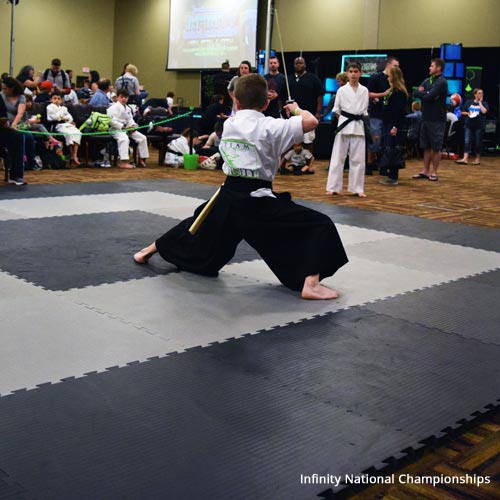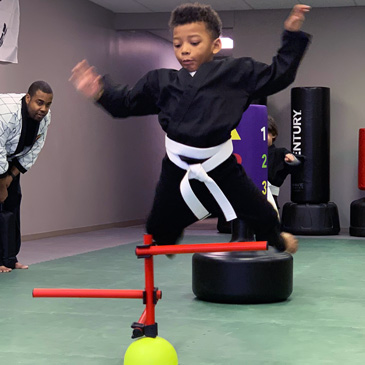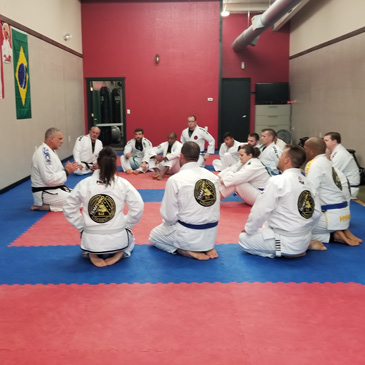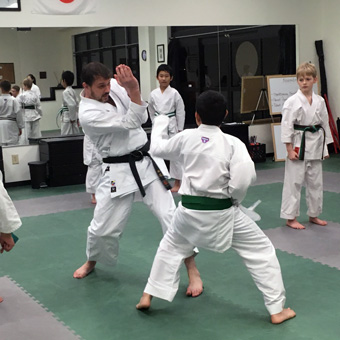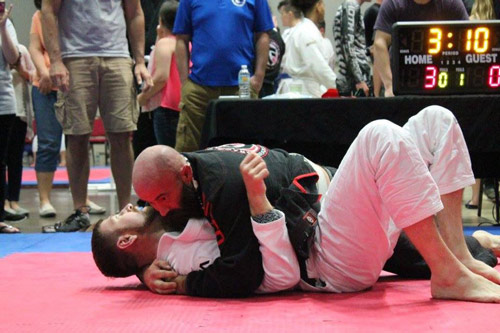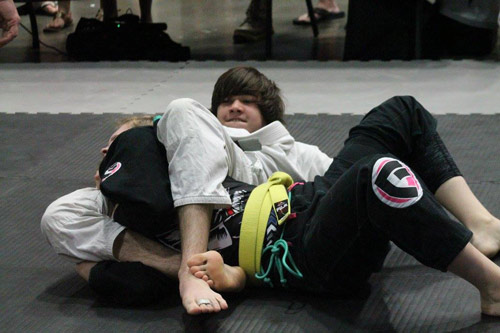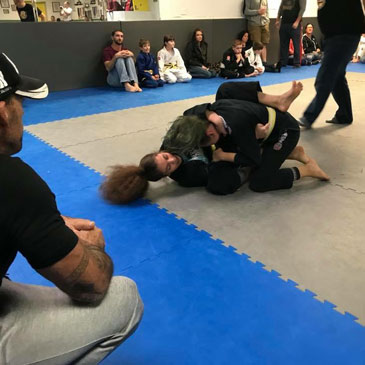 In MMA practices and competitions, athletes test their bodies with extreme moves and athleticism. Takedowns and falls are common elements of this sport, but they pose a high risk of injury. The flooring that athletes fall and tumble onto can help to minimize the chance of injuries occurring, and may reduce injuries' severity.
What better way to demonstrate a flooring's shock absorption and cushioning properties than with a raw egg test? Dropping an egg from height onto the flooring below can visually simulate the mat's protective properties. This human egg drop test can help you to identify the type of flooring that you'd like in your MMA facility or home – as well as products to avoid.
We put our Grappling MMA Mats 1.5 Inch to the test, but for our egg drop test, we went to extremes. Thanks to Reiten's Tree Service, we dropped a raw egg from 68 feet in the air. When the egg hit the mat, it didn't break. Instead, it bounced an estimated 16 feet into the air, landing in an assistant's palm uncracked and safe.
This egg drop puzzle doesn't directly represent the effects of a human falling onto the mats, but it does visually represent the mat's ability to absorb impact. These mats will protect against serious head injury for falls of up to four feet. If you anticipate falls or throws occurring from greater heights or extremely aggressive throws, we highly recommend you use a landing mat or crash mat on top of the MMA puzzle mats.
Why doesn't an egg break when dropped on EVA Foam?
The raw egg test was a huge success because of how these mats are constructed. They offer a 4-foot ASTM 1292 fall height rating, and they're made of a durable yet forgiving high quality EVA foam. An egg doesn't break when dropped on EVA foam because of the foam's excellent shock absorption properties. The material is soft enough to distribute the impact, yet resilient enough allow the egg to bounce as it returned to its original shape.
The EVA foam used in Grappling MMA Mats 1.5 Inch can help to prevent serious head injuries when an athlete falls onto the mat from a height of four feet or less. While the foam easily absorbs shock to create a safer, more comfortable landing, it's also firm enough for athletes to stand and spar on. Just keep in mind, while this flooring does increase safety against falls, it is not a replacement for a
crash pad
.
How thick should MMA Mats be?
MMA mats need to be thick enough to deliver optimal shock absorption to help keep athletes as safe as possible. These grappling mats are 1.5 inches thick, which allows the mats to deliver plenty of shock absorption to help keep athletes safe when they fall onto the mat from a height of four feet or less.
You will still want to invest in a landing pad or crash pad to provide the extra cushion and shock absorption necessary for continual throwing. Layering a crash mat on top of the flooring will give you the extra protection you need in those situations. With the protection these puzzle mats already provide, a
2 inch thick folding gym mat
will often do the trick.
Do Puzzle Mats work for MMA?
Puzzle mats can be a great option for MMA training, as long as those mats are built with quality materials and feature tight seams. Greatmats' Grappling MMA Mats 1.5 Inch feature tightly interlocking seams to create a secure fit that won't pull apart as athletes spar on the surface. Because these tiles are easy to install, a gym can save money over the cost of a professional installation. If a single tile is damaged or worn, it's possible to replace just that tile, ensuring the floor continues to look great.
Designed to be used with bare feet, these mats help to reduce the impact of throws and tumbles. The no skin burn tatami texture is gentle against bare feet and elbows. These features allow the mats to work for both ground work and takedowns.
There are other reasons to choose these mats for MMA gyms, though. The mats are waterproof and easy to clean and disinfect. Their waterproof properties means you can install them in areas that may be exposed to moisture, like basements and garages.
The tiles also offer an easy installation. They can be dry laid on hard, flat surfaces, allowing for a DIY installation and saving you the cost of hiring a professional. Once oriented in the same direction, the mats will lock together like puzzle pieces. Four edge pieces are included with each mat, allowing for both island and wall-to-wall installations. If needed, you can cut the mats with a sharp utility knife and a straight edge.
These tiles are double-sided and feature a different color on each side. By reversing them, you can create fun patterns and designs that reflect your gym's branding or colors.
These mats deliver professional-quality flooring, but at an economical price. They're an ideal choice for outfitting your MMA gym, but they're also affordable enough to install in your home to create a practice or sparring space for your kids.
Reiten's Tree Service
Balsam Lake WI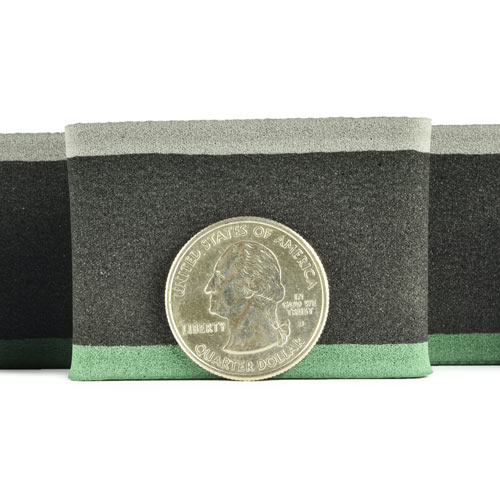 For more on this topic please review our
MMA Mats
product page.