Is Rubber Flooring Suitable For Leg Exercise Machines?
By Paige Cerulli Created: January, 2023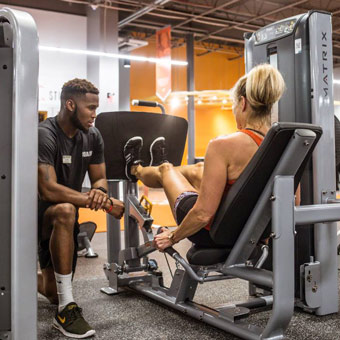 Leg exercise machines are a key element of any home or professional gym. If you're considering getting one of these machines, it's important to choose the right type of flooring to go beneath them. Rubber flooring is an ideal choice.
Why Rubber Flooring Is Ideal for Leg Exercise Machines
Leg exercise machines, like a squat machine, leg stretcher, deadlift machine, or power rack, can help you to put in a quality workout. Exercises like leg presses, extensions, curls, calf raises, hip thrusts, and glute bridges can help to sculpt your legs and lower body, developing key muscles and strength.
But before you install leg exercise machines, you'll need to choose an ideal flooring product to place beneath them. The flooring plays an important role in protecting your subfloor, and it can also affect the quality of your workout, too.
Rubber flooring is ideal for many reasons.
Strength
Rubber flooring has the strength needed to withstand rigorous use, whether in home or commercial gym environments. It also has the strength necessary to support heavy exercise equipment, including plate load and weightlifting equipment.
Since rubber is so strong, it also offers excellent protection to your subfloor. It's an excellent choice for the areas of your gym that see heavy use and repetitious exercise.
Durability
With that strength comes durability. Rubber is a long-lasting investment in your gym floor, and you'll find many products backed by multi-year warranties.
Rubber can withstand regular cleaning and disinfecting, and you can expose it to moisture and temperature extremes, too.
Traction
Many rubber gym flooring products are designed to maximize traction, contributing to a safer environment. Rubber can offer the traction needed for squats, lunges, and more, while also being smooth enough to allow for sprints.
Shock Absorption
If a slip or fall does occur, rubber's shock absorption makes it a more forgiving surface than hard concrete or wood floors. That shock absorption can also help to minimize the impact to athletes' joints during repetitive exercises, keeping athletes more comfortable and helping them to enjoy longer workouts.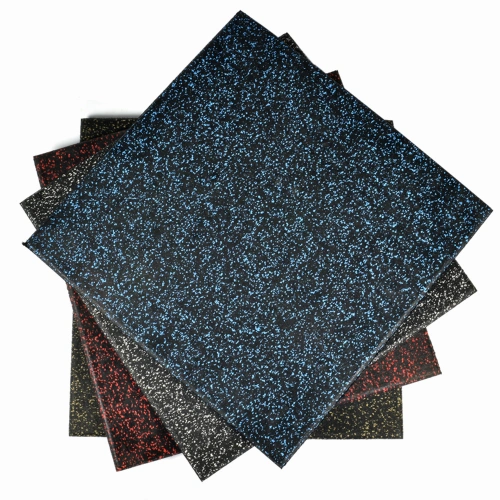 Rubber's shock absorption capabilities are also ideal for areas where you need to protect your subfloor against dropped weights. That shock absorption is also valuable for reducing the impacts generated by leg machines, preventing those impacts from traveling through the floor and affecting other athletes.
As you shop for rubber flooring, you'll find products are available in multiple thicknesses. The thicker products are heavier, but offer maximum shock absorption.
Thinner products are lighter and easier to move. They're still well-suited to use with leg exercise machines, especially in areas where weights won't be dropped.
Sound Absorption
Choosing rubber flooring can make your workout environment more enjoyable to everyone, since it effectively absorbs sound. Gyms are naturally noisy places, thanks to their high ceilings and the heavy equipment in use.
A rubber floor can absorb and soften those sounds, so athletes can stay focused on their workouts.
Maintenance
Rubber flooring is low-maintenance, too. Most gym rubber floors are waterproof, so cleaning is as simple as mopping, vacuuming, or sweeping the rubber clean.
You can also thoroughly and regularly disinfect rubber floors as needed, keeping your gym hygienic.
Eco-Friendly
If you're looking for an environmentally friendly flooring choice, you'll find it in rubber products. Many rubber products are made of recycled tires, helping to keep them out of landfills.
Choosing a recycled rubber floor can be excellent for your gym's reputation, and it can become a marketing point that can help you to connect with your audience, potentially driving gym memberships. And if you're shopping for flooring for your home gym, you'll have the satisfaction of knowing that your flooring purchase is supporting the environment.
Appearance
You'll enjoy a clean, professional looking gym or workout space when you choose rubber flooring. A black floor offers countless decorating opportunities and works with nearly any decor scheme.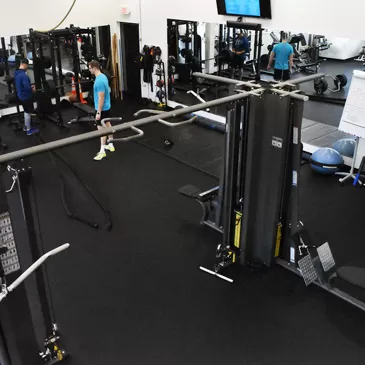 While many rubber products are available in black, you can add some variety by choosing rubber flooring with color flecks. These products add a pop of color and a bit of detail into your gym.
Ease of Installation
Rubber flooring products are also often easy to install. You'll have the option of choosing from rubber rolls, mats, and tiles, and "easy" offers a benefit when it comes to installation.
Rubber rolls can quickly cover large areas, and depending on the space in which you're working, you may be able to dry lay rubber rolls. Many rolls are available in custom-cut lengths, minimizing waste and potentially meaning you don't have to worry about cutting the product yourself during the installation process.
Rubber mats are also incredibly easy to install, while maximizing the protection you offer to your subfloor. You can dry lay these mats in many areas, including over existing flooring where you need a little extra protection.
You'll even enjoy a DIY-friendly installation with some rubber tiles. Rubber tiles interlock together, creating a cohesive surface.
If you're looking for a permanent installation, then installing the tiles with adhesive will give you that long-lasting durability.