Are Interlocking Foam Play Mats Available In Pink?
By Paige Cerulli Created: April, 2022 - Modified: April, 2022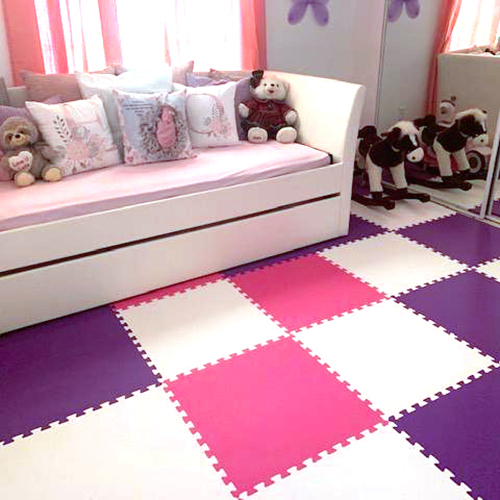 Interlocking foam mats are a convenient and versatile flooring choice, and they're also available in a wide range of colors, including pink. Whether you're shopping for flooring for a kid's room, a playroom, a school, or a home gym, pink interlocking foam mats can help you to customize the space.
The Benefits of Pink Interlocking Foam Mats
Pink mats are eye-catching and can add a unique touch to nearly any space. They're a great choice if you're remodeling a home or commercial space, and they'll brighten up a room.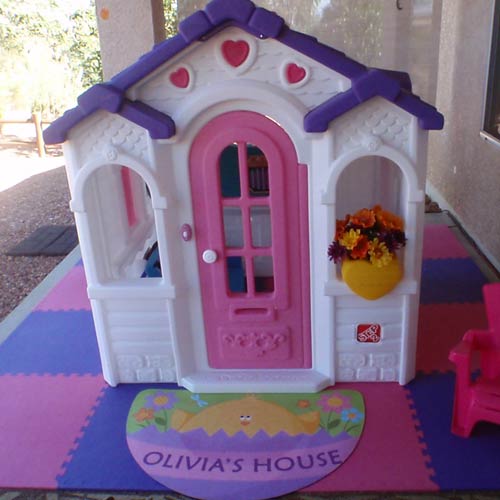 Pink mats are particularly popular for kids' rooms, play spaces, schools, and home gyms and exercise rooms. While their color makes them desirable, interlocking foam mats offer other important benefits, too.
Comfort and Cushion
Foam puzzle mats transform a hard floor into a soft surface. They provide cushion and are forgiving underfoot, and they're also suitable for kneeling and crawling, too.
Since these mats have some give to them, they can help to relieve fatigue and keep you more comfortable when you're spending long periods of time on your feet. They're also a great choice for absorbing impact during exercise and training.
Ease of Installation
Interlocking foam play mats are incredibly easy to install. The mats are light, so a single person can carry them and perform the entire installation.
You can dry lay these mats on a hard, flat surface like concrete or wood. Connecting them is as easy as aligning the edges and pressing them together; they fit together like jigsaw puzzle pieces.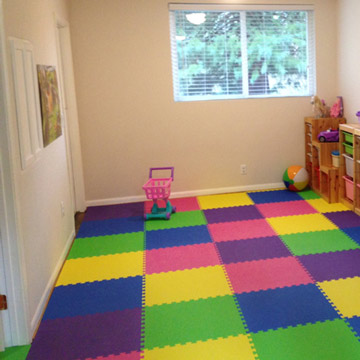 The mats are also easy to cut with a sharp utility knife and a straight edge, meaning you can cut them to fit spaces, to fit around poles or support posts, and more.
If the mats get wet or you need to remove them, you can uninstall them, put them into storage, and then reinstall them again in the future. The mats are also reversible, so you can maximize the use you get out of each side.
If a mat is ever worn or damaged, you can replace that single mat. You'll save the time and expense of replacing a larger section of flooring, and you'll be able to keep your flooring looking its best.
Affordability
Foam mats are an inexpensive flooring option suitable for many applications. From creating a home gym to making a playroom or classroom floor more forgiving and welcoming, you can use these mats in multiple ways.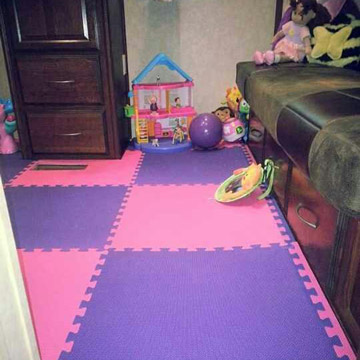 Because the mats don't require any professional installation or underlayment, you can save money when you use them for flooring. When you care for the mats well, they can last for years, so you'll get plenty of value out of your investment.
Pink Interlocking Foam Mats for Sale
At Greatmats, we offer several foam mats that are available in pink. These mats feature two different designs that allow you to connect them together.
Foam Kids and Gym Mats Premium ⅝ Inch
The Foam Kids and Gym Mats Premium ⅝ Inch are available in 15 different colors, including a brilliant pink. These mats measure 2x2 feet, allowing them to quickly cover larger areas while still being easy to transport.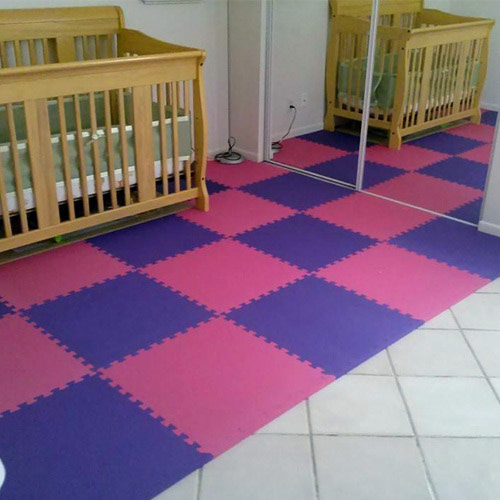 Made with a quality EVA foam, these mats offer excellent impact absorption. They're soft and feel great underfoot, and they're free of lead and latex, so they're safe for kids' areas.
These mats are both waterproof and stain resistant, so if spills occur, they're easy to clean up and won't affect your mats. The mats are backed by a one-year warranty.
Installing them is easy. Each mat weighs about one pound, so you can easily perform the entire installation on your own.
Each mat comes with two border strips, which allows you to create an installation with clean, finished edges. If needed, you can also trim the mats to fit your area.
While the mats are soft and forgiving, the material is tough enough to withstand many different applications, including use as playroom flooring, home gym flooring, and more.
Discount Gym Mats 1-⅜ Inch x 4x8 Feet
An alternative to interlocking foam mats, our Discount Gym Mats also connect together, but in a slightly different way. These mats feature hook and loop connectors on two ends, allowing you to create long lanes of mats perfect for tumbling, gymnastics, and home wrestling.
These mats feature a lead-free vinyl cover that's highly durable. While these mats are strong and tough, they're designed for home use, and they feature an affordable price that makes them a practical choice for your home.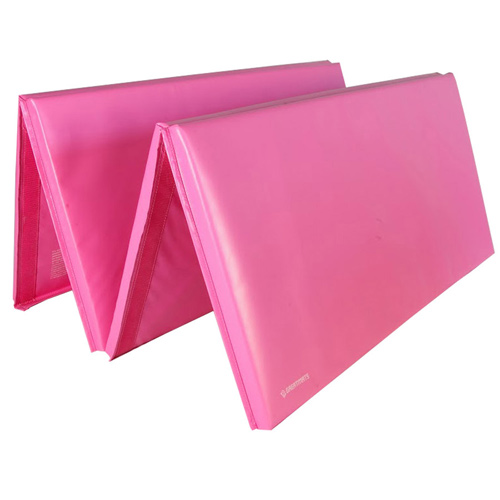 The mats are available in a brilliant pink, as well as in several other colors. They feature a PE foam core that offers plenty of cushion, so you can put these mats down when your kids feel like wrestling or practicing gymnastics moves at home.
Double stitched seams help to ensure that these mats last for years. When your kids are done with them, the mats fold up for easy transportation and convenient, space-saving storage.