How To Protect A Garage Floor From Salt
By Paige Cerulli Created: March, 2022 - Modified: October, 2023
Every year the roads are treated with millions of pounds of road salt. Unfortunately, you can easily bring that salt into your garage, causing damage to your floor. Carefully choosing your garage floor product can help to prevent this damage to your subfloor.
Why Road Salt Is a Problem for Garage Floors
Road salt can significantly damage concrete garage floors. The salt can cause the concrete floor to corrode, leading to potential structural damage.
But rock salt and road salt can also leave behind unsightly stains and residue. Even if you try to keep salt out, it will inevitably find a way in on your shoes or tires.
Cleaning up salt stains is more difficult than you'd think. You'll need to use a strong solution to clean the floors and evaluate the damage; using a power washer can push the salt further down into the garage floor, ultimately causing more damage.
A better option is to protect your concrete floor with garage floor tiles, so the salt never comes into contact with the floor. This preventative option can save you money and time that you would spend on cleaning products and making repairs to your floor.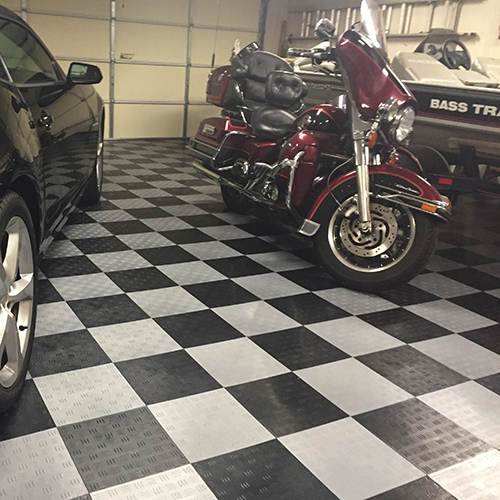 How to Protect a Garage Floor From Salt
If you know that your garage floor will be exposed to salt, then you'll need to carefully choose a garage floor tile that can withstand salt. We carry several here at Greatmats.
You might be tempted to choose a rubber flooring product because of rubber's strength and durability. Unfortunately, rubber can become discolored when exposed to salt, so a rubber product probably isn't the right choice if you want to preserve your garage floor's appearance.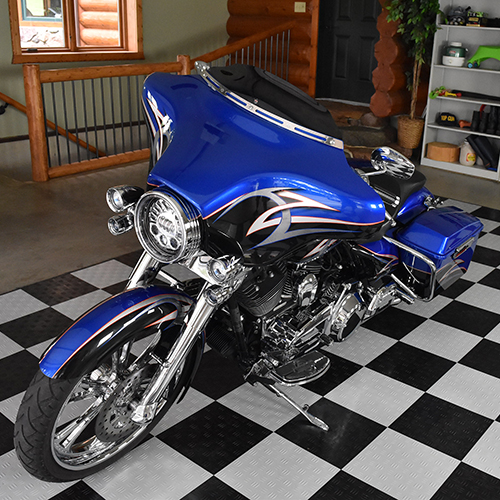 Instead, it's best to look for a tile that's made of PVC or polypropylene plastic, since these types of floor won't be affected by road salt or rock salt.
At Greatmats, we offer two garage tiles that are ideal for protecting your floor from salt. Both of these tile options connect tightly together to keep salt off of your floor, but you can also disconnect and remove the tiles when you want to do a thorough cleaning in the spring.
Garage Floor Tile Diamond ⅝ Inch x 1x1 Ft
The Garage Floor Tile Diamond is a top-quality garage tile that's made in the USA. It offers an eye-catching look and is incredibly durable, perfect for use in garages, automotive show rooms, and shops.
This tile is made of no sink virgin polypropylene material, giving it a 10,000-pound load rating. The tile is waterproof and won't absorb water, and it's raised up off of the subfloor, so water and air can circulate beneath.
This raised design offers the benefit of letting the area beneath the tile dry quickly. This can help to prevent mold and mildew in humid areas.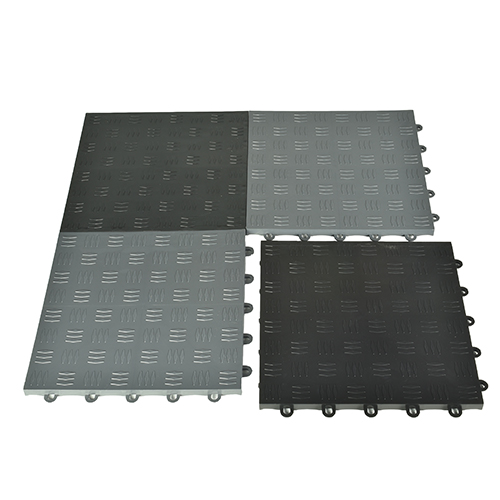 Since the tiles are available in two colors, you can choose the shade that's just right for the aesthetic you want. You can also alternate the tiles to create eye-catching patterns ideal for show rooms and trade shows.
Covering just over one square foot and weighing only 0.94 pounds each, these tiles are easy to transport and install. There's no need for a glue-down installation, allowing you to remove the tiles again if needed.
The tiles feature female loops on two sides and male pegs on the other sides, so all you need to do is line up the tiles and lightly tap or step on them to connect them together. The tiles connect together tightly and won't pull apart during use.
If needed, you can easily cut the tiles to fit, allowing for a wall-to-wall installation or letting you fit them around poles, beams, and cabinets. Border pieces are also available if you'd prefer to perform an island installation with clean, finished edges.
When using these tiles, keep in mind that they don't have a UV coating or treatment. Prolonged exposure to direct sunlight or extreme temperatures may cause the tiles to expand, so it's important to leave a bit of space between the tiles and the surrounding walls.
These tiles are backed by a five-year limited manufacturer's warranty.
Warehouse Floor Coin PVC Tile
The Warehouse Floor Coin PVC Tiles are highly durable tiles ideal for use in garages, warehouses, and more. These tiles are made entirely of recycled PVC content, so they're an eco-friendly choice for your garage.
The tiles are rugged, and heat, cold, and humidity won't affect their color or tensile strength. As a result, you can install them in a garage that doesn't have temperature regulation.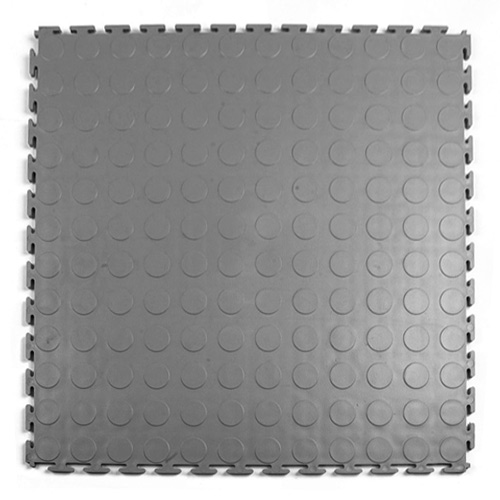 These tiles help to slow bacteria growth and are resistant to mold and mildew. They help to maintain your garage as a safe, healthy place to work.
Their texture also contributes to their safety. You can choose from a coin top or smooth surface, depending on the traction and slip reduction that you need.
With their slightly raised surface, the coin top tiles help to keep foot traffic and vehicles up and off of the tiles for reduced scuffing. The design helps to keep your floor looking its best, ideal for garages where you like to show off your vehicles or your clean workspace.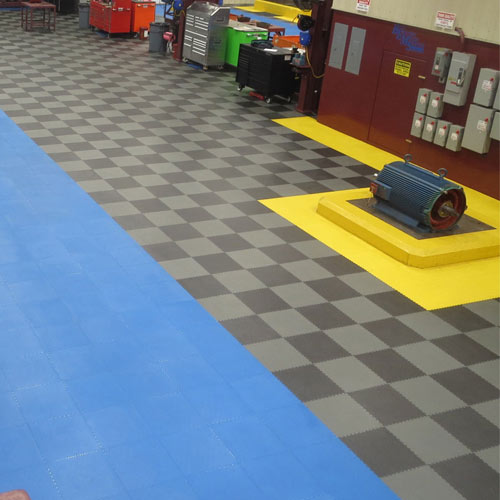 You can install the tiles without the need for any adhesive. They measure 19.7 x 19.7 inches, so they'll quickly cover larger areas.
The tiles are an economical industrial floor solution that's ideal for both new and worn-out concrete floors. You can install the tiles on a flat, level surface and can quickly transform your floor's appearance.
The tiles interlock tightly, making for an easy DIY installation. You can also uninstall them as needed.
Cleaning the tiles is easy, too. Just damp mop them with a common household floor cleaner.