How to Clean Dog Agility Flooring
By Lisa Hobbie Created: February, 2020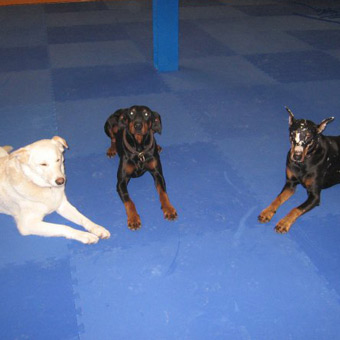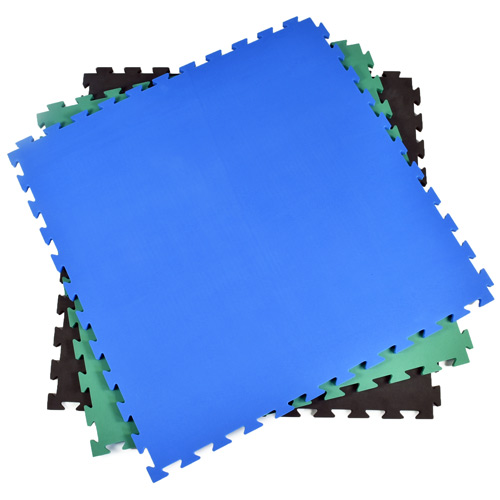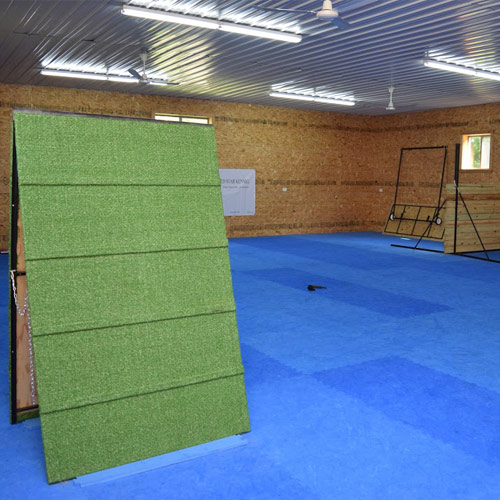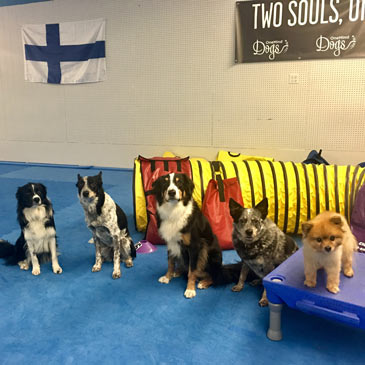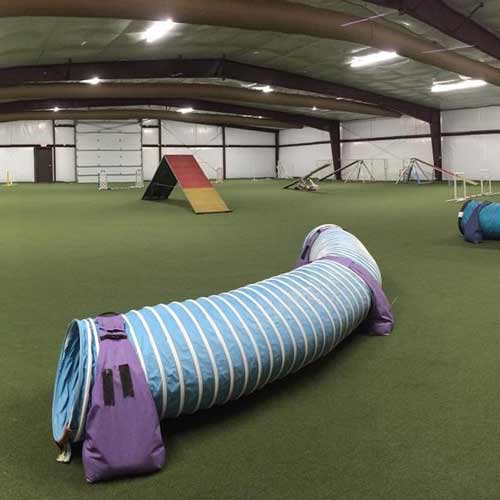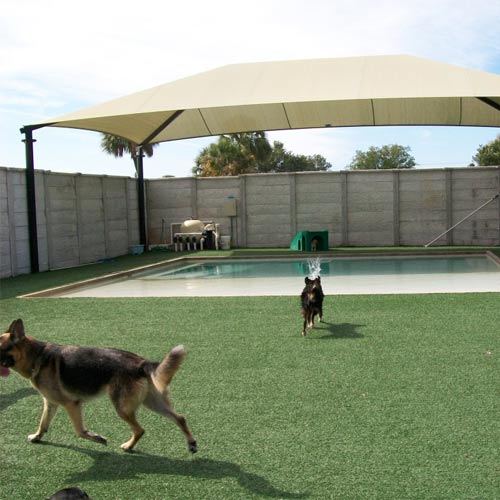 Dog agility training is a very popular, fun, and rewarding sport for dogs, dog owners and trainers. Much thought and consideration goes into preparing an area for training, and selecting the best dog agility flooring is a major part of the process. 
When considering dog agility flooring, there are many options from which to choose - from eva foam mats to turf, rubber, and interlocking tiles. The best dog agility flooring will offer shock absorption, cushioning, traction, and durability. Deciding on the best flooring will depend on budget, space, and the desired material for the dog to train on. 
Once the flooring is selected, it is important to know how to clean and maintain the flooring, to ensure it maintains its durability and integrity.
Using the wrong cleaning techniques and products can harm the floor and the dog, so understanding how to clean the dog agility flooring is imperative. 
Do Not Use These Cleaning Products on Dog Agility Flooring
Many household soap and cleaning solutions known to kill germs and bacteria actually contain chemicals that could harm your dog.
The following chemicals can all be harmful to your dog and/or break down the materials making up your dog agility flooring: 
bleach
ammonia
chlorine
formaldehyde
phenol
isopropyl alcohol
Safe Cleaning Products for Dog Agility Flooring
As a good rule of thumb, choosing a cleaner that has a neutral PH and/or is environmentally friendly is likely also dog friendly.
The following are generally considered safe and effective:
vinegar
Borax
hydrogen peroxide
baking soda works great if you need to deodorize the flooring
dish soap works as a good cleaner for EVA foam or PVC flooring, because it suds up, will loosen dirt or debris and is dog and skin safe
If possible, rinse or wipe off any and all cleaners used, just to be sure no residue is left behind. If you ever have questions about whether or not a cleaner is safe to use on your dog agility flooring, check with your dog's vet or the team at Greatmats. 
Now that you know what is safe to use to cleanse your floor and what should not be used on your dog agility flooring, you may find it helpful to understand what some of the popular options are at Greatmats, as well as the specific cleaning techniques for each flooring type. 
Dog Agility Flooring - Interlocking 3/4 Inch Tiles/Mats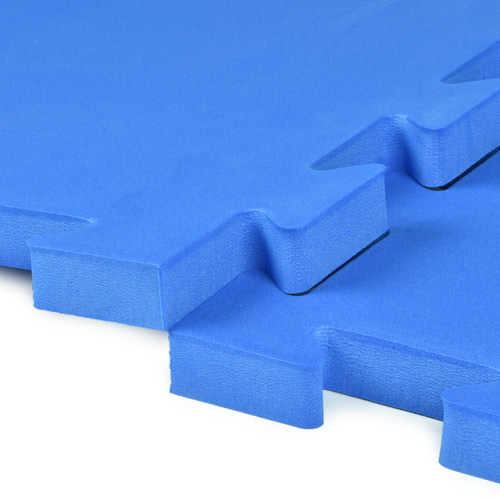 For the best in
dog agility mats
, choose the interlocking tiles that are double sided, reversible tiles. These provide maximum comfort for trainers and dogs, and the EVA foam cushion allows dogs to train longer without fatigue and injury. 
It also provides protection for the dogs' foot pads and nails by providing give and support. The non slip grip top provides excellent traction for the dog and the trainer, and they are densely constructed and free from lead and latex. 
The non-slip grip also holds equipment in place - providing a safer footing for the dog and the trainer. Small dents or divots may occur from the equipment. However, they don't affect the quality or performance of the tiles. 
Another very important feature is the fact that they are waterproof. Should the dog have an accident, the tiles are easy to wash.
How to Clean Interlocking Dog Agility Floor Tiles:
Use a rag or damp mop with mild household detergents or cleaners for liquid acids and tough stains, and vacuum regularly for dry dirt, dust or debris. 
These tiles are designed to last! Because they are lightweight and portable and require no adhesive for installation, they make for an excellent DIY dog agility training floor. 
Dog Agility Flooring - Basic Foam Interlocking 5/8 Inch Tiles/Mats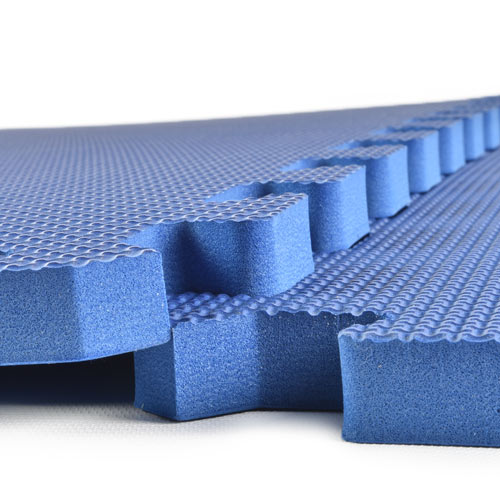 Another type of foam mat that can be used is the
⅝ Premium Foam Mats
. Like the dog agility mats, these are lead and latex free, have an easy interlocking connection design, and are made from a slightly thinner soft and cushioned EVA foam. They are waterproof and stain resistant, and they come in a wide variety of vibrant colors. 
They are simple to install, weighing just 1 pound each. Simply piece them together like you would a puzzle, and just like that, your floor is transformed. If you flip the mats over and use the back side on top, you'll give your dog a nice smooth surface to train and perform on. 
How to Clean Basic Foam Mat Flooring for Dogs:
Clean this dog agility flooring with a rag or damp mop and mild detergent or cleaner, just as you would the interlocking dog agility mats. 
Dog Agility Flooring - True Turf Artificial Grass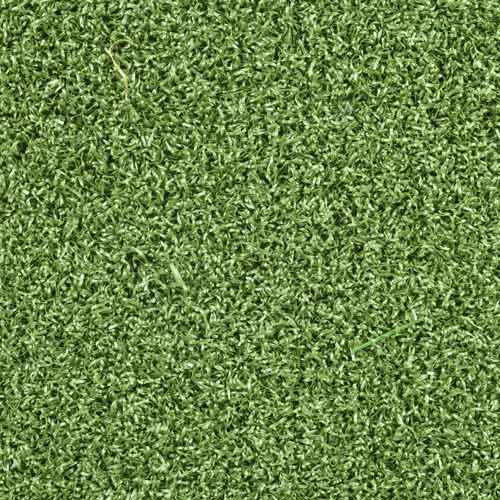 Another great dog agility flooring option is
Greatmats' True Turf artificial grass turf roll
. Although there are many options for artificial turf, you want to be certain you're purchasing a product that is designed for dog agility to ensure ease of maintenance, comfort, safety, and durability. 
Greatmats' True Turf offers many benefits for the dog and the dog trainer. Aside from the fact that the product has a beautiful finish for a professional look, it also delivers many safety and performance features and is easy to clean. 
The True Turf has been designed with durability at its core - with the ability to withstand heavy traffic, dog claws, equipment, and a high degree of wear while reacting naturally to footing. And at 15 feet width per square foot, it's easy to cover a large area in no time! 
How to Clean Artificial Turf Flooring for Dogs:
To clean, just flush with water, as needed. 
Choose Greatmats
After helping countless individuals and businesses select the perfect flooring for their needs, the Greatmats' team is ready to help you decide which dog agility flooring is right for you. Depending on your budget, your space, the equipment you will use, and the material you want to work with, Greatmats has at least one option that will work for you.