How Thick Are Plush Carpet Tiles?
By Paige Cerulli Created: June, 2022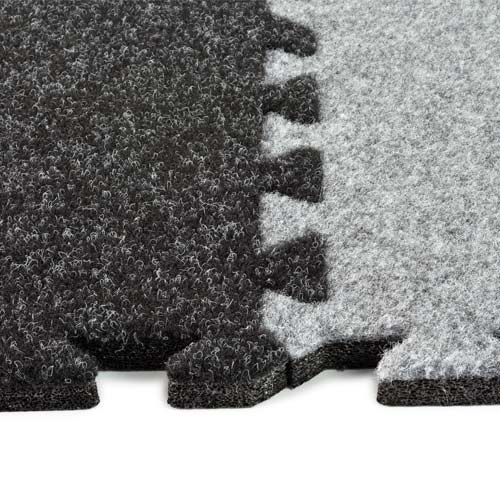 Plush carpet tiles add a comfortable, luxurious feel to any room. But before you choose the tiles that are right for your project, it's important to make sure that the tile thickness will work within the space.
How Thick Are Plush Carpet Tiles?
The thickness of plush carpet tiles varies from product to product. Some products measure just over a half-inch thick, while others are as thick as 1 inch.
The tile thickness can affect whether you're able to open doors once the tiles are installed. A tile that's too thick can catch on the bottom of a swinging door, causing wear to the tile and making it difficult to use the door.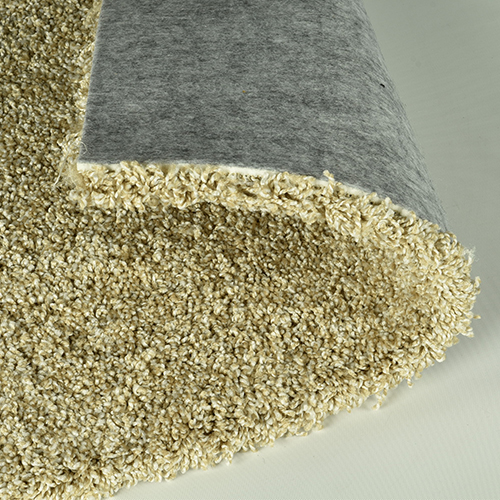 Before you start shopping for plush carpet tiles, measure the height of the doors in the room and determine the maximum height of the tiles that will work in the space. Be sure to include the height of any underlayment that you plan to use in that calculation.
It's also important to think about the type of installation method that you want to use. If you'll be installing the tiles yourself, consider what type of installation you're most comfortable with.
Many carpet tiles feature interlocking edges that allow you to remove and reinstall the tiles again as needed. There are also some peel and stick self-adhesive tile options that allow for a more permanent installation.
The Best Plush Carpet Tiles
At Greatmats, we carry several plush carpet tiles in varying thicknesses. They offer many benefits, from easily removable designs to the ability to put tiles in your washing machine for a deep cleaning.
Royal Interlocking Carpet Tile
The Royal Interlocking Carpet Tiles measure ⅝ inch thick and are suitable for residential and commercial applications in trade show booths and theaters. The tiles provide anti-fatigue and insulation properties similar to a traditional carpet, but offer much more convenience.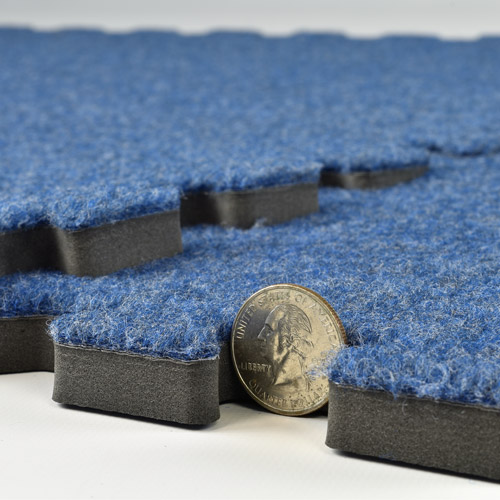 These tiles are lightweight and easily portable, and you can install and remove them as needed. They are waterproof, odor proof, and stain resistant, making them a durable addition to a home or business.
The interlock design makes for a fast installation, and each tile includes two border strips ideal for island installations. You can also cut the tiles to fit an area.
Since these tiles won't absorb moisture, they're suitable for use in basements and other areas where traditional carpeting isn't ideal. The floor can be vacuumed for easy cleaning.
LCT Plush Luxury Carpet Tile 35 oz.
The LCT Plush Luxury Carpet Tile creates a cushioned, comfortable feel while still having a relatively low pile height. These tiles measure ¾ inch thick, so they can still easily fit underneath doors.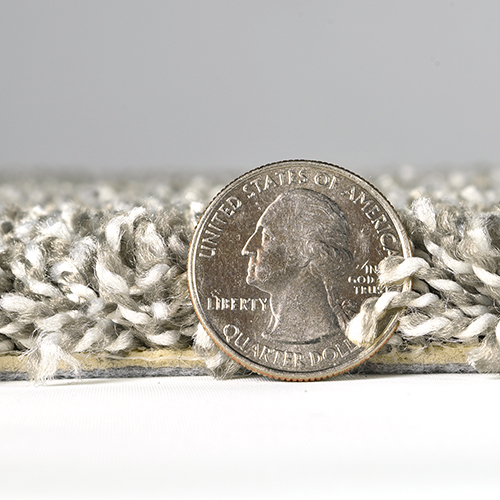 Available in many designer colors, these high end tiles feature plush fibers and are backed by a 15-year limited residential manufacturer warranty. The fibers resist moisture and stains, while the backing of woven jute fibers and waterproof padding offer extra protection and durability.
While the tiles have a long lifespan, once you no longer need them, they are fully recyclable.
If a tile does become heavily soiled or stained, you can remove that single tile and put it into your washing machine for a deep cleaning. You can also vacuum the tiles regularly.
LCT Plush Luxury Carpet Tile 60 oz.
Measuring a full 1 inch thick, the LCT Plush Luxury Carpet Tile is the thickest plush carpet tile that we stock at Greatmats. These tiles are padded and feature a backing that holds them against the subfloor, but the backing also allows you t o remove them.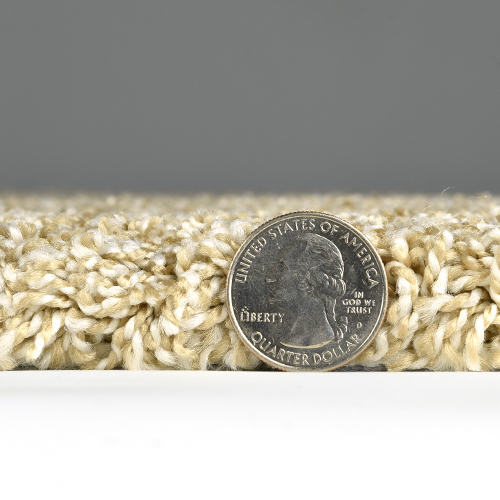 You can put the tiles in the washing machine and wash them up to three times for easy, thorough cleaning. This feature is ideal if you have kids and pets and are worried about the mess that they will create.
The tiles feature a solution-dyed polyester fiber. They resist stains and moisture, making for easy spot cleanup.
The tile backing is a woven jute fiber with a waterproof pad, protecting your subfloor from spills. The tiles are also hypoallergenic, perfect for your family's health.
Measuring 24 by 40 inches, these tiles are generously sized, so they're quick and easy to install. They will quickly cover a larger surface area, so they're suitable for use in almost any room in your home.
The tiles support several installation options, including the use of glue and double-sided carpet tape. You can also install them with FriXion Pads, making it easy to remove the tiles when you want to wash them in the washing machine.
Comfort Carpet Center Tile
The Comfort Carpet Center Tile is commercial-grade tile that's ideal for showrooms, trade shows, basements, and homes. This tile offers anti-fatigue and insulation properties similar to what you would enjoy with traditional carpet.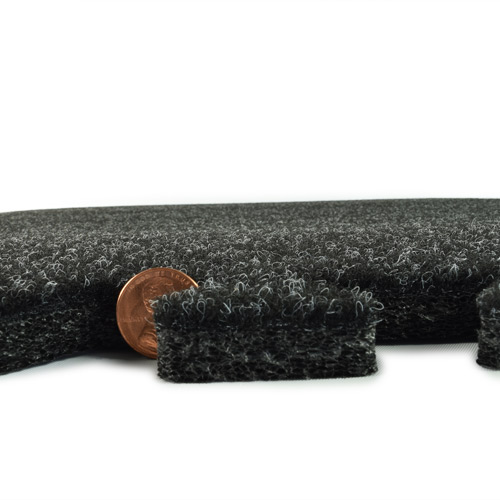 The tile measures ⅝ inch thick, and is available in multiple designer colors. It's both waterproof and odor proof.
Installing the tiles is easy, thanks to the interlocking design. You can place the tiles directly on a concrete or tile surface, and there's no need for adhesive.
The tiles' interlocking design features tabs and loops, creating a unified system. Once you're done with the tiles, you can remove them and reinstall them as needed.