How Many Carpet Tiles Would I Need For A 10x20 Trade Show Booth?
By Paige Cerulli Created: October, 2022 - Modified: October, 2023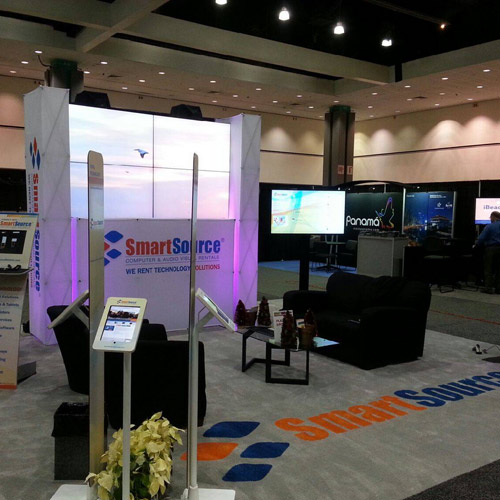 Carpet tiles can enhance your trade show display, creating a stand that is welcoming and comfortable. That comfort can help to keep potential customers in your booth for longer, extending the period of time that you have to make sales. If you're planning to create a 10x20 trade show booth, then you will need enough flooring to cover that specific space.
Carpet Tiles for a 10x20 Trade Show Booth
The number of carpet tiles that you will need for a 10x20 trade show booth will depend on several factors.
Tile Size
Carpet tiles come in many different sizes, with 1x1 ft, 18x18 inch, and 2x2 ft being the most common. In most cases, you will need the following number of tiles to complete a 10x20 trade show booth:
| Tile Size | Number of Tiles | Finished Area | Notes |
| --- | --- | --- | --- |
| 1'x1' | 220 | 10'x20' | |
| 2'x2' | 50 | 10'x20' | |
| 18"x18" | 98 | 10'x20' | will be slightly larger, but tiles can be cut to fit |
Keep in mind that larger tiles cover more surface area more quickly, and they can save you valuable installation time. This can be particularly important if you frequently travel to trade shows and need to set up and disassemble the space as quickly as possible.
Smaller 1x1 foot tiles do have their advantages, though. These tiles can be ideal if you want to create custom multi-colored patterns and give your booth's flooring an eye-catching look.
Interlock Loss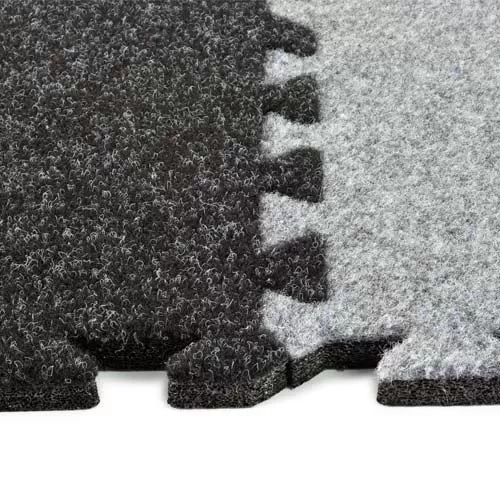 It's also important to consider the type of tile that you will be purchasing. Some tiles may have interlock loss, meaning that the space the interlocks require causes the connected tiles to measure slightly under the tile size.
For example, a 2x2 foot tile, when connected, may actually measure 23.5x23.5 inches because of the portion of the tile that interlocks with another. If you use 50 2x2 puzzle mats, your floor may be just shy of a 10x20-foot space.
Fortunately, at Greatmats, we make it easy to determine how much flooring you need to purchase for your trade show booth. Each of our product pages features a flooring calculator.
Just input the dimensions of your floor and the calculator will do the work for you. The calculator even factors in interlock loss, so you can be sure that your installation will meet your precise measurements and not come up short.
Additional Tips for Creating Your 10x20 Trade Show Booth
Buying enough flooring for your desired trade show booth dimensions can help to ensure that the installation is a success, but there are other important factors that will affect your trade show.
Tile Size
As you're exploring different tile sizes, consider the overall effect that you want to have. If you're creating a floor with a single color or a single design, like a woodgrain pattern, then you can buy larger 2x2 tiles without affecting the look of the finished floor.
But if you want to create patterns on the floor, then you may want to opt for smaller 1x1 foot tiles. You can buy these tiles in different colors and create checkerboard patterns that are eye-catching and that will help to draw attention to your booth.
Tile Aesthetic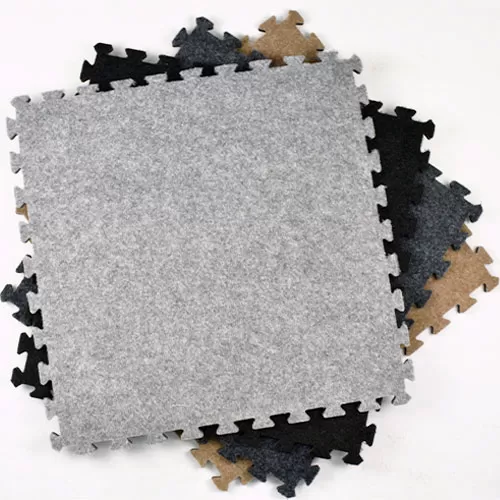 If you're looking for ideas for your trade show flooring, you will find plenty of options as you explore the different carpet tile colors and designs available. From blue to beige to grey and more, you can choose from a wide variety of colors.
As you explore the different color options available, it's helpful to reflect on your brand colors and the other colors that will be integrated into your display. Many of these tile colors are versatile and can complement a wide variety of color schemes.
Connection Method
It's also important to consider how the carpet tiles connect. Modular tiles can have several different connection options, including snap-together designs as well as the traditional puzzle-style edge.
Think about which installation type you are most comfortable using, both when it comes to installing and removing the floor. The more comfortable you are with the installation type, the more time you will save during exhibitions and trade shows.
Finished Edges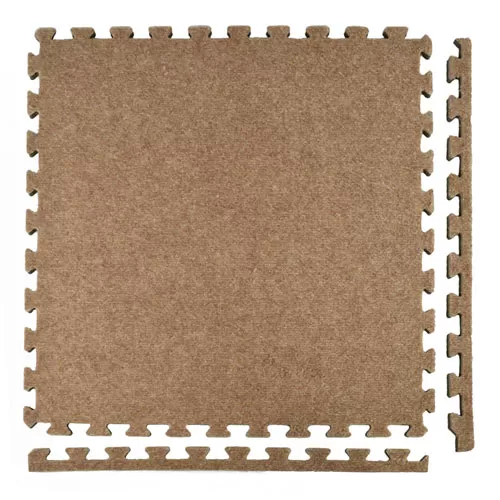 Your trade show booth will only look polished and professional if your flooring installation has clean, finished edges. You can accomplish this with carpet tiles in several ways.
Consider buying a kit of tiles that creates a floor with certain dimensions. You will receive enough tiles to create that floor, and the kit will include tiles with finished edges.
You might also explore options like puzzle-style edge tiles that include border pieces. This option can be more versatile than a kit, since you can expand the floor's dimensions by buying more tiles, and can then add on the edge pieces where you need them. This approach also allows you to create different flooring layouts to accommodate various trade show needs.