How Long Are Rubber Flooring Rolls?
By Kyle Schurman Created: November, 2022 - Modified: August, 2023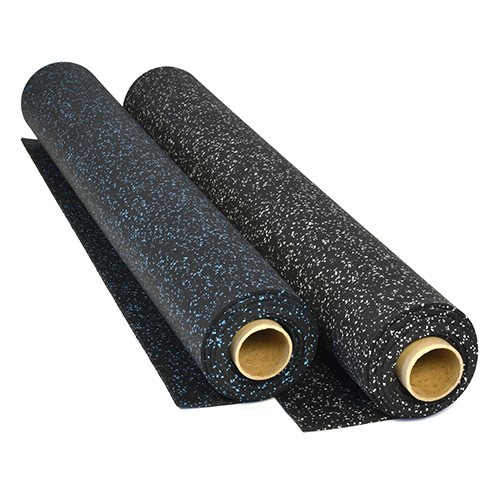 At Greatmats, we offer rubber flooring rolls of widely varying lengths to meet the needs of our customers. We offer rolls that are as long as 50 feet, 25 feet, and even a mat measuring 4x10 feet, and many other lengths in between.
Whether doing the installation at home, in a garage, or at a commercial gym, we have a length of roll that would meet your needs. If one of our pre-cut rubber flooring rolls does not perfectly fit your needs for coverage and length, we offer custom-cut lengths as well.
Rubber Flooring Roll Available Lengths
Many rolls we sell are 4 feet wide with lengths such as 10 ft, 25 ft, 35 ft, or 50 ft. This allows customers to cover a large amount of space for a reasonable price. Here are some of our most popular rubber flooring rolls to consider.
Rolled Rubber Eureka, 50 Ft Length
At 50 feet in length, the
Rolled Rubber Eureka
roll is a great choice for customers who need to cover a lot of space quickly. This roll is especially popular for areas like weight rooms or fitness centers, where the rubber needs to provide a sure footing for athletes.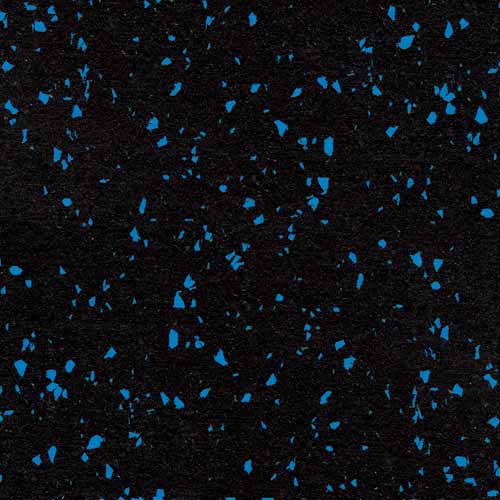 It only costs a little less than $3 per square foot, which greatly appeals to customers like dog daycare facilities or dog agility centers that have big spaces to cover.
With a thickness of 8 mm, customers can manage the weight of this roll of rubber more easily than a thicker roll. (Understand, however, that this large roll still weighs more than 300 pounds.)
Another appealing aspect of this 4-foot wide Eureka roll is that it offers some color flecks embedded into the black base color. The color flecks consist of the same recycled rubber material as the base black color, ensuring a long-lasting design where the color won't flake away under heavy foot traffic.
Geneva Plyometric Rubber Roll, 30 Ft Length
When you need rubber flooring rolls that focus on delivering cushioning for those standing on and working out on the floor, the
Geneva Plyometric Rubber Roll
carries 1/2 inches of thickness. This cushioning protects the lower leg joints of the athletes, which is important for plyometric workouts.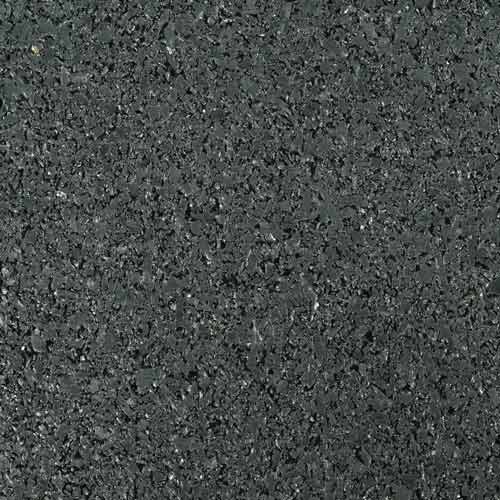 Our roll is 30 feet in length and 4 feet in width, but we also offer custom-cut lengths, if desired.
Because this is a highly durable style of rubber, it can stand up to the use of athletic shoes without showing significant amounts of wear and tear. We do recommend gluing or taping this roll of flooring to the subfloor to ensure that it remains in place.
Customers for this roll of flooring include commercial gyms, schools with fitness centers, and plyometric studios. It works equally well for beginners who are trying out a plyometric workout and for advanced athletes who need a type of flooring for intense aerobics workouts with constant repetitive moves.
Geneva Rubber Flooring Roll, 25 Ft Length
Among our most durable types of rubber flooring rolls is the
Geneva Rubber Flooring Roll
. At 25 feet in length and 4 feet in width, the 100 square feet of coverage of this roll is an ideal size for creating a workout space at home. Some customers set up a specialized area for workouts in a commercial gymnasium, too.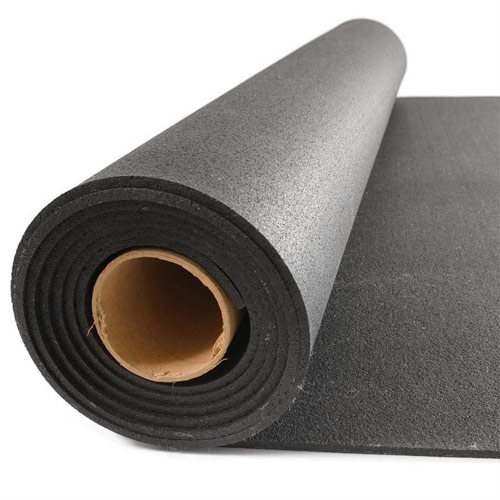 We source this roll from manufacturers in the United States, which means customers can trust the quality of the materials and can trust them to last. The manufacturer creates these rolls using recycled rubber, which provides an environmentally favorable design.
The manufacturing process leaves the final product with a low-odor design. When used in an enclosed space, rubber flooring sometimes has a strong odor resembling a new car smell. Some people have a susceptibility to this odor, making a low-odor flooring option highly popular.
At 3/8 inches in thickness, our roll works for weight rooms, gymnasiums, walkways in an ice arena or along a rooftop, and industrial flooring.
Greatmats Rubber Flooring Roll, 10 Ft Length
When you want rubber flooring rolls that have a weight that's easier to handle than traditional rubber floors, our team often recommends the
Greatmats Rubber Flooring Roll
.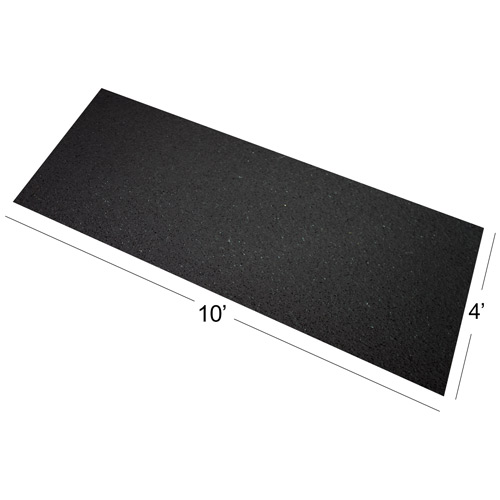 At a size of 4x10 feet, this roll weighs only 53 pounds. Unlike larger rubber rolls that weigh hundreds of pounds, residential users and small gyms can move this roll in and out of place without having to use specialized equipment.
We source this rubber flooring from a manufacturer in the United States. This gives our customers confidence in the quality of the materials and in the tight manufacturing tolerances used in the manufacturing process.
Commonly, our customers for this model of flooring include those who need portable rubber rolls and who want to create a workout space in a basement or garage. Even at only 1/4 inch in thickness, this roll provides a buffer against a cold, concrete floor in a basement, making it more comfortable to do ground-based exercises.