How to clean deck tiles of different material types
By Greatmats Staff Created: February, 2019 - Modified: September, 2023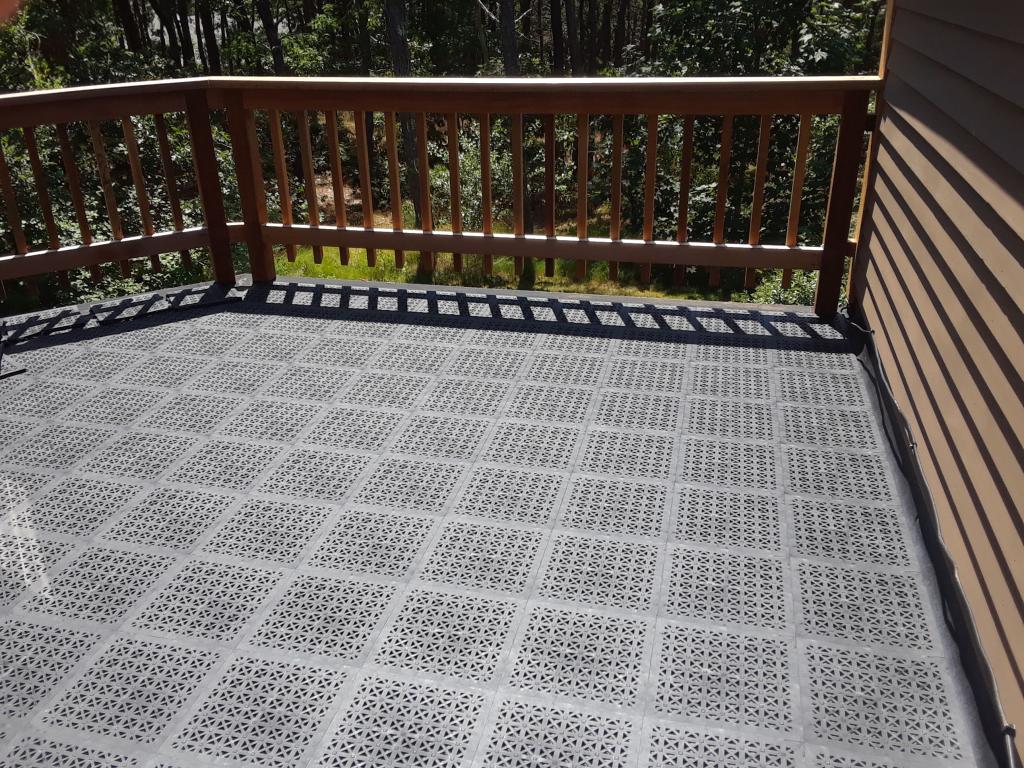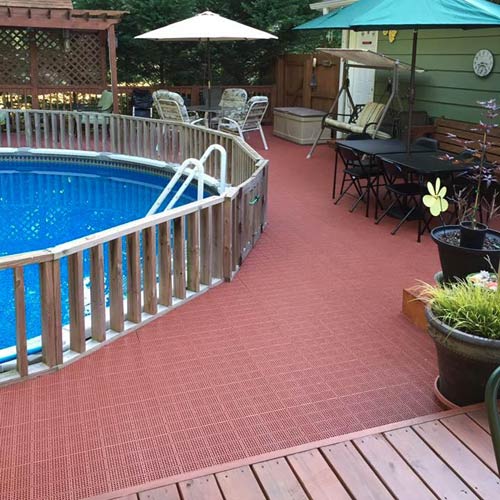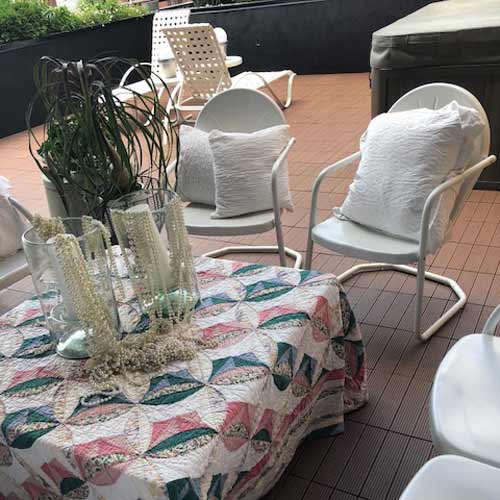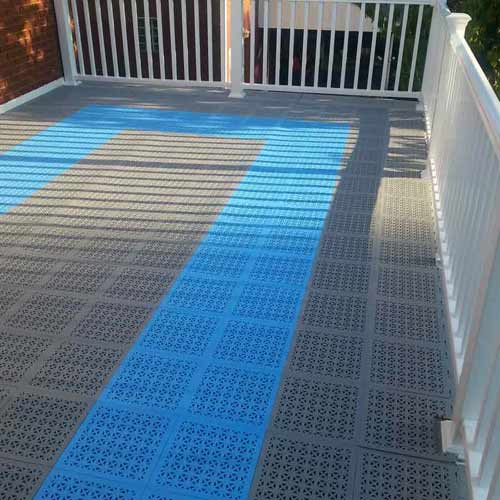 You did it! You finally covered that old deteriorating patio or deck with patio decking tiles and they look fantastic!
Now comes the process of keeping your patio decking tiles looking like new. The first thing that comes to mind is "How do you clean deck tiles?"
In most cases this is a very simple process.
The primary consideration here is they type of material the patio decking tiles are made of. Some of the most popular decking tile materials are plastic, rubber and wood plastic composite. Also growing in popularity due to its safety benefits are rubber foam blend patio decking tiles. Let's break down the cleaning process for each.
How do you clean plastic deck tiles?
Plastic patio decking tiles
are generally made of a flexible PVC material that is 100 percent waterproof. Since the flexible material will conform to the underlying surfaces dips and bumps, drainage takes place through the use of a perforated surface.
The cleaning process of these tiles may vary a little, depending on where you have them installed. If you have them installed over dirt, grass or gravel, you'll likely only need to pay attention to the surface. If installed over a wood deck, there is a chance you'll want to also clean under patio decking tiles as crumble leaves, pine needles, etc. can potentially work their way through the surface perforations and get under the floor. In most cases, the amount of organic material to get under the tiles will be minimal and will not cause issues. However, should there become a build-up problem under the tiles, they can be easily lifted for cleaning underneath the floor and reinstalled due to their dry lay installation.
As for the surface, just make sure to sweep the surface regularly with a broom. This will prevent organic material from breaking down and falling through the perforations. It will also help prevent staining and keep drainage performing properly. If you run into a situation where a more thorough cleaning is needs, you can hose down your patio decking tiles or use a mild household detergent with a damp mop or scrubby. Avoid the use of bleach as it can erode and cause serious damage to plastic flooring.
How do you clean rubber deck tiles?
Like plastic patio decking tiles,
rubber decking tiles
should be regularly swept to keep the surface looking as nice as possible and rainwater or garden hoses generally take care of the rest of the cleaning process.
One major difference is the fact that rubber deck tiles usually have a solid surface with drainage accomplished through either grooves or the slope of the installation surface.
For deeper cleaning, a damp mop with a neutral pH cleaner will do the trick. Avoid acidic cleaners as they will stain the rubber. Also aggressive cleaning equipment can damage the surface, so avoid using scouring pads or steel wool to clean your rubber deck tiles. Alkaline cleaners can cause excessive drying of rubber deck tiles and possible loss of color.
How do you clean wood plastic composite deck tiles?
Wood plastic composite deck tiles follows the trend of the previously mentioned materials in that they should be swept regularly - preferably with a soft, natural bristle broom - to prevent build-up form occurring. Monthly mopping with a soft mop, water and mild dish soap is also recommended, followed by rinsing with a garden hose.
Wood plastic composite deck tiles are generally designed to both channel water off of the surface and drain through it without allowing debris to get under the tiles.
How do you clean rubber foam blend deck tiles?
Rubber foam blend deck tiles are unique in the fact that they must be glued down to a hard, flat surface. Draining of the solid surface tiles needs to be accomplished through the sloping of the terrain. As a soft, extra grippy material, special care should be taken to not be too aggressive in the cleaning process. In most cases a damp mop and hot water will take care of any cleaning needs. If you want to use a pressure washer, do not exceed 2,500 psi of pressure and stay at least 15 inches away from the surface with a 20 degree or wider tip. Sharp object will puncture rubber foam blend deck tiles and improper cleaning detergents or machines can cause loss of color or other damage to the tiles.
Now that you know the answer to "How do you clean deck tiles?" you can enjoy your new deck or patio surface with confidence.