Sundance Horse Stall Mat Kit Black 3/4 Inch x 12x16 Ft.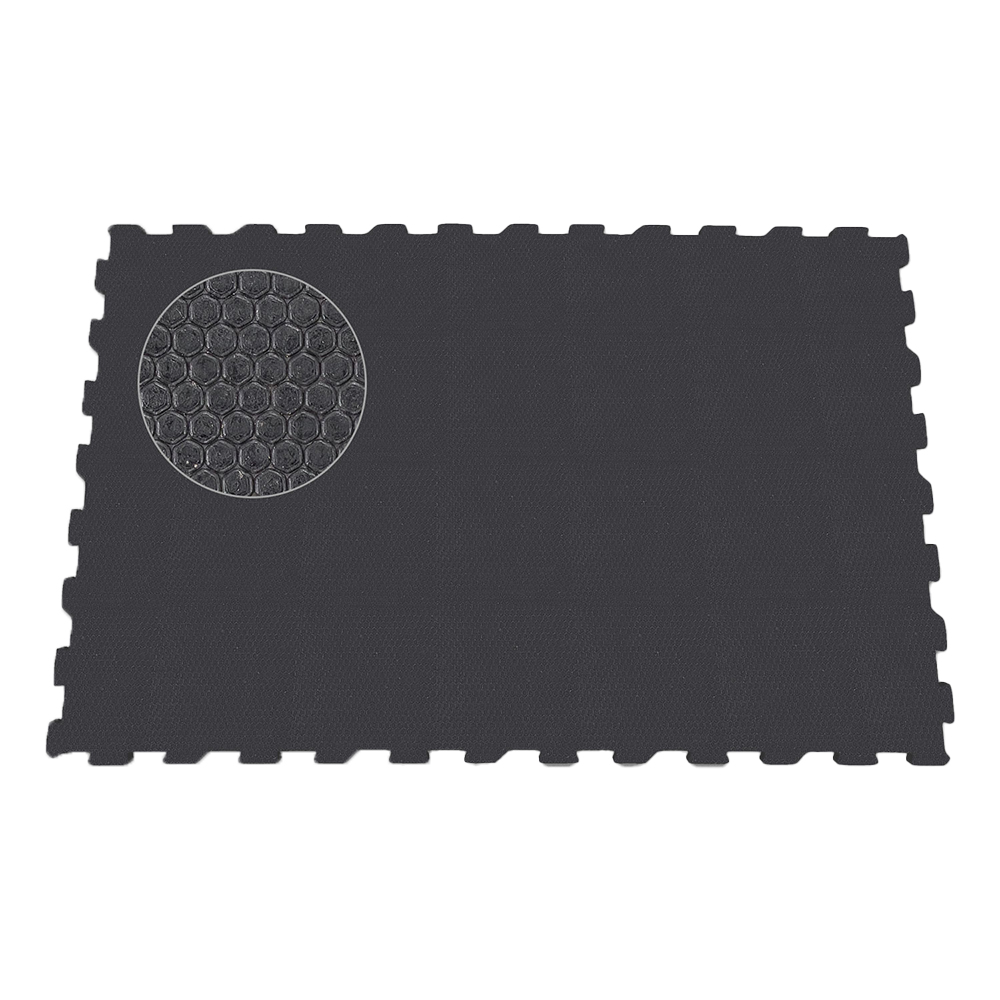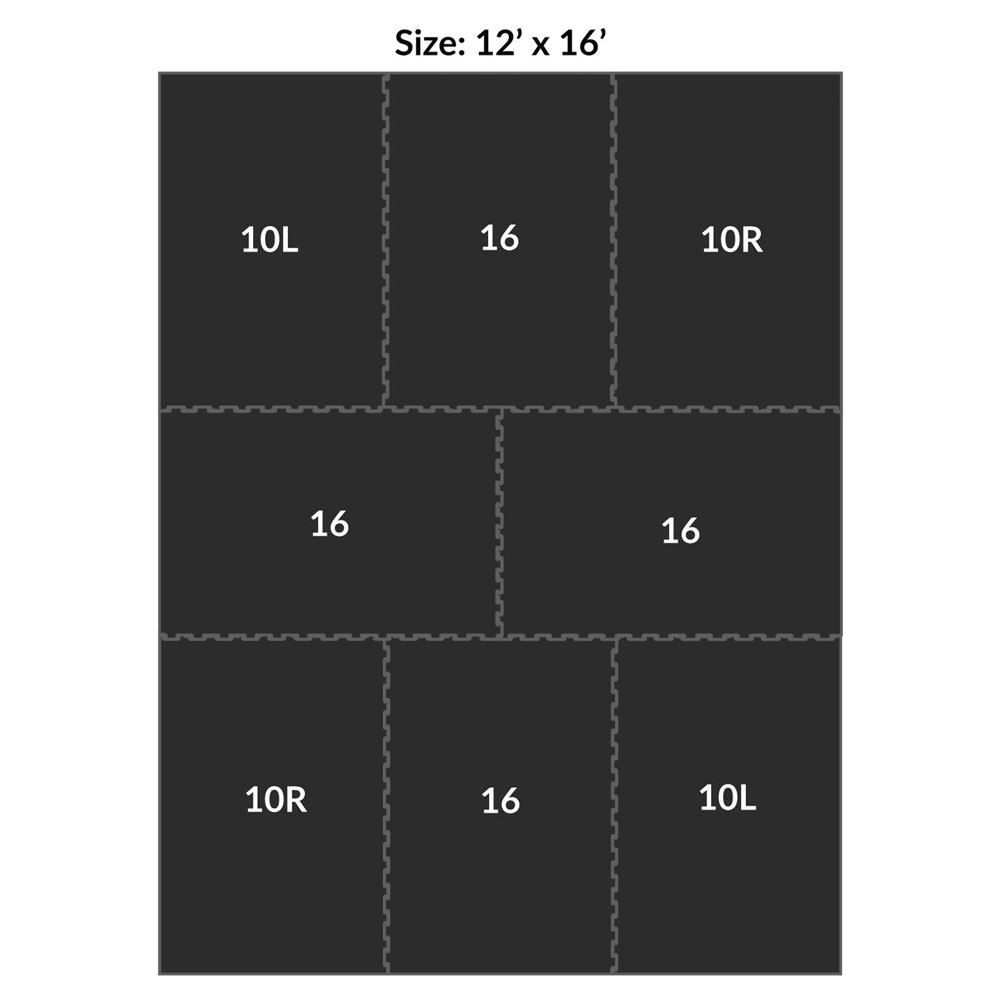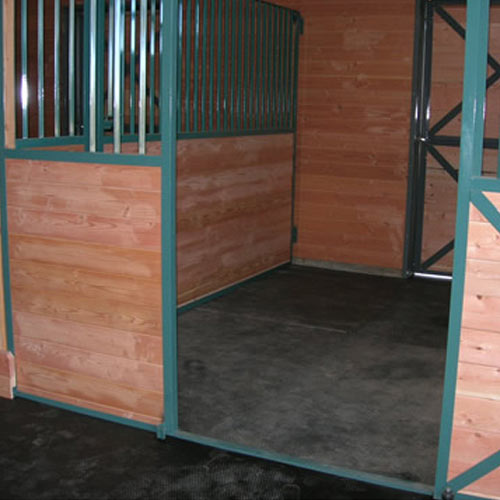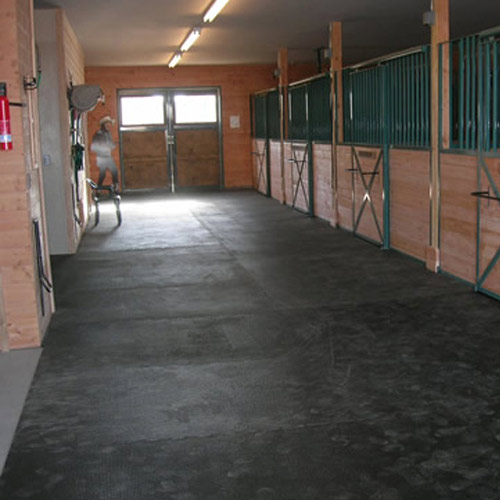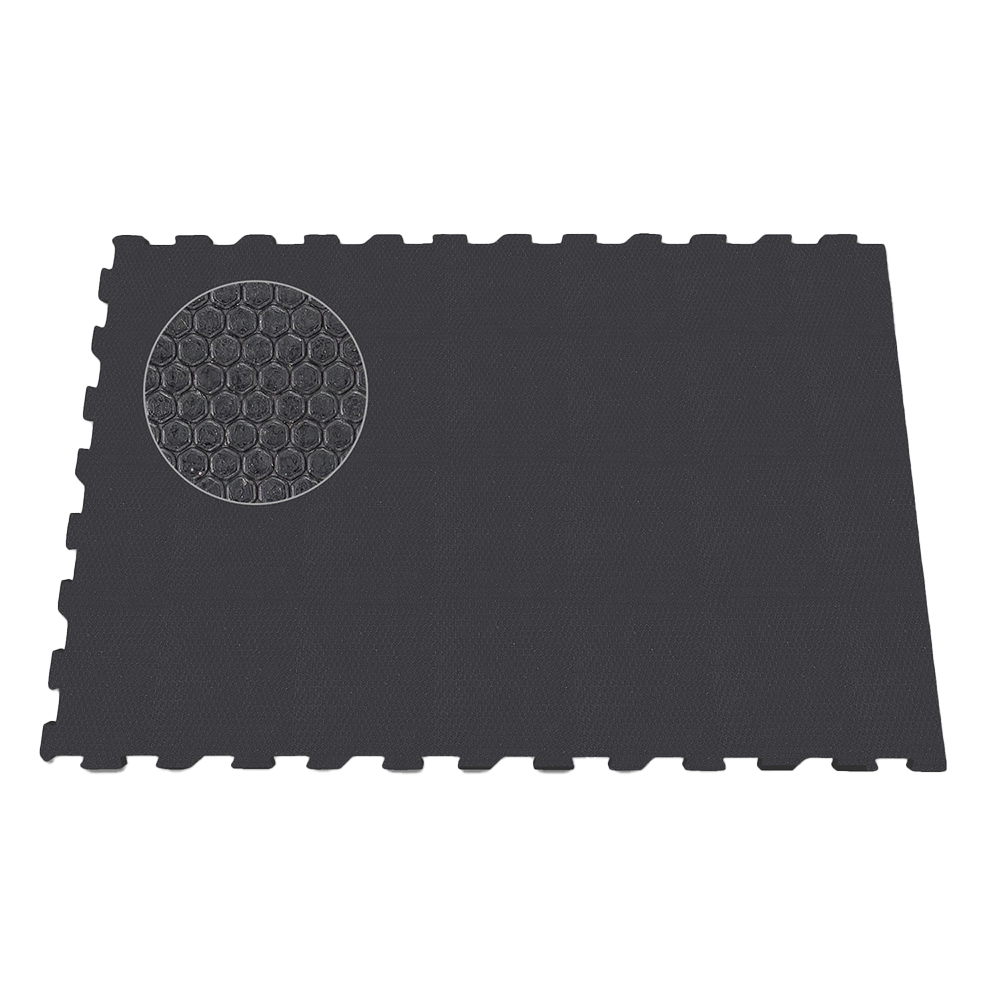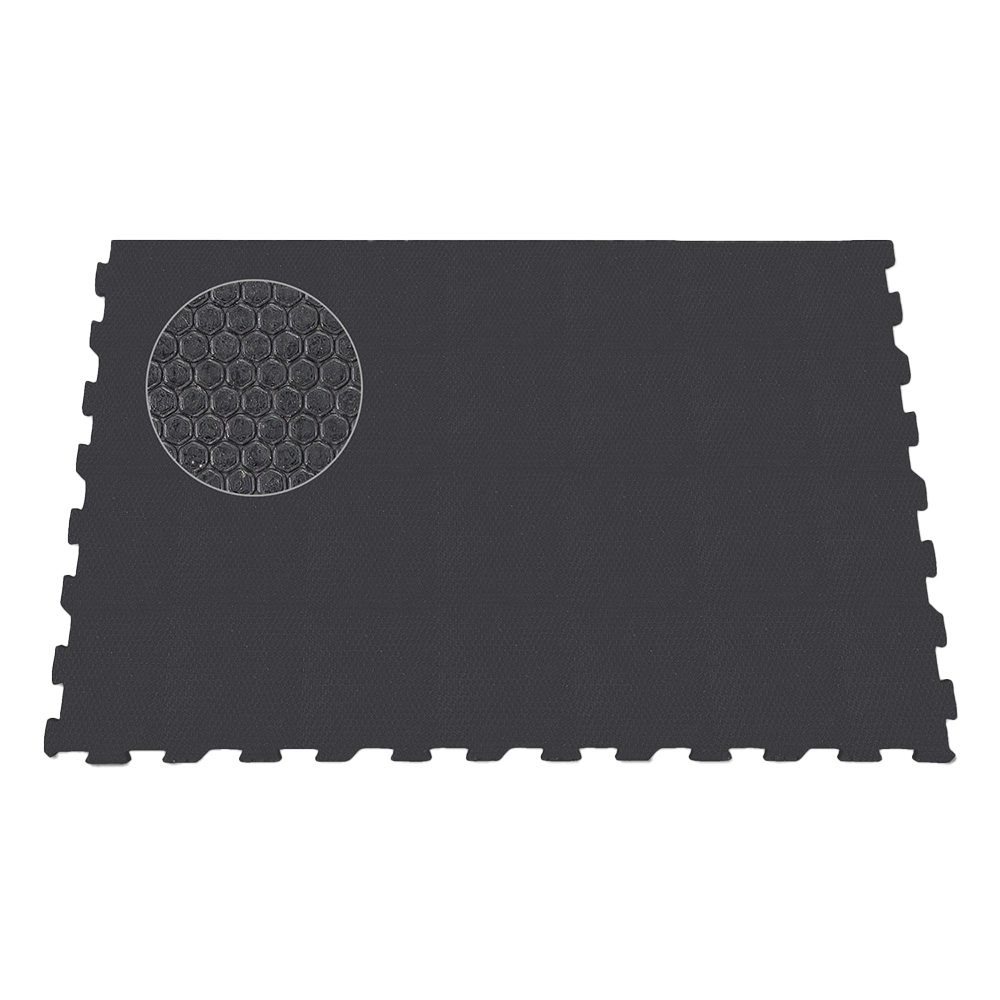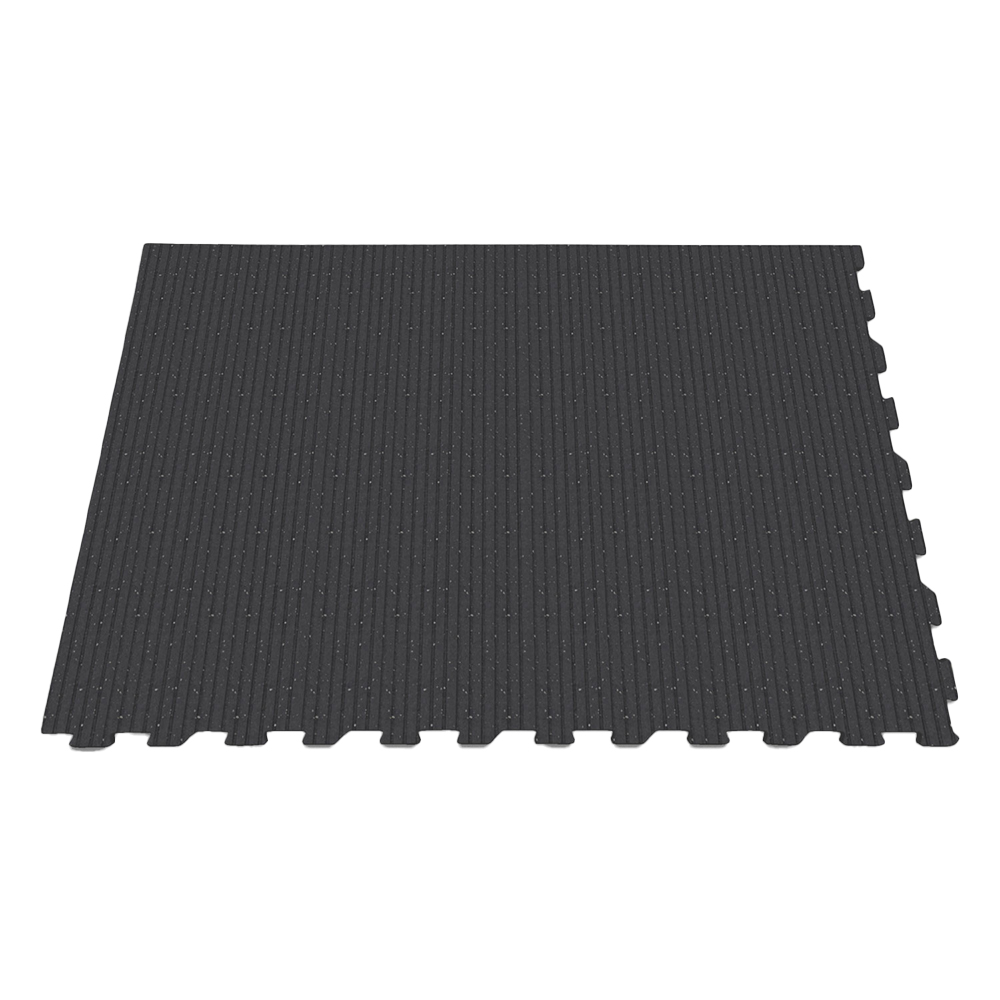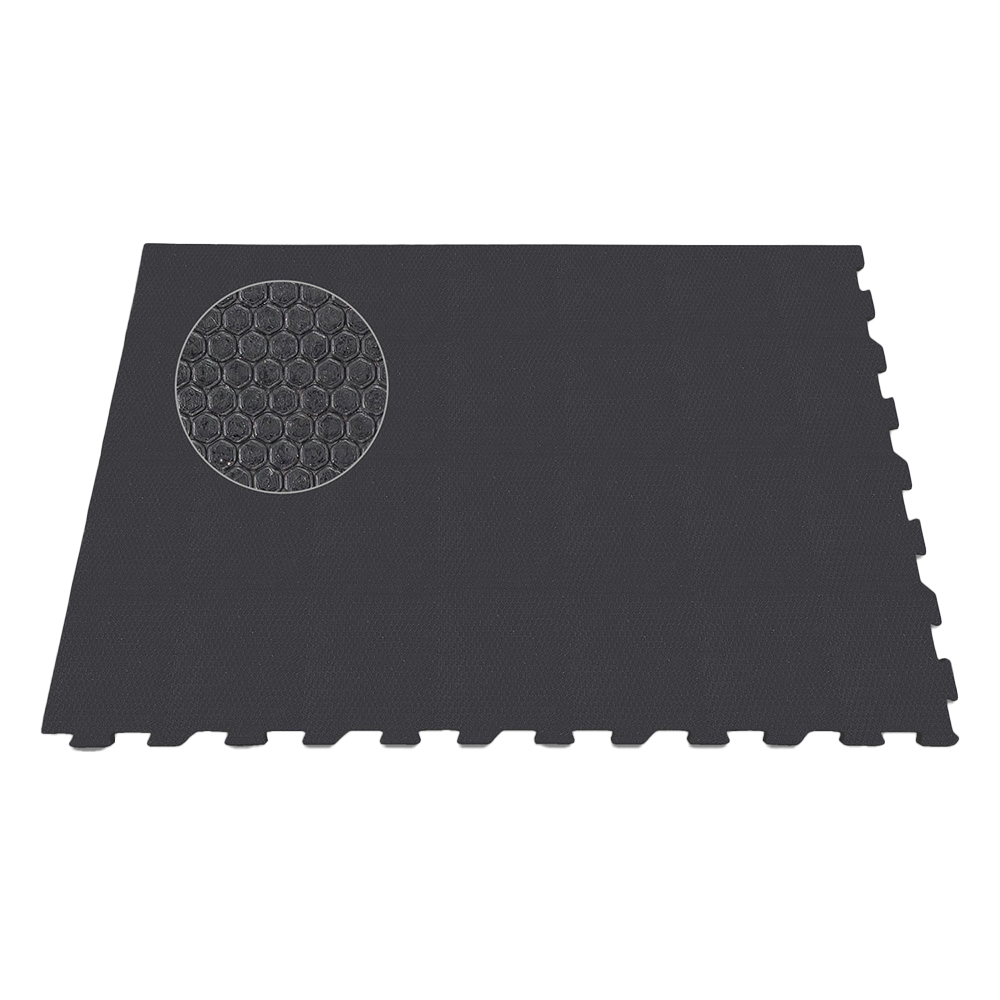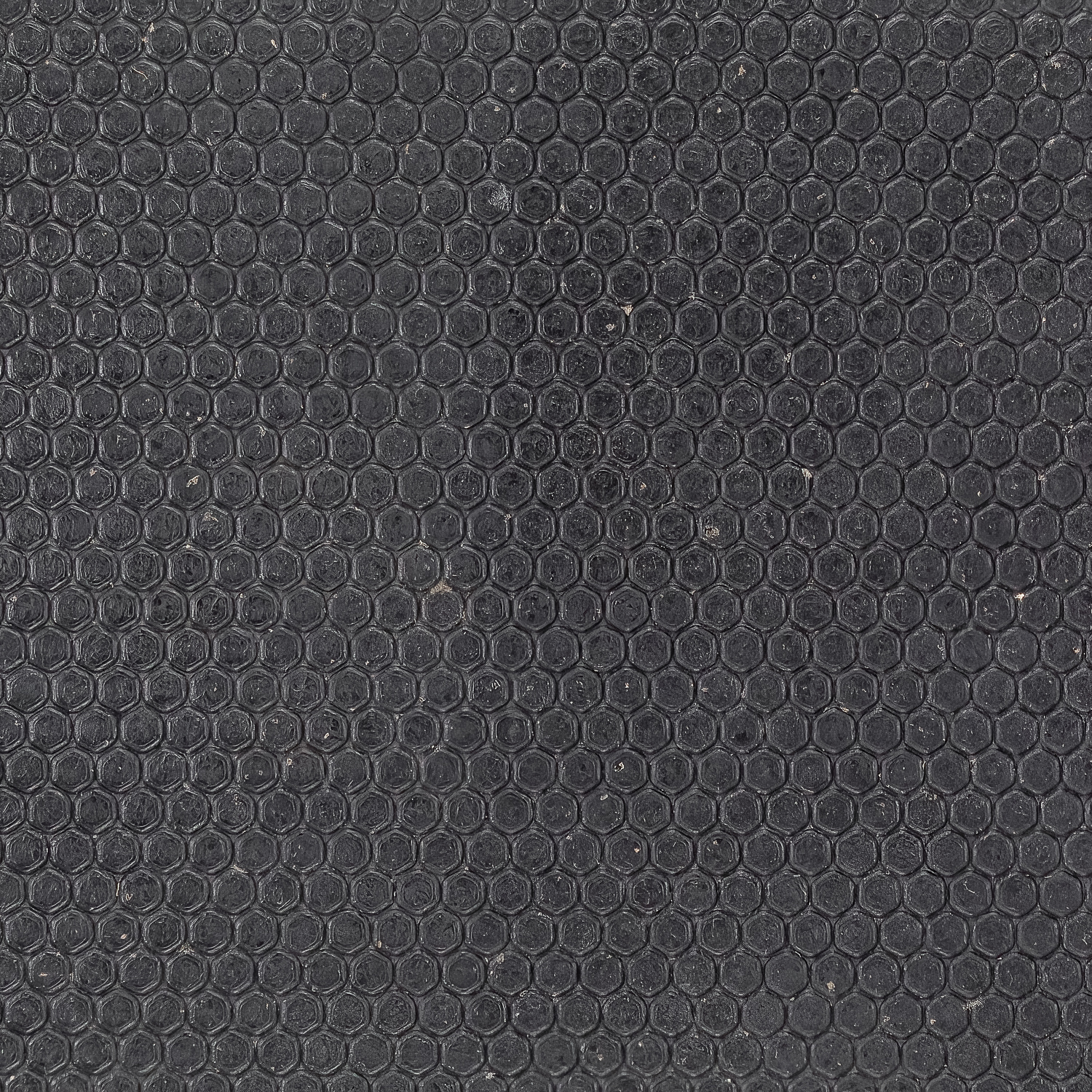 Affordable horse stall kits, custom sizes available
Made from 100% recycled rubber material
12x16 ft stall mat kit includes eight 4x6 ft x 3/4 inch interlocking mats
Handling Time Estimate: 3-4 Weeks on Average

Black
Affordable horse stall kits, custom sizes available
Made from 100% recycled rubber material
12x16 ft stall mat kit includes eight 4x6 ft x 3/4 inch interlocking mats
No adhesive needed
Hexagon surface texture
Durable long lasting rubber stall mats
Interlocking tiles makes for easy cleaning
Assembled size 11 ft 6.5 in x 15 ft 4.5 in
Horse Stalls, Stall Aisle-ways, Commercial Gym, Functional Training, Fitness Center, Weightlifting, Gym Floors
NOTE: This item is a custom order and is not returnable.
Sundance Horse Stall Mat Kit Black 3/4 Inch - 12x16 Ft.
Super durable and affordable Sundance Horse Stall Mat Kit Black 3/4 Inch x 12x16 Ft.. This rubber horse stall kit features the interlocking version of our very popular Sundance Stall Mat. Use this product for horse stalls, cross fitness gyms and weight rooms where the smell of rubber is not a concern indoors. The benefit of this rubber floor tile is the interlocking design, 3/4 inch thick durability and its affordable cost.
When you want to create a comfortable and safe space for a horse and handler to work together, our Sundance 12x16-foot horse stable mats are an excellent choice. This is a convenient kit, as it ships in a pre-configured size, eliminating the need to cut the mats to fit.


At Greatmats, we only source our horse stable mats from the best manufacturers. These mats consist of a high-quality type of rubber that ensures durability and performance.


Size and Shape Options

This large kit carries a finished listed size of 12 by 16 feet, but it has an official size of 11 feet-6.5 inches by 15 feet-4.5 inches. The kit contains eight interlocking mats, each of which measures about 4x6 feet. (Because of the jigsaw puzzle-style edge on these individual mats, the 4-by-6-foot mat size is an approximation.)

Our horse stall mats each measure 3/4 inches thick, which allows them to easily support the weight of horses, livestock, or other animals without concern over buckling or tearing.
Material Options
The rubber material in these mats is one of the best materials you can use for flooring around a horse or cow, as it easily supports the weight of these huge animals.
We source these mats from a manufacturer in Canada, meaning you can trust the purity of the rubber materials. You also can trust that the rubber will not have weak spots and that the manufacturer follows tight tolerances to ensure that each of the mats will fit together perfectly.
The durable rubber horse stable mats carry a 10-year pro-rated manufacturer warranty, so you will be receiving a good value with your purchase. Often, these mats will make use of recycled rubber, meaning they are able to deliver an environmentally-friendly option in flooring for those customers who need it. This product is made from 100% recycled rubber material.
Pattern and Texture Options
These mats are all black in color. Having a dark color in your livestock mats is a good idea, as the darker colors will hide the soil on the surface of the mats better than a lighter-colored mat.
The surface of these mats has a hexagon top texture molded into the rubber. This molded pattern provides just a little bit of texture to help horses and the handlers avoid slipping while working inside the stall or in a wash bay. This is important because horse stalls often are wet from spilled drinking water or urine.
Common Use Options
Frequently, people will install these mats in a horse stall, in an aisle way in an equine barn, or in a wash stall for horses. They also work well to create a safe floor for a run-in shed. With the mats in place, horses will not be able to paw at the dirt and create unsafe ruts.
Even though these are horse-stable mats, it is possible to use them in a wide range of areas that have nothing to do with livestock.
Fitness centers and schools will make use of this type of kit to create an area for using free weights. The thick rubber will protect the subfloor from damage when the athletes drop the barbells and dumbbells. Rubber is also a noise-absorbing material, which cuts down on the bangs and clangs in a weightlifting area.
Some athletic facilities that make use of treadmills or that offer spin classes may also install these mats. The rubber material helps to hold the machines in place without sliding around while cutting down on noise.
Installation Options
Because of the extreme weight of the entire kit and of the individual mats that make up the layout, you will want more than one person available to do the installation. Each mat weighs about 100 pounds, and the eight-mat configuration weighs about 800 pounds.
To install the mats, you must line up the mats properly within the layout. Individual mats will have some straight edges mixed with puzzle-style edges, meaning they will fit together in only one configuration for the full-sized 12x16 layout.
To connect the mats, line up the tabs on one mat with the interlocks on the adjacent mat and then pop the edges together for a tight fit.
Cleaning and Maintenance Requirements
When seeking to keep these horse-stable mats clean, customers do not need to make use of any special chemicals or cleaning techniques. This saves time during the cleaning process.
If the area is dry, customers can make use of a push broom to remove hay or a scooper to remove feces. In an outdoor location, customers can use a power washer or a sprayer attachment on a garden hose to wash the surface of the mats.
If cleaning these mats when they're in use indoors, clean them with warm water with a neutral pH solution added to them. Use a mop over the top of the mats to apply the cleaning solution. Then allow them to air dry. You can bring in a floor fan to speed up the drying process.
This 12x16 ft Horse Stall Mat Kit is stocked in the following locations nationwide. Please contact us for the best possible shipping rate.
North Haven, CT.
Atlanta, GA.
LaGrange, KY.
Orlando, FL.
Denver, CO.
Colton, CA.
Straight edge 4x6 ft tiles of the same product are also available at a cost savings. Interlocking pre-designed kits in standard sizes are available.
The surface pattern has changed from Pebble to Hexagon as of March 2023.
Shipping
Freight shipping only on pallets.
This Product Ships Freight Only.
Please review our shipping disclaimer.
| | |
| --- | --- |
| SKU# | RSMHVV4-12x16KITB |
| In Stock | Yes |
| Product Type | Mat |
| Material Type | Rubber |
| Product Edging | Straight |
| Thickness | 3/4 inch |
| Width | 11.54 feet |
| Length | 15.37 feet |
| SF per Item | 192.00 |
| Weight | 800.00 lbs |
| Packaging | Shrink Wrapped on Pallets |
| Number of Pieces per Package Type | 8 |
| Non Absorbent | Yes |
| Special Adhesives | No |
| Universal Interlock | No |
| Interlock Loss | 0.00 feet |
| Material Hardness | Shore A 65 |
| Interlocking Connections | Yes |
| Made In | Canada |
| Surface Finish | Hexagon top |
| Surface Design | Solid color |
| Installation Method | Dry lay, interlocking |
| UV Treated | No |
| Reversible | No |
| Border Strips Included | No |
| Manufacturer Warranty | 10 Year Prorated |
RELATED PRODUCTS