TrakMat Ground Cover Mat Green 1/2 Inch x 44.5 Inches x 8 Ft.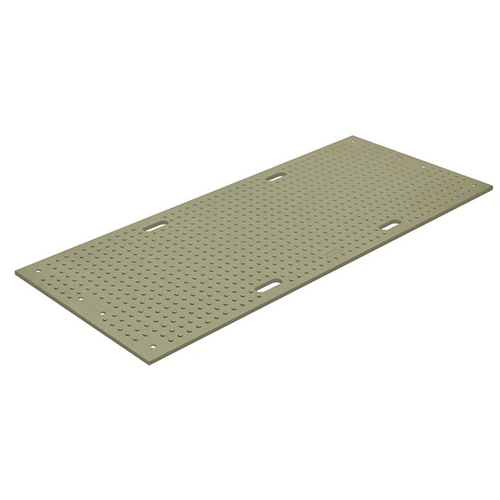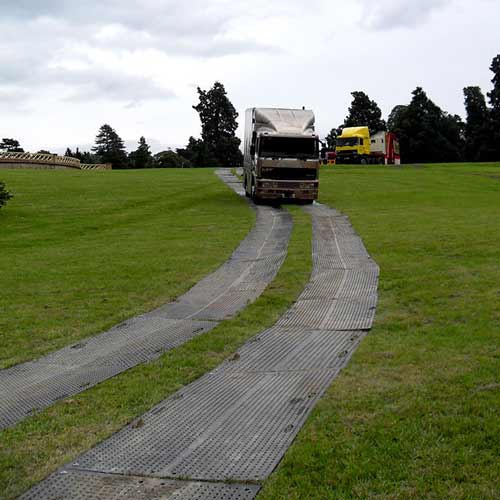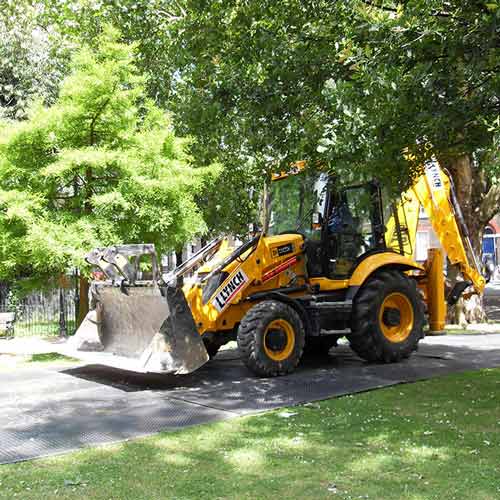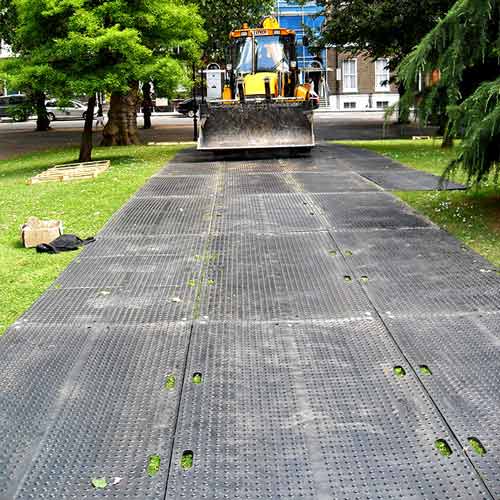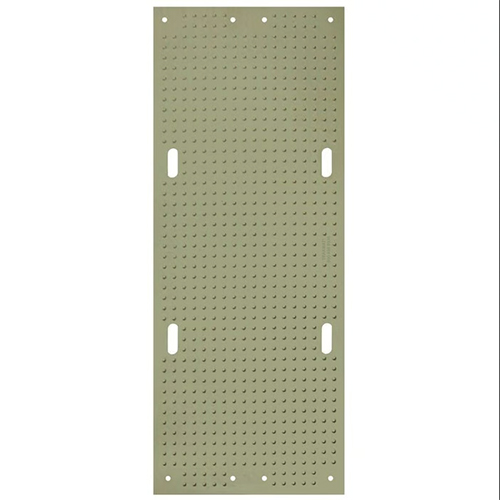 Manufactured from 100% recycled High Density Polyethylene
Rugged button top surface tread provides impressive grip
Hand holes for easy maneuvering - Man deployable
Handling Time Estimate: Call for Availability of Lead Times
Manufactured from 100% recycled High Density Polyethylene
Rugged button top surface tread provides impressive grip
Hand holes for easy maneuvering - Man deployable
Support loads up to 90 ton
Smooth surface on one side optional
Connector options available
Unaffected by heat or cold
Molds to the ground due to its flexible constuction

Construction Sites, Cemeteries, Landscaping, Pump Service, Golf Courses, Crossing Sand or Grass
NOTE: This item is a custom order and is not returnable.
TrakMat Ground Cover Mat Green 1/2 Inch x 44.5 Inches x 8 Ft.
TrakMat Ground Cover Mat Green 1/2 Inch x 44.5 Inches x 8 Ft. are ideal for contruction, pump services and utilies companies where larger vehicle and equipment maneuver over possibly unstable ground conditions.
Never again rely on a water-logged plywood sheet or thick gravel on the ground to create a temporary roadway at a construction site. Instead, consider purchasing the reusable TrakMat Ground Cover temporary road mats from Greatmats.


Customers can lay out these mats end to end to create access for vehicles in new construction areas. These mats can protect landscaping and other ground where those doing the work have concerns about causing damage to an existing lawn or grassy area.


Size and Shape Options

Each of these temporary road mats for sale measures 3.71 by 8 feet. The majority of installers will lay the mats end to end, making a temp roadway.

For vehicles that have a wider tire span or track span than 3.71 feet, installers can lay two rows of mats end to end, providing coverage space for the wheels on either side of the vehicle. Another option for wider vehicles is to lay the mats side to side, creating an 8-foot wide temporary roadway.

Each of our temp road mats measures 1/2 inches in thickness, which provides significant stability for even heavy work vehicles and equipment. The mat can support up to a 90-ton load driving across it without buckling or allowing damage to occur to the ground underneath.
Material Options
Our manufacturer creates these temporary road mats in the United States, meaning customers can trust that the materials are pure and that the measurements for the mats will adhere to tight manufacturing tolerances.
Each mat uses a high density polyethylene plastic, or HDPE, which allows it to remain firm without buckling, even when placed under heavy stress. HDPE does not change its weight bearing properties when deployed in extremely high or low temperatures, either.
This is an important feature of ground protection mats, as buckling would allow the tires or treads on the vehicle to tear up the grass underneath.
The manufacturer makes use of 100% recycled HDPE, which helps to keep older plastic materials out of the landfill.
Pattern and Texture Options
These temporary road mats have a button shaped raised texture across the top, making it easier for vehicles to maintain a grip on the mats while driving across them. In construction sites, it's possible for mud to end up on the top of the mats, and the button texture helps vehicles to avoid spinning tires on mud.
Customers can select a mat that has the button texture on both sides of the mat, or they can select a design that has a button design on one side and a smooth design on the other side.
This is a green colored mat, which allows it to blend a little better into the surrounding area versus another color of road mats.
Common Use Options
Our mats most frequently appear in areas where customers need to drive vehicles without causing damage to the lawn, yard, or grass underneath.
Potential customers include construction companies, park maintenance departments, cemeteries, schools, tree trimming services, electric companies, and others. Schools may even place these mats over the top of a track oval, protecting the asphalt as players walk across the track to reach the soccer or football field in the middle.
Without having these mats available, construction teams may lay plywood sheets down to try to create a road. However, these sheets will buckle and splinter after a few vehicles travel over them, creating a mess. Our mats are usable over and over for creating roads.
Installation Options
To install these temporary road mats, installers can just lay them end to end along the location where the roadway should appear. The edges of the mats have hand cut-out holes, making it easier to grip and lift the mats.
An individual mat weighs about 78 pounds, so the process of laying out the mats will go faster with two people involved.
These mats should fit into the majority of pickup beds. Installers can drive them to the location for the temp road and pull them out of the pickup bed to lay them down quickly.
Along the ends of the mats, the manufacturer included connector holes. If desired, customers can connect two mats to each other using pins. Using connectors is a good idea when the mats will be going over uneven ground.
Cleaning and Maintenance Requirements
Our temporary road mats are easy to clean and maintain, which makes them a popular choice for deploying at a construction site.
To clean the HDPE mat, many customers choose to rinse the mats with a garden hose and sprayer attachment. If the mats only have dry debris on them, you can use a leaf blower or a push broom to remove these items.
There really is no need to clean the mats on a regular basis. These mats will continue to perform at a high level, even if they are not clean. You may want to clean the mats before picking up the temp road and placing the mats in storage, however.
When using truck outriggers, allows use a block of wood or an outrigger protection pad between the outrigger and a ground protection mat.
Maintenance
Clean using a pressure washer or garden hose and non-metal scrub brush.
Shipping
Ships on pallets via freight delivery. Customer must unload at delivery location, Lift Gate service is not available for this product.
This Product Ships Freight Only.
Please review our shipping disclaimer.
WARNING: This product can expose you to chemicals including Lead and/or Phthalates, which are known to the State of California to cause cancer and birth defects or other reproductive harm. For more information go to www.P65Warnings.ca.gov.
| | |
| --- | --- |
| SKU# | TM4496-G |
| In Stock | Yes |
| Product Type | Mat |
| Material Type | Polyethylene Plastic |
| Product Edging | Straight |
| Thickness | 1/2 inch |
| Width | 3.71 feet |
| Length | 8.00 feet |
| SF per Item | 29.60 |
| Weight | 78.00 lbs |
| Packaging | Shrink Wrapped on Pallets |
| Number of Pieces per Package Type | 20 |
| Non Absorbent | Yes |
| Special Adhesives | No |
| Interlock Loss | 0.00 feet |
| Material Hardness | Shore A 100 |
| Interlocking Connections | No |
| Made In | USA |
| Surface Finish | Button top tread |
| Surface Design | Solid color |
| Installation Method | Dry lay, connectors |
| UV Treated | Yes |
| Reversible | Yes |
| Border Strips Included | No |
| Manufacturer Warranty | 6 year limited |
RELATED PRODUCTS