Indoor Dog Training Floor System - Neuman K9 Academy Testimonial
By Brett Hart Created: May, 2017 - Modified: November, 2022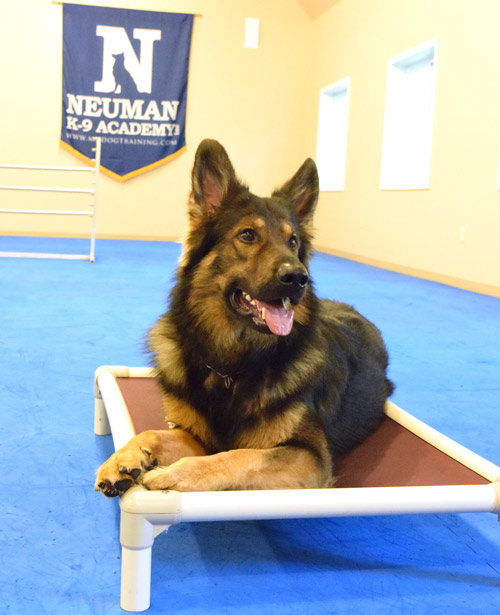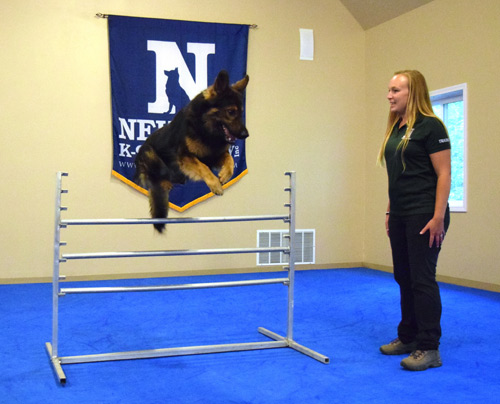 Fighting the elements isn't always the easiest thing to do in Minnesota. That's why Josiah Neuman, owner and training director of the nation's leading dog boot camp, designed a premiere 3,600 square foot climate-controlled all-weather training area when he moved his 20-acre St. Peter training facility, Neuman K-9 Academy, onto 10 acres of pristine wilderness in Hugo, Minn., in late 2011.
''I've been training dogs professionally since 2007 (when he became a Certified Master Trainer),'' Josiah said. ''We've had about 1,000 dogs go through the course. Dogs come from all over. This year, we've had dogs return to their owners in Switzerland, Brazil and Canada (as well as all over the U.S.). We get them from all over the place specifically for the boot camp.''
At the time of the move, the new property had a pole shed in disrepair, which Josiah and his staff envisioned as the location of the indoor training area.
''Clients want their dogs to have first class accommodations,'' Josiah said. ''We do train outside as well, but it's nice to have an atmosphere like this where you can walk in and focus on the dog and training and not the elements.''
After several months of intense restoration and remodeling work, the final hurdle of the project was selecting a durable floor that would stay dry while also providing a safe and comfortable surface for dogs.
''We were really going back and forth on how to treat the concrete floors previous to installing any sort of flooring, because we knew it (the concrete) would sweat,'' Josiah said. ''We put a lot of time and effort into researching different flooring options. It was import to us to have space that is climate controlled.''
In July of 2012, the staff at Neuman K-9 Academy decided blaze a new trail in K-9 flooring with an alternative use for
Patio Outdoor Tiles
they found on a website called Greatmats.com. The Patio Outdoor Tiles, designed for use in wet areas, would serve as a subfloor underneath waterproof interlocking dog agility mats also found at Greatmats.com. Waterproof and slip resistant, the patio tiles are designed to allow water to drain through them and are elevated, permitting air to flow underneath the flooring.
''We put down the PVC as a subfloor because... we didn't want the moisture to be trapped underneath,'' Josiah said. ''It just made more sense to use a product like the PVC floor that would be designed for getting wet, airflow, things like that.''
Summer Duggan, the assistant training director at Neuman K-9 Academy, added, ''It's a firm material, but I think it even adds an extra layer of support and cushioning - as opposed to just having the mats flat on concrete.''
The idea for interlocking dog agility mats as the top surface of the floating floor came upon recommendation of other friends in the professional dog training industry. One training facility in western Wisconsin used these same kind of interlocking dog agility mats, and Josiah was particularly impressed by their performance.
''They've had them for a long time,'' Josiah said, noting that they've beaten up the mats and they're still holding up really well.
''We do sport dogs,'' Josiah said. ''We do bite work. So we'll literally have a dog back tied - agitation; they're gripping; they're clawing; they're pulling. These go through a lot of abuse. One of the biggest considerations with the type of flooring we were going to go with was not only... Is it comfortable for the dogs? Is it safe for them? And then very importantly, what's the longevity of the product going to be like.''
Durability
The K-9 Academy uses the facility 3-4 times per week, specifically for off-leash behavior and training with up to 15 dogs at a time. After nearly 3 years, the flooring has suffered some expected cosmetic blemishes that come along with hard use and abuse. But the mats continue to perform as well as the day they were installed.
Summer said, ''We work with different working breeds in different venues in addition to the obedience and the agility, and I'm very impressed with the durability of the product. It gets a lot of mileage. There are lots of dogs running around in here - lots of toenails, and its held up phenomenally well, even in the really high traffic areas.''
''So far, we haven't replaced a single tile,'' Josiah added.
Comfort and Safety
The new flooring system hasn't disappointed in comfort or safety either.
''When we are doing jumps, we're having dogs clear things and land hard,'' Josiah said. ''When you are training a sport dog to jump, typically you won't start until they're 12 months of age or older - sometimes even 2 years of age or older - because of their bones developing. With how soft these (tiles) are to land on, we can actually start dogs at a younger age, because it's low impact.''
To get out of the elements at its previous location, Neuman K-9 Academy need to rent space, and the flooring systems varied greatly.
''One place had concrete pavers, which was not good,'' Summer said. ''There were situations sometimes where dogs would get scraped pads. Other places had a pebbly/rubbery floor - decent traction, but no shock absorption. This is the best!''
As for the water problem from sweaty concrete and foot traffic... There isn't one.
''When people are coming in and out... if there's snow, if it's a rainy day... things dry up really nice,'' Josiah said. ''We've never had a problem with them.''
With this innovative flooring system, Neuman K-9 Academy is truly top dog.
Josiah Neuman
Neuman K-9 Academy
Hugo MN 55038