Best Floor Tiles to Use Under Heavy Vehicles - Outdoor & Garage Floors
By Julia Nass Created: June, 2017 - Modified: July, 2021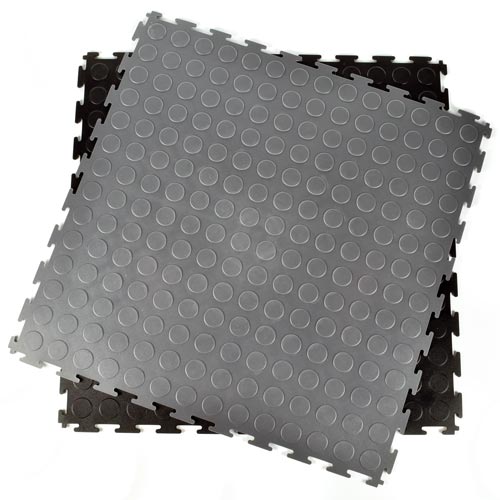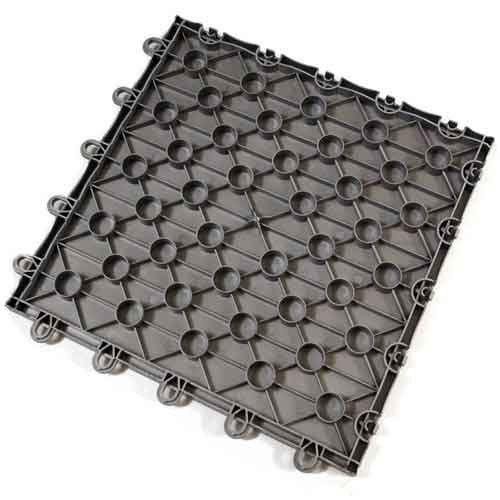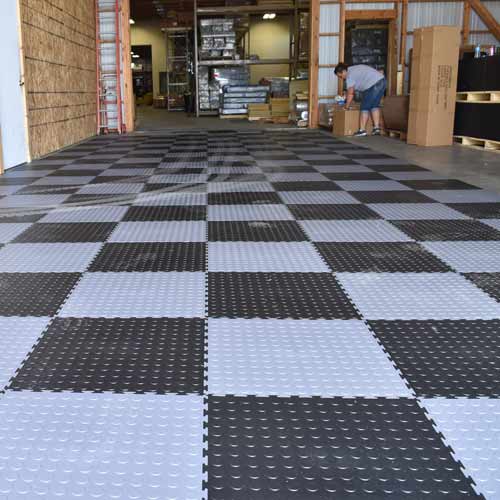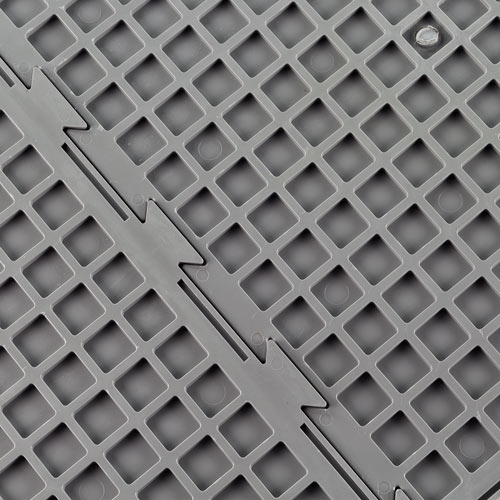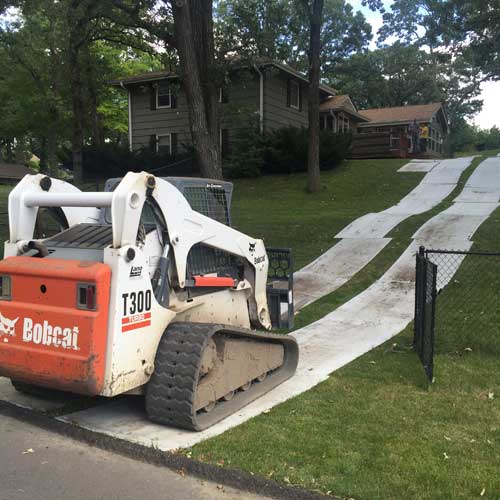 Many floor tiles may seem durable enough to hold heavy vehicle weight, but it's never safe to assume. Even if tiles can hold up under extremely heavy weight the first few times, flooring can end up shifting or breaking after a while. When on the hunt for heavy duty floor tiles, it's important to make sure tiles can withstand the load over and over again.
Vehicle safe floor tiles are not hard to find at Greatmats.com. They come in a variety of colors, textures and materials. Here is an overview of some of the best, most durable ones.
Garage Floor Tiles
When looking for a great heavy duty floor tile option, the garage floor tile coin or diamond surface pattern is the place to start. For the budget-conscious purchaser, these tiles are hard to beat. Few other options will give you the same perks in your vehicle safe floor tiles.
With any heavy duty floor tiles, durability is paramount. The garage floor tiles in coin or diamond pattern do not back down from the job. These tiles are carefully designed and tested to withstand 20,000 pounds of static weight. With a five year warranty, these tiles will handle almost anything you can throw at them. Even with removal and re-installation, these tiles are designed to withstand warping and flexing under heavy loads. The tiles are raised, meaning that air can flow under your heavy duty floor tiles and quell your fear of mold or mildew in your garage or event site.
As with most tiles from Greatmats, installation is easy. Whether it is an island configuration or a wall-to-wall install, you can complete it quickly with just one person. These tiles use an interlocking tab-and-loop connection system so you just need a couple of taps with your foot to seat them for heavy use. This rugged connection type will not allow play between tiles, so a glue or adhesive is not necessary. To get a perfect fit into corners and edges, you will need to cut your tiles to fit. A power saw is recommended, though a utility knife can work in a pinch. These vehicle safe floor tiles are also available with ramped edging and corner tiles to complete any flooring transitions with looks and performance in mind. Install them over many hard, flat surface like concrete.
Heavy duty floor tiles like these are designed to see hard use, and that might mean some dirt or wear. Luckily, cleaning these polypropylene plastic tiles is a breeze. The garage floor tiles are designed to be cleaned with any household cleaner or just hot water and a mop.
They also come in many rich colors to help match your decoration needs. Try a checkerboard pattern to really make your garage or event space pop.
HiddenLock Slate Floor Tiles
Similar to Greatmats' line of Garage Floor Tiles, HiddenLock Slate Floor Tiles are another durable choice for use under heavyweight vehicles. Like other tiles, these are easily put together with a high quality connecting system. The vehicle safe floor tiles are easy to connect together and take apart. Tiles stay strong and connected under the force of cars, vehicles or heavy foot traffic. HiddenLock Slate Floor Tiles will stay together with a mere dry lay installation. However, adhesives are recommended to bind the tiles to the subfloor if heavy machinery will be operating with a lot of turning.
Despite the toughness of these tiles, aesthetics are not compromised. Once installed, HiddenLock Slate Floor Tiles provide a sleek, seamless look. These tiles aren't meant only for the garage. They are a smart and attractive choice for entryways and warehouses as well. HiddenLock Slate tiles come in both black and grey.
Although HiddenLock tiles may seem just like Garage Floor Tiles at first glance, there are a few major differences including material and connecting system. HiddenLock tiles are made from a softer PVC than Garage Floor Tiles and fasten together with a puzzle-like connecting system rather than a hook-and-loop design. When used for automotive areas, it is recommended that you use a PVC floor sealer on these tiles.
The main difference, however, is that Hiddenlock tiles are nearly half the vertical height of Garage Floor Tiles, as they are not raised for airflow. If you live in a damp climate where humidity and moisture is a problem, Garage Floor Tiles may be the right choice.
Ground Protection Mats
If you are looking for a flooring option with more versatility and impermanence, ground protection mats are awesome vehicle safe flooring options. These types of mats are specifically designed to protect grass, turf, or any other type of ground from heavyweight vehicles. Ground protection mats can be placed as a temporary roadway or as a high-traffic pedestrian walkway.
Do you have an idea for a new landscaping project in your backyard? Heavy vehicles will need access over your lawn. Are you planning a movie-in-the-park night for your neighborhood? The truck with the heavy sound equipment will need to drive over that fresh grass at some point. Either way, you will need some way to protect the ground with vehicle safe floor tiles. For personal needs, you should consider purchasing a lighter-weight or narrower ground protection mat. They will be more than sufficient for infrequent use.
For commercial applications, consider a wider ground protection mat that can withstand up to 120 tons. These mats are perfect for reusing over and over again in any kind of adverse conditions. They are bendable and unbreakable. For longer-term placements, consider choosing the clear mats that allow for sunlight to penetrate and continue grass growth. No more will you be left with dead, yellow grass on a client's lawn after just a few days of working, and you will never have to re-route your machinery access every few days just to preserve the lawn again with clear heavy duty floor tiles.
You can find mats that come in two, three, or four foot widths in order to cater to your project's needs, and most mats are available in black, white, or even clear polyethylene plastic.
What Not to Use
In general, stay away from using foam or rubber flooring materials.
Foam tiles may seem sturdy, but not enough to withstand vehicle-grade loads. They will compress, scuff and puncture under these loads and do not perform as well as designated heavy duty automotive floor tiles.
Rubber may seem like a durable choice, but tires will end up creating so much traction with rubber that it can rip and become permanently damaged. And if your vehicles were to leak any fluids on the rubber, it will cause the material to break down.
If you'd still like other options, greatmats offers many other vehicle safe flooring options, including low-profile PVC warehouse floor tiles. Keep in mind, PVC flooring should be sealed to prevent discoloration when used in an automotive environment. Take a look at Greatmats garage floor tiles and ground protection mat options.
Check out product descriptions on Greatmats.com or connect with customer service before you commit. Greatmats' customer service will help make sure you are finding tiles that are completely durable and vehicle safe.