Smooth Top PVC Interlocking Black Ever 1/4 Inch x 20x20 Inches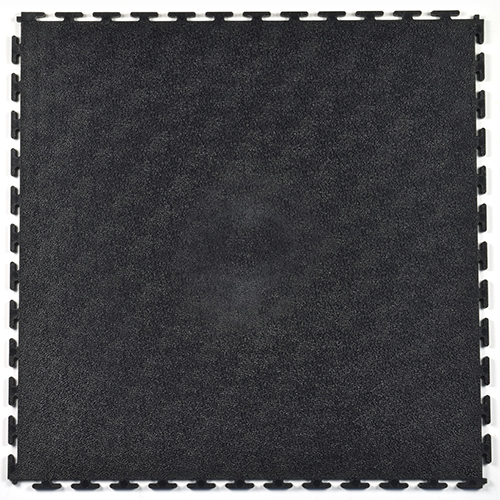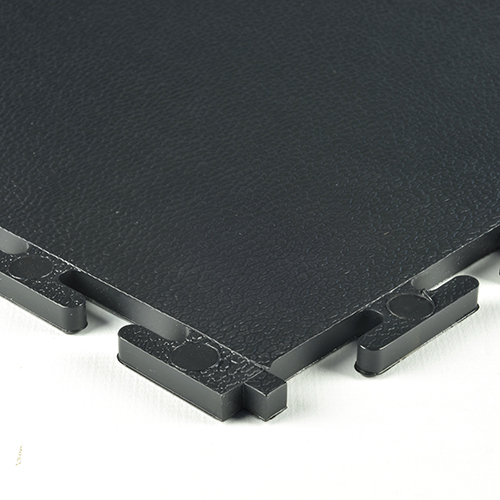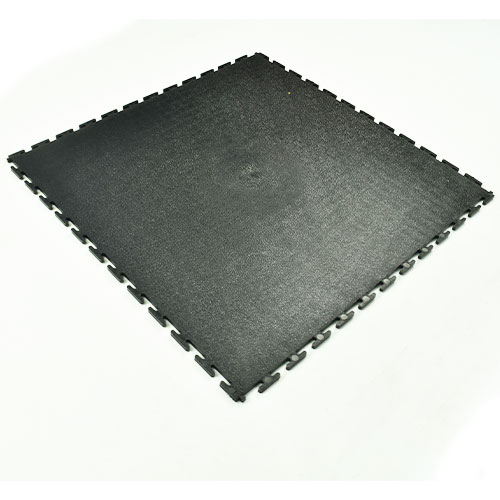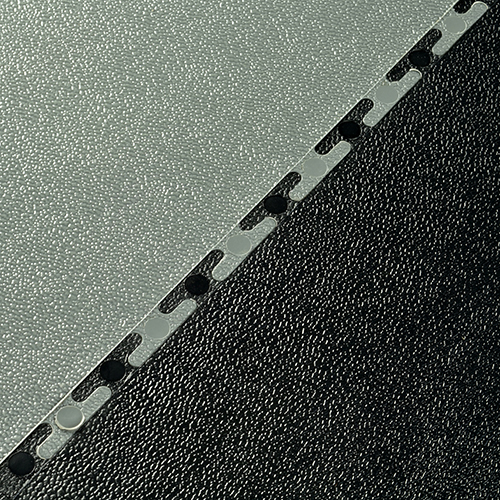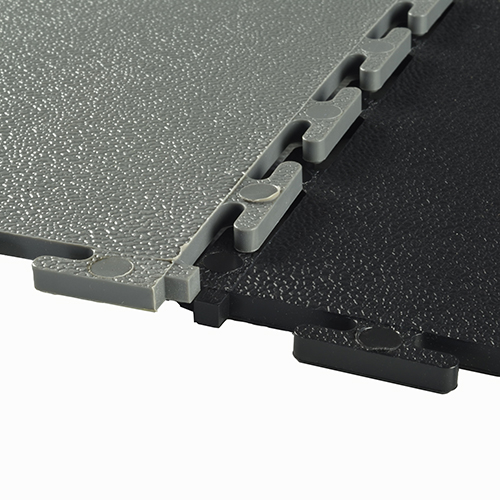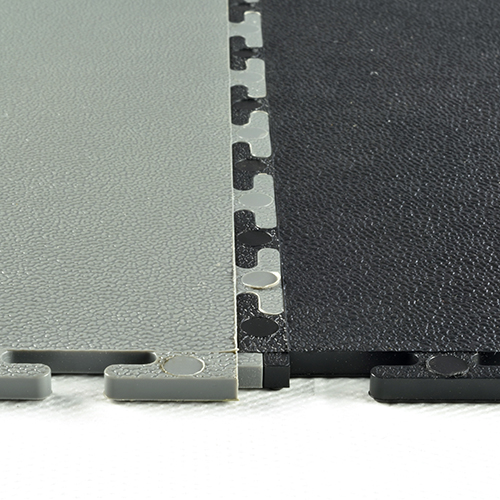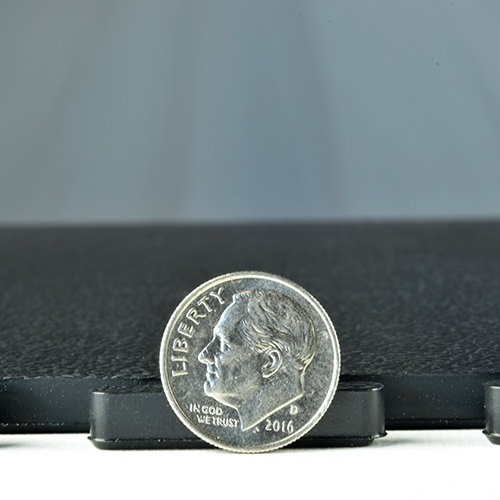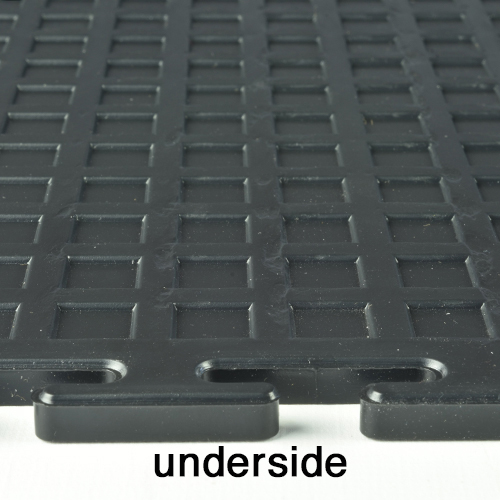 Resistant to oils, mold, mildew and most chemicals
Interlocking tiles for easy DIY installation
Not affected by heat, cold or humidity
$10.47
/tile
(You Save 20%)
(1 Reviews )
Ships Out: Estimate 11-14 Working Days

Black
How Much Flooring Do I Need?
VIDEOS
TOP FEATURES
Resistant to oils, mold, mildew and most chemicals
Interlocking tiles for easy DIY installation
Not affected by heat, cold or humidity
Easy to clean and maintain
No adhesive required
Made from quality recycled PVC plastic
Nonabsorbent, waterproof
Modular flooring tiles made in the USA
Use Types
Garage, Gym, Warehouse, Retail, Industrial, Laundry, Showroom, Commercial, Retail, Trade Show
Smooth Top PVC Interlocking Black Ever - Easy to install
Smooth Top PVC Interlocking Black Ever 1/4 Inch x 20x20 Inches floor tiles are a multipurpose tile that is also bendable and tough. This tile is a great option for industrial and commercial areas. The interlocking PVC tiles can be used for warehouse industrial applications and are excellent for garage floors and laundry room flooring.
When you spend a lot of time in your garage, whether working on cars, converting it to a man cave, or creating a workout space, high-quality flooring is a must. The smooth garage floor tiles from Greatmats offer extreme durability in an easy-to-install design.


These tiles easily go over the top of concrete, connecting tightly without the need for adding glue during the installation.


Size and Shape Options

Each of our square smooth garage floor tiles measures 20x20 inches, which is a great size for a single person to maneuver into place for the layout.

All four edges of these PVC tiles contain tabs and slots that look a bit like the edge of a T-shaped jigsaw puzzle piece. This particular T-shaped design ensures the tiles will fit together tighter than some other puzzle-style tiles.

The interlocking edge affects the overall coverage size of each tile, which measures 2.77 square feet. The interlock loss is 0.03 feet.

Should you have a particular square footage in mind that you need to cover, even as large as 1000 sq ft, contact the Greatmats customer service team to help you calculate the number of tiles you need.

Each tile measures only 1/4 inches in thickness, yet it is tough enough to stand up to rough conditions without showing damage. An individual tile weighs only 4 pounds, which makes the installation process a snap.
Material Options
These tiles consist of PVC, or polyvinyl chloride.
PVC flooring
is a highly desirable option, as it has a little bit of flexibility that simplifies installation. Yet, it resists showing scuffs when used in high foot traffic areas.
PVC delivers both sound insulation and thermal insulation, resulting in a more pleasing space than occurs with bare concrete alone.
Additionally, PVC is resistant to many spills and environmental conditions, including:
Oil

Mold

Mildew

Most chemicals

Water
PVC doesn't expand or shrink significantly in high or low temperatures. It also doesn't undergo changes when exposed to areas of high humidity.
Greatmats sources these smooth garage floor tiles from a manufacturer based in the United States. With the purity of the ingredients and the tight measurement tolerances the manufacturer follows, customers can trust that they are receiving tiles without weak spots.
Pattern and Texture Options
These smooth garage floor tiles have a primarily smooth finish, which makes them easy to clean. However, they do have a slight pebble top texture embedded into the surface. This minimal raised texture does provide a bit of extra traction.
This particular model of tile is available in a solid black color. Customers can install the black tiles throughout the layout, if desired. We also offer similarly configured models of this tile in other colors, including blue, red, yellow, tan, green, and gray.
Because every color of these 20x20 smooth garage floor tiles uses the same T-shaped interlock edge pattern, installers can mix and match colors. However, the T-shaped edge will be clearly visible when mixing colors. If you use a solid color throughout the grid, the T-shaped edge essentially disappears from view.
Common Use Options
Customers commonly install these smooth garage floor tiles in garages, warehouses, home basements, and industrial settings. Because these tiles are so durable, they can stand up to locations like this without showing unwanted wear.
Because it is resistant to water and other spilled liquids, PVC works well in a laundromat or in a commercial laundry facility as well.
When concrete flooring in a warehouse, factory, or garage is beginning to show stains or cracks, give the area new life and make this floor go over the top. If you have a significant crack in the cement that would cause an uneven layout, perform a quick repair to create a smoother subfloor.
Installation Options
Installing these tiles is an easy process. Just lay one mat next to another mat, lining up the T-shaped slots and tabs. Then press them together by hand, by stepping on them, or by using a rubber mallet.
This is a DIY project that does not necessarily require the use of glue, as the tabs and slots fit tightly together. However, when installing this flooring in areas where people will drive cars, forklifts, or trucks, the manufacturer suggests gluing the tiles to the subfloor to prevent shifting.
Installers can place these tiles over the top of almost any kind of existing subfloor, such as wood, epoxy, cement, vinyl, or similar types of hard floors.
Cleaning and Maintenance Requirements
Customers appreciate the design of our smooth top tiles, as they remain extremely easy to clean. Start by sweeping or vacuuming the tiles to remove debris. Because these tiles often appear in a garage or other large area with easy outdoor access, some people use a leaf blower to remove dry debris.
Washing the floors is an easy process as well. Customers can simply rinse the tiles with a garden hose and sprayer. They also can use cleaning solutions to remove oily or greasy spills, as the tiles are resistant to most chemicals and cleaners.
Maintenance
Sweep and clean with a damp mop and mild floor cleaner.
Shipping
Ships via ground or freight delivery
This Product Ships UPS Ground and/or Freight.
Please review our shipping disclaimer.
SPECIFICATIONS
| | |
| --- | --- |
| SKU# | Blksmooth |
| In Stock | Yes |
| Product Type | Tile |
| Material Type | PVC/Vinyl |
| Product Edging | Interlocking |
| Thickness | 1/4 inch |
| Width | 1.67 feet |
| Length | 1.67 feet |
| SF per Item | 2.77 |
| Weight | 4.00 lbs |
| Packaging | Cartons |
| Number of Pieces per Package Type | 10 |
| Non Absorbent | Yes |
| Special Adhesives | No |
| Universal Interlock | No |
| Interlock Loss | 0.03 feet |
| Interlocking Connections | Yes |
| Made In | USA |
| Surface Finish | Leather |
| Surface Design | Textured |
| Installation Method | Dry lay, interlock |
| UV Treated | No |
| Reversible | No |
| Border Strips Included | No |
| Manufacturer Warranty | 25 year limited manufacturers warranty |
HOW TO'S
RELATED PRODUCTS