Ergonomic Flooring - Choosing the best ergonomic floor mats
By Kim Butler Created: March, 2017 - Modified: June, 2020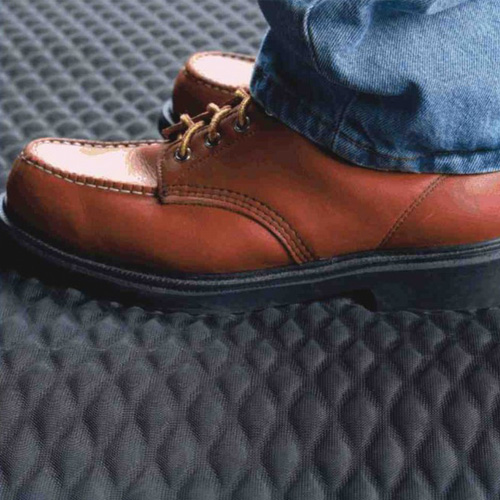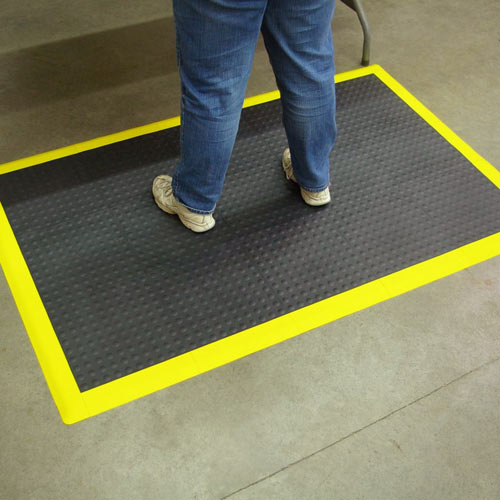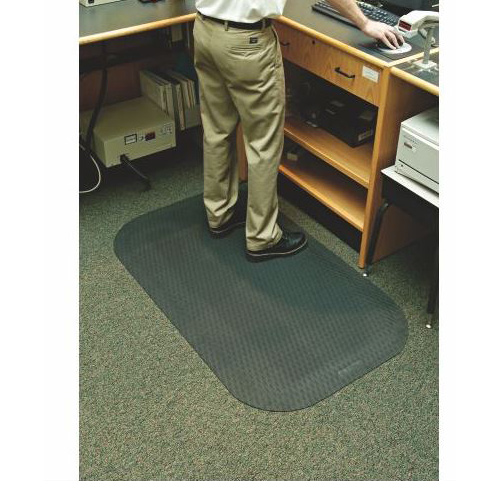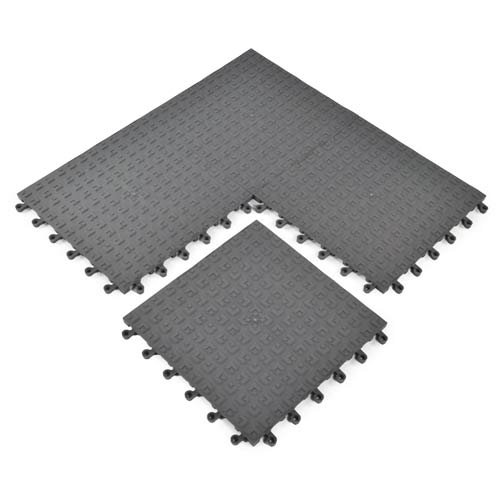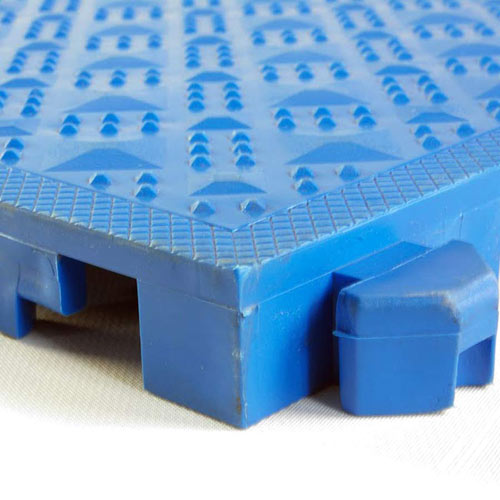 Factories, retail and customer service counters, assembly lines, medical labs, and shipping and packing facilities are just some of the many businesses and locations that need
ergonomic flooring to assist employees who stand for many hours each day
. But when an internet search for ''ergonomic flooring'' yields thousands of results, it can be hard to narrow down the best solution for an individual business.
So, how do you know which form of ergonomic flooring to choose? To answer this question, let's start by understanding the need for ergonomic floor mats.
How does workplace fatigue effect you and your business?
Generally, office and industrial spaces are constructed with affordable, durable concrete floors - great for the bottom line, but not for employees. Standing on a concrete surface all day can result in blood pooling in the legs and feet. The leg muscles don't move enough to encourage circulation. This, in turn, leads to muscle fatigue, joint compression, pain and swelling in the lower limbs, varicose veins and even heart disease.
OSHA reports that muscle fatigue and musculoskeletal disorders account for a third of all workplace injuries. For a business owner, this means worker fatigue, which can result in less productivity and more errors, increased workers compensation claims, more sick leaves and higher medical bills. On the other hand, reducing fatigue can mean a worker who has better morale and productivity.
What should you look for in ergonomic flooring?
Employers can't just slap down a soft mat and be done with it. Mats that are too soft also result in worker fatigue. Imagine standing on a cushy mattress or soft sand. It important to find a balance between soft and supportive - a mat that encourages subtle muscle movement, which in turn decreases blood pooling.
Ideally, the surface will compress and bounce back. The mat should return to its original shape when a worker changes positions. Secondly, the mat needs to be durable and stand up to the work environment. A cheap mat that degrades underneath and compresses will not prevent worker fatigue very long. A mat that curls and bends could quickly become a tripping hazard.
Ergonomic industrial flooring
Mats in industrial areas or food service may need to be slip resistant, moisture and chemical resistant, or cut resistant. Perhaps trolleys and carts will need to move on and off the mats. Beveled edges that allow wheeled carts, and stable edges that won't bend, break or crack are also important. Degrading edges can result in trips and falls.
Warranties for quality mats and flooring range from 2 to 10 years, while the useful lifespan of the flooring itself can be much longer. While the upfront investment can be more, replacement costs over the life of a quality mat or flooring system are much lower.
Ergonomic Flooring Materials
Dense foam, plastic made of PVC, and dense rubber are the three materials most often used in quality ergonomic flooring. Sometimes a combination of the them exist in the same product. Each product has its plusses and minuses, depending on the application.
Synthetic foam can be a more affordable option than rubber, and are offered in a wider range of colors and shapes and resilience.
Much lighter than rubber, PVC flooring can be easily installed and relocated. PVC is a great solution for dirty environments like factories or assembly or machining due to ease of cleaning and non-absorbency. PVC flooring can stand up to chemicals, oils and acids. It can also be cut resistant. PVC products can be made from virgin PVC, or recycled PVC. PVC tiles in black are often made of recycled PVC.
While PVC flooring can be a more affordable option than rubber flooring, it does not have the same life span of rubber.
Rubber is a natural material, and a renewable resource, made from the sap of rapidly growing rubber trees. Today's rubber mats often contain a percentage of recycled materials. For customers seeking an environmentally-friendly product, or perhaps working towards Leadership in Energy and Environmental Design (LEED) certification, rubber is a great option. At the end of a rubber floor's lifespan, it can be recycled into new mats or other applications.
Rubber is heavy, dense and very durable. However, rubber cannot always be used in a situation with chemicals or oil as oil can break down the bonding agents used in recycled rubber flooring. Virgin rubber mats and vulcanized mats won't have this problem.
Some of rubber's other benefits include its slip resistance, resistance to spills and anti static properties. Factories, food service and other industries working closely with electrical equipment, servers and computers will want ergonomic mats that minimize static electricity. The durability of rubber makes it resistant to cuts. And rubber has a long life span, sometimes up to 30 years.
Hard rubber, which is stiff, can be perforated, which is good for particle generating activities like machining, where the particles will settle in the holes and not damage the mat. Perforated rubber is also used in wet environments like food service areas.
Rubber flooring and hygiene mats can be used in medical areas, operating theaters and clean rooms. Rubber is naturally anti-bacterial. These mats can be autoclaved and washed for a clean environment.
Maintaining rubber flooring is easy - just vacuum and wash with water or a neutral pH cleaner.
Rubber flooring is often composed of virgin rubber or recycled rubber mixed with urethane. Virgin rubber is soft and pliable, but more expensive. Recycled rubber is more affordable, tougher and more scratch resistant.
Rubber Material Concerns
One concern with rubber flooring is the odor. The odor is the result of sulphur. Some companies offer products with and without sulphur. For a large, well-ventilated warehouse space, odor will be less of a factor, and cost may dictate a product with more smell. But in a smaller space, it might make sense to spend a little more for a low odor product.
Another thing to be aware of are additives and fillers in rubber products, ranging from sand and clay to used motor oil. Generally these additives are an issue in products produced overseas, and will not be present in the wide range of American-made rubber products.
Consult the experts
One way to find the perfect ergonomic flooring for your application is to work with a company that offers a broad product line and excellent customer service. A leader in the specialty flooring business, Greatmats.com offers a wide array of rubber, foam and PVC products as well as friendly and knowledgable customer service.