What Is The Easiest Way To Finish A Basement Floor?
By Paige Cerulli Created: January, 2022 - Modified: February, 2023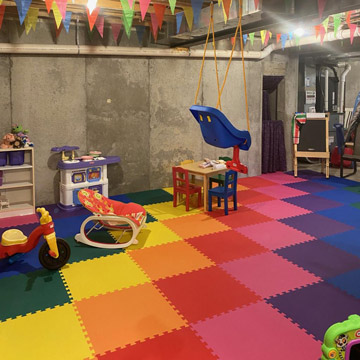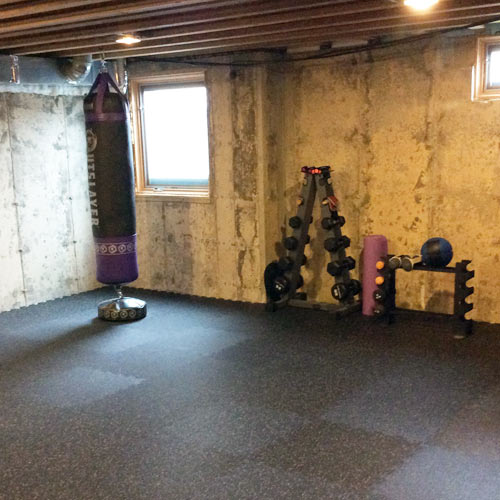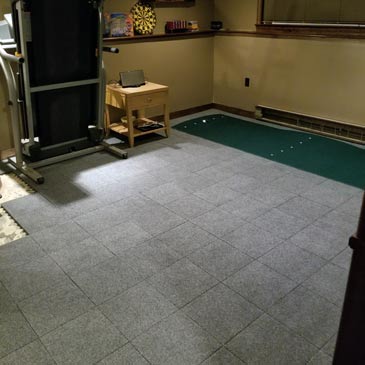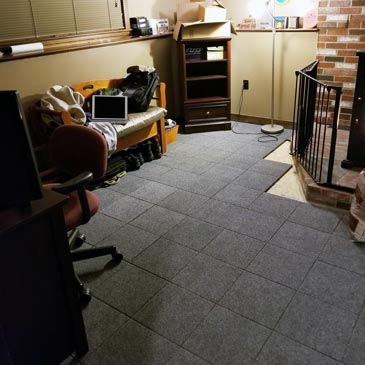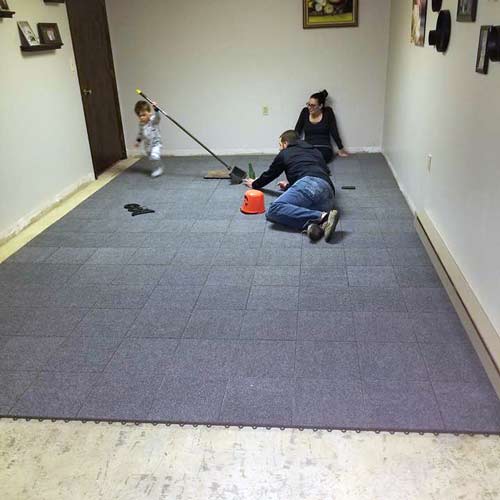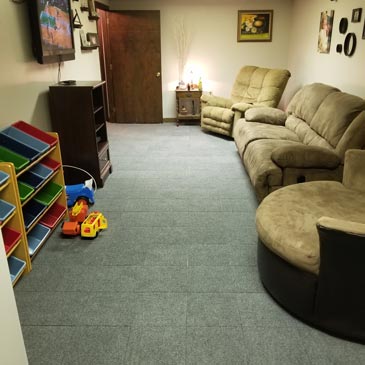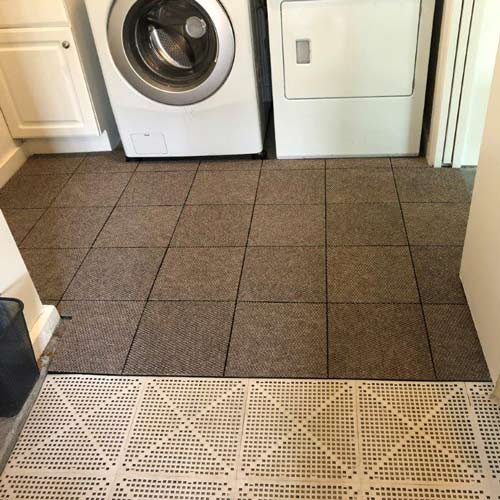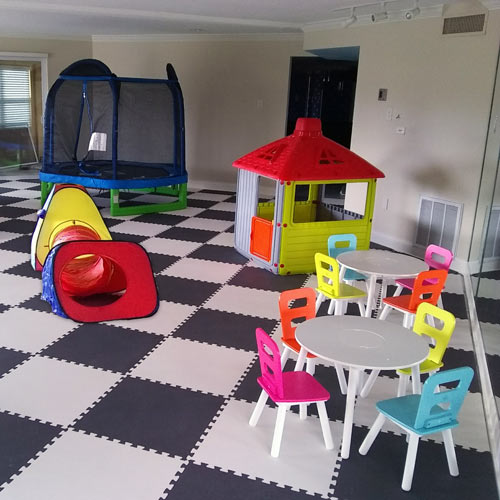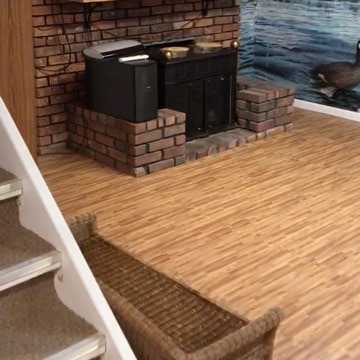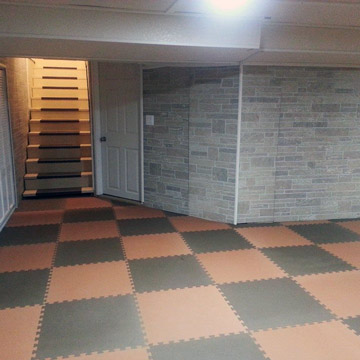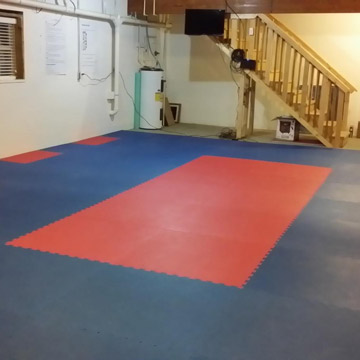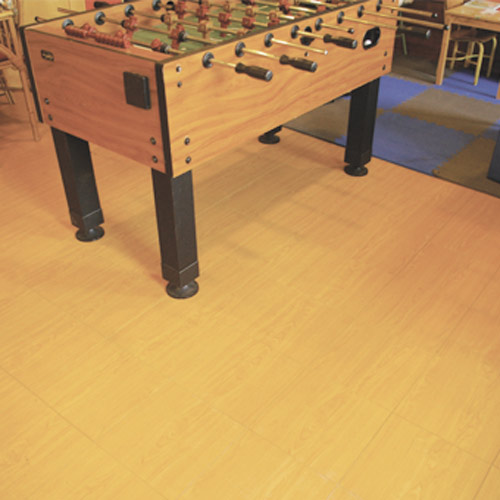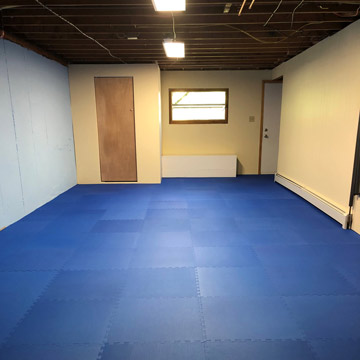 If you want to finish your basement yourself, you'll be able to choose from many non-traditional basement floor tiles that can help get the job done. With these tiles, you can get the exact look and feel that you want, but also enjoy an easy installation process.
Basement Floor Tile Materials
DIY basement floor tiles are an ideal choice when you want to finish a basement without hiring a professional. Options like snap together tiles make installation a breeze.
When exploring the many tile options available, you'll find that you can choose from tiles made with many different materials. Each material has its own pros and cons.
Foam Tiles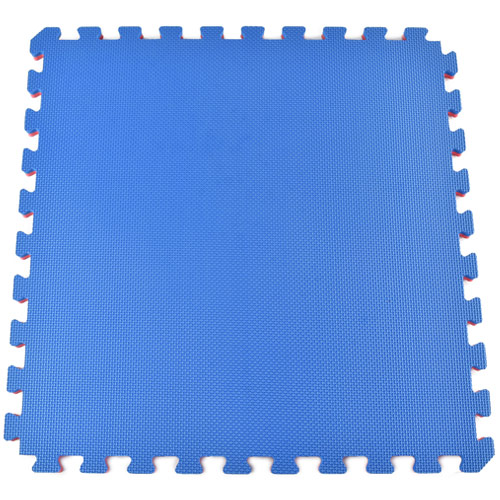 Foam tiles tend to be highly comfortable, thanks to the cushion that they offer. Foam is a great choice when kids or families will be using the space.
Foam offers insulation properties, helping to prevent the cold of your concrete floor from seeping up. It also acts as a sound buffer.
While tile is flexible, soft and comfortable, some foam tiles can't withstand the weight of furniture legs and other heavy objects.
Vinyl Tiles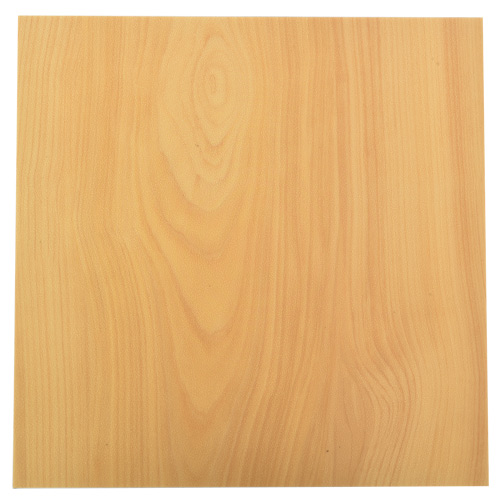 Vinyl tiles offer an aesthetically pleasing look paired with excellent durability. These tiles are available in a variety of finishes, including ceramic and wood, for a distinctive look that's also affordable.
Many of our vinyl tiles are raised, allowing air and moisture to circulate beneath them, which is particularly valuable for basement settings. They often feature interlocking designs for an easy installation and removal, if needed.
Rubber Tiles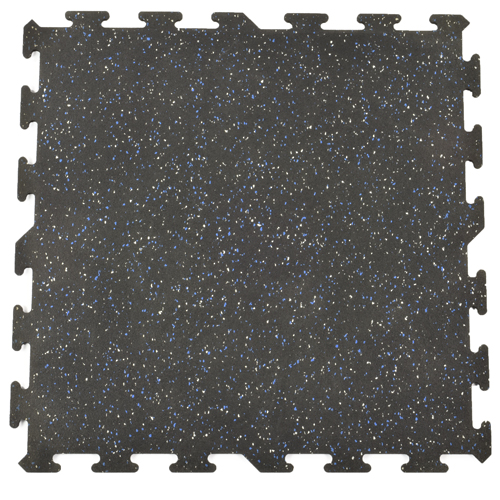 Rubber tiles offer supreme durability and are an excellent choice if you want to make your basement into a workout space or home gym. Rubber is easy to clean, flexible and can withstand the significant weight of workout equipment or heavy furniture.
Rubber also offers sound dampening benefits to help muffle the sounds of your workout. Rubber tiles can have a bit of an odor and they can be heavy, so it's important to choose the tile that's best for your needs.
Carpet Tiles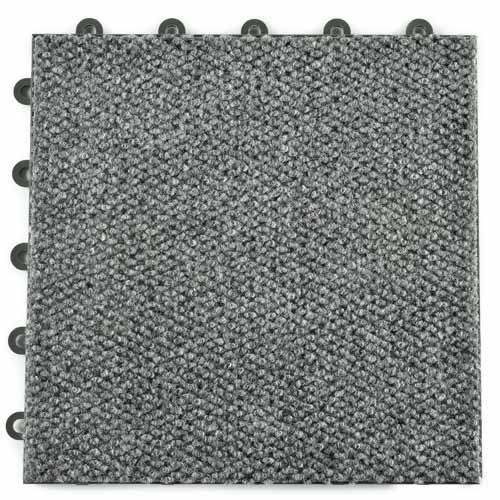 While traditional carpet can be ruined by a leak or flood in your basement, many carpet tiles are designed for the challenges of a basement installation. These tiles often feature raised bases, so the carpet stays up and out of any water that might make its way into the basement.
Modular carpet tiles are also designed so they can be removed if possible. They give you the look and feel of real carpet, but in a design that's much more practical for a basement installation.
Basement Flooring Installation Methods
The type of tile that you choose will affect how you install the product in your basement. You'll want to think carefully about the best installation option for your project.
Modular tiles offer a very easy DIY installation. They often feature snap-together and interlocking designs that create a strong, secure connection.
With most modular tiles, there's no need to use an underlayment layer, and you can install them directly on concrete. This saves you both money and time.
Other options like rubber tiles can be dry laid or installed with adhesive. It's possible to complete the installation entirely on your own, saving money over the cost of hiring a professional.
Most of our tiles can be cut with a sharp utility knife, and many of our puzzle tiles include border pieces. This allows for a clean, finished edge whether you decide on an island or wall-to-wall installation.
Desirable Properties of Basement Floor Tiles
When choosing the basement floor tiles that are best for your project, think about other benefits that the tiles offer.
Waterproof Properties
Moisture is often a major challenge in basement settings. That's why most of our basement floor tiles are completely waterproof.
With a waterproof tile, you won't have to worry about the effects of a flood or leak. Many of the tiles can also be removed if you need to let the subfloor dry.
A Variety of Finishes
If you have a particular look in mind for your basement, chances are you can achieve that aesthetic using basement floor tiles. With finishes ranging from carpeting to vinyl that closely resembles marble and wood, these tiles let you get the looks of materials that would be impractical in a basement setting.
Durability
Our basement floor tiles are designed to be durable, supporting a basement that's lived in and used daily. Whether you're looking for tiles to go beneath exercise equipment or to convert your basement into a liveable space, these tiles are made of quality materials and offer the strength and longevity you need.
Many of our tiles are backed by manufacturers' warranties, so you can buy with confidence.
If you're uncertain of which tile is right for your basement floor project, contact the Greatmats customer service team today. We're happy to provide shipping quotes, answer your questions, and help you find the tile that's right for your basement.