Interlocking 3x3 Drainage Mat For Ski Storage Rooms
By Paige Cerulli Created: July, 2022 - Modified: July, 2022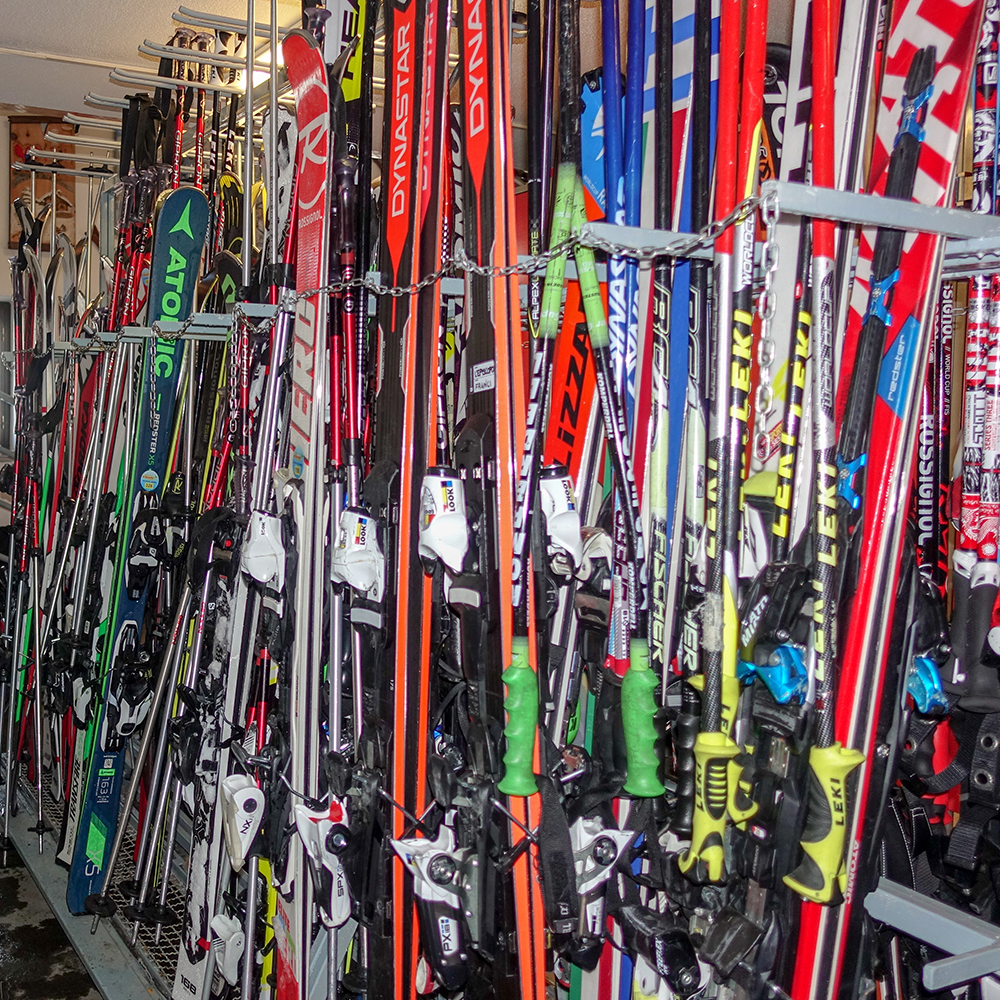 A quality ski storage room is a must-have for any winter sports enthusiast. Fortunately, you can easily build your own ski storage room, but it's important to choose the right flooring for that space.
Choosing the Right Ski Storage Room Flooring
The flooring that you install in your ski storage room directly affects that room's function. If you're creating a room in your garage, chances are you will need to upgrade that flooring to be better suited to your gear storage needs.
Ski gear is sure to carry plenty of snow into your room, and as that snow melts, you will need a plan for how to handle the resulting water. Your flooring needs to be able to withstand that frequent moisture, and it's also important that it can help to channel that water away, rather than letting puddles form.
Your floor also needs to provide traction, even when it's wet, to keep skiers safe. Look for a product that will keep feet up and out of any water for increased safety.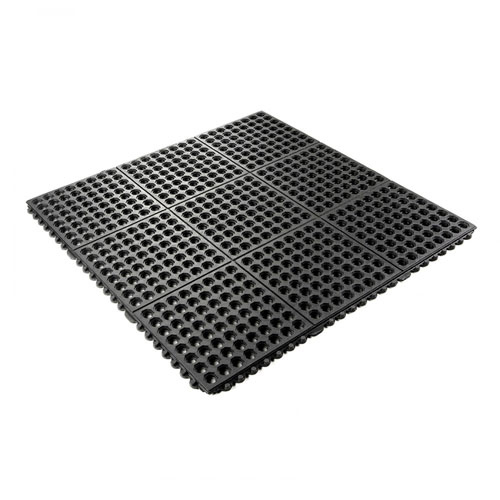 Don't forget about durability, too. It's important to choose a flooring product that can withstand the high amount of foot traffic the room will see, especially if the room will be in a commercial space.
Interlocking drainage mats meet all of these criteria. Not only do these mats help to channel away water and keep skiers safe, but they're easy to install and to remove for cleaning if needed.
Additional Tips for Your DIY Ski Storage Room
As you plan out your flooring, it's also important to plan out other ideas for your room. Installing ski lockers can keep your gear neat and organized, and they offer additional security that's ideal for a rental property or a commercial property, like a ski lodge.
Consider additional ways to keep gear up and off of the ground. Boot racks, freestanding storage units, and horizontal shelves offer additional places to store and organize gear for a neater, more accessible room.
Don't forget to add plenty of hooks to hold bags, hats, helmets, and more. You might want to invest in items like boots and glove heaters, too.
Interlocking Mats for Ski Storage Rooms
At Greatmats, we offer several interlocking mats that are well-suited for the demands of ski storage rooms. Because these mats all measure 3x3 feet, they will quickly cover larger areas.
Performa Black Mat 3x3 Feet
The Performa Balck Mat 3x3 Feet is a durable rubber drainage mat that is well-suited to wet areas. The mat is water repellant and features nib backing that keeps the mat up above the subfloor, allowing for improved drainage.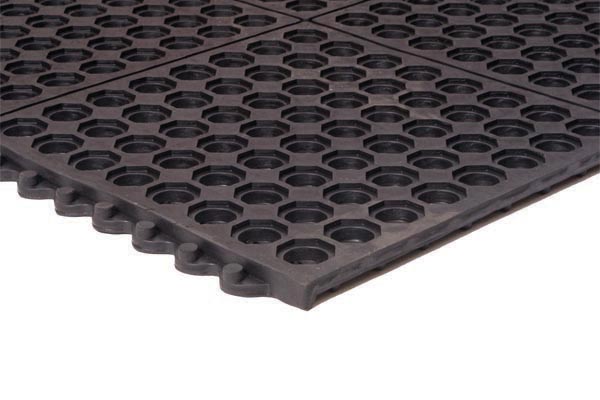 The mat offers valuable anti-slip traction to help keep skiers safe. It also offers cushion, making for a more comfortable and welcoming space when skiers are tired after spending the day on the slopes.
Built-in connectors make it easy to install the mat and connect it to others for a cohesive flooring surface. If needed, you can also easily remove individual mats.
The mat is also easy to clean. You can power wash it for a deep clean, allow it to air dry, and replace it to keep your storage room looking fantastic.
Ring Mat for Equine ⅝ Inch x 3x3 Feet
The Ring Mat for Equine ⅝ Inch x 3x3 Feet is designed for use in demanding areas like horse barns and dog kennels, so it's well-suited to the demands of a ski storage room. This rubber mat is highly durable and is backed by a one-year limited manufacturer's warranty.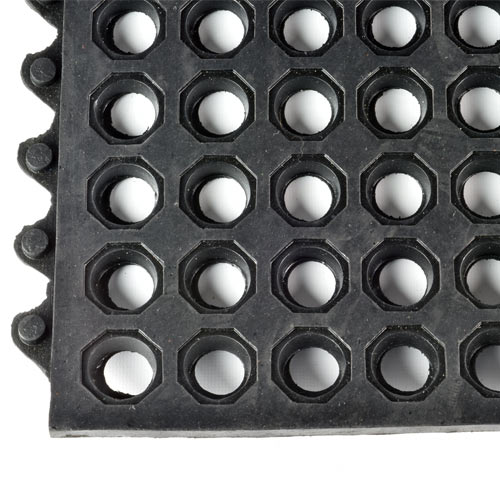 The rubber is completely waterproof, and the ring-perforated surface helps to maximize traction and safety. The generously sized perforations allow water to drain through quickly, so skiers stay up and out of the water.
These mats can be dry laid for an easy DIY-friendly installation. They easily interlock together to create a single surface, and you can remove the mats for cleaning as needed.
The mats also offer cushion underfoot, making the storage room more comfortable.
Wearwell 24/Seven GR Perforated 3x3 Foot Mat
The Wearwell 24/Seven GR Perforated 3x3 Foot Mat blends the durability of rubber with an anti-fatigue design to increase skiers comfort. The mat won't absorb liquids, so it's an ideal choice for ski storage rooms.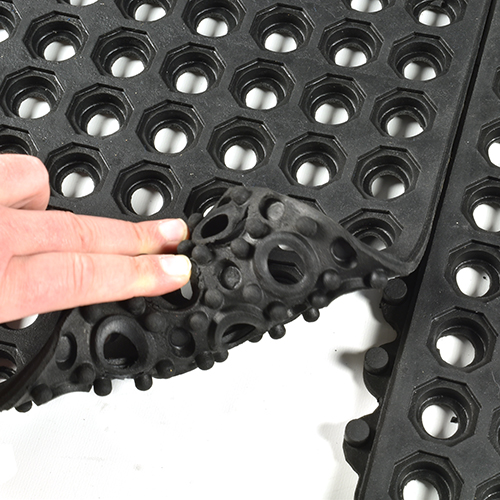 The mat is made with more than 50% recycled rubber material, so it's an environmentally-friendly choice. Its generous perforations allow water to quickly flow through, keeping your feet up and out of the water.
This mat is tough enough to handle high degrees of traffic and use, but it's also supple enough to deliver cushion underfoot. Hidden interlocks allow you to easily connect multiple mats together without creating exposed seams that can pull apart.
Since the mats weigh 21.6 pounds each, they're easy enough to move around during installation, but they also have enough weight to be dry laid and to remain securely in place.