Danielle Fritz-O'Brien - 2017 Dance Instructor of the Year Nominee
By Created: October, 2017 - Modified: December, 2018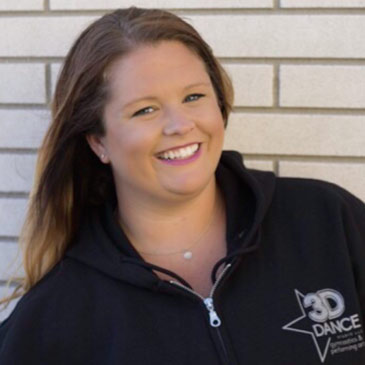 (If the ballot does not load, please visit https://www.facebook.com/Greatmats/ - Look for the voting photo album and like the photo of the person you'd like to vote for.)
Our dance instructor, Danielle Fritz-O'Brien deserves this award more than I can imagine!
Our studio, 3d Dance Studio, located in Northampton, PA is not just a studio but a family. Miss Danielle makes sure all the children enjoy themselves at all times, and has a no bullying tolerance. She shares her love of dance with the hundreds of students that she has.
When we started at 3d Dance (5 years ago). She was the only studio that would take my 2 year old who was not potty trained. At that time, she taught out of a local rec center. Since then, my older son has also joined, and we watched her expand 3 times to accommodate her growing studio.
She has been voted best dance studio in the Lehigh Valley several years in a row and gives most of the credit to her other instructors and the families from the studio.
Miss Danielle is not only an amazing instructor but is there, no matter what, for the children. She inspires and cares for all of them as her own, whether it be her competition team students, her rec classes, or the special needs students that she teaches.
She sets an amazing example for our children, making sure that they are always kind to one another and teaching them to respect everyone.
Learn more about the
3rd Annual National Dance Instructor of the Year Award
and
Greatmats National Award Series.
Danielle Fritz-O'Brien
3d Dance Studio INC.
Northampton PA 18067