Comparing Garage Gym Flooring - Rubber vs Foam & PVC
By Paige Cerulli Created: January, 2022 - Modified: September, 2023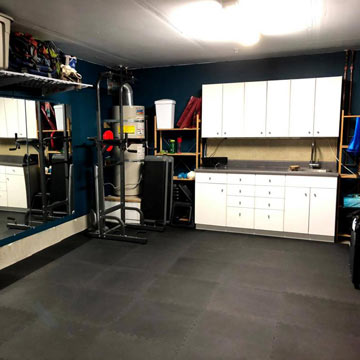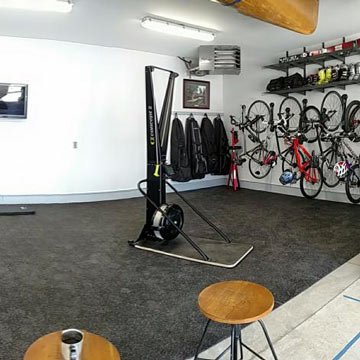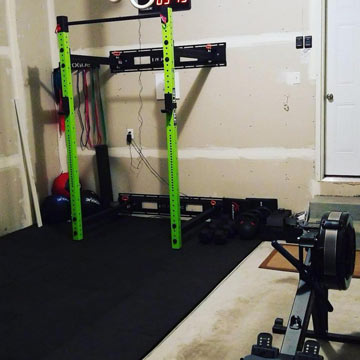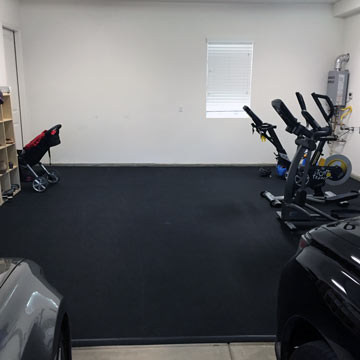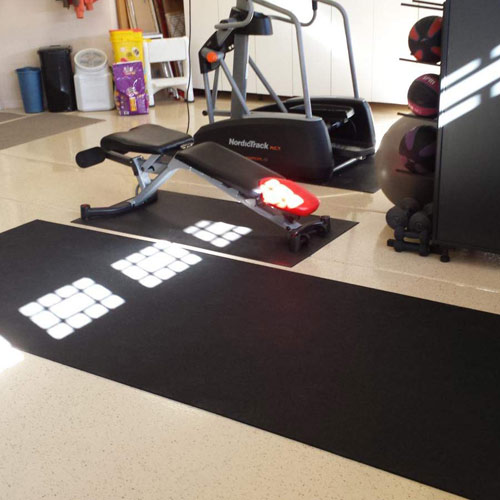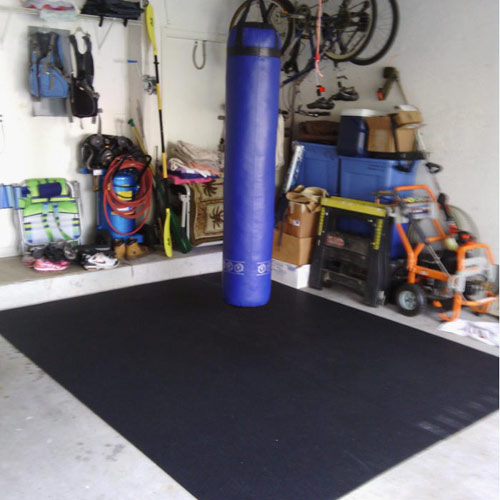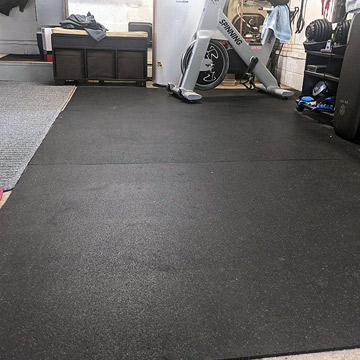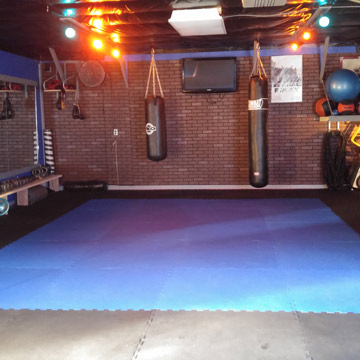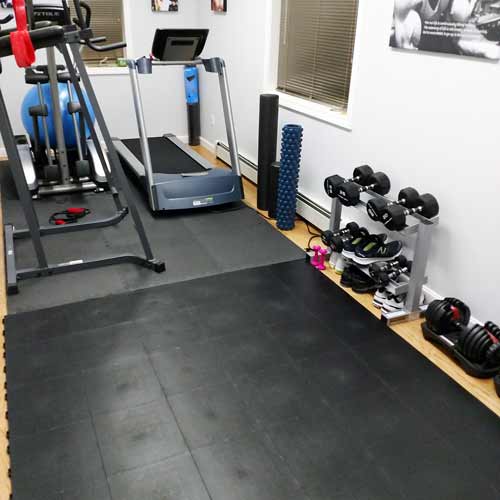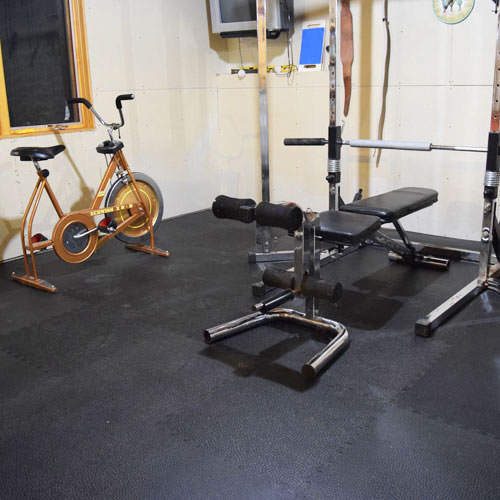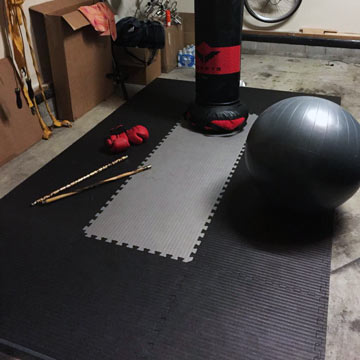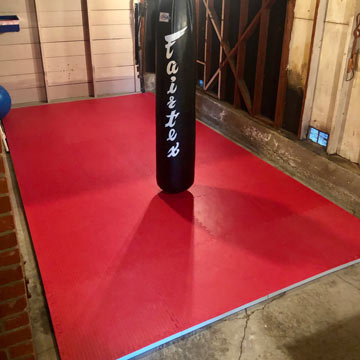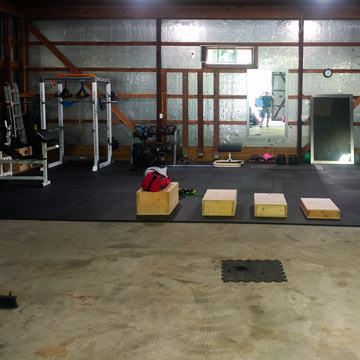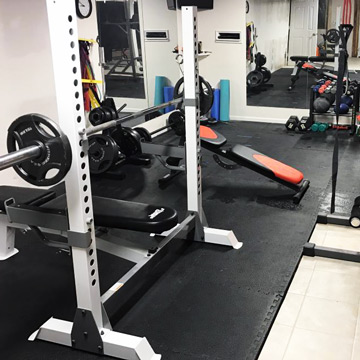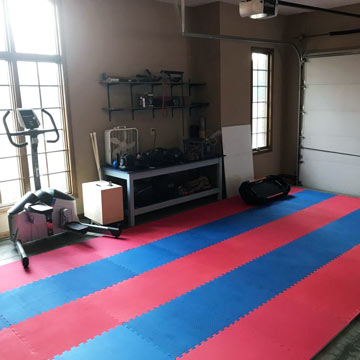 Converting your garage into a home gym means you'll enjoy the convenience of being able to train whenever you want. But a quality gym also needs quality flooring. Rubber, foam, and PVC flooring are all suitable for your garage gym, and we've outlined everything you need to know about each of these options to choose the one that's right for your project.
The Best Garage Gym Flooring Options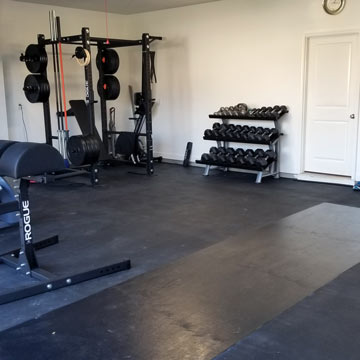 Deciding on the right flooring for your garage gym will depend on factors like the weight of the equipment you plan to use, your budget, and the qualities that you want your flooring to have.
Before you start shopping for flooring, think about exactly how you'll use the space, and ask yourself some questions to outline the details of the project:
How much space are you looking to cover?
How heavy is the gym equipment that you're looking to install?
What types of activities will you be performing, like floor exercises or machine exercises, and what properties does the flooring need to have to support those activities?
Will you be flooring your entire garage, and if so, will the garage house a car or other equipment?
What is your overall budget for the project?
At Greatmats, we carry rubber, foam, and PVC flooring options that are all suitable for use as garage gym flooring. From options that maximize comfort to economical products that can keep your gym costs cheap, these products and ideas can help you create your home gym.
It's helpful to understand the properties of each type of flooring so you can decide which is best for your needs.
Rubber Flooring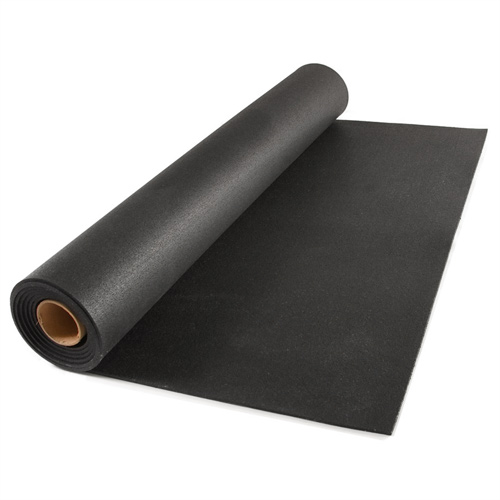 Rubber is a very firm material, resembling the feeling of a car tire, and it's the most durable flooring product that you can choose. Rubber offers the best impact absorption against heavy weights, and thicker rubber products, in particular, can help to protect your garage floor from damage.
Rubber, especially products with a flat bottom, can withstand heavy static loads, so a rubber roll or mat is often a great choice when you're installing heavy gym equipment. While rubber is very strong, it shouldn't be used underneath vehicles.
If you think that rubber might be the right choice for your garage gym, it's important to choose a product that's suitable for indoor use. Some rubber products, particularly stall mats, can have strong odors that are unpleasant in a small, enclosed area. Other options designed for indoor use tend to have less odor.
Flooring products are made of either vulcanized or non-vulcanized rubber. Vulcanized rubber is waterproof, which is an ideal choice if your garage is prone to leaking or flooding, or if you want to be able to hose off and wash the flooring.
Non-vulcanized rubber, while not waterproof, won't absorb water. However, since the rubber is somewhat porous, water may permeate the rubber if it's soaked or pressure-washed.
When it comes to rubber flooring, you'll have plenty of choices. Rubber is available in tiles, rolls, and mats, with rolls being the most economical choice for larger spaces.
You'll also find that rubber is offered in products with flat bottoms or raised bases. In a garage setting, a raised base is often preferable, since a flat bottom might trap moisture.
Foam Flooring
Foam flooring is the softest option and tends to provide the most cushion, making it a great choice if you'll be doing floor exercises or repetitive, impact-inducing exercises, like jumping jacks. Foam also offers the best thermal insulation, helping to regulate temperature and buffer you against the cold of a concrete floor.
Because foam is a softer material, it's not good for areas where you'll be intentionally dropping heavy weights; rubber is a better choice for those spaces. Foam also shouldn't be used underneath vehicles.
Foam generally has a low odor, making it ideal for small indoor spaces. It's available in interlocking tiles that are very easy to install, and you can also remove and often reverse the tiles if they become worn or damaged.
When it comes to cleaning foam, you can often sweep or vacuum it. If you're looking for a product that can get wet, then it's important to choose a product made of closed-cell foam, which is waterproof.
Open-cell foam, in contrast, is not waterproof.
Keep in mind that foam is only available in a flat bottom tile, which could potentially trap moisture. If your basement is prone to leaks, then you might want to choose a different product or plan on removing your foam tiles frequently to let a damp basement floor dry out.
PVC Flooring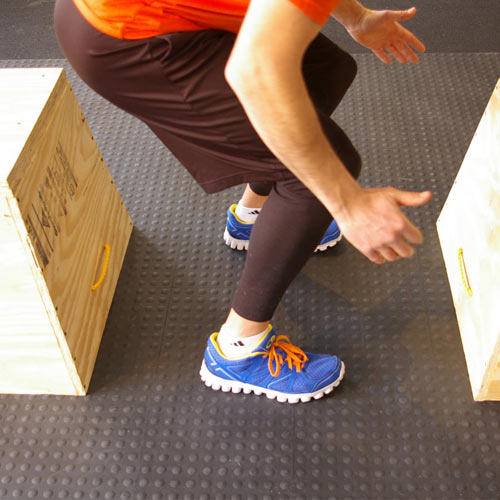 PVC flooring is available in non-raised tiles and in tiles with a raised base. PVC can withstand heavy static loads, and tiles with a non-raised base are particularly strong.
Raised base tiles offer fatigue-relieving and impact-absorbing properties, which can make for a comfortable gym floor. These tiles aren't designed to be used underneath vehicles, but the raised base does let air and moisture circulate.
Non-raised tiles have a flat bottom, which may trap moisture. However, these tiles are the stronger choice and are suitable for use underneath vehicles.
PVC is a low-odor material that's ideal for use in the small, enclosed space of a garage. It's also waterproof, so you can easily hose tiles off or simply not have to worry about the flooring if your garage experiences a leak or a flood.