The Best Home Gymnastics Tumbling Mats for Cheap
By Greatmats Staff Created: June, 2019 - Modified: March, 2023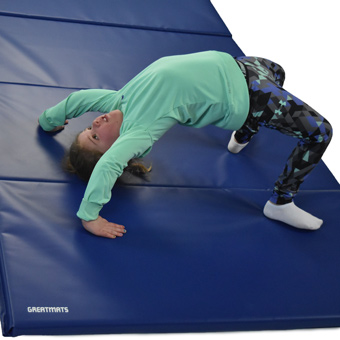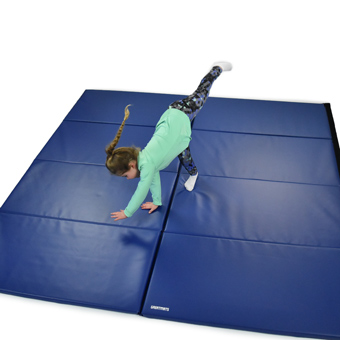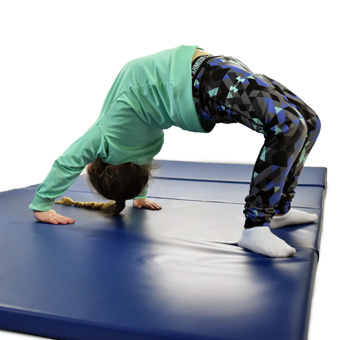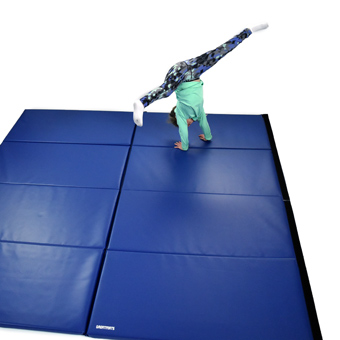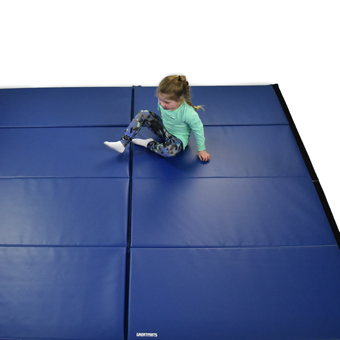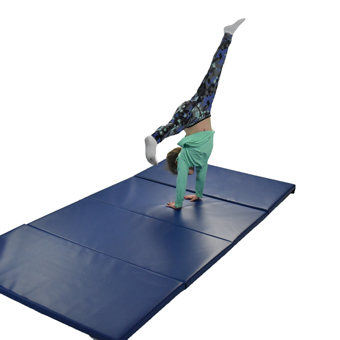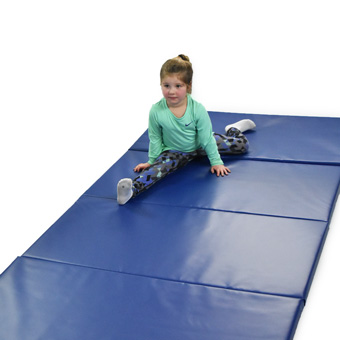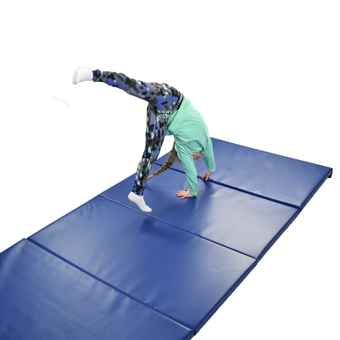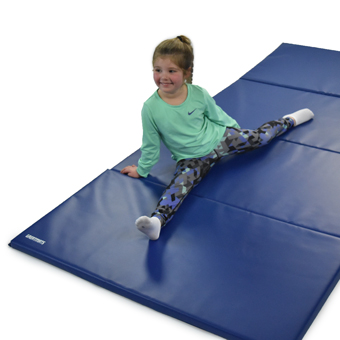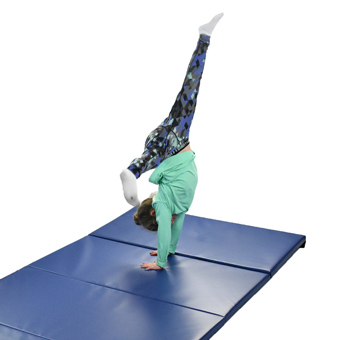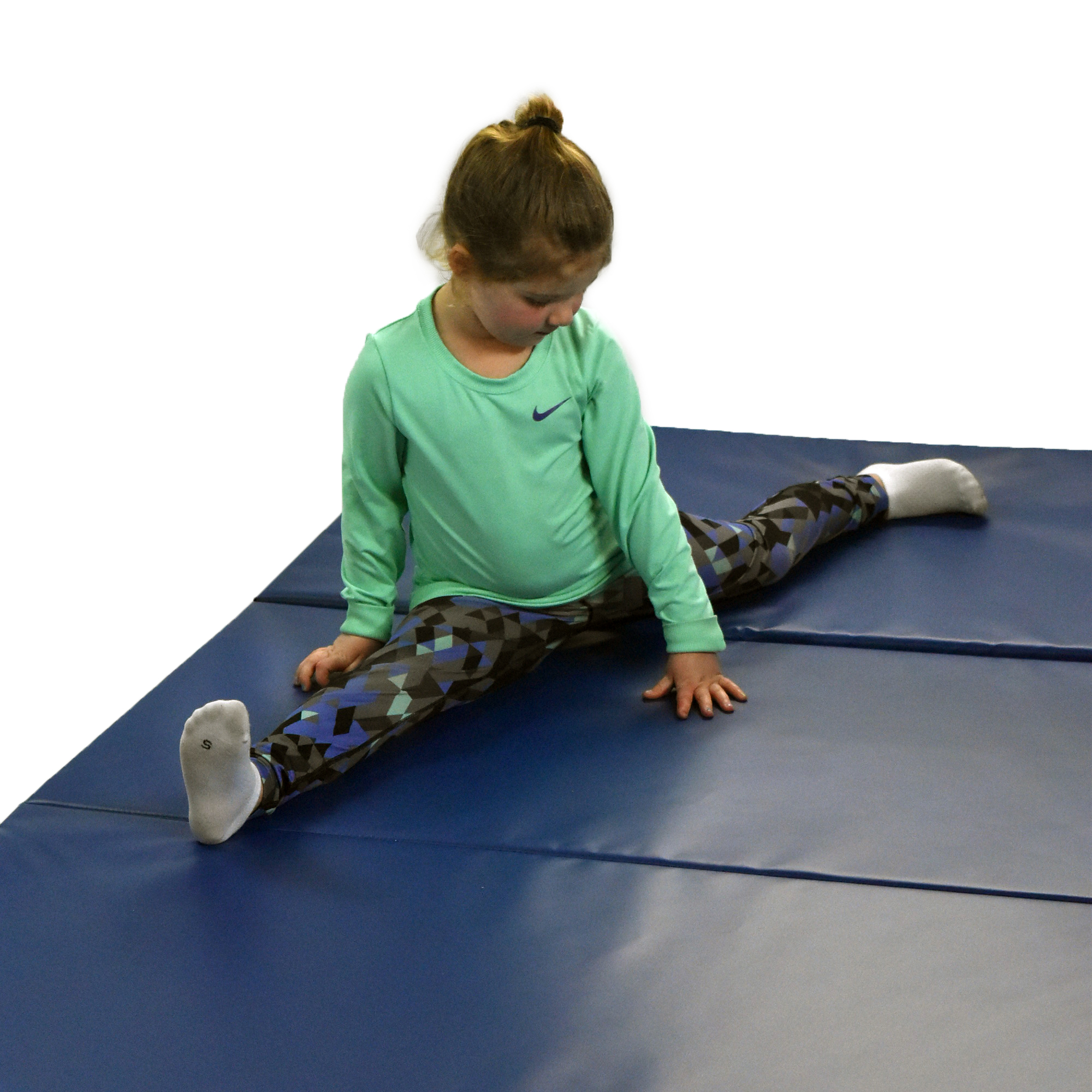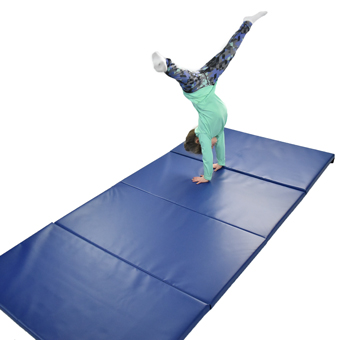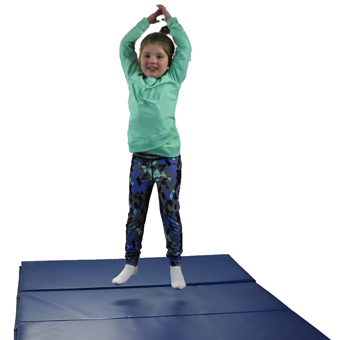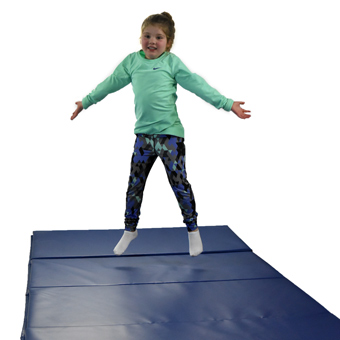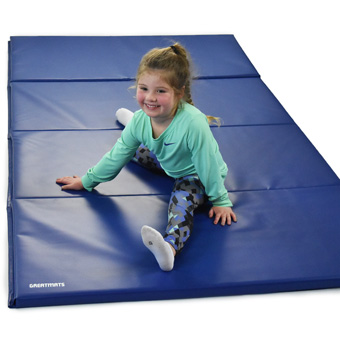 Greatmats folding home tumbling panel mats are the perfect surface for kids to practice tumbling skills and techniques. With roughly 1 1/2 inches of impact absorbing foam, these tumbling mats are comfortable, lightweight and easy to store when folded.
At 4x8 feet in size, the gymnastics tumbling mats are wide enough for athletes to fit on comfortably and long enough to keep kids on the mat when stretching out. If longer runs are need for tumbling passes, multiple folding mats can be connected with the hook and loop connector strips attached on all four sides.
Greatmats home kids tumbling mats are great for stretches, rolls and jumps while protecting against fatigue and/or serious injury. These affordably-price mats are covered with kid safe 18 oz vinyl and constructed using double stitched seams.
What can I use tumbling mats for?
Tumbling mats are great investments because they're so versatile. These discount mats measure 4x8 feet long, so a single mat delivers plenty of coverage all by itself. If you're looking for a longer run, you can connect another mat using the hook and loop strips on the ends.
These impact-absorbing mats have nearly countless uses in your home or at school. You can use them for exercising, stretching, and even letting your kids roughhouse. These mats are ideal for gymnastics, giving your kids or students a safe place to practice their new skills. Because these mats fold up, you can partially fold them to assist gymnasts in learning skills like the handstand.
When connected together lengthwise, these mats are suitable for tumbling passes. Having a few of them at home can let your young cheerleader practice her tumbling safely.
These mats are also great for wrestling and martial arts technique training. Delivering both padding and firmness, they can help to keep athletes safe as they practice and jump around.
Lastly, consider using these mats as wall pads in gyms. By screwing the external flange on the long side to a firing strip on the wall, you can easily mount and remove these mats as necessary.
How much do gymnastics mats cost?
Many factors affect the cost of a gymnastic mat. You'll find that the size and type of mat will affect its pricing. For instance, smaller folding gym mats start at around $100, but larger and thicker folding mats can cost close to $500. Landing mats, which are extra-thick and large, start at $500 but range up to $3,000 or more. Foam incline wedges also range significantly, with smaller options starting around $250 and larger wedges costing closer to $2,000.
While it may be tempting to buy the cheapest mat that you can find, think about the value that you're getting from that mat, too. Gymnastics mats are important because they can help to keep a child or gymnast safe while practicing, playing, or competing. A cheap gymnastics mat that's made with low-quality materials or that's thinner than it should be won't deliver the same shock absorption and protection that a thicker mat made of quality materials will.
Instead of buying the cheapest mat available, look for mats that deliver real value at affordable prices. Greatmats folding home tumbling panel mats are made of high-quality, industry-leading materials. These mats feature a durable inner PE foam core for support and comfort, a rugged 15.5-ounce vinyl exterior, and double-stitched seams. The result is a product that puts in a top performance and that you can use for years to come. It's even backed by a 1-year manufacturer warranty.
Why are gymnastics mats so expensive?
Gymnastics mats are expensive because the materials used to create them are also very expensive. The foam that makes up most of these mats needs to be of a certain firmness and size, and often a mat manufacturer needs to buy foam in large pieces to create these large mats. The same is true of the vinyl covers, which are made with durable, heavy vinyl that can be costly to purchase.
While mats may be expensive to buy initially, if you buy a quality gym mat, it will be made to last. By following the manufacturer's instructions in how to properly use and care for the mat, you can maximize its lifespan so you get the most out of your investment.
Are gymnastics mats waterproof?
Gymnastics mats are not waterproof, but they are water resistant. You won't ever want to use or leave these mats outside during the rain. When cleaning the mats, it's fine to mist them with a cleaning spray or use a wrung-out damp mop. We don't recommend that you soak the mats.
How can I keep my young gymnast safe?
Gymnastics is a fantastic sport to get your child involved with, but like all sports, it also carries some risks. One of the best ways to keep your gymnast safe when he or she is not at the gym is to invest in quality gymnastics mats, like Greatmats Discount Gym Mats. These mats can help to convert your basement, porch, or other space into a safer area where your child can practice their skills. The mats offer shock absorption and cushion that can help to reduce or prevent injuries.
While mats are helpful in reducing injuries, they cannot be 100% effective at eliminating or reducing all injuries. Regardless of how soft a mat is, a gymnast who lands on their head or in a bad position can still sustain serious injury. To maximize your gymnast's safety, only use these mats under the guidance and supervision of a trained coach, especially when your gymnast is very young or just beginning to learn about the sport. Close supervision and a gymnastics program built around proper technique and safety precautions can help to reduce injury risk and keep your child safe.