Can You Lay Basketball Court Tiles Over Grass?
By Kyle Schurman Created: May, 2021 - Modified: October, 2022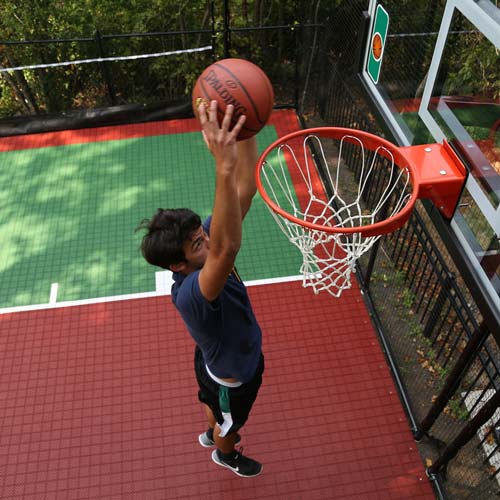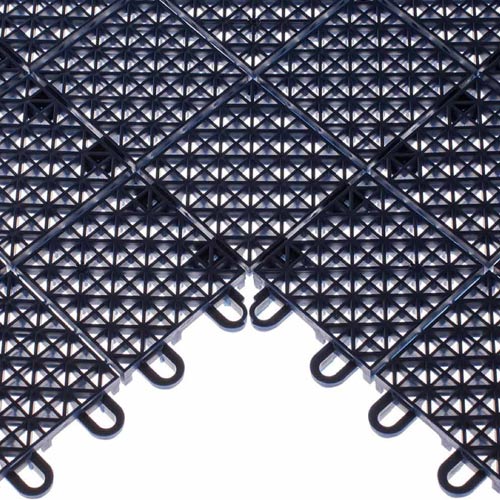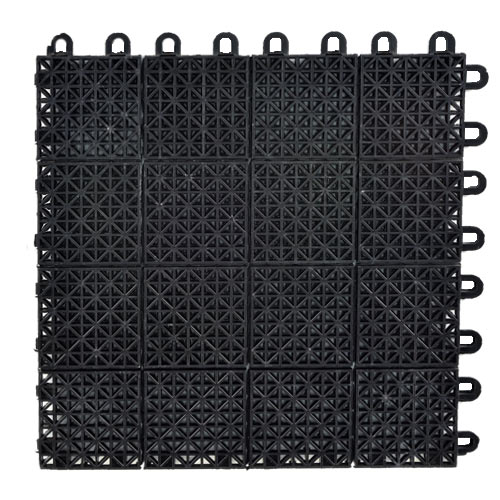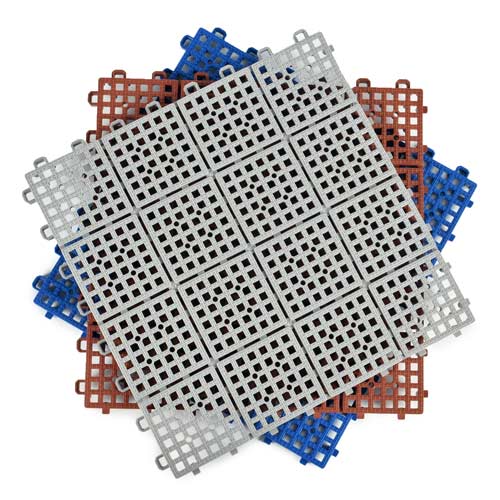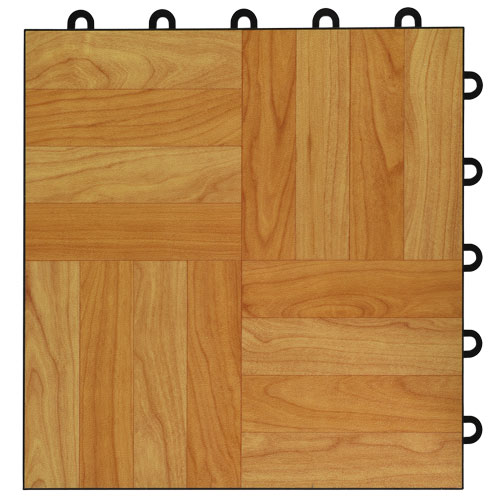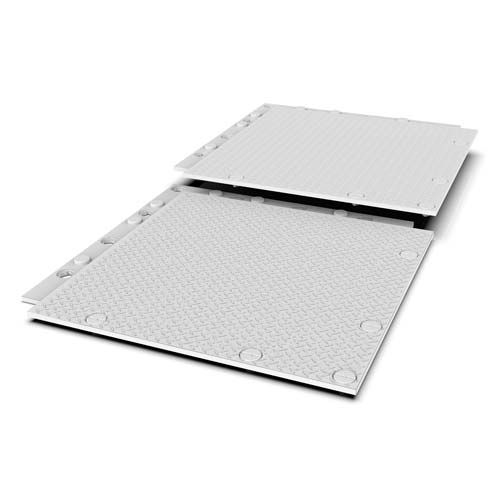 To create a
basketball court in the backyard
, laying basketball court tiles over grass is an option but it may require an additional layer. It's important to have the right materials in place to ensure a successful layout that provides the stability in the floor that players need while keeping the grass as healthy as possible.
Start with a grass area that provides an extremely level subsurface. If the grass doesn't naturally have a level area, installers can lay out solid tiles to provide the base layer. Once that's available, some of the best options for laying basketball court tiles over grass and over the top of the base layer include:
XT3 Outdoor Court Tile

Patio Outdoor Tile

Max Tile Raised Floor Tile

Flat Top Court Floor Tile
Any of these tiles will have the ability for outdoor or indoor usage, as they are waterproof and have resistance to damage from
UV lighting
. They are designed for use over hard level surfaces, such as concrete or blacktop, so you'll want to make sure your grassy area is very level and firm.
Other suitable hard surfaces over which you can install these tiles, include:
Firm interlocking base tiles

Packed, Level Gravel

Hard packed dirt in a courtyard

Blacktop driveway for a half court setup

Pavement in a parking lot
How Do I Create a Level Base Layer for an Outdoor Basketball Court?
When a solid subsurface is not available to lay out the basketball court tiles over grass, installers can add some firm tiles over the grass, such as the Matrax Light Duty Pedestrian Composite Mat. This creates a perfect base layer to use with any of the other interlocking tiles mentioned in the earlier list.
However, unless laying these firm polyethylene plastic tiles over a concrete slab in a park or over another area that doesn't have plant life, these Matrax tiles should only be part of a portable or temporary layout.
These tiles have water drainage holes, and allow limited sunlight to reach the grass underneath.
These firm tiles are easy to install, connecting to each other with a cam lock system that firmly holds them in place. If desired, installers can order ADA-compliant ramps to attach to the tiles, providing a finishing touch that allows the use of wheelchairs.
What Are Some Basketball Court Tiles Over Grass That Have Drainage Holes?
Although some basketball players may balk at the idea of playing on a court with perforated holes, the right kinds of tiles with perforations can deliver an outstanding level of stability for players.
When playing on an outdoor court, having perforations in the tile helps to drain away rainwater, keeping the playing surface safer by removing slipping risks. Additionally, if installing perforated tiles over a level grass surface, installers can leave them in place longer than a solidly constructed tile, as the grass will receive some sunlight and air. However, if left in place too long, the grass will grow through the perforations, making for a less-than-ideal basketball playing surface. If you plan to leave the court in place long term, it is best to install a landscaping cloth between the grass and tiles.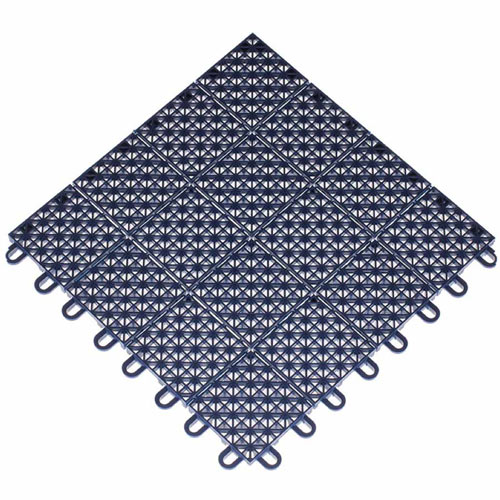 The perforated XT3 Outdoor Court Tile uses interlocking loops and tabs on the underside of the polypropylene plastic, which creates a clean look in the final layout. This tile is available in more than a dozen solid colors, which gives the installer the option of creating a pattern in the floor.
Each tile measures 1/2 inches in thickness and covers 1-by-1-feet. With a 10-year limited warranty, these tiles will last a long time, providing a great value.
These tiles are designed for use over concrete or asphalt, so if you plan to install it over grass, adding a layer of the Pedestrian Composite Mats over the grass first is recommended.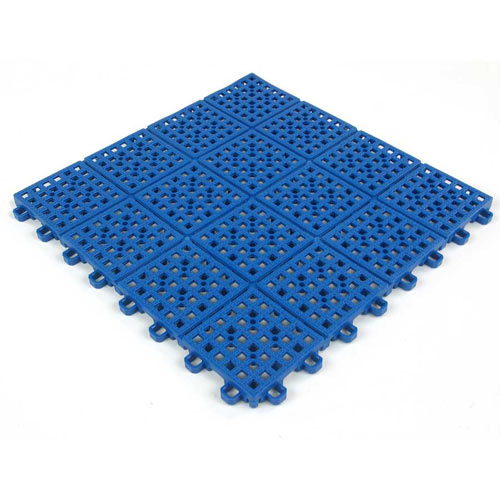 For slightly more flexible basketball court tiles over grass, the perforated Patio Outdoor Tile is a popular choice. The PVC plastic will give players a slight cushion in the playing surface, which helps with keeping the lower body joints feeling fresher and with giving players' shoes a sure grip on the floor.
Each tile uses a hidden interlocking system to complete the layout. This is a DIY installation job, as it requires no glue or special tools. Each tile covers almost 1-by-1-feet.
While these tiles can be installed over grass, it's not the ideal subsurface. They too are designed for installation over hard flat surfaces. If you do install it over grass, you'll find that it will contour with the ground below so you may not have a completely level court, without the use of the pedestrian mat layer, which could cause irregular bounces when dribbling.
What Are Some Solid Tiles for Backyard Basketball Courts?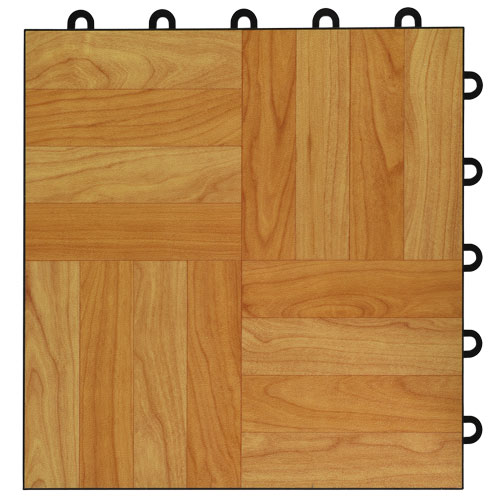 For those who prefer a solid surface tile for the court layout, rather than a perforated tile, the Max Tile Raised Floor Tile is a popular choice for temporary courts. This tile will work for either indoor or temporary outdoor installations.
It has a faux wood grain finish in the vinyl layer that sits atop a sturdy plastic base. The pattern in the vinyl creates a look that mimics an actual wood basketball court. The interlocking loops and tabs in the plastic base layer will allow for repeated assemblies and disassemblies.
Each tile measures 1-by-1-feet and has 5/8 inches of thickness. Six different wood stain colors are available.
Again, a hard, flat subsurface will yield the best results, eliminating any "soft" spots in your basketball court and ensuring no separation of tiles due to changes in levels of the ground below.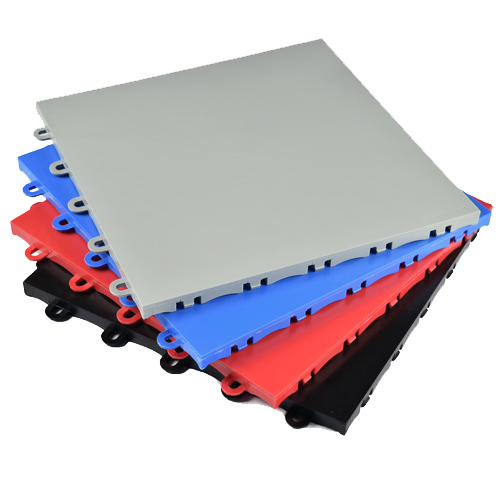 For a solid color option in a plastic basketball court tile, consider the Flat Top Court Floor Tile. These 1-by-1-foot interlocking tiles have black, red, gray, and blue colors available. They use tabs and loops on the edges of the tiles to make a tight connection between adjacent tiles.
This polypropylene plastic tile is extremely firm, giving players a solid base layer they can trust when making quick cuts during a game or practice. This model has a 5-year limited warranty, providing a long-lasting design.
The subsurface for this flooring must be level. The tiles are designed for quick and easy installation and removal and will hold tightly together over a level surface but may separate if the surface below is uneven.
Remember: All of these basketball court options will yield the most satisfying results if the surface below the tiles is completely free of bumps or soft spots. The best way to ensure that over a grass surface is to include a firm layer of pedestrian mats between the grass and court tiles. You may also find that a layer of plywood or
ground protection mats
can provide the firm/level surface you need over grass for temporary basketball court installations.