Why You Shouldn't Install Basketball Court Tiles Over Grass
By Paige Cerulli Created: November, 2022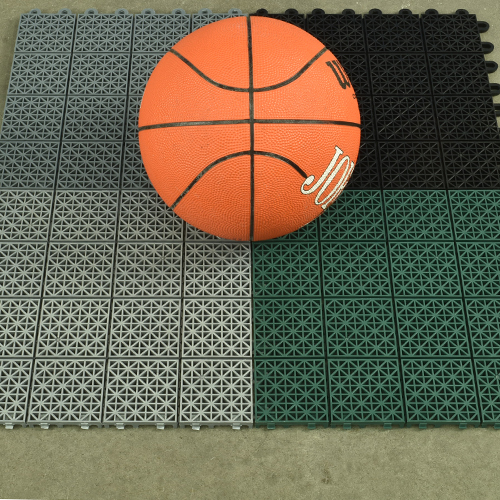 With basketball court tiles, you can transform an outdoor area into a basketball court. These tiles are ideal for backyard use, and you can install them to create an extra court for your school or recreational facility. As you plan your court project, though, it's important to understand where and how to best install the basketball court tiles.
Can You Install Basketball Court Tiles Over Grass?
Basketball court tiles feature interlocking edges that snap together, creating a unified court surface. As a result, they depend on the subsurface for some stability and support.
Grass surfaces do not provide the consistent stability that these tiles need.
The length of the grass and the amount of rainfall that the area receives can affect its hardness.
If you get too much rain, grass can become soft, causing the tiles to sink down into it. Grass that is long will also be softer, and it can create an uneven surface for the tiles.
Additionally, grass surfaces tend to naturally be uneven. That can create air pockets underneath the court tiles, which result in dead spots for dribbling, reducing the ball's bounce.
Those dead spots result in an inconsistent court performance. That can be frustrating for any player, whether they're just practicing drills or want to use the court to play a game.
You can see the effect that grass has on basketball court tiles in the video below. All of the products featured here are designed for outdoor use, but none perform particularly well in a dribble test when they're installed over grass.
If you attempt a temporary installation over grass, you're still likely to run into some problems. When the ground is soft, the tiles can sink down into it, unless you put landscaping cloth underneath the tiles, increasing the cost of the court build.
Additionally, if you leave the tiles installed over grass for a longer period of time, the tiles can kill off the grass. Since the tiles are solid colored, light can't make its way through the tiles, so grass won't survive.
Tips for Successfully Installing Basketball Court Tiles
A successful DIY court installation starts with choosing the right location for your court. You'll need to first determine your court dimensions.
If you're planning on just using the area for shooting practice at home, you can get away with a smaller court area, which will keep your costs down. But if you want to play full games on the court, then you'll need to start with an area that is 94 x 50 feet.
Make sure that the area is or can be made into a flat surface. Consider what's around the court's location, too.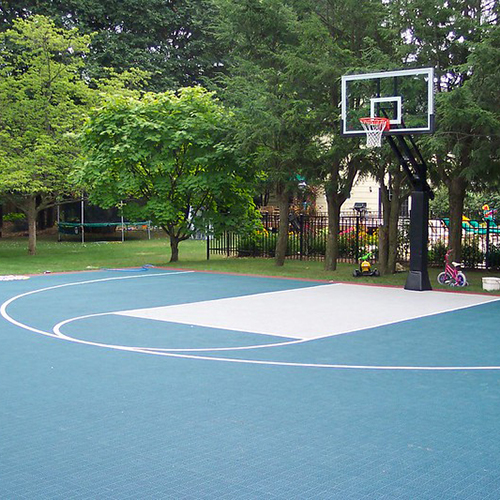 For example, if there are nearby trees, part of the court may be in shade during the day, which can affect a player's vision. If there are nearby trees, you may need to consistently remove leaves from the court in the fall.
Try to avoid positioning the court at the bottom of a slope, since runoff water may flood onto the court. It's best to raise the court's surface at least a few inches above the surrounding area to help water drain away from the court surface.
Next, you will need to prepare an ideal surface for the tiles, or use one that's already available. Most tiles will perform best when installed over a hard, flat surface like concrete or asphalt.
You may need to budget for having a surface poured, but if you have an old parking lot available, you could use part of that surface.
As you shop for
basketball court tiles
, think about the qualities that are most important to you. A good bounce for dribbling is essential, and your outdoor tiles will need to provide optimal traction while also draining water away.
At Greatmats, we carry many tiles that are designed specifically for outdoor use. These tiles can withstand extreme temperatures, are resistant to mold and mildew, and they offer UV color stability to keep your court looking its best.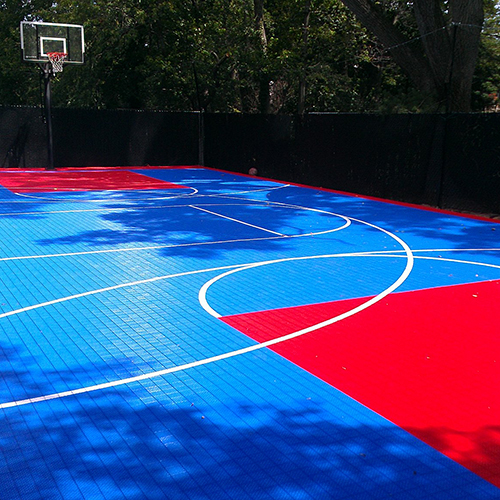 It's also important to consider the tile's overall durability. Many of our products are backed by manufacturer's warranties, and they are designed to withstand rigorous use.
Finally, consider the color of the tiles. We offer tiles in a wide array of colors, including more traditional grays and browns as well as brilliant yellows, reds, oranges, and more.
You can choose a color that matches your team or business' branding, and can even order tiles in multiple colors, using those different colors to create boundaries and different court areas.
If you have any questions about which product is right for your needs, our customer service team is available to help. We're happy to provide shipping quotes and advice to help you choose the basketball court tiles that are best for your installation.