Can You Lay A Floating Floor Over Vinyl Or Carpet?
By Lisa Hobbie Created: February, 2021 - Modified: October, 2023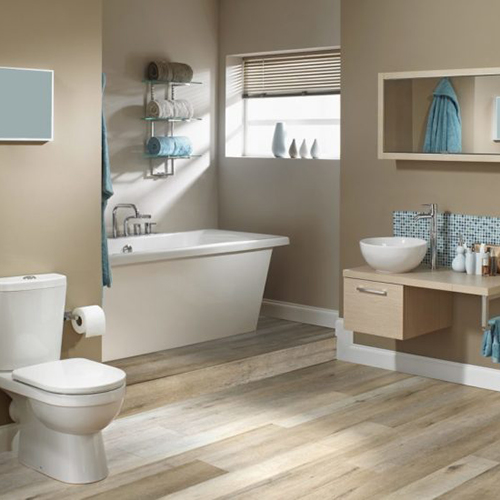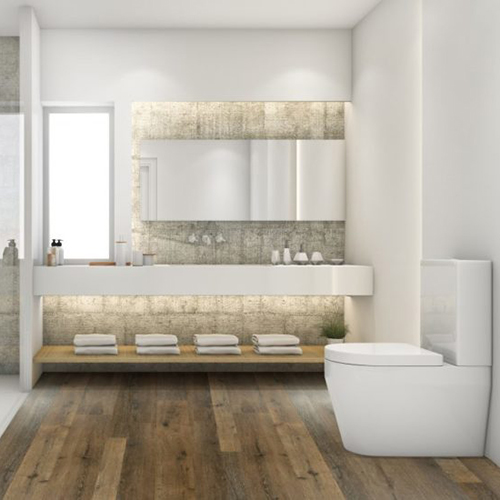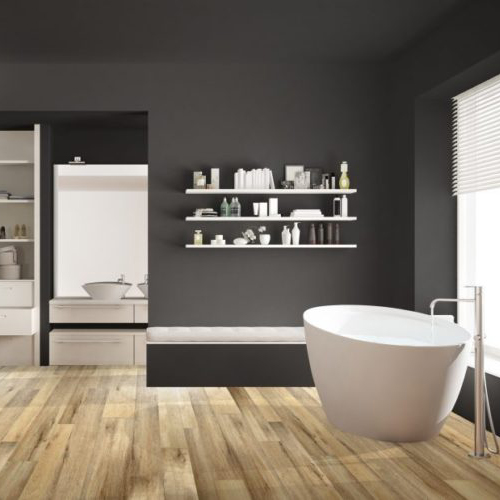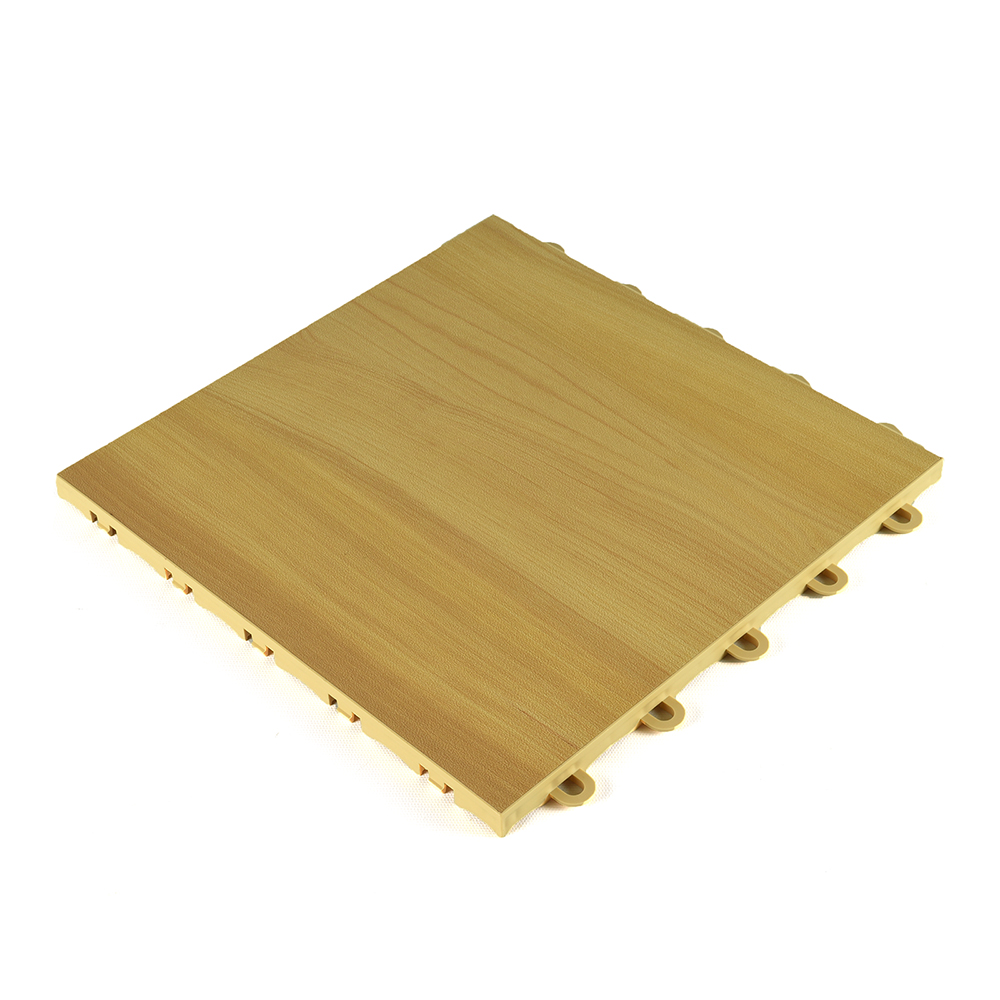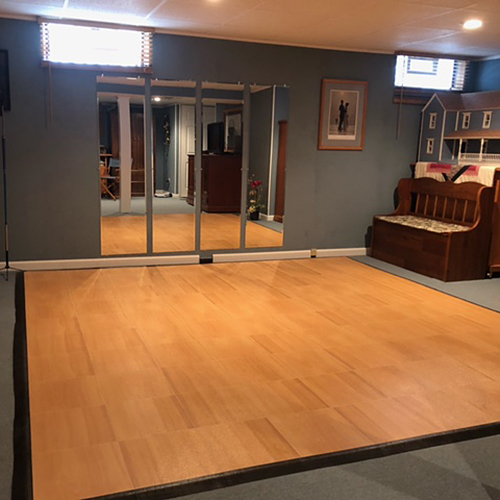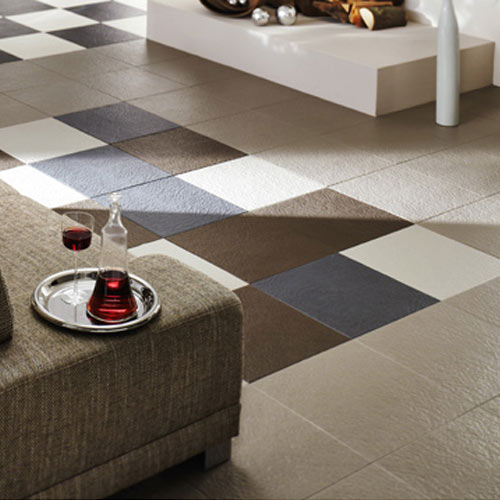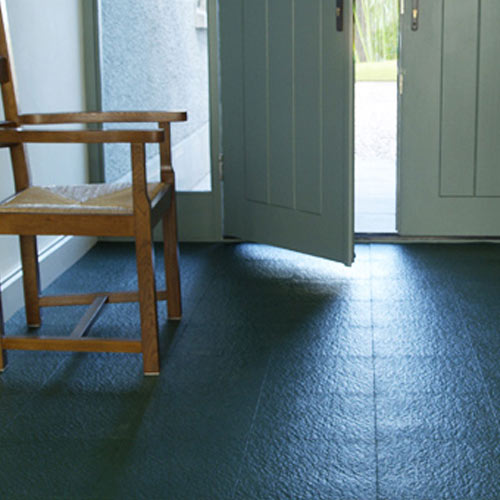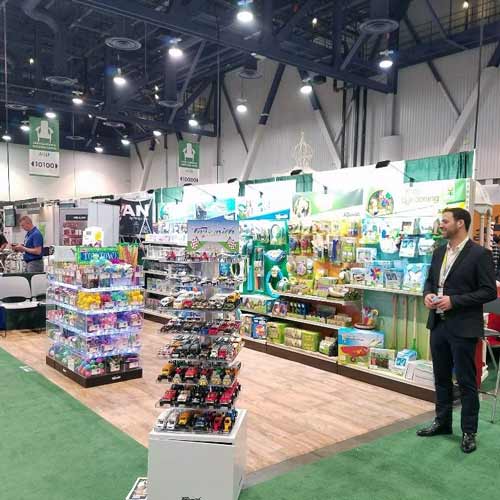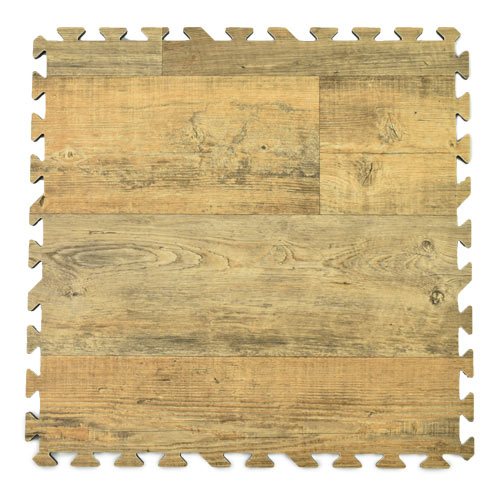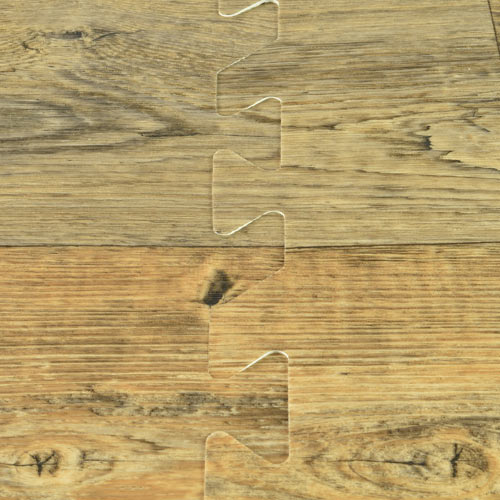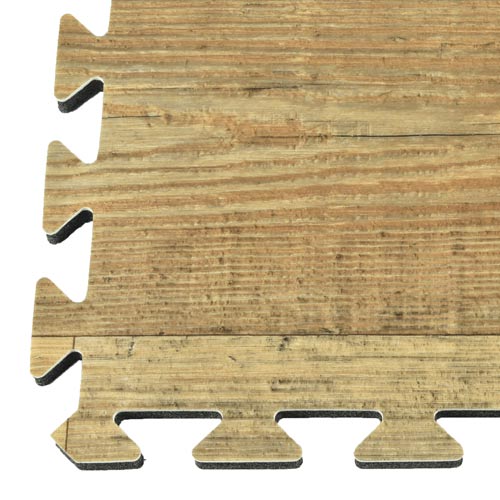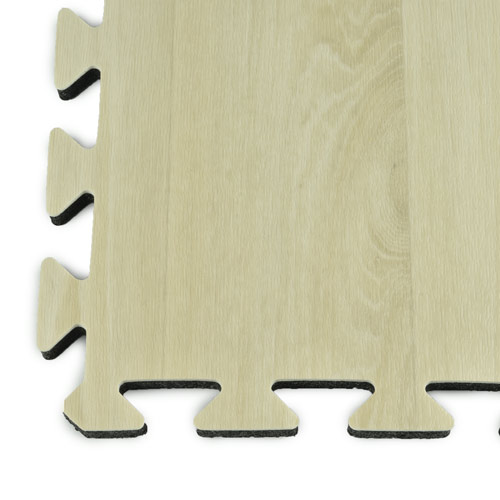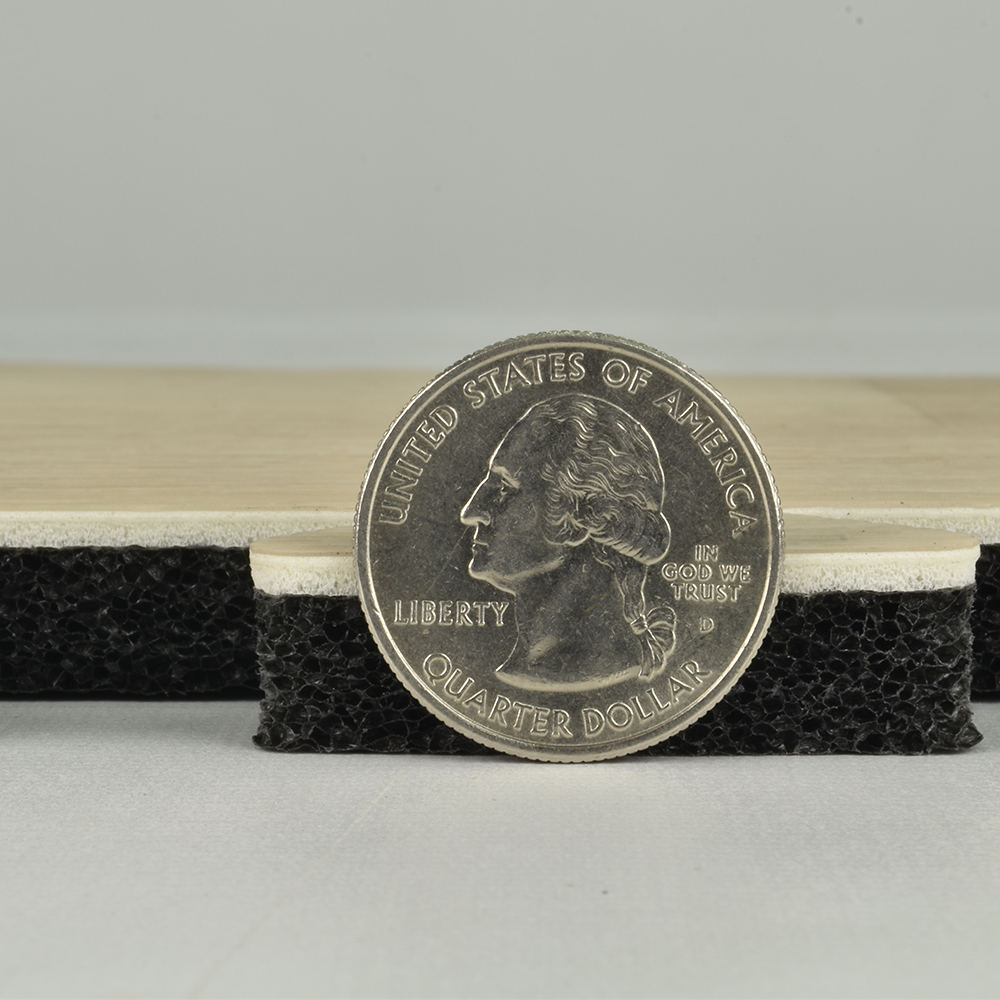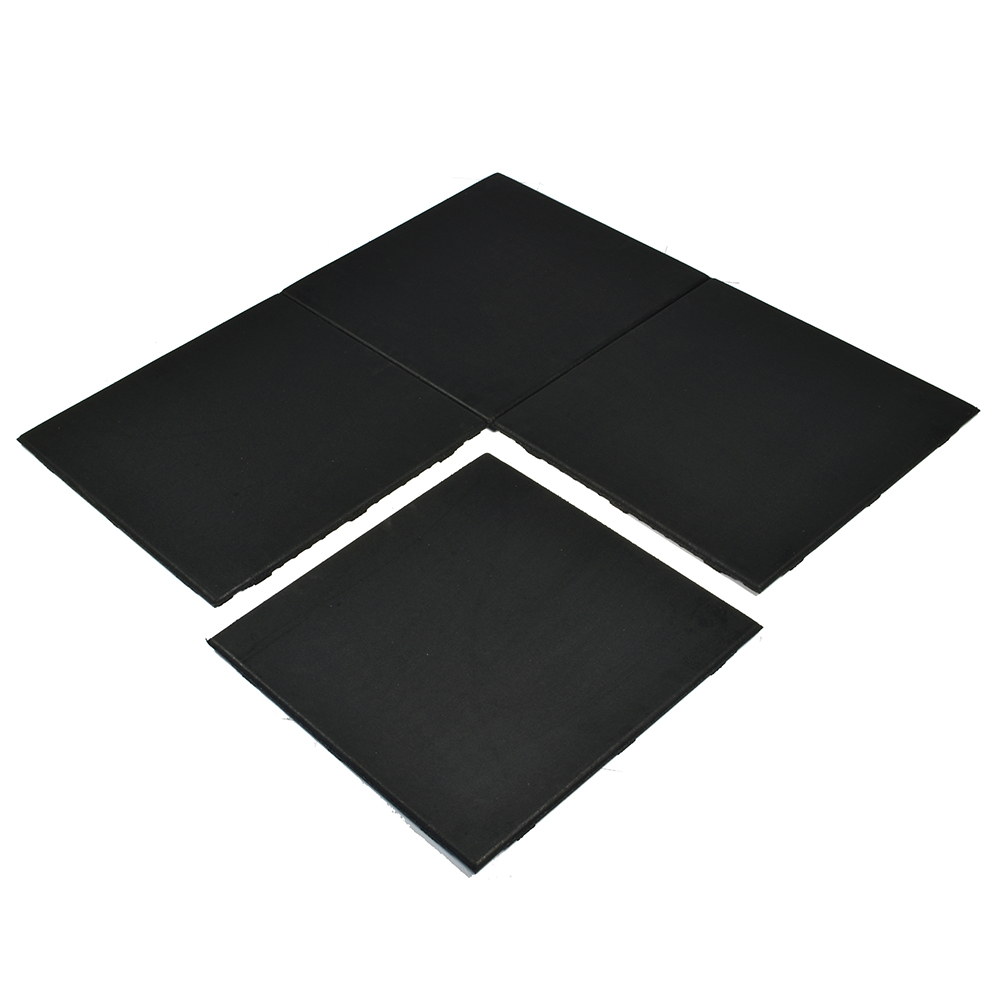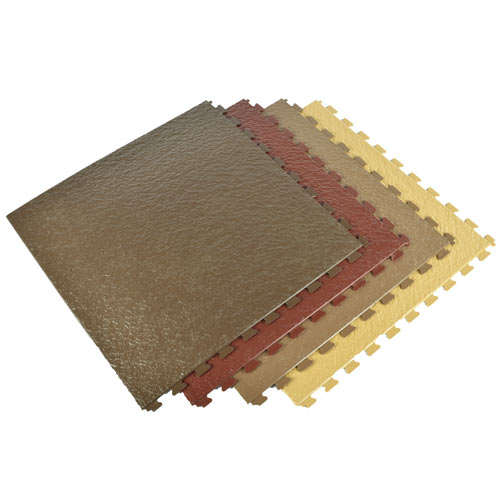 Are you considering installing a floating floor over vinyl or carpet and wondering if it can be done? If so, the short answer is yes. Most floating floor tiles can easily go over vinyl, as long as it's in relatively good shape. Carpet, on the other hand, is another story. If the carpet is plush, a layer of plywood may need to be laid over the carpet to provide a level, even surface over which the new floor can float. Without a plywood layer, the interlock system must also be strong and the type that clicks and locks in place, rather than interlocking or puzzle style.
Greatmats offers 5 great products that would work as a floating floor over either carpet or vinyl. They are:
Each of these 5 floating floor products are suitable for over sheet or other vinyl, and some are also suitable over carpet. They are all manufactured using top-notch materials and offer superior quality and value. Each of them also offers a number of features and benefits that make them fabulous flooring solutions for a number of applications, and they all come with warranties. Some are great solutions for common spaces like family rooms, and others are more suitable for home gym or workout rooms.
Which Products Work As Floating Floor Over Carpet Or Vinyl?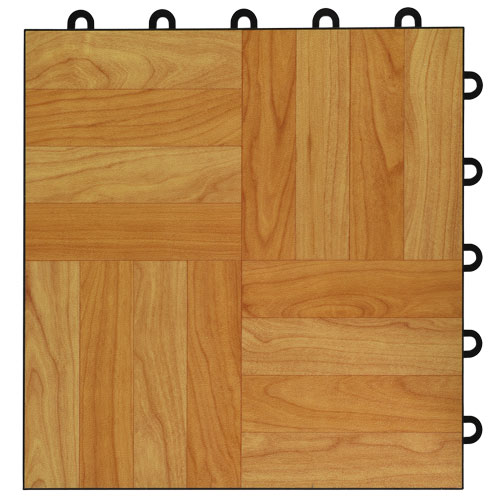 Max Tile Raised Floor Tiles
offer a floating floor over carpet or vinyl flooring solution. It is a super versatile and durable product that can be used in virtually any setting - from a home or commercial gym to a living room or dining room.
Although this floating floor product offers many features, one of the best things about it is the ease of installation - even over carpet. Simply thoroughly clean the existing floor by vacuuming it, making sure it is free of dirt, dust, and debris. Bring the tile in the room where it will be installed, and allow it to acclimate to the room for 24-48 hours - especially if your tiles have been stored in the cold. Then, begin to install at one corner of the room and just work back and outward. To lock them into place, just align the nubs atop the adjacent loops, and step on them until you hear a pop. It's an easy installation process for one person.
Once assembled, this floating floor over vinyl or carpet provides a tight-fitting, secure surface that will not have gaps or separations. If wanted, you can also add optional ramped borders and corners to create a clean edge.
If you choose this floating tile, you will enjoy numerous benefits. First, it can be used in permanent or temporary installations because of its ease of installation without adhesives. In fact, it is designed to be installed, removed, and reinstalled many times. It is a viable solution for almost any indoor space, as its raised design allows it to float over the subfloor - permitting air to flow underneath - reducing the growth of mildew and mold in damp areas. It also features a robust yet luxury commercial grade vinyl surface that keeps the floor in top-notch shape.
These floating floor tiles are waterproof and scratch-resistant. They are made in the USA from the best materials, and to clean them, just use a damp mop, hot water, and common household floor cleaner. It carries a 5-year limited warranty.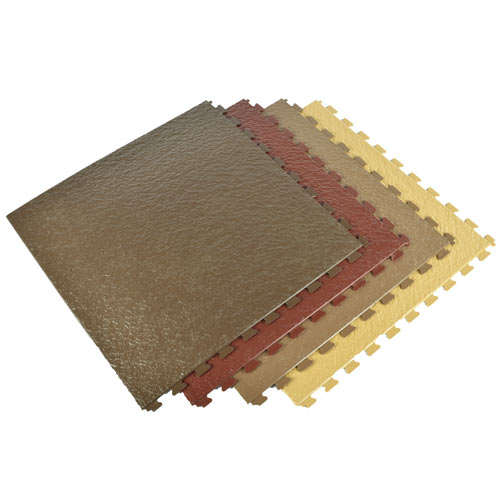 Slate Floor Tile Colors
provide a floating floor over vinyl, too. This slate floor alternative provides unmatched durability. Made in the USA of flexible and waterproof PVC material, it will endure use and abuse without suffering color damage. It is suitable for a basement floor, entryway, and any area in the home.
This product features hidden interlocks with an upscale look, which means the puzzle-shaped seams will be unseen. Instead, the look of traditional tile edges will show.
To install this floating floor over vinyl or low pile carpet, just lay the square piece so the two edges with the tabs lay in the right direction to add more pieces. Place the area with the slot aligned with the tab on the adjacent piece and press on the seam between them. They will sink flushly into place as they're lined up correctly. Although this process is done without glue or adhesive, for a permanent installation, you may want to use adhesive. This flooring system needs a hard, flat surface to install over.
Slate Floor Tile Colors carry a 10 year warranty.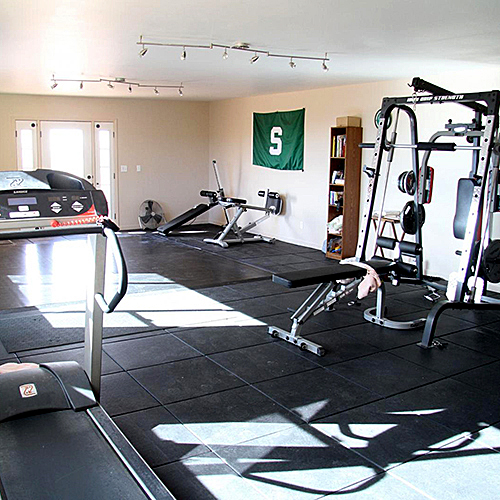 UltraTile Rubber Weight Floor Black
provides a floating floor over carpet or vinyl in a gym setting. It is built to endure punishment of weights and barbells.
This durable rubber flooring provides superior sound and shock reduction and features a built in anti-bacterial and fungicide finish. Each 2x2 foot tile is 1 inch thick and made in the USA. Made of 92 percent recycled rubber and a high strength polyurethane binder, the UltraTiles meet and exceed the requirements for LEED points. They deliver excellent durability, and are designed to be the best solution for a weight area while being environmentally friendly.
This product is very easy to install much like you would the previous two products mentioned. Most often, a dry lay installation process is used. If you are using it for a permanent installation, however, you would want to use adhesive. The finished product features an ADA approved ramp option that gives a smooth transition from the 1 inch tiles.
This floating floor comes with a 15-year warranty. If installing over the carpet, it should have a plywood layer between the carpet and rubber.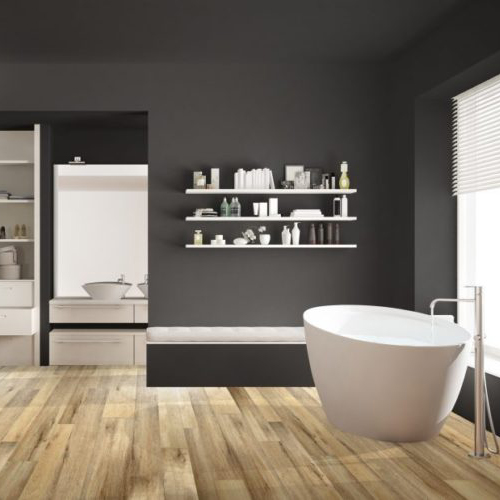 Mediterranean Scene Laminate SPC Flooring
provides a commercial-grade floating floor over vinyl, concrete, or other solid surface. This luxury product is scuff and stain-resistant. It is suitable for nearly any setting, as the high quality, engineered hardwood is hygienic and damage resistant.
The commercial-grade, engineered hardwood flooring has a 7.5mm thickness, supplying the floor with a layer of added comfort. It is very easy to install with a simple, click-and-lock process.
This flooring product is certified by GreenGuard certified. It is relatively easy to clean by just sweeping it regularly to remove dust and dirt. Don't use too much water, and never use wax, polish, abrasive cleaner, or scouring agents. A mild soap can be used; just be sure to rinse the floor adequately. Each plank can be slippery when wet, so use caution until the product is dry.
This floating floor over vinyl or carpet comes with a 35-year manufacturer's warranty.
Which Additional Products Work As A Floating Floor Over Vinyl?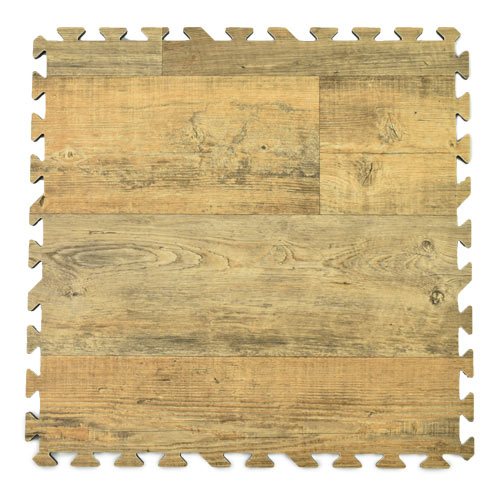 Rustic Wood Grain Trade Show Tile
performs well as a floating floor over vinyl. This faux wood flooring tile product is suitable for a temporary event or tradeshow space where anti-fatigue properties and cushioning are needed.
Made of vinyl bonded foam, this lightweight and portable tile is waterproof, nonabsorbent, and easy to install without adhesive. You simply place the foam tiles over a vinyl or other solid subfloor and press them into place like you would pieces of a puzzle. The finished product is very attractive, especially when using the optional beveled edge. It presents a unique, rustic, wood grain finish and can be cleaned using a damp mop and common household cleaner.
It comes with a 90-day warranty and can be used for a trade show floor, event floor, or in a basement or exhibit booth space.
What Are The Best Floating Floors Over Carpet?
If you want a new temporary or permanent flooring system for overtop of your carpet, but you don't want the hassle of installing a layer of plywood over the carpet first, hands down you best solution is a Staylock Flooring Tile system. These tiles are made of a flexible PVC material and have a raised base that will keep the tiles in place without damaging the carpet. Staylock tiles have a strong interlocking system and are designed for fitness and workshop areas as they offer anti-fatigue benefits and lots of durability. Find Staylock tiles with either a bump top or orange peel surface texture.
Greatmats - For floating floor over vinyl and floating floor over carpet options!
When it comes to floating floor options to go over vinyl or carpet, Greatmats offers the best with a large selection of colors, textures, thicknesses, and designs. From PVC, foam and rubber to various laminate options, Greatmats has it all. Aside from the products highlighted, there are numerous other flooring solutions that could be installed over vinyl or low pile carpet. If you have questions about the products listed, or, if you want to learn about other available options, simply reach out to the very helpful and knowledgeable team at Greatmats. They will go to work for you to help you determine the perfect product for your space.
Whatever the size of project you're tackling - large or small - Greatmats truly does have it all. And you can be confident in the fact that you will receive the best pricing, service, and products available. With more than 20 years of trusted customer service and over 4000 5-star review posts, as well as numerous options for modular flooring, Greatmats is your one-stop-shop for all of your flooring needs.