Can Interlocking Garage Floor Tiles Be Used Under Jacks?
By Lisa Hobbie Created: October, 2021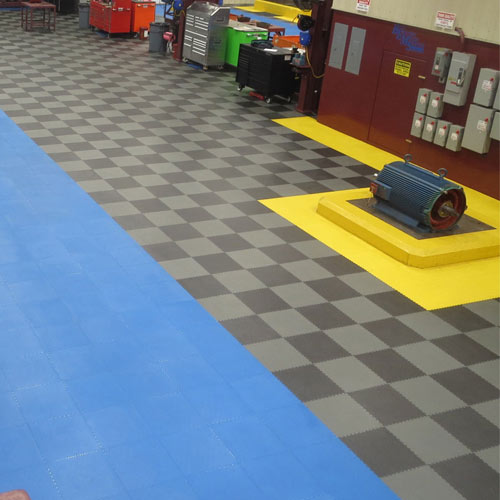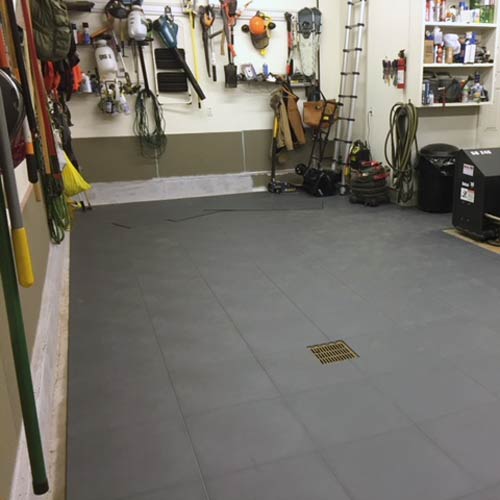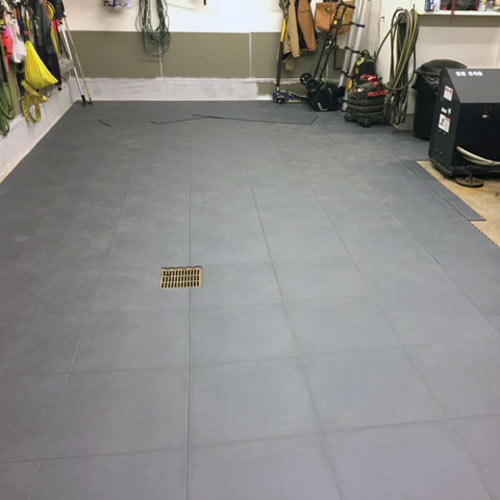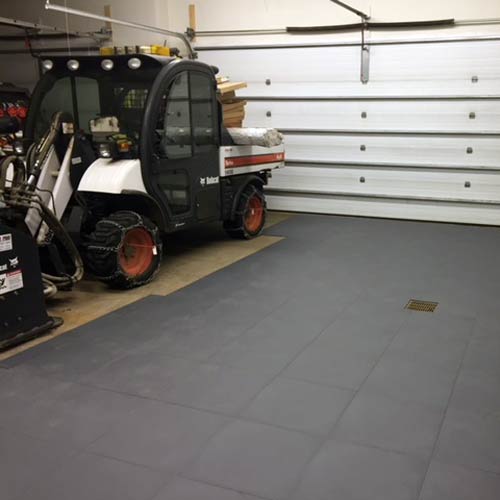 There are interlocking garage floor tiles that are suitable for use under jacks. The best will be at least 6.5mm thick, non-raised PVC tiles.
Raised, modular snap together tiles are not rated for use with a jack, and rubber isn't recommended for automotive areas. However, Greatmats has a selection of robust interlocking garage floor tiles that can be used with jacks, of which the following 5 are the most popular:
These interlocking garage floor tiles are not only among the best options suitable for use under a jack, but they are among the best overall garage flooring solutions for all purposes.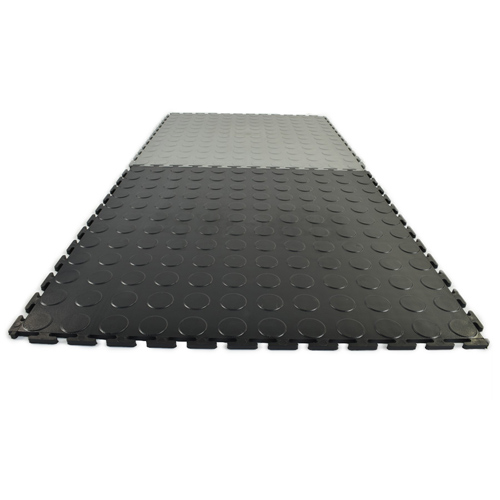 Warehouse Floor Coin PVC Tile Black is a jack friendly, easy-to-install garage flooring product that is made of durable, recycled PVC plastic. The tiles are 19.7 x 19.7 inches, and they have a raised surface that reduces scuffing on its surface from foot traffic, jacks, and vehicles.
These interlocking garage floor tiles are easy to install with a reliable, adhesive-free interlocking design. It's a unique product that can easily be installed over old or damaged garage floors, and it's designed to withstand forklifts, trucks, and other heavy-duty vehicles. It's an oil resistant product that isn't impacted by humidity, heat, or cold. The tiles are also resistant to gasoline, solvents, and caustics and they reduce the likelihood that bacteria, mold and mildew will grow on, under, or around them.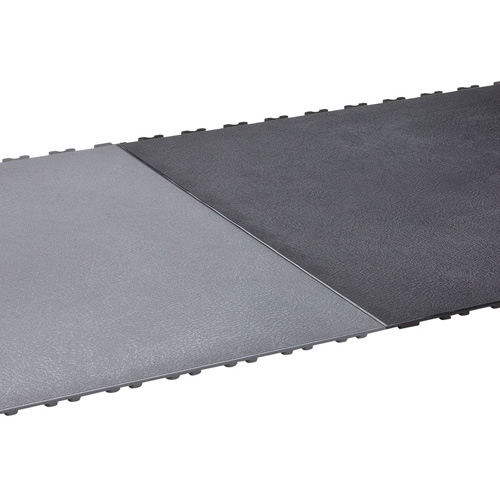 SupraTile 7 mm Hidden Leather Black / Grays offer a unique garage flooring solution. They have a smooth, leather texture and feature dovetail joint interlocks with the ability to withstand weight loads of up to 20,000 pounds without compromising the integrity of the product.
These perforated garage floor tiles are chemical, oil, mold, and mildew resistant, and they boast outstanding resistance to moisture, impact, and abrasion. They deliver warmth underfoot, and they are the ideal solution for garages where a watertight surface is not negotiable. They can be installed over most garage subfloors, even those that are uneven or contaminated, and the installation process is fast and easy. Once in place, the flexible tiles can be seamed together using a standard, linoleum type heat welding system.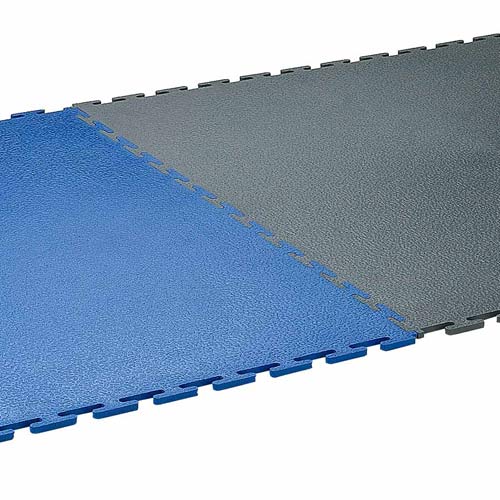 SupraTile 6.5 mm T-Joint Textured Colors and SupraTile 6.5 mm T-Joint Coin Colors are a great garage flooring choice if you want one that provides for a quick and easy installation. These products are available in a large selection of colors, textures, thicknesses, and interlock styles, and they are easy to remove and relay.
These tiles are resistant to oils, chemicals, mold, and mildew, and they deliver excellent resistance to impact, moisture, and abrasion. They are warm and comfortable underfoot, and they can be installed over most subfloors. They offer sound absorption, and options for integrated ramp edging and protective topcoats are available. Each tile can hold up to 16,000 pounds. It's a product that is ideal for use in auto repair facilities, high traffic areas, service shops, and thousands of other commercial and industrial applications including forklift duty.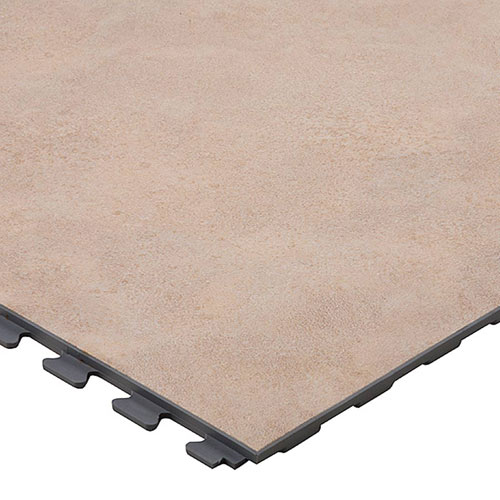 SupraTile 7 mm Designer Vinyl Top Series is a top notch, high performing flooring solution that looks really nice while performing well over all subfloors - including damaged and uneven ones.
Like the others, this one is waterproof and resistant to oils, chemicals, mold, and mildew. It's a warm and comfortable garage flooring solution, and it offers outstanding resistance to impact, moisture, and abrasion. It delivers superior sound absorption, and it is available in many designer finishes with protective topcoats and ramp edging available.
Greatmats - For The Best Interlocking Garage Floor Tiles
The featured garage flooring products represent some of the best and most popular products that can endure the weight and abuse of a jack. They are attractive solutions that give a garage space a high performing, upgraded appearance and feel. They offer durability, versatility, and reliability. They are also easy to install, maintain, and clean, and they look anything but cheap.
If you would like to learn more about any of the featured products, read some of the online customer reviews or reach out to the Greatmats team. The customer service staff can provide you with more information, answer questions you have, send samples to you, and help with anything else you need. Together, you can determine which garage flooring tile is the right solution for your garage space.
When you're ready to go to work on giving your garage floor an upgrade, let the Greatmats team go to work for you! Regardless of the garage tile you choose, you can be confident in the fact that you'll be getting the best.