What Size Cheese Mats Are Best For Cheerleading?
By Paige Cerulli Created: August, 2022
Cheese mats for cheerleading are valuable skills building tools. Also known as wedge or incline mats, these mats are ideal for gymnastics, tumbling, cheerleading, and more. But for these mats to be helpful tools for your program, you need to know how to choose the size that's right for your athletes.
The Best Size Cheese Mats for Cheerleading
Choosing the right size cheese mats for your cheer or gymnastics exercises and drills depends on the height of the athletes who will be using the mats. Since these mats are available in multiple sizes, you can find options suitable for the youngest athletes to your high school and college athletes.
As a rule of thumb, you will want to choose a cheese mat that is one foot longer than the athlete's height. Athletes shorter than 50" can use a small mat, but taller athletes will benefit from a large mat.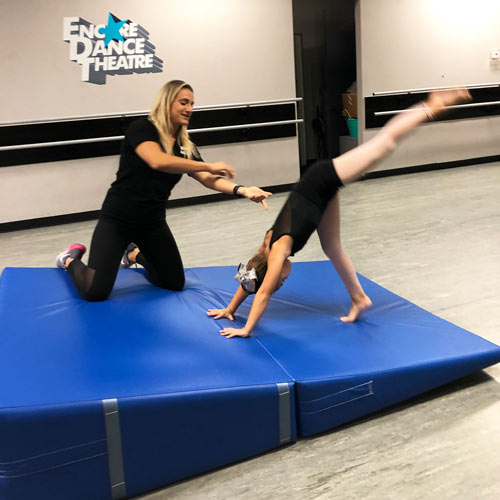 If your program serves athletes of multiple ages and heights, then it may be helpful to purchase cheese mats in multiple sizes. Having multiple mats will give you extra versatility and ensure that you have the tools needed to introduce skills like the back handspring, back walkover, back extension roll, and kickover.
Reasons to Buy Cheese Mats for Cheerleading
Cheese mats aren't cheap to purchase, but they're an investment in your cheerleading or gymnastics program that is certain to pay off. Cheese mats offer several benefits, whether you're running a professional program or just want your kids to be able to safely practice their skills at home.
Cheese mats provide athletes with the support that they need to learn new skills. The mats help with body posture and support, and they also cushion athletes as they practice.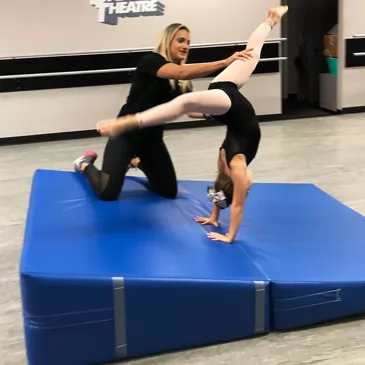 The mats can also help to boost athlete confidence. Since they make it easier to learn new skills, they can help athletes to feel more self-assured in starting and mastering a new talent.
Most importantly, these mats contribute to athlete safety. Not only do they help athletes to safely learn and practice skills, but they also support proper form, helping to ensure the athletes will be safe when they practice their skills unassisted by the mats.
Qualities to Look for in Cheese Mats
At Greatmats, we have a wide selection of cheese mats for sale. As you shop, it's important to consider multiple qualities to determine which mat is right for you.
Size
For a mat to be effective, it needs to be the right size for your athletes. At Greatmats, we carry cheese mats in lengths from 48 to 144 inches, so you will find mats suitable for young kids all the way up to college athletes.
The mats differ in width and height, too, allowing you to choose the mat that is the best fit for your athletes and the skills they are developing.
Folding or Standard Design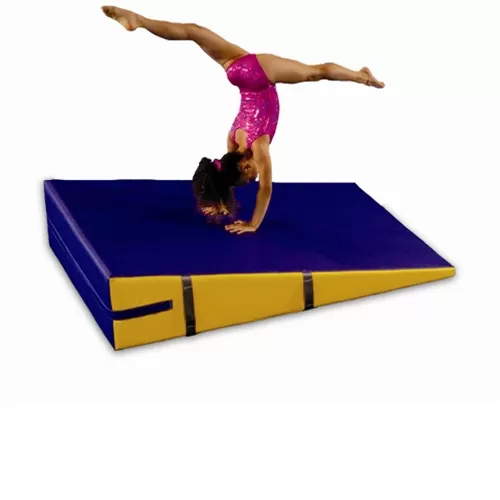 Cheese mats are available in standard solid or folding designs. The folding design allows them to be folded up into a block, adding to its versatility.
There are advantages to the non-folding option, too. The non-folding cheese mat can stand up on its end, allowing you to use it in multiple ways within your gym or home.
Durability
Cheese mats are an investment, and you want those mats to last. Several factors can impact how long your mats will last.
At Greatmats, we carry mats made of quality foam that not only absorbs shock, but that is also durable. The foam's construction method ensures that the mat won't be affected by mold, mildew, rot, or bacteria, maximizing the mat's lifespan.
The mats are topped by a 6P compliant vinyl that is free of substances like phthalates and lead. The vinyl helps to protect the foam from damage and also adds traction that is valuable to athletes practicing in bare feet.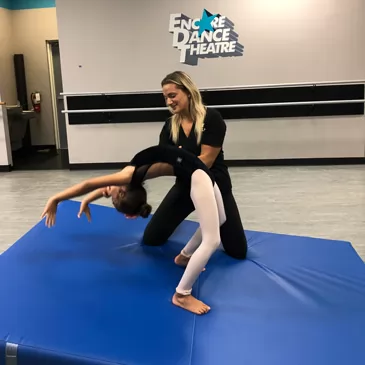 You'll also find that our mats feature tightly sewn stitching for extra durability. The seams are designed to avoid pulling apart under pressure, so you can get maximum use out of your mats.
Colors
If you're buying a mat for your gymnastics team or school gym, it's ideal if you can order that mat in colors that match your team's or school's branding colors. And if you're buying a mat for a child to use at home, they will enjoy being able to pick out their favorite colors.
At Greatmats, you can choose from a wide selection of colors, and can even combine multiple colors, to ensure that the finished mat looks just as you want it to. You can coordinate your mats to all be the same color, or use different colors to indicate mats that should be in different areas of the gym or used for different athletes.
If you have any questions, contact Greatmats customer support. We're happy to help you determine the mat size that's right for you and custom order your new cheese mat.