What Are The Best Mud Mats For Construction Sites?
By Lisa Hobbie Created: August, 2020 - Modified: August, 2023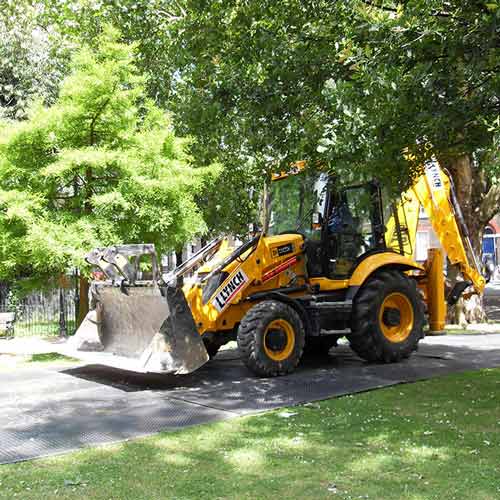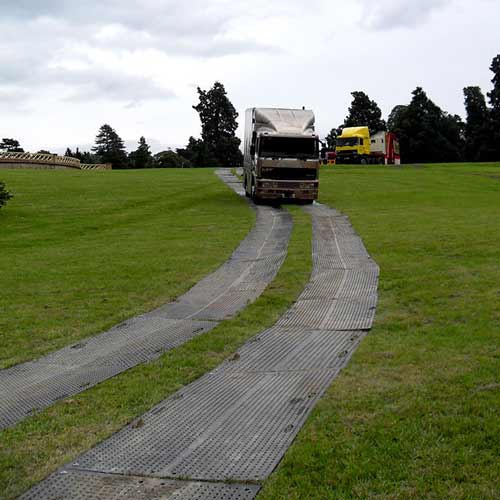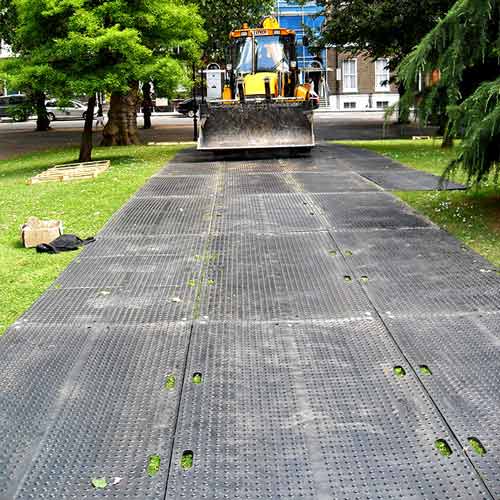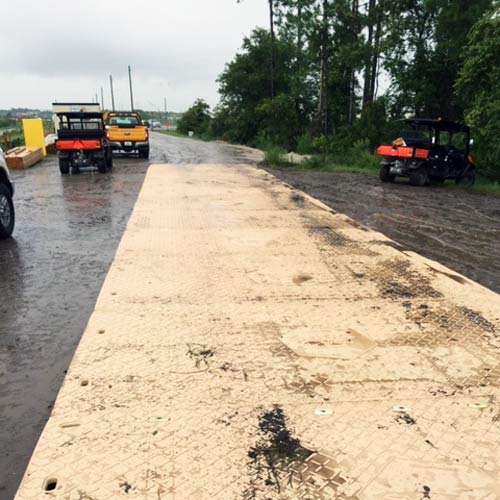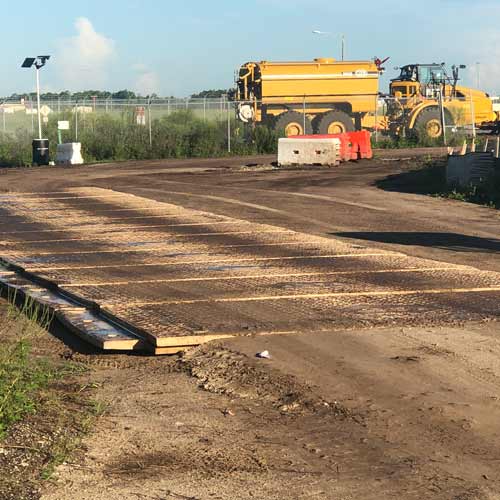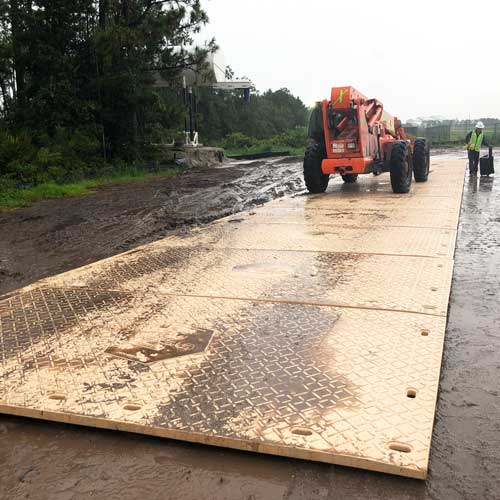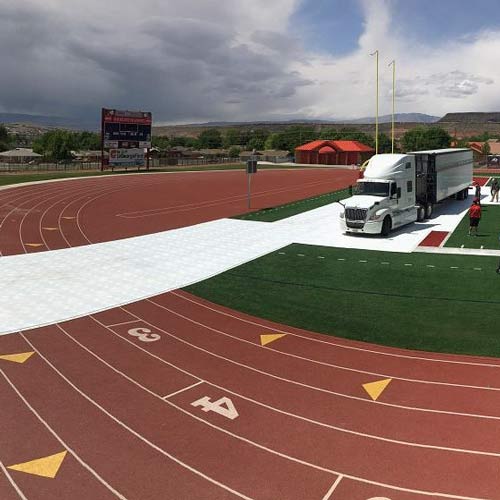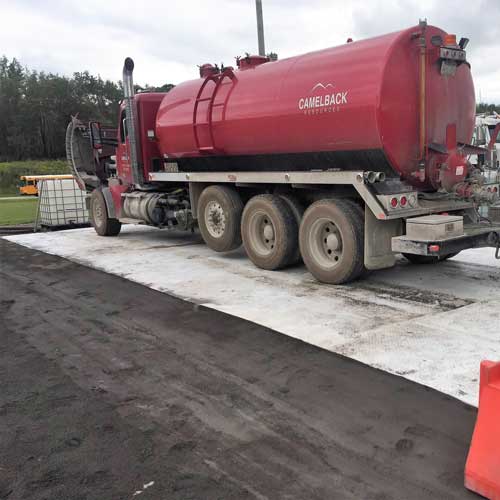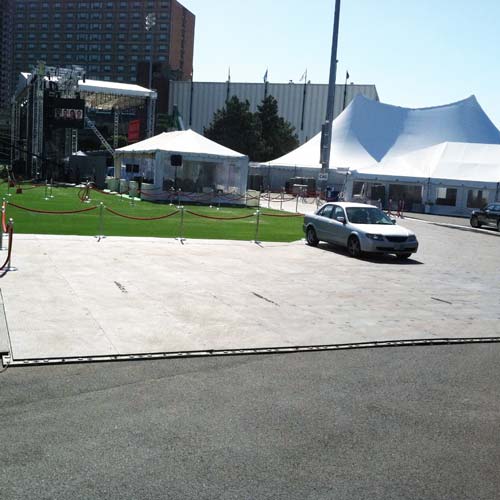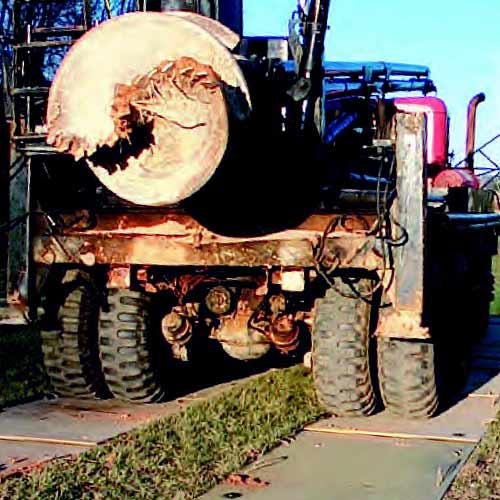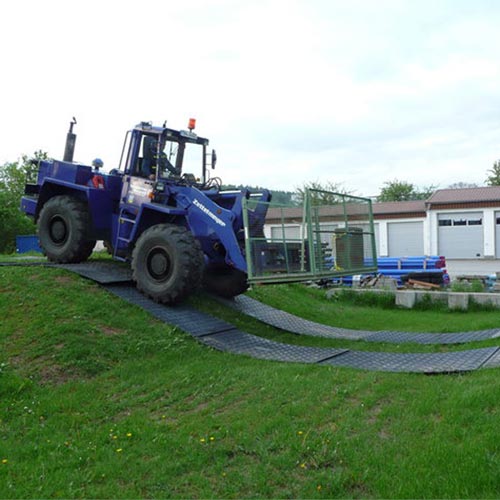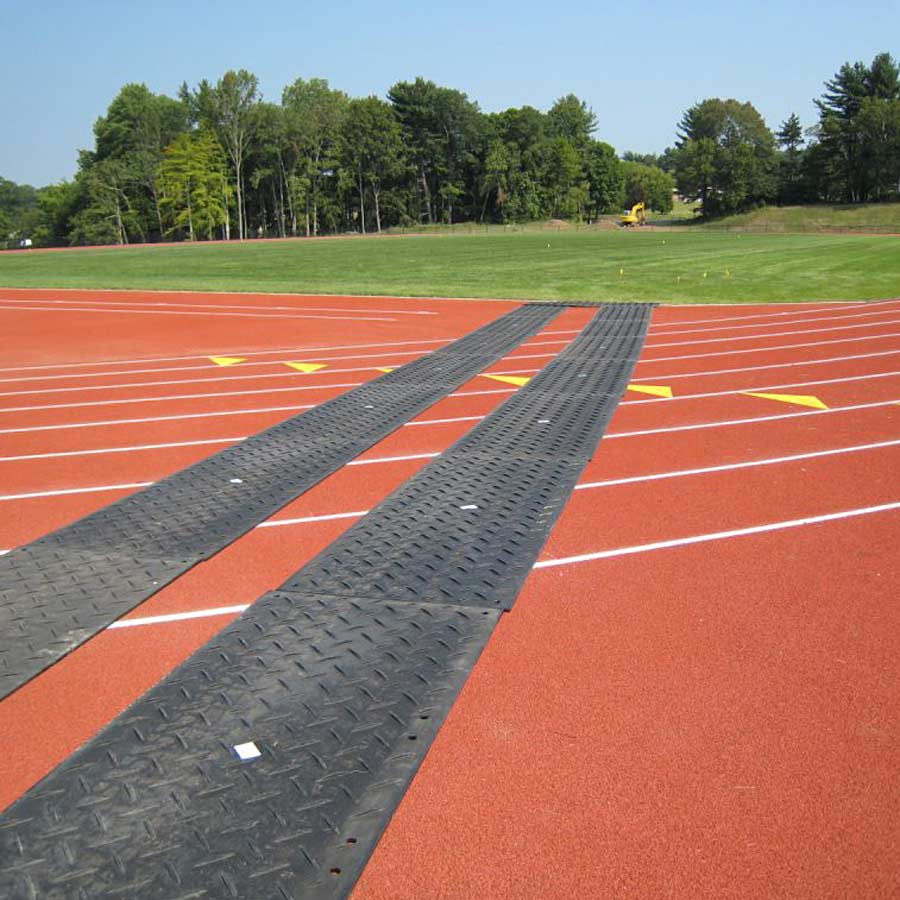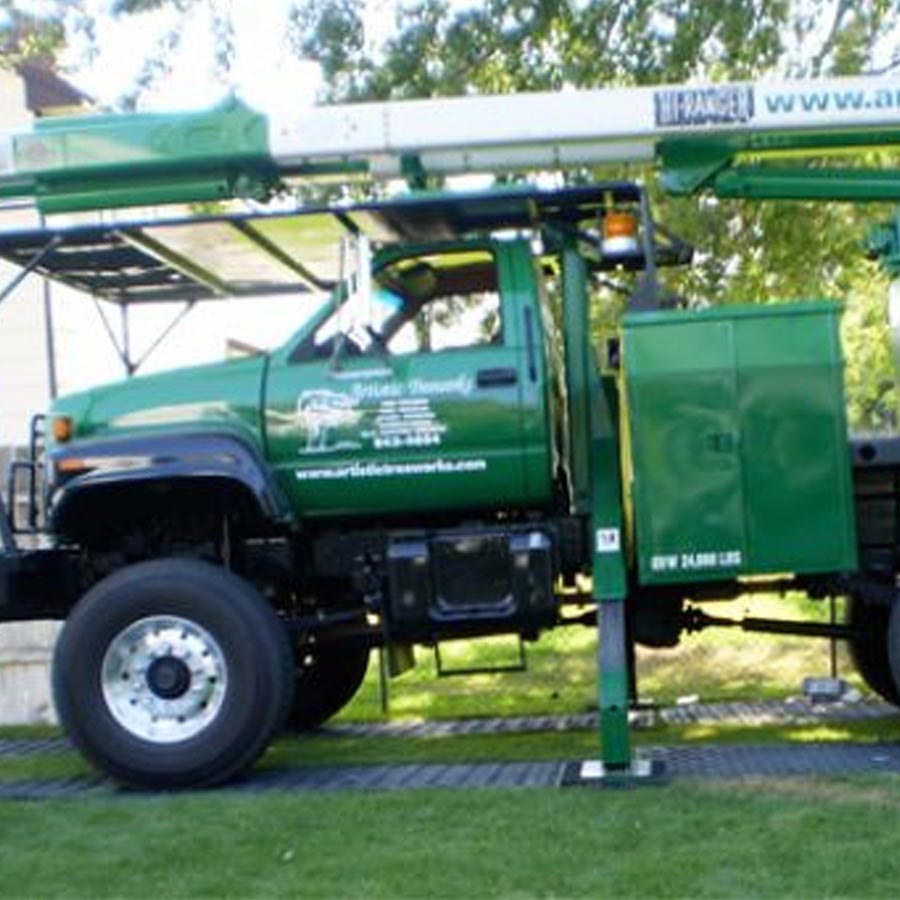 Construction sites and the equipment needed on such can really do a number to the ground below. Any time a large, heavy piece of machinery is driven off road and onto grass, dirt, or gravel, the likelihood of a rut, sinkhole, or other damaging effects strongly exists. The use of an outdoor mud mat greatly mitigates the amount and extent of damage, however, as it helps to control and absorb the weight and impact of the truck, utility vehicle, or other heavy equipment. Greatmats offers a large variety of some of the market's best options for sale, today! 
TrakMat Ground Cover Mats for Construction Sites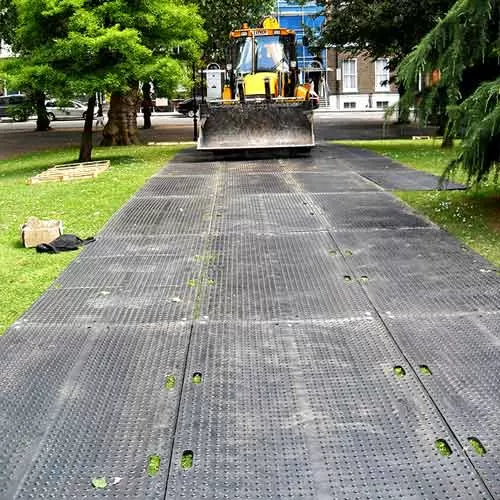 This
heavy duty overlap mud mat
provides a superior temporary road matting. It features corner connector fixing points on each corner. The low profile traction surface of button top design provides maximum grip. This will prevent a slip situation in even rain or snow conditions. With a weight load of 160,000 pounds per square foot and 29.6 square feet of usable surface area per mat, this mud mat will easily hold anything from a car to a truck outrigger. These are made from a premium, 100 percent high molecular weight polyethylene blend. They are non-conductive and ideal for transmission projects.
System7 Ground Protection Mud Mats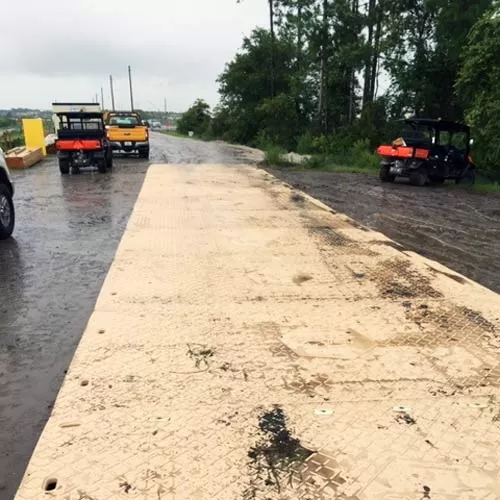 This product is the
most heavy duty industrial mud mat
on the market. It is made from 100 percent recyclable material, and it features a non-slip and anti-static surface and overlapping flanges. It has a fast and easy installation and is long lasting for years of use. It does not absorb contaminants, and the mats are made of virgin HD polyethylene. They feature multipurpose tread for rubber tires, vehicles with tracks, and provide solid footing for people to walk on. 
Matrax Heavy Duty Mud Mats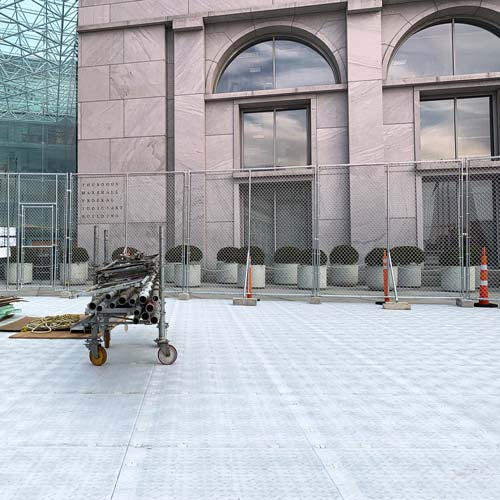 These
mud mats
provide even load transfer between panels and are drive and pedestrian friendly. Their diamond top texture and vertical locking system make them durable and versatile. They are super easy to install, are made in the USA, and are 100 percent recyclable. This portable flooring protects turf and natural ground, and the interlocking panels are designed to tolerate varying kinds of loads, as well as stage setup, large cranes, fully-loaded tractor trailers and other wheeled vehicles.
Mud-Traks Ground Protection Mat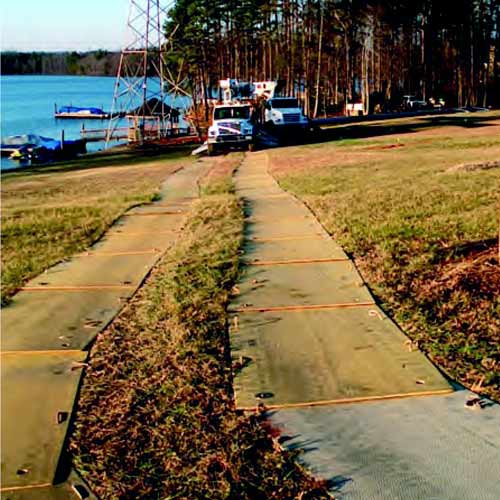 For the
strongest and most rigid mud mat
that can be lifted by man, this is it. Designed for rubber tire/track vehicles, this mud mat conveniently fits in the back of a pickup truck. It features rope handles for easy lifting, and it provides the most aggressive traction surface in the industry with texture on both sides.  It does not conduct electricity, and it is not affected by water, gas, oil, or chemicals. This product is designed with a solid fiberglass grid structure that channels the tire load throughout the mat, allowing for a tire weight to spread over an area 15 times larger than the tire. Each mud mat is 45 inches x 8 feet and will take your equipment over mud, sand, swamp, or virtually any other surface. Because they are light in color, the mats stay cool in heat to avoid damage to lawns. 
AlturnaMats Ground Protection Mats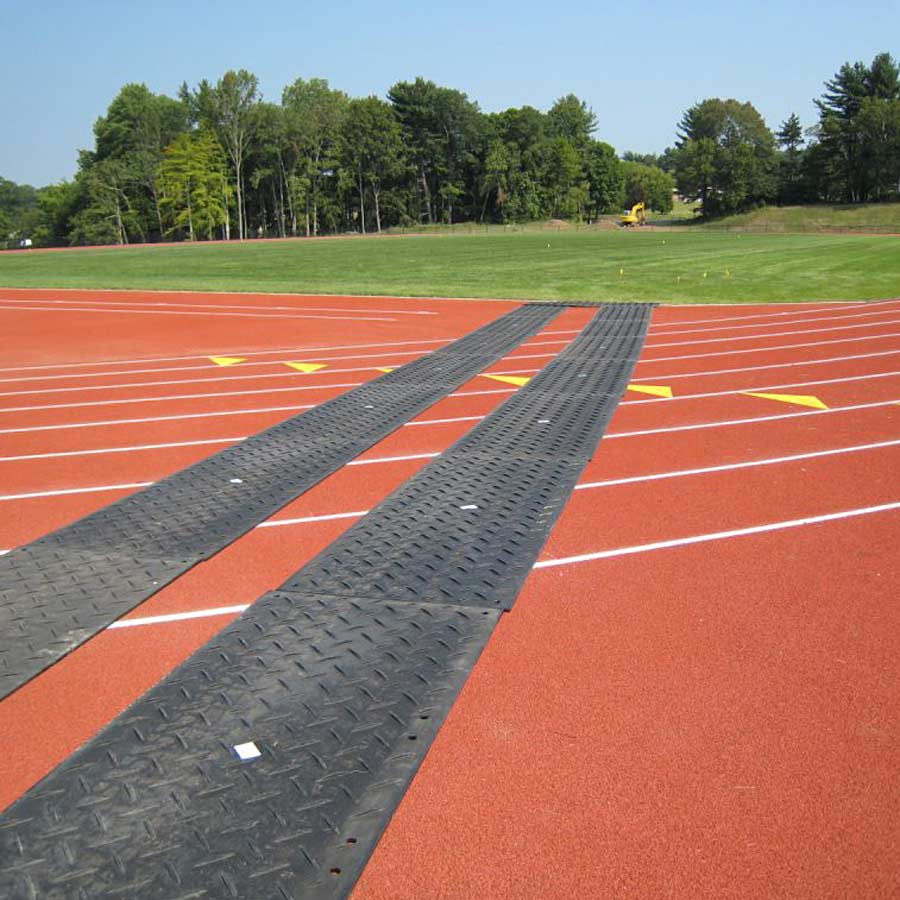 This 4 x 8 foot mud mat is the original,
temporary roadway, ground protection mat
. With the ability to support 120-ton loads and featuring a rugged ½ inch thickness, this recycled polyethylene product has a bold cleat design for great traction. With this mud mat, you can build a roadway or working platform in minutes, and it will leave turf smooth - even when the ground is soft. Where plywood is sometimes used as a roadway, that leads to warped, splintered, and water logged platforms. This mud mat allows for easy clean up with little to no damage to the ground underneath. This product is available in black or clear. 
Although many mud mat options come with excellent warranties, this is the only ground protection mat product on the market made in-house with thorough texting to support and back its lifetime warranty. 
Greatmats for Mud Mats and More
Ground protection mud mats are worth the investment, as they do a great job providing traction and access over sand, mud, swamps, and lawn, and they protect workers and equipment. They prevent damage from tire tracks, ruts, and other annoyances to the existing ground surface. Simply put, they make the work of the construction crew easier and they reduce impact heavy vehicles and equipment have on their surroundings.  
Greatmats truly is your one-stop-shop for all ground protection mats and other flooring needs. Review after review left by happy customers will indicate consistent satisfaction with the service and products at Greatmats. With additional mud mat options beyond those highlighted, there truly are products for every budget and application need.