What are the best ground protection mats for a tree service?
By Lisa Hobbie Created: February, 2020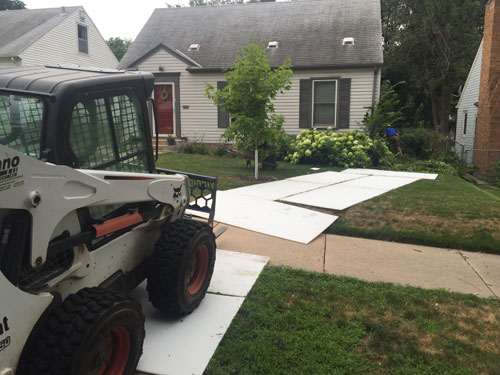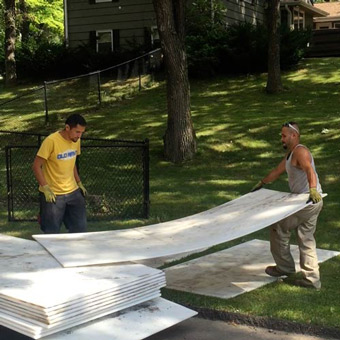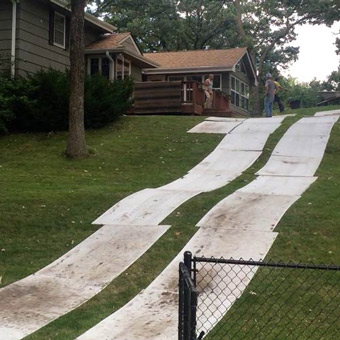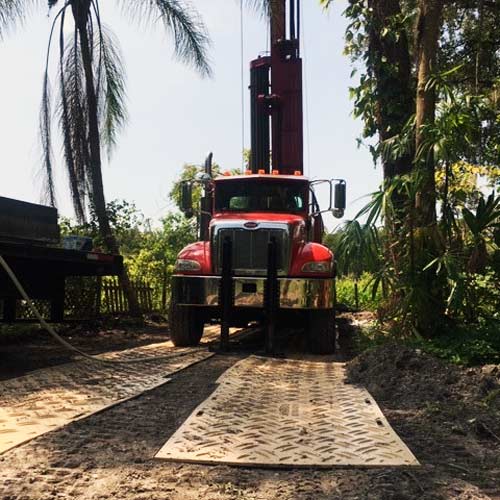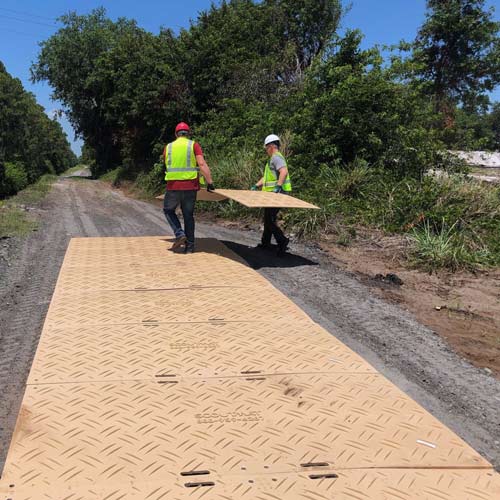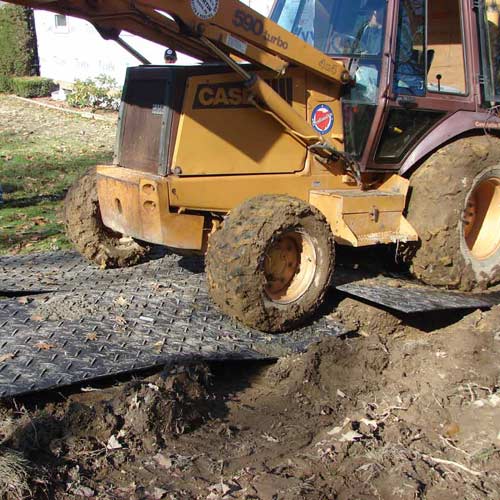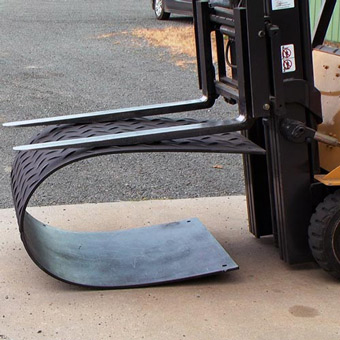 Whenever the need arises to remove trees from a commercial or residential property, there are many things that need to be considered. When the job is beyond what an arborist should handle through climbing, tree trimming or removal can be damaging and invasive if appropriate measures aren't taken to protect the buildings, yards, lawns, areas with landscape, etc. You certainly want to prevent or at least minimize any damage that could occur in the removal process, and tree service ground protection mats play a major role in doing just that. 
Greatmats has complied a list of the best ground protection mats for a tree service that will make driving heavy equipment over manicured lawns a less daunting and damaging task.
Using these mats makes clean up so much easier and provides traction for heavy equipment.
1. AlturnaMats Ground Protection Mats - 4x8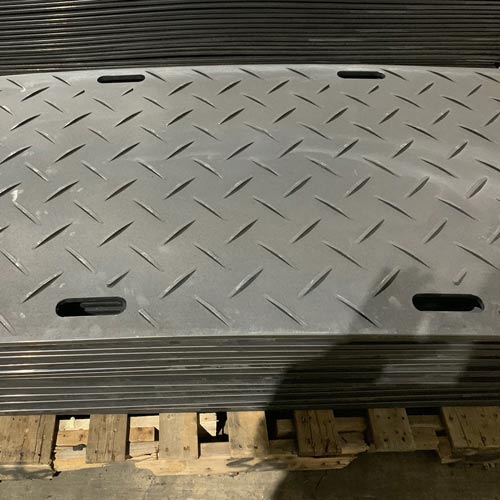 If you're looking for a ground protection or yard mat that will easily support up to 120-ton loads from tree service equipment and leave the turf smooth, even in the softest conditions, these rugged ½ inch thick recycled polyethylene mats will do the job. The mats are ideal for building a temporary roadway or working platform in minutes. With a diamond plate tread mat design, the temporary roadway mats provide maximum traction and the highest quality. They are accompanied by a Lifetime Warranty and competitive pricing.
2. Mat-Pak Ground Protection VersaMat 3x8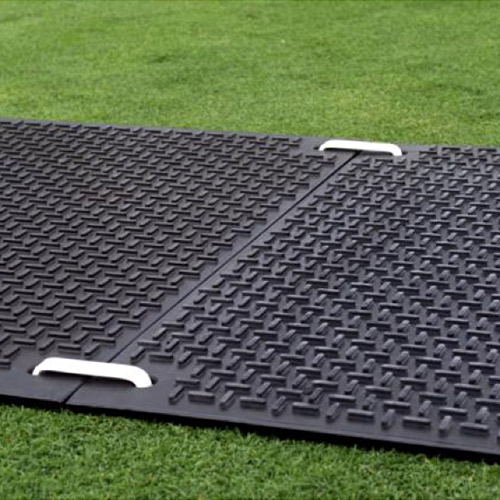 Another excellent lawn protection mat for a tree service that will withstand 120-ton loads, these 3x8 foot mats come in two practical clean designs - one for walking and one for vehicle traffic. These heavy equipment ground mats are easily locked together with Turn-A-Links or EZ links, and are accompanied by a Limited Lifetime Warranty. 
Available in black or clear and a variety of other sizes, these protection mats feature a flat, slip-resistant tread one one side to permit pedestrians to walk on a temporary sidewalk, and the other side features the same diamond plate tread the AlturnaMats do for vehicle traction. 
The smooth side is also a great surface for turning skid loaders. It allows the loader to turn more easily without overly gripping the tread surface. When used on the underside, the smooth side will also not dig into more delicate surfaces such as all weather tracks and thinner concrete.
3. 2x6 Ground Protection Mats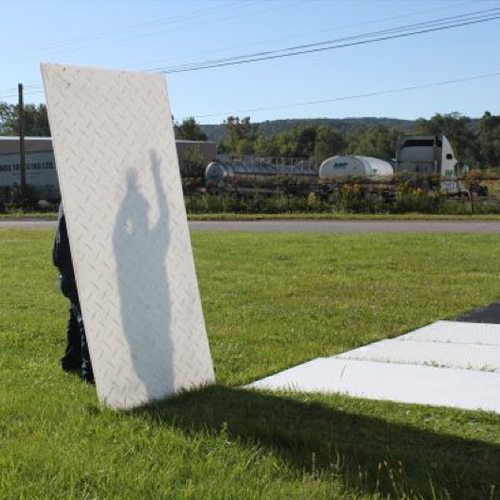 If you need a protective ground mat that will allow grass to grow and stay greener, clear mats are an excellent option for tree services. 
If tree removal, cutting, and trimming will be taking place in an area with wet spots and mud, these mats will prevent the weight of a skid steer, bucket truck, grapple truck, or four wheeler from causing ruts and other damage to the yard. Instead, they will leave turf smooth and undamaged. Like many other ground protection options at Greatmats, these come with a Lifetime Warranty!
4. 48 x 96 inch Scout Ground Protection Mats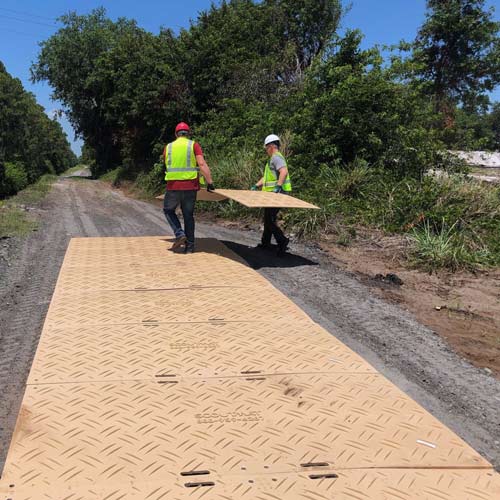 Scout heavy duty equipment mats are an excellent option for tree services when needing to support loads of up to 175,000 pounds. They are perfect for areas where the ground is soggy and the concern for rutting and damage done by weight is present. 
They are made of high-density polyethylene (HDPE) with a uniquely engineered composite surface texture. This texture allows for reduced slippage, minimal mud, and enhanced forward traction. 
These mats do not conduct electricity, and they are made of chemically inert material that helps prevent cross-contamination from heavy machinery. They are also weatherproof, waterproof, and are nearly indestructible.
Greatmats for all of your Tree Service Ground Protection needs!
Perhaps you are new to the world of ground protection mats, and you previously used or considered using plywood as a ground protection tool. Although plywood can be used to protect lawn, it doesn't hold up well once it gets wet and weighted down. It also doesn't always provide enough traction for a wheel loader, and it can't support as much weight - should the need to drive a truck across a lawn arise. Plywood also moves around more easily and is slippery, so the lawn sometimes gets damaged, anyways. Once the plywood has been used for a few projects, it also will need to be replaced and can leave debris behind as it breaks down.
When looking at ground protection mats, there are a number of things to look for. It's important to know how heavy your loads will be so that you can select an option appropriate for that weight. The mats should be designed to provide extra traction without damaging the turf. 
You also want to select mats that can be quickly and easily moved and placed, as well as those that are easy to clean. 
Customer Whispering Tree Service
Greatmats has numerous tree service ground protection mats from which to choose, and many contractors wouldn't even consider a job without using them. Take Brian Smoot of Whispering Tree Service, for example. His business does everything from hazardous tree removal to tree trimming to fertilizer injections and stump grinding. 
He uses the double sided diamond tread mats and mats with diamond tread on one side and a smooth flip side. The smooth side makes a turn in his skid steer much easier, but uses the diamond tread side to gain traction. He says, "These mats are something I never thought of before. . . Now when I look at a job, I can get to it because of these mats. I wouldn't go without them now."
Join Brian and many other tree maintenance and removal professionals and let Greatmats' ground protection mats go to work for you! With the best service, strong warranties, and unbeatable pricing, you can't go wrong with any of the options.