What Type Of Flooring Is Best For A Food Truck?
By Paige Cerulli Created: January, 2022 - Modified: January, 2022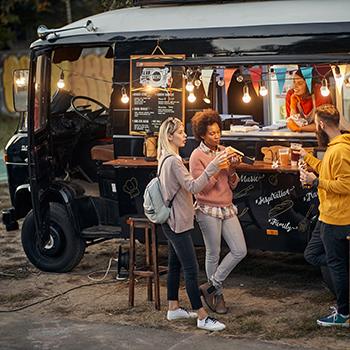 A food truck can be an exciting business venture, and whether you're setting up your first truck or your fiftieth, it's important to invest in the right materials to ensure it's a success. Those materials start with your food truck flooring choice, and at Greatmats, we have plenty of products that are ideal.
6 Must-Have Qualities in Food Truck Flooring
Before you start exploring flooring options for your food truck or enclosed trailer, it's important to think about the qualities that an ideal product will have. The following features can give you some ideas.
1. Shock Absorption and Cushion
When you spend long hours on your feet preparing food and serving customers, you'll appreciate the fact that your flooring helps to absorb shock and cushions your feet. Look for a forgiving product, ideally with anti-fatigue properties, to help keep you as comfortable as possible all day long.
2. Traction
Traction is a must-have, especially when you're dealing with grease and the spills that inevitably occur during food preparation. A textured floor surface can help to prevent slips and falls, keeping you and your staff safe.
In addition to traction when dry, it's equally important that your flooring maximize your traction when it's wet, too.
3. Durability
Your food truck flooring will see a lot of use, especially in high-traffic areas like in front of the stove or the service window. It needs to be durable enough to withstand this intense use, maximizing your investment.
In addition to being strong and withstanding wear, your flooring needs to resist the harsh elements it's exposed to. Oil and grease can degrade flooring materials, so it's important to choose a product that's suitable for use in your food truck environment.
4. Waterproof Design
Make sure to choose a product that is completely waterproof. Spills are sure to happen in a food truck, and a waterproof product is easy to wash down at the end of the day.
5. Easy Cleaning and Maintenance
You'll also need to be able to thoroughly and completely clean your flooring. Look for a product that you can sweep and mop, both during and after service, to keep your food truck hygienic and safe.
While it's helpful to be able to mop or wipe down your flooring while it's in place, think about looking for a product that you can also easily remove so you can deep clean your truck after an event.
6. Easy Installation
If you'll be installing the flooring yourself, look for a product that's designed for a simple installation. Many products can be installed without using an adhesive, saving you money and time.
You'll also want to consider how easily you can cut a product to fit your truck dimensions. Whether you're looking for a 16x8 or 5x8 foot flooring piece, you might need to cut down an 18 ft or 20 ft roll to fit.
Ideal Food Truck Flooring Products to Consider
At Greatmats, we carry several products that are ideal choices for your food truck flooring.
Rubber Flooring Rolls ¼ Inch 4x10 Ft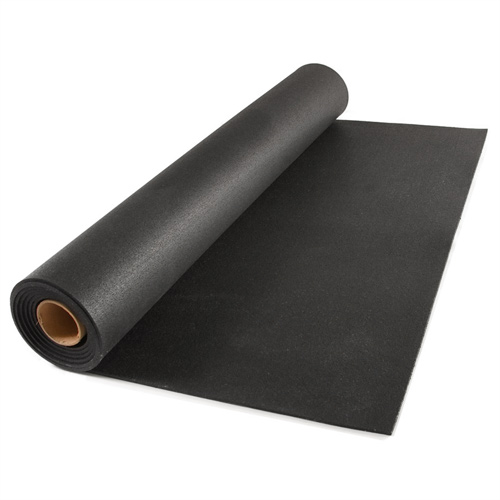 Our Rubber Flooring Rolls are a highly durable product that work well in food trucks. Measuring ¼-inch thick, this flooring is strong enough to withstand plenty of traffic, but won't add substantial height to or create a tripping hazard in your truck.
You can easily clean this rubber flooring with a neutral pH cleanser, and you can even pull out the mats for a more thorough cleaning. Measuring 10 ft long, the mats are easy to roll up and store during your off-season.
LonBead Vinyl Rolls 6x60 Ft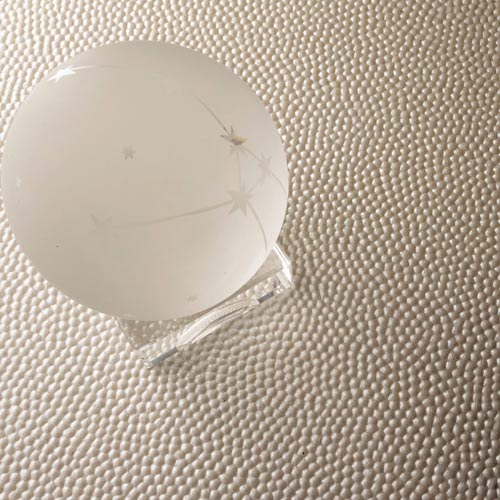 Our LonBead Vinyl Rolls feature an embossed surface to help maximize traction, even when it's wet. The floor is highly durable and makes a great long-term flooring choice.
This flooring meets GreenAir and GreenMedic standards for microbial resistance and low VOCs, making it one of the best choices for a food truck setting. It's made with up to 20% of pre-consumer recycled content, making it an eco-friendly choice.
Since the floor doesn't require lots of time-consuming maintenance, it's a great choice for your commercial use. Cleaning it is easy and fast, and you can scrub it with a mop as necessary.
LonCoin II Featherweight Vinyl Rolls 6 x 60 Ft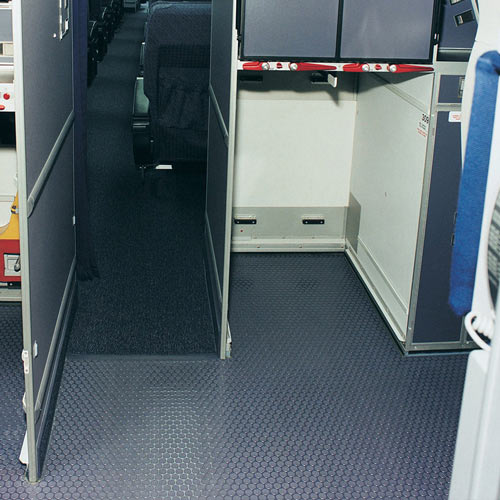 The LonCoin II Featherweight Vinyl Rolls 6 x 60 Ft are often used for aircraft and marine applications, but they're ideal for food trucks, too. This light flooring weighs up to 30% less per square foot of coverage when compared to standard flooring products, keeping the overall weight of your truck down.
The floor features a slip-resistant surface to help keep you safe, and its antimicrobial properties contribute to a safer environment for food handling. This flooring also resists many substances, including coffee, bleach, ketchup, and mustard.
LonDeck Sol Vinyl Rolls 8.5 x 60 Ft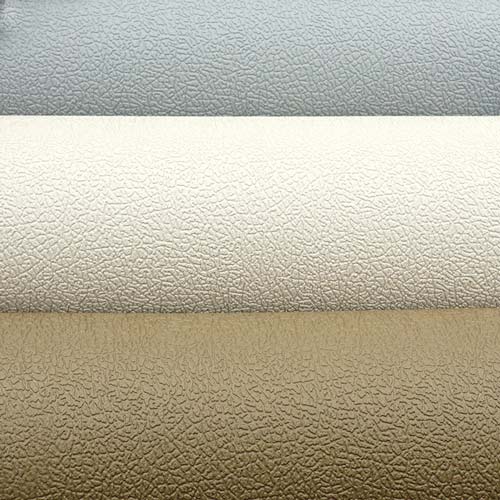 The LonDeck Sol Vinyl Roll is a highly durable flooring choice that stands up to high-traffic use. It also withstands weather wear and features a leather grain design to maximize traction.
This strong sheet vinyl requires a glue-down installation, which makes it a long-term addition to your food truck. It's available in four color options.
LonPlate II Vinyl Rolls 6 x 60 Ft
The LonPlate II Vinyl Rolls are a rugged, durable flooring choice for your truck. The diamond plate texture offers excellent skid-resistance and withstands high traffic areas.
This flooring is made with recycled content and is easy to maintain. It's antimicrobial and can help you to maintain a healthy and clean environment in your truck.