What Are The Best Carpet Squares or Tiles For A Classroom?
By Paige Cerulli Created: February, 2022 - Modified: February, 2023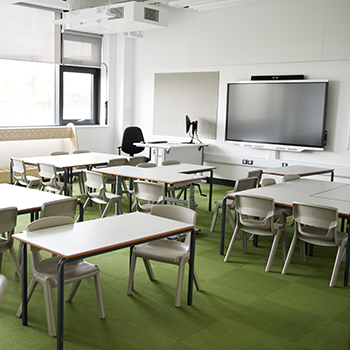 Carpet tiles are a highly versatile flooring choice, and they're excellent for use in classrooms, too. Easy to install and available in a wide variety of designs and colors, carpet tiles can enhance a classroom's comfort and appearance.
Tips for Choosing Carpet Squares for a Classroom
As you explore the carpet tiles for sale for classroom use, think about the following qualities to help narrow down your choices.
Comfort and Cushion
One of the advantages of carpet tiles is that they can create a forgiving surface that's comfortable to walk and sit on. This is particularly important for kindergartens and other lower grades where students may spend a good portion of time sitting and kneeling on the floor.
Look for a carpet tile that offers cushion and shock absorption. Factors like the carpet's pile height and the inclusion of a foam backing will affect how comfortable the carpet feels.
Waterproof and Resistance Properties
It's also important for the carpet that you choose to be hygienic. Waterproof and stain-resistant properties are essential when you're installing the carpet in classrooms, especially when young children use the rooms.
You'll also find that some tiles offer other desirable properties, like odor-proof designs and antimicrobial treatments that can help to make your classroom a healthier environment. Some tiles also feature anti-static protection that can help to keep kids more comfortable when sitting or crawling on the floor.
Available Patterns and Colors
The colors and patterns of a carpet tile may also factor into whether it's right for your classroom. Darker colors and patterns tend to conceal dirt well, but bright colors and patterns are often desirable for younger kids.
Don't forget that you can purchase tiles in multiple colors and alternate them to create eye-catching patterns.
Durability
It's also important to choose a tile that's durable enough to withstand the classroom environment. Look for tiles that are backed by manufacturers' warranties and that have longer average life spans to make the most of your investment.
Installation Method
Carpet tiles are available with multiple designs that support different installation methods. It's important to consider the type of installation that's most ideal for your classroom.
Tiles are available with glue-down, dry lay, and even modular installation designs. Many can be laid directly on concrete, saving you the cost of an underlayment and potentially saving you on a professional installation.
Top Carpet Squares for Classroom Use
At Greatmats, we carry several carpet squares that are ideal for classroom use.
Kids Carpet Tiles 1x1 Meter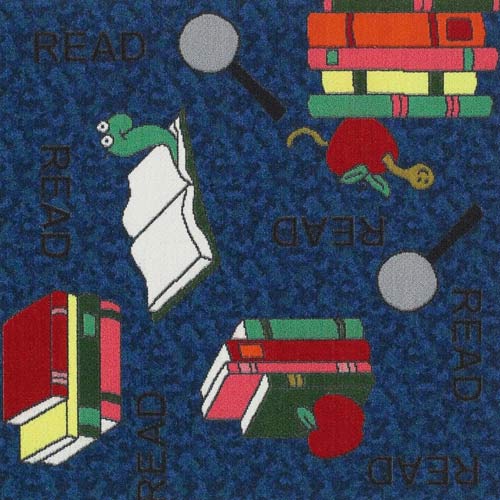 The Kids Carpet Tiles 1x1 Meter are available in many fun styles for kids, including alphabet, stars, and book prints. They're backed by a limited lifetime wear warranty, making them ideal for use in classrooms.
These tiles are antimicrobial and have been treated for soil and stain resistance. They also offer lifetime anti-static protection to keep the classroom environment safe and comfortable.
They feature a waterproof layer between the carpet and the pad, so the tiles will help to protect your subfloor against any spills that might occur. The polyurethane back helps to absorb both rolling and foot traffic to minimize buckling.
Once installed, you can remove an individual tile if it needs to be replaced, making this a highly versatile flooring option.
Royal Interlocking Carpet Tile ⅝ Inch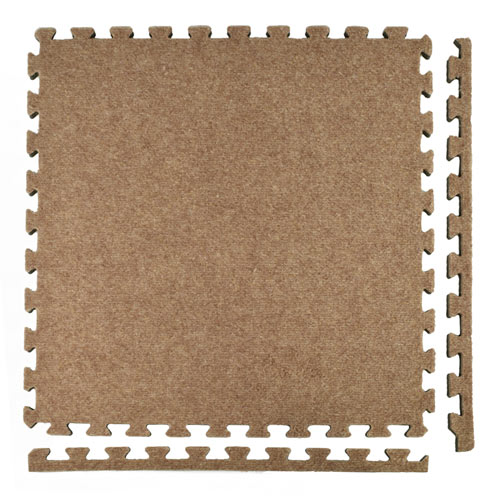 The Royal Interlocking Carpet Tile offers an easy, simple installation to save you time. You can place the tile directly on your subfloor, and there's no adhesive needed.
These mats are lightweight and portable, and they offer anti-fatigue and insulation properties that are similar to what you would enjoy with traditional carpet. The tiles are also waterproof, odor proof, and stain resistant, so they're ideal for classroom environments.
Each tile includes two border strips, allowing for a clean and finished edge. You can vacuum them clean for easy maintenance.
Comfort Carpet Tile 10x20 ft Kit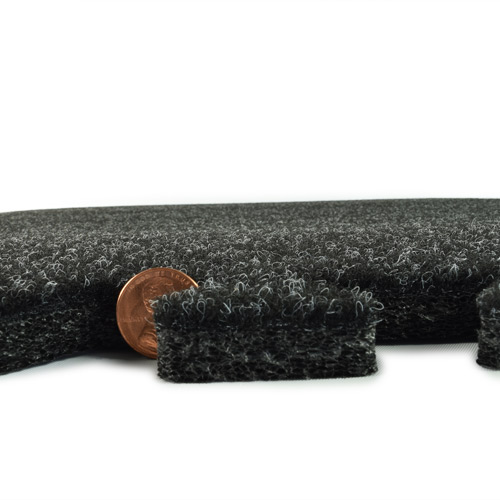 The Comfort Carpet Tile 10x20 ft Kit is available in several different sizes, so it's very easy to install in your classroom. You can lay the tiles directly on concrete or existing tile, and there's no adhesive needed.
These tiles offer anti-fatigue and insulative properties to make the classroom comfortable. They're lightweight and portable, and they can be pulled up and removed as needed.
Designed for high traffic areas like classrooms, the tiles can withstand foot traffic as well as the weight of tables and chairs.
Additional Carpets for Your Classroom
In addition to our carpet squares, we carry a wide assortment of
kids rugs and carpets
for home and school. Many of these carpets can be dry laid on top of your existing floor, and they provide valuable stimulation and activities for students.
These carpets are available in all sorts of fun patterns, including alphabet, numbers, rainbows, games, and more. The designs incorporate colors that kids love, like blue and pink, and their fun designs often make for interactive play.
You can use the carpets for many different activities, including reading or play circles, games, learning activities, and more.