What Is The Best Banquet Room Flooring?
By Lisa Hobbie Created: November, 2020 - Modified: August, 2023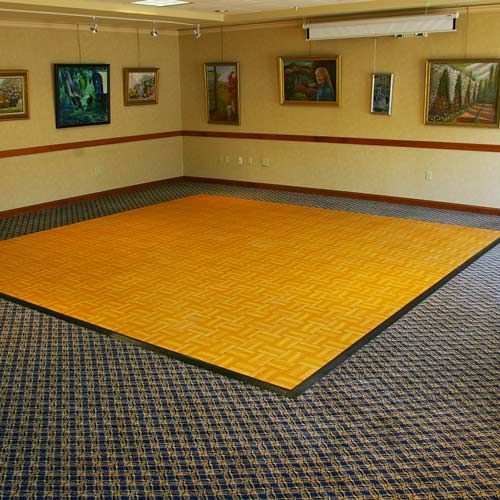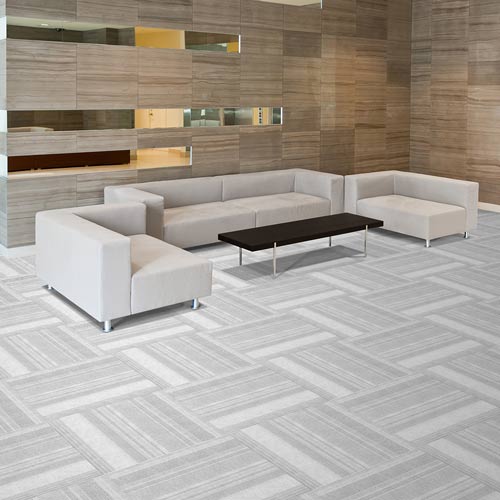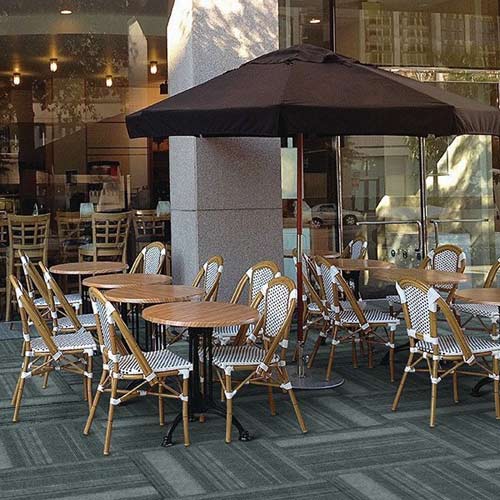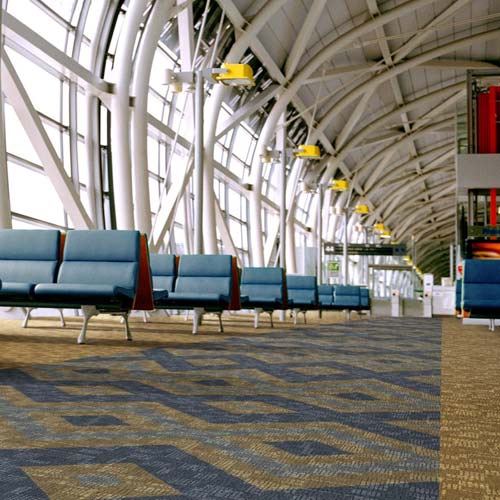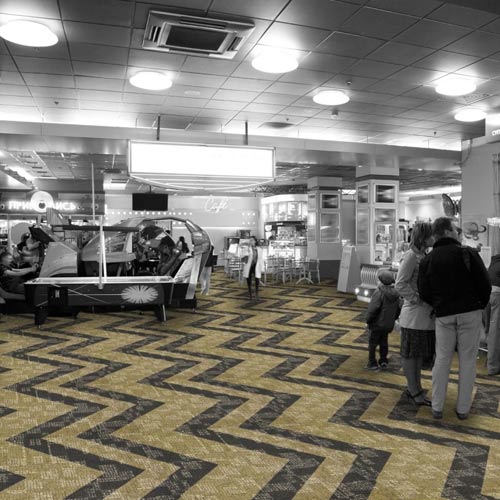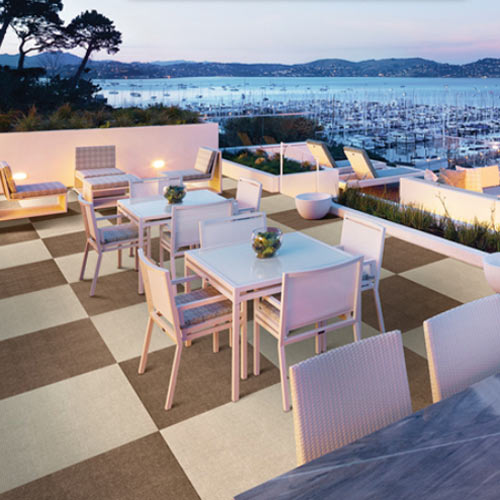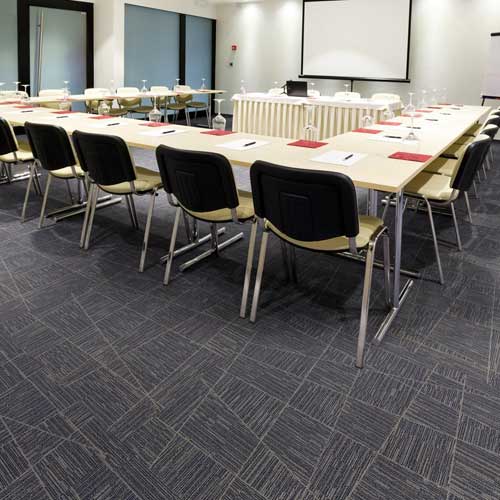 Banquet rooms host facilities for many momentous occasions, from showers and reunions to weddings and funerals. Creating a banquet room that is attractive and appealing as well as comfortable and low maintenance takes some thought and consideration. 
These high-traffic rooms often double as a dance hall and event center with rental items and menu options. Sometimes part of a hotel or restaurant and other times standing alone, selecting banquet room flooring requires a number of considerations. 
Choosing the flooring material, color, design, and quality of a product are all part of the selection process, as are working within budget and space restraints. Greatmats offers a variety of top-notch banquet room flooring options, with products to suit nearly any style and pricing preference that would perform well in spaces big or small. 
Couture Carpet Flooring for Banquet Rooms
Smart Transformations Couture carpet tiles
offers high quality banquet room flooring. Even in the presence of high traffic, the fibers in these large, 24x24 carpet tiles will not fade, wear, stain, fray, or unravel. They are eco-friendly, as they are made from 100 percent recycled, purified plastic bottles, and they are resistant to odor, mold, and mildew. 
They are easy to keep looking clean and maintained. The couture collection features a surface design with a barcode pattern, and there are numerous colors to choose from. This product wears really well both indoors and outdoors, and it will long outperform its 5-year warranty.
Etruscan Carpet Tile Flooring
Etruscan carpet tiles
also perform really well when installed as banquet room flooring. These carpet tiles are durable, stain resistant, and rated for commercial applications. 
The carpet square features an attached, waterproof cushion that provides amazing comfort. It is PVC-free polyurethane and is engineered to absorb foot traffic. This keeps the product looking nicer longer and reduces the likelihood of it buckling. 
The banquet room carpet can be installed to feature a number of different designs or patterns, or, with no pattern at all. It features a Stay Tac coating that provides a high friction component that prevents the carpet from moving laterally. However, it can be easily rotated or replaced. 
This product is truly one of the most versatile, environmentally friendly, and cost-effective banquet flooring carpets available.
Crochet Carpet Tiles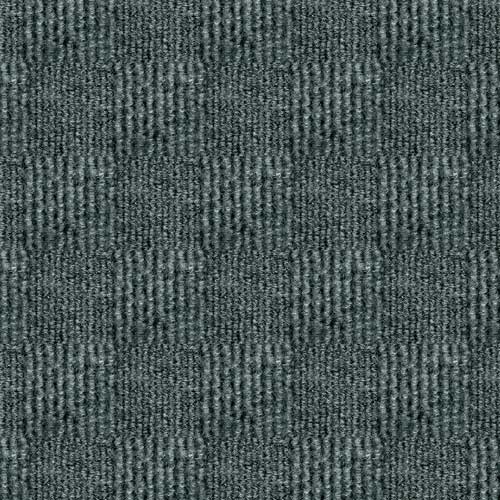 Smart Transformations offers another banquet room flooring option in the
Crochet product
. Like the Couture product, this one is also made with 100 percent recycled plastic bottles, and it boasts fibers that will not unravel, snag, or fray. 
There are various color and style options from which to choose - from neutral blue and gray to green and brown. This product is easy to install with its pressure-sensitive adhesive that works on virtually any dry floor - indoor or outdoor. 
This carpet tile features a Dura-Lock carpet backing and fiber locking system that permanently locks each fiber in place. These large, 24x24 tiles are durable and strong, and they will resist fading, staining, excessive wear, and deterioration from mold or mildew. 
The low-maintenance banquet room flooring solution is accompanied by a 5-year warranty. 
Large Shareholder Carpet Tiles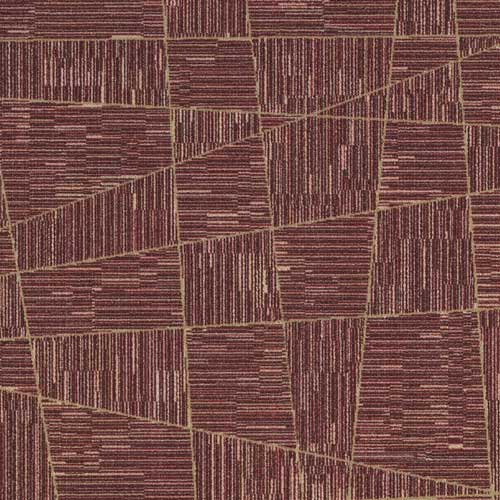 Another
carpet tile
option when considering banquet room flooring is the Shareholder product. This carpet tile is outstanding for high-traffic areas, and it is available in a wide range of unique designs and colors. 
This product enhances the look of any space, and it also improves air quality by reducing VOCs and allergens and regulating indoor air temperature and acoustics. Shareholder carpet tiles are colorful and versatile, easy to install, simple to maintain, and feature an extremely comprehensive warranty package. 
They are also stain resistant and commercially rated. If you're looking for a temporary banquet room flooring option, this may suit your needs as the tiles can be installed and removed individually or in sections.
EZ Portable Dance Flooring for Banquet Rooms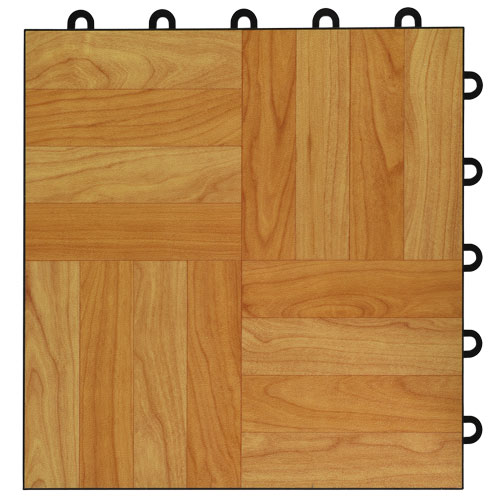 When outfitting a banquet room, you may be considering separate dance floor options. The EZ Portable Dance Floor is a perfect choice, as it can be installed, removed, and reinstalled many times, even over carpet. 
These
dance floor tiles
interlock and result in a professional-looking floor that is suitable for indoor and temporary outdoor use over most surfaces. It is strong and durable enough to hold up to most types of shoes - even high heels. There are numerous faux wood finishes to choose from, offering a look to compliment any design preference. 
Although the tiles are lightweight and portable, their secure, locking fit creates the appearance of a permanent dance floor, and with its commercial-grade vinyl laminate top surface that allows for water and air to flow underneath, it performs well in virtually any setting. It is made in the USA and comes with a 5-year warranty, but it will last much longer than that. 
Greatmats - For all of your Banquet Room Flooring needs!
When it comes to flooring, Greatmats truly is your one-stop shop with solutions for virtually every space and project. When you're ready to purchase banquet room flooring, allow Greatmats to go to work for you by providing the best quality, service, and products available anywhere.