Artificial Grass and Paving Ideas for Outdoor Spaces
By Paige Cerulli Created: July, 2022 - Modified: October, 2022
Whether you're planning landscaping and pathways for your home or business, there are many products available that are aesthetically pleasing, durable, and easy to install, including artificial grass and pavers. These artificial grass and paving ideas can get you inspired and help you to create a beautiful outdoor setting.
Artificial Grass and Paving Ideas
Using artificial grass and pavers, you can make the most of outdoor spaces. Whether you're creating a road, making a pathway, building a patio, or creating another aesthetically pleasing and functional space, these products can help to turn your plans into a reality.
These products can replace traditional materials, like concrete blocks or poured slabs. They bring plenty of advantages to nearly any landscaping project.
Artificial Turf
Artificial turf offers the beauty of real grass without any of the maintenance hassle. You don't have to worry about watering and mowing the turf, and the surface is usable even after heavy rain.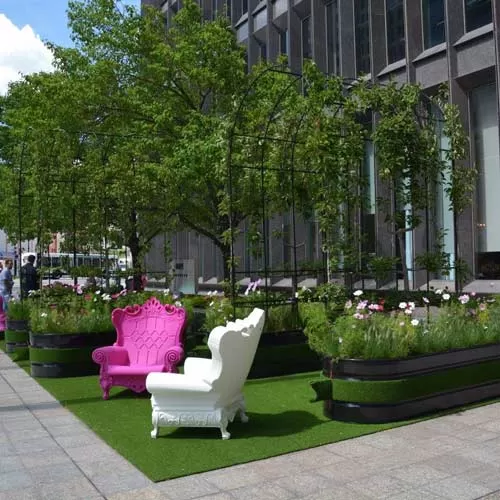 Artificial turf products are available in large rolls, smaller rolls and mats designed to be dry laid, and even interlocking tiles. These different synthetic products allow for multiple installation options, some of which you can perform entirely on your own.
Consider using artificial turf to add a beautiful touch to an area that's either difficult to maintain or that you don't want to worry about maintaining. You can install these products in yards, alongside walkways, in playgrounds, and more.
You can also use artificial turf to create attractions like mini golf courses or sports fields. They can make a home or business stand out without adding to the property's upkeep time or budget.
Interlocking Patio Tiles
Interlocking patio tiles are a highly durable and attractive choice for decks, patios, rooftops, golf courses, and more. Made of rubber, these tiles create a high-end look that's suitable for residential and commercial use.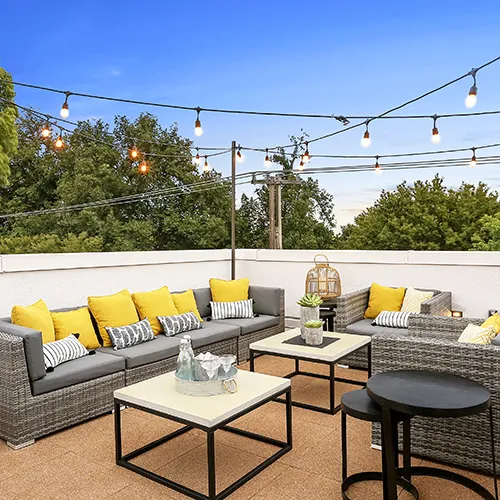 Patio tiles are often made of recycled rubber, so they are an environmentally-friendly choice. They create a sturdy surface that's comfortable underfoot, and they can also help to conceal and protect a subfloor.
Most of these tiles measure 2x2 feet, so they are easy to transport and install. They can often be dry laid, or they can be permanently installed with glue.
These tiles are available in many different colors, including black and terra cotta. They can withstand temperature extremes and harsh weather without cracking or shrinking, making them a long-lasting flooring choice.
When you use these tiles, you'll also enjoy easy and minimal maintenance. You can sweep them, deep clean them with a vacuum, or even clean them with household cleaners or a water hose with pressure.
Rubber Pavers
Products like the Equine Paver Tile Terra Cotta offer the traditional, stylish look of brick combined with highly desirable properties that create a more enjoyable, safer surface. These rubber pavers are highly versatile and can be used in horse stalls, wash bays, barn aisles, sidewalks, and more.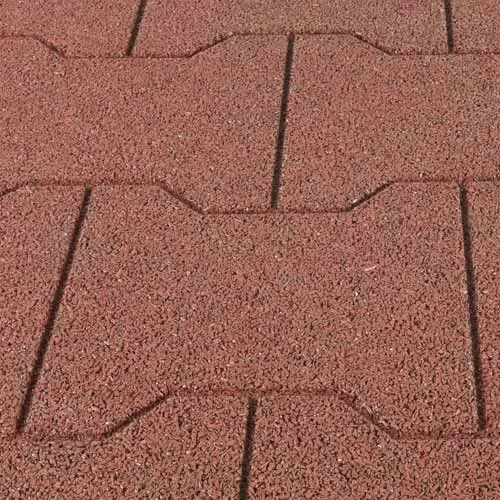 While traditional brick is hard, slippery when wet, and heavy to transport and install, these paver tiles create a more desirable surface. The rubber offers excellent shock absorption, so if a fall ever does occur, the pavers can help to minimize any resulting injuries.
The softer surface of the pavers creates a more comfortable environment, and the pavers offer valuable traction to help prevent slips and falls. They offer an outstanding ongoing performance and are highly durable, especially when compared to bricks which are prone to breaking and chipping, especially upon impact.
Since the pavers are made of recycled rubber buffings or crumb rubber, they are helping to keep rubber products out of landfills. They are an eco-friendly choice and are available in several colors, including terra cotta and green, to complement your facility.
These pavers are designed to be easy to install, and they are virtually maintenance-free. Once installed, they create a highly attractive cobblestone appearance that looks polished and professional, enhancing the surrounding areas of your home or business.
Cellular Paver Tiles
Products like the GeoGrid Cellular Paving System allow you to effectively use loose materials, like stone, for walkways, driveways, and paths. These tiles feature a cellular design that helps to quickly drain away rain water, preserving the integrity of your road or path and making for less maintenance.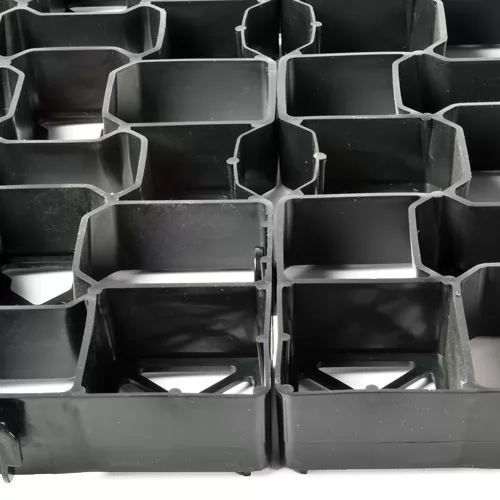 The tile also helps to reinforce and stabilize the ground. The tiles interlock together and are easy to install, and they are manufactured in grid sections that you can fill in with decorative stones.
When filled with stone, the tiles create a drivable surface. Alternatively, these tiles can be used to create reinforced areas of turf by filling them with dirt and then topping them with grass seed.
Since these tiles are made of high density polyethylene, they are incredibly strong and can withstand loads of up to 35 tons per square foot. You can use them in private driveways, golf routes, overflow car parking areas, equestrian facilities, fire emergency routes, and more.