Are Rubber Mats Good For Your Garage Floor?
By Paige Cerulli Created: September, 2023 - Modified: September, 2023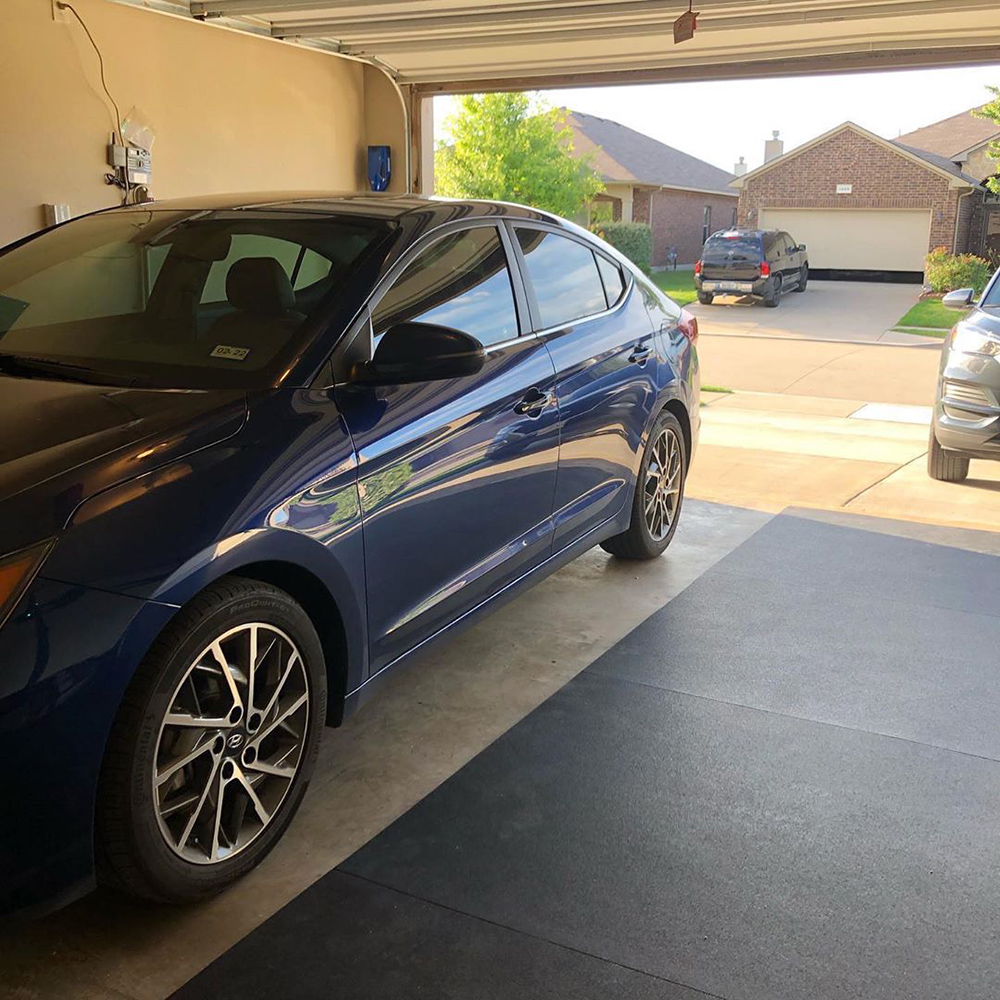 Whether you're looking to revitalize your garage or make it into a multi-purpose surface, you'll need a strong and durable flooring product. At Greatmats, we offer many rubber mats for garage use, and these products are ideal for gyms, work spaces, entertainment and more.
As long as you are not driving or parking on them, rubber mats are a great option for garage floors!
How to Choose Rubber Mats for Garage Use
When choosing rubber mats, it's important to consider the qualities that are most important for your intended use. For example, if you're planning on creating a workspace, then an anti-fatigue, softer mat will be a great option. If you're going to be working out and dropping weights, a thicker, heavy-duty mat is more appropriate.
It's also important to consider where your vehicles will be located in relation to the rubber mats. Greatmats does not recommend driving vehicles over rubber. The repeated weight of vehicles will shorten the lifespan of your rubber mats, and any oil, antifreeze, or fluid leaks can also damage the rubber.
If you want to increase the versatility of your garage, then a half garage gym setup might be a better option. With this popular type of setup, you will put rubber mats on the half of the garage that you don't drive on. You'll use that half as your home gym, while also protecting the matting from vehicle damage.
As you evaluate different rubber mats for garage use, think about other qualities like thickness, the size of the mats, the installation process, traction, cushion, and how strong of a rubber smell each mat has. We've outlined some of the best rubber mats for garage use to help you get started.
The Best Rubber Mats for Garage Use
We carry several rubber mats ideal for garage use at Greatmats.
Interlocking Rubber Tile Gmats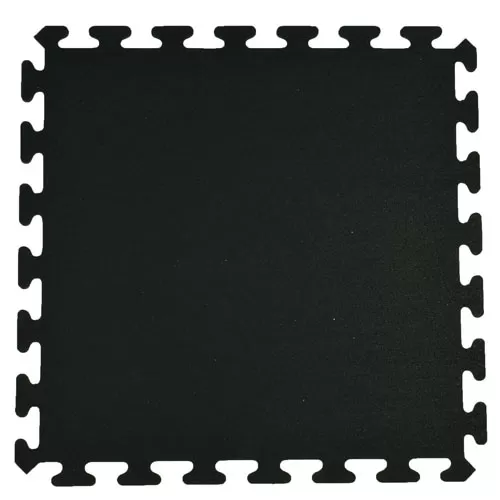 The Interlocking Rubber Tile Gmats measures 2x2 feet and is ⅜ inch thick, so it can quickly cover even a larger garage space. These tiles are made of an impact-absorbing rubber but are strong enough to support the weight of gym equipment, so they're suitable for gym floors and workout spaces.
The tiles feature interlocking edges and tight-fitting seams, making for an easy installation and a floor that won't separate while in use. They're reversible, too, so you can turn them over to maximize their lifespan.
Rubber Flooring Roll Gmats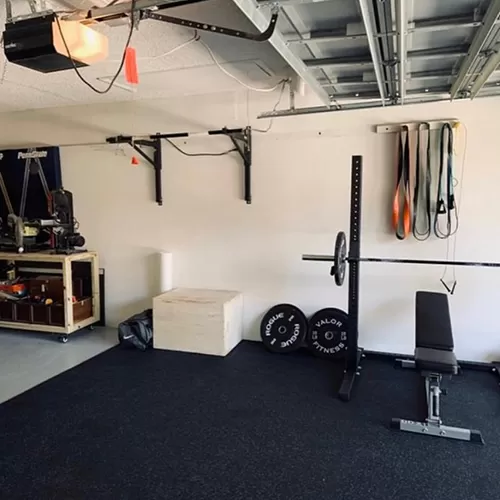 The Rubber Flooring Roll Gmats is a durable flooring choice ideal for home gyms. It's strong enough to withstand the weight of exercise equipment, and since it's available in gray and blue fleck, you can customize the look of your garage.
You can install this flooring over existing concrete floors, and it's suitable for temporary and permanent installations. It can be rolled up and stored away when not in use, or you can install it with adhesive. This flooring is easy to clean, too.
Sundance Mats Interlocking Black 3/4 Inch x 2x2 Ft.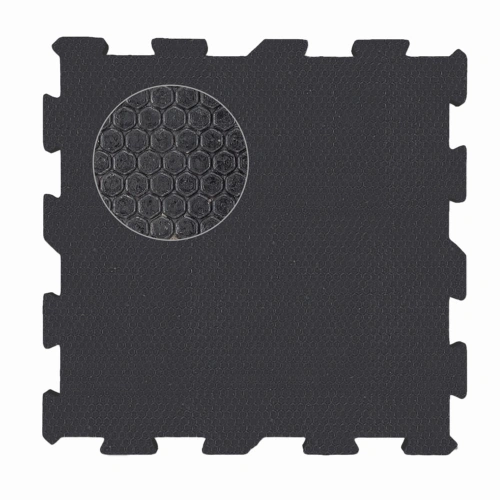 With its flat bottom construction, the Sundance Mats Interlocking Black helps to reduce noise and vibration, ideal when you're working out in your garage. This heavy-duty recycled rubber is non-absorbent and won't promote bacteria growth, so any leaks or moisture that might be present are no big deal.
Measuring ¾ inches thick, the mat won't curl. A mitigating agent has also been used to help reduce the rubber aroma, making the mat suitable for use in smaller enclosed spaces like garages. The tiles easily connect together for durable, DIY-friendly floors.
BubbleFlex Mat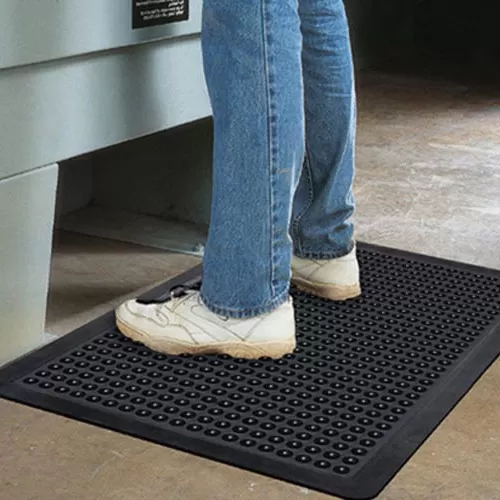 If you plan to use your garage as a workspace, the BubbleFlex Mat can help to maximize your comfort. This anti-fatigue mat is ideal for workshop areas, and the rubber bubble design helps to stimulate blood flow and maximize slip resistance, too.
The mat is resistant to oil and grease, and it features beveled edges to help prevent trips and falls. As you stand on the mat, it promotes the use of different muscle groups, helping to keep you comfortable during long hours on your feet.
Dura Trax Ultra Anti-Fatigue Mat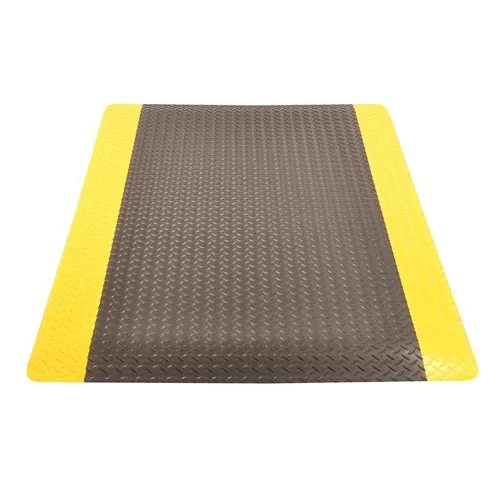 The Dura Trax Ultra Anti-Fatigue Mat combines rubber and PVC and is designed to be safe for areas used for welding. This heavy-duty mat features a diamond plate texture to help maximize traction. It's ergonomic to maximize your comfort, while beveled edges make for a smooth transition onto and off of the mat. The rubber shell is resistant to welding sparks, so it's an important safety addition if you plan on using your garage for welding.
Choosing the Best Rubber Mats for Garage Use
Renovating your garage can help you to make the most of your existing space, and can revitalize and repurpose the area, too. As you plan your garage renovation, it's important to choose mats that are right for the ways that you plan to use the space. If you have any questions, contact the Greatmats customer support team. We're happy to answer questions, help you find the mat that's best for your project, and provide shipping quotes, too.