Are All Interlocking Soft Foam Floor Mats Made Of EVA?
By Paige Cerulli Created: March, 2022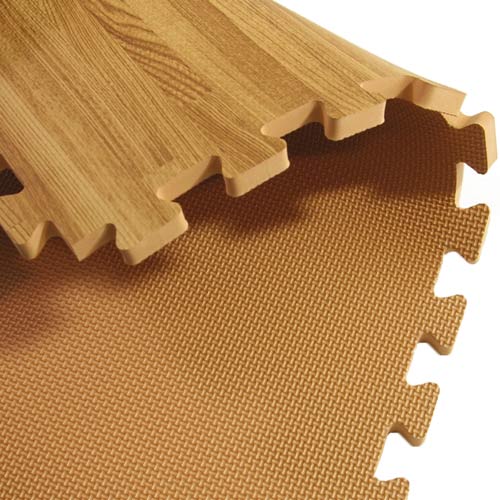 Interlocking soft foam floor mats are highly desirable for many reasons. They're versatile, soft, and incredibly easy to install and uninstall. While EVA interlocking soft foam floor mats are popular, you'll find that some mats are made out of a different type of foam. Here's how to decide which is right for you.
PE versus EVA Interlocking Soft Foam Mats
Many interlocking foam mats are made of a foam called EVA, or Ethylene-Vinyl Acetate. EVA foam is a closed-cell foam, meaning it tends to be water-resistant.
EVA foam mats can be bonded to a vinyl or carpet surface, but they can also be used entirely on their own. Since these types of mats don't require an additional surface, they're often reversible.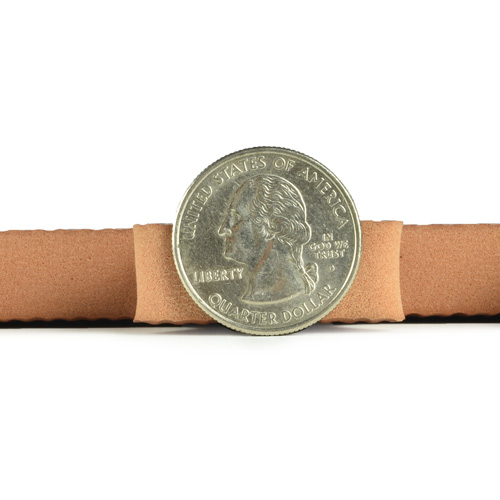 That reversible feature means you can often flip over a tile that's worn, stained, or damaged, extending the lifespan of your floor. Some tiles feature dual colors on each side, meaning you can reverse the tiles to create fun patterns and designs, an ideal option for spaces for children.
In contrast, other foam tiles are made of PE foam, or polyethylene foam. PE foam is an open-cell foam, which means it's more prone to absorbing moisture than EVA foam is.
PE foam also needs to be bonded to another surface, like vinyl or carpet. As a result, PE foam tiles aren't reversible.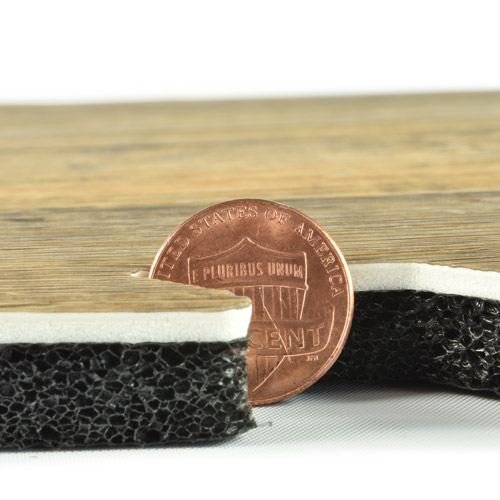 Both types of foam tiles have their advantages and disadvantages, and they're each suitable for certain types of applications. Understanding the differences between the two types of foam can help you to determine which type of tile is right for your needs.
PE and EVA Interlocking Soft Foam Floor Mats for Sale
At Greatmats, we carry a selection of both PE and EVA interlocking soft foam floor mats for you to choose from.
Home Sport and Play Mat
The Home Sport and Play Mats are made of EVA foam mats. Measuring ¾ inch thick, they provide plenty of cushion and are comfortable underfoot.
While these mats create a forgiving surface, they're firm enough to support home exercise and martial arts. They feature a durable scuff-resistant texture that can withstand athletic shoe traffic.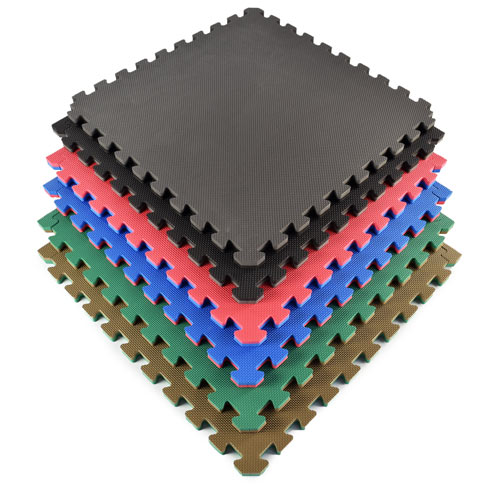 These tiles are reversible and dual colored, so you can maximize their lifespan and get plenty of use out of each mat. Color options include black, red, blue, and more.
They're an ideal choice for kids' play areas, and they're easy to clean in case spills occur.
These tiles feature tight-fitting interlocking tabs, so they won't pull apart during use. Installing them is as easy as aligning the edges and pressing them together.
You can also uninstall the tiles easily. They measure 2x2 feet, so you can store and transport them as needed.
Wood Grain Foam Tiles Reversible
The Wood Grain Foam Tiles Reversible are highly durable tiles made out of EVA foam. They are printed with a wood grain pattern on one side, while the opposite side features a scuff resistant tan surface.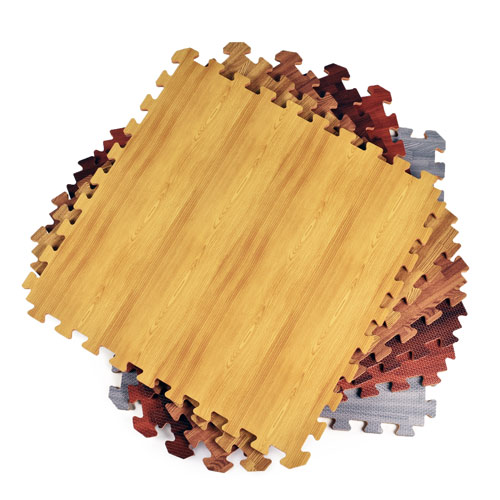 The tiles are free of lead and latex, so they're ideal for home use in basements, home gyms, and exercise rooms, as well as in trade shows. They're also waterproof, and they add plenty of cushion to any surface.
The tiles feature a tight-fitting interlocking design that helps to keep them from pulling apart during use. They're also easy to clean by sweeping or vacuuming them.
Each tile includes two border strips, allowing you to create island installations with clean, finished edges. You can install the tiles on a hard, flat surface, and then store them away or transport them when you're done.
Designer Weave Interlocking Carpet Tile
The Designer Weave Interlocking Carpet Tile is made of PE foam. It features anti-fatigue properties that are similar to what you would experience with carpet, and it also helps to insulate your room against temperature fluctuations.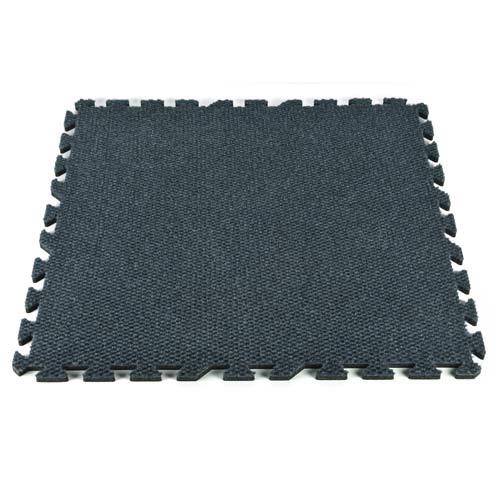 These tiles feature a padded foam base, but they're also durable enough to withstand foot traffic and furniture like tables and chairs. Their interlocking design makes it easy to create a continuous surface system.
These tiles are a popular choice for trade show and showroom flooring, basement floors, and exo flooring. They're available in several designer color options.
You can get these tiles with a beveled edge option, which is ideal for creating a smooth transition onto and off of an island installation. Maintaining these tiles is easy; just vacuum them regularly.
Rustic Wood Grain Trade Show Center Tile
The Rustic Wood Grain Trade Show Center Tile is a PE foam tile that provides anti-fatigue cushion. It's a top choice for use as trade or event flooring, as well as for basements.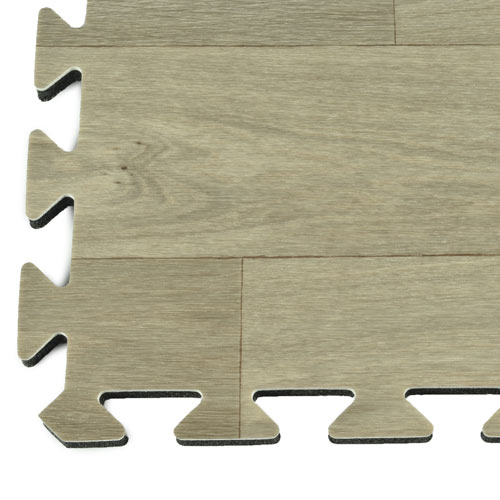 This tile is waterproof and non-absorbent, and it's also lightweight and portable. The tiles feature a rustic woodgrain finish available in several shades, and it will complement many decor options.
While the tiles can withstand most shoe traffic, high heels will puncture them. They're available with beveled edges that make for a smoother transition onto and off of the tile.
You can dry lay these tiles on a hard, flat surface, and no adhesive is required. They're easy to install and remove as needed.