Do Gym Floor Covers Protect Against Water?
By Paige Cerulli Created: January, 2023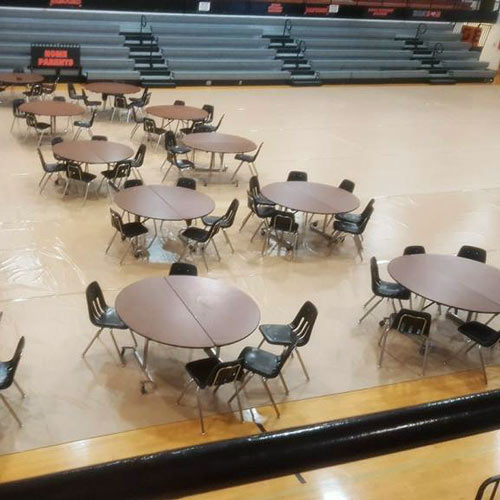 Gym floor covers are helpful for protecting your gym from everything from dances to plays and commencements. Using these covers can increase the versatility of your gym, providing protection from furniture, foot traffic, and general wear and tear. If you're planning an event where attendees will be drinking beverages or tracking in moisture from the rain or snow outdoors, it's important to choose a cover that's also waterproof.
Are Gym Floor Covers Waterproof?
Gym floor covers provide temporary protection, allowing you to convert the space for another use. Rather than dealing with a tarp or other makeshift cover, these colors are large rolls and you can easily install and remove them.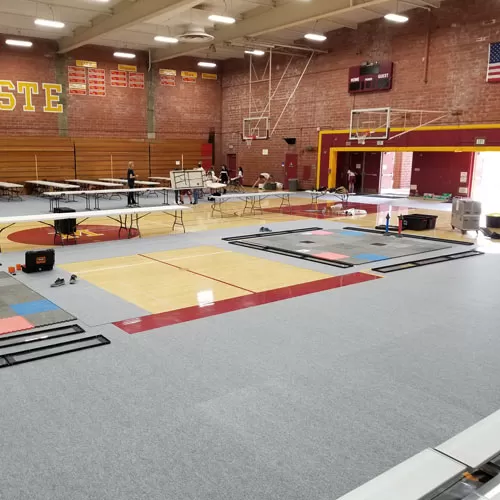 Given that gym flooring, including basketball and volleyball courts are sensitive to moisture, it's important to choose a waterproof cover for the best protection. Some covers are waterproof, or at least water-resistant, offering the protection that your floor needs.
If you're looking for a waterproof gym floor cover, then you'll want to consider these options.
Gym Floor Cover 10 oz. Woven Poly - Waterproof
The Gym Floor Cover 10 oz. Woven Poly is a highly durable PVC coated polyester mesh cover. It exceeds both ADA and OSHA requirements for slip-resistant surfaces, maximizing attendee safety during events.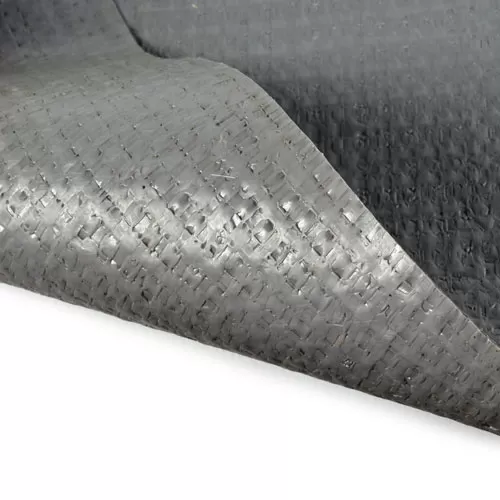 This cover is not only waterproof, but also anti-fungal, anti-bacterial, and rot and mildew resistant, so it's suitable for applications where it may be regularly exposed to moisture. It's also fire retardant and ideal for school safety.
Available in five different weights, this cover comes in 12-foot widths, so you can quickly cover even a large gymnasium. The seams are designed to lay smooth and flat, and the cover is easy to handle.
The cover is backed by a three-year warranty.
Gym Floor Cover 32 oz Vinyl - Waterproof
The Gym Floor Cover 32 oz Vinyl is a highly durable cover that features PVC coated polyester mesh. This heavyweight material is waterproof and ideal for use in gyms, basketball courts, and on stages.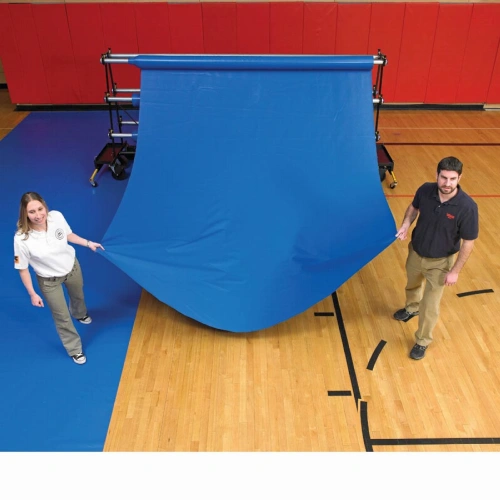 In addition to being waterproof, the cover is anti-fungal, anti-bacterial, and rot and mildew resistant, so it can be exposed to moisture without jeopardizing the cover. It is slip-resistant and fire retardant, ensuring that it's a safe addition to a facility.
The cover is available in 10-foot widths and can be custom cut to your needs, minimizing waste and helping you to stay within your budget. It's available in many color options, including dual-sided tan and color combinations.
Rolled Rubber Eco ¼ Inch Regrind - Non-porous
The Rolled Rubber Eco ¼ Inch Regrind is a highly durable choice for your gym, weight room, or school facility. This rubber is long-lasting and resilient, and it's also an economical choice.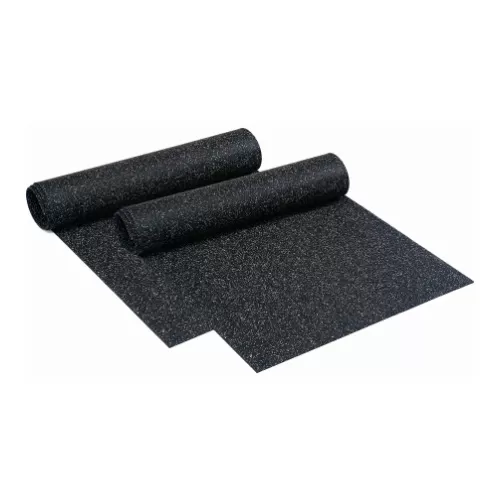 These rubber rolls are available in a regrind option for a discount, or you can opt for all black, black with color fleck, or custom color runs for the specific look that you want. Rubber rolls are available in thicknesses from 2 mm to ½ inch, giving you varying levels of durability.
Rolled rubber is a highly popular option because of its ability to absorb both shock and sound. It can make the space more comfortable for athletes or visitors, and by absorbing sound, it can make a large gym space quieter and better suited for a wide variety of events.
Made in the USA, this rolled rubber is non-porous, so you can damp mop it to clean it as needed. If it's submerged in water, it will start to absorb that water over time, so it's best to elevate it or hand-dry it.
While rolled rubber quickly covers larger areas, rubber mats and tiles are also available if you're working with a smaller space.
Gym Floor Covering Carpet Tile - Repels Moisture
The Gym Floor Covering Carpet Tile adds comfort and style to a gym, easily converting it for other uses. You can lay these tiles directly over the wood, instantly making the space suitable for heavy foot traffic.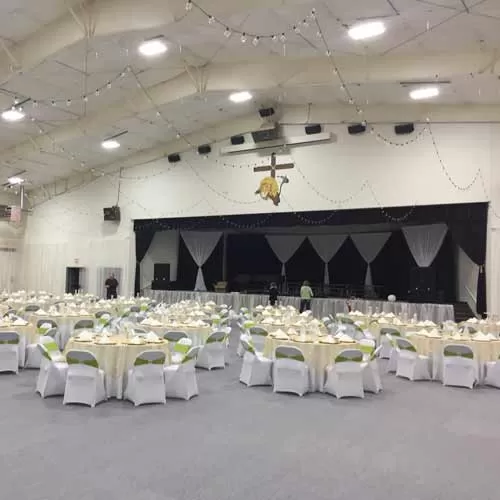 The tiles weigh 13.8 pounds each, so a single person can install them, or a team can quickly cover a whole gym floor. The straight edges on all four sides allow the tiles to lay flush against other tiles.
While the tiles are comfortable, they're also highly durable and measure 0.35 inches thick. While they aren't waterproof, they do repel moisture.
The tiles feature a non-slip backing that won't discolor the gym floor, but it does mean that you won't have to apply any adhesives. The backing also allows you to put objects on top of the tiles, like chairs and tables, without worrying that they will slip while in use.
Maintaining these tiles is easy, too. They can be vacuumed and cleaned with a carpet cleaner or spot remover. They can be stored flat and stacked, and are easy to install and remove.
These tiles are backed by a three-year warranty.