What Are The Advantages Of Carpet Tiles In A Family Room?
By Paige Cerulli Created: November, 2022 - Modified: November, 2022
Your family room should be a safe, comfortable, warm, and welcoming space - and the flooring that you choose directly impacts all of those qualities. While traditional carpet might sound ideal, it isn't always the most practical or the best option. Instead, family room carpet tiles may be the perfect solution for many reasons.
The Advantages of Family Room Carpet Tiles
Carpet tiles offer many advantages that make them a highly popular choice for family rooms, living rooms, bedrooms, and other living spaces.
Versatile
Carpet tiles are much more versatile than traditional carpet is. Many of these tiles are waterproof or water-resistant, so whereas a flood might destroy your traditional carpet, these tiles can withstand that type of event.
If you choose modular tiles, you can remove them from a space, dry them out, and then replace them. Many tiles are mold- and mildew-resistant, and these removable tiles are a much better choice for basement installations than traditional carpet.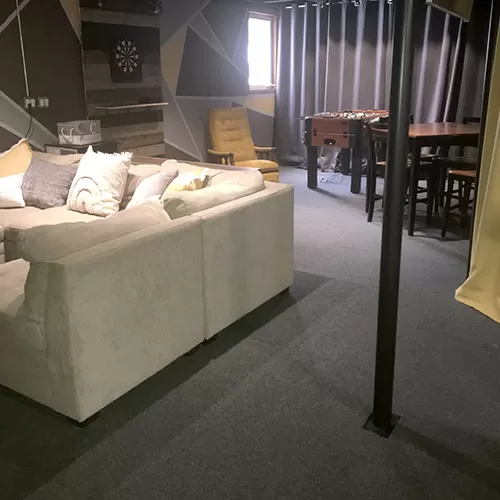 Comfortable
Carpet tiles are also highly comfortable. They provide a cushion that highly resembles the cushion you would enjoy from traditional carpeting, and their temperature insulative properties are also highly valuable when you're installing them in a basement or other space that tends to be cold.
Some of these tiles feature a
padded backing that increases the cushion and the shock absorption
that they offer. They can transform a hard floor into a space that's more comfortable for kids to crawl around on and sit and play on, and the cushion may help to reduce injuries if a child stumbles or falls.
Carpet tiles can also help to dampen sound. They can make a room more enjoyable and reduce the volume when kids are playing.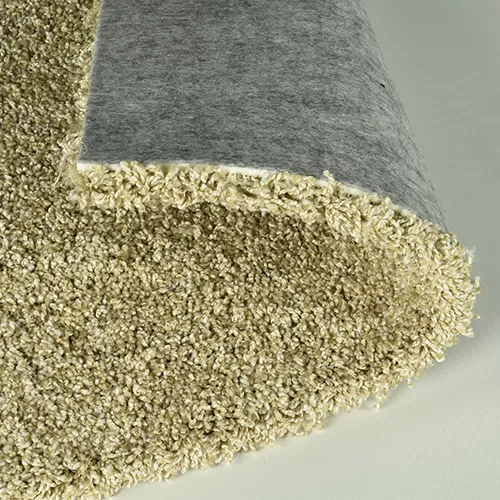 Durability
Since carpet tiles are highly durable, they're well-suited to high traffic family rooms in busy homes. Many of these tiles are stain resistant, a particular benefit in homes with pets or with kids who may spill juice and snacks.
At Greatmats, we sell many carpet tiles that are backed by multi-year warranties. These warranties are a testament to the tiles' durability, and the tiles are well-suited to residential settings.
Plenty of Designs
As you shop for carpet tiles, you'll quickly discover that you will have plenty of choices when it comes to the color and design of the tiles. You can find everything from neutral shades to highly detailed, vivid colors.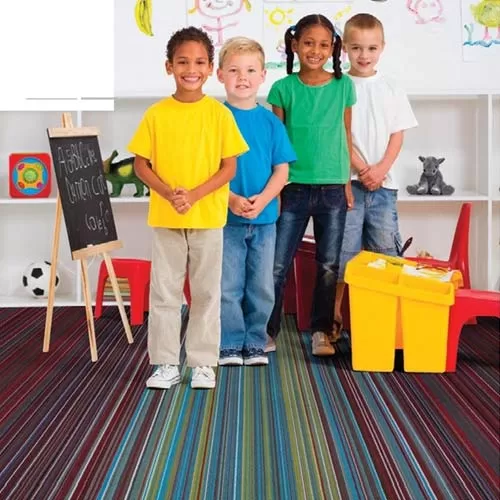 Many tiles are available in designs that allow you to create patterns in your home. You can get the same intricacy and eye-catching look of an area rug, but with the benefit of being able to floor the entire room using the carpet tiles.
Easy to Install
One of the most valuable benefits of carpet tiles is the fact that these tiles are easy to install. The modular tiles support a simple DIY-friendly installation, allowing you to save both time and money when compared to hiring a professional installer.
These modular tiles also offer the benefit of being easy to replace if needed. If a tile becomes damaged or worn, you can replace that single tile, rather than having to replace an entire room of carpeting.
Affordable
Carpet tiles are also highly affordable. When you consider carpet tiles vs hardwood flooring, you can save substantial money not only in the purchase price, but also with the ability to self install the tiles.
Choosing the Right Carpet Tiles for Your Needs
At Greatmats, we offer many
family room carpet tile
products. Available in different pile heights, colors, designs, and installation options, these products can transform your family room into a warm and welcoming space.
Consider options like the
Intellect Commercial Carpet Tiles
. These loop pattern tiles are highly durable and are resistant to wear. They are designed for high-traffic areas and are backed by a 10-year manufacturer warranty.
As you explore the different products available, it's helpful to first determine the installation process that is best for your needs. A glue-down permanent installation is ideal for long-term use, but you may need to hire a professional installer.
A modular tile may be a better option, particularly if you're looking for a DIY project that you can accomplish without hiring an installer. Modular tiles also offer the advantage of being removable, so you can replace worn tiles and keep the floor looking its best.
Next, think about the pile height, overall cushion, and color and design that you want to achieve. Many of our tiles are available in a wide assortment of colors and patterns, so chances are you'll be able to find the exact look that you want for your space.
Finally, consider the tile's durability, including factors like whether it's waterproof, satin-resistant, and backed by a warranty.
If you have any questions, contact us today. Our customer service team is happy to provide shipping quotes and help you to determine which tile is best for your needs.