Which Artificial Turfs Come In The Color Orange?
By Paige Cerulli Created: December, 2021 - Modified: October, 2023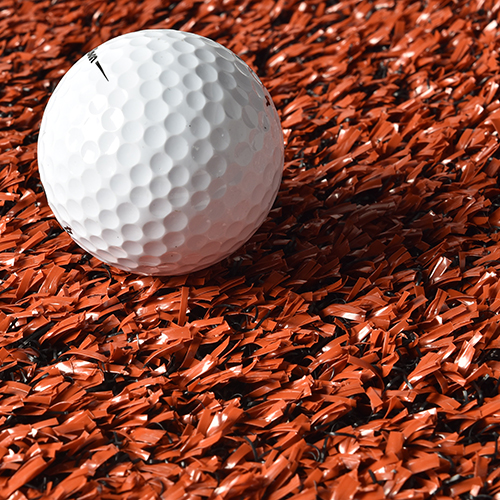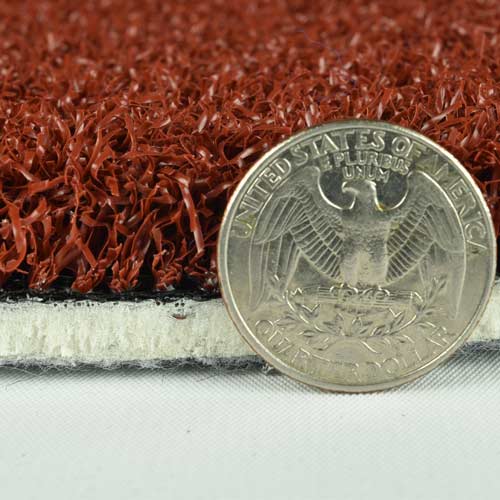 One of the great benefits of using artificial turf is that you have full control of the turf's color. While the classic turf green is always a great option, at Greatmats, you can also choose from several other colors, including orange turf products.
The Benefits of Artificial Turf
Whether you're looking to outfit your high school athletic facility or need turf for your professional sports complex, faux turf is an excellent option. With synthetic turf, you can avoid the high-cost maintenance that comes with maintaining genuine turf.
Artificial turf also lets you create a unique aesthetic that's enjoyable year-round and indoors, too. You won't have to worry about canceling games or practices because of inclement weather, and mud won't destroy your field.
Choosing synthetic turf also gives your baseball diamond, football field, or other sports field the exact appearance that you want. Green turf looks healthy and traditional all year round, but orange turf is an excellent way to get an eye-catching, distinctive look.
There are several reasons to choose an unusual color like orange for your field. Orange turf will be a memorable addition, so photos taken of games and practices will be easily recognizable as having been taken at your field.
Orange turf can also make for excellent branding. If your logo or team colors incorporate orange, then adding orange turf to the facility will make for a cohesive and impressive overall appearance.
Beyond athletic applications, fake turf can also enhance your trade show booth or other marketing display. It will keep shoes clean but make a visually striking first impression on your booth visitors.
Orange Turf Products at Greatmats
If you've decided that you want orange turf for your facility, you'll find three excellent products available right here at Greatmats.
Bermuda Artificial Grass Turf Padded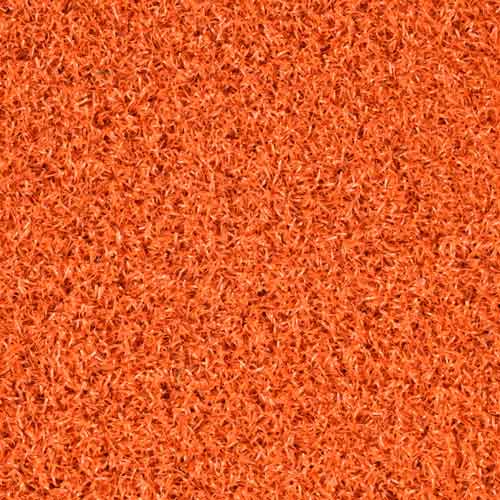 Our Bermuda Artificial Grass Turf is not only available in orange, but also in other distinctive colors like red, white, yellow, blue, black, and clay. This colored turf works equally well for sports training and for indoor trade show flooring.
The turf features a 5 mm thick foam backing on each section, so it helps to maximize your comfort while also providing support. The turf yarn is made of polypropylene plastic that withstands significant use, and its 9/16-inch pile height also creates a true ball roll.
This turf offers a high performance quality and it reacts naturally underfoot. It's highly durable and safe, and it delivers a consistent performance over time, making it an excellent investment.
Made in the USA, this product is backed by an eight-year limited manufacturer warranty, so you can invest with confidence. It's also easy to clean and can be vacuumed as needed.
Sold in 12-foot widths, this turf is available by the linear foot and in rolls up to 100 feet long. Its generous size will quickly cover larger areas, and you can lay the turf over any firm surface.
Bermuda Artificial Grass Turf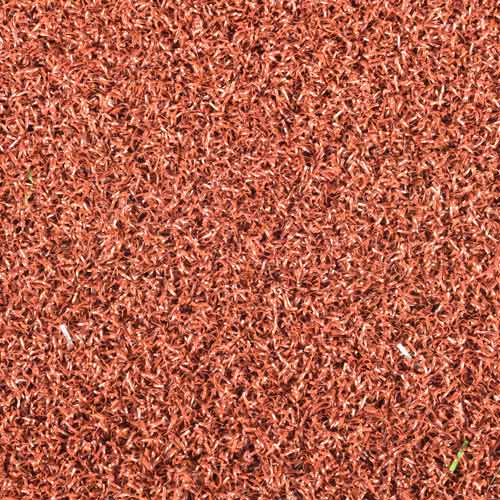 Our Bermuda Artificial Grass Turf is a non-padded turf that's suitable for indoor sports and trade show applications. In addition to orange, it's available in red, white, yellow, blue, black, and clay, so you can choose the colors that best work for your application.
The highly versatile product is suitable for use as baseball turf, as well as for track and field, ultimate frisbee, dog agility training, and more. It's backed by an eight-year limited manufacturer warranty and is highly durable.
The turf is made with high-quality materials that are tough yet also safe. Both kids and pets can safely play on the turf.
The plastic yarns measure 9/16 inches high, creating a realistic ball performance and roll. The backing is made of SilverBack polyurethane for soft performance without requiring any infill, saving you installation costs.
Since the turf is available in 12-foot rolls, it easily covers larger spaces for a time-saving installation. You can order custom-cut lengths up to 100 feet.
V-Max Artificial Grass Turf Roll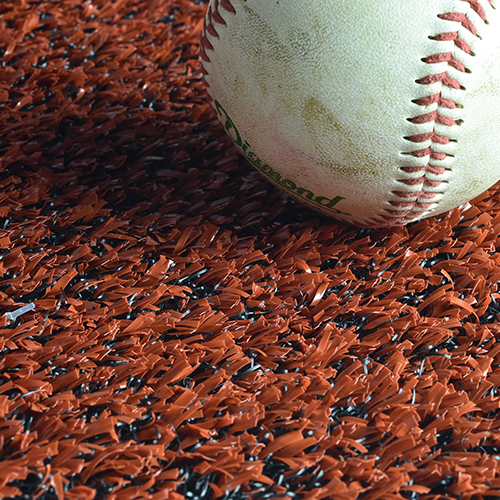 The V-Max Artificial Grass Turf Roll is a high-quality turf suitable for indoor and outdoor use. It's available in premium colors that include orange, tan, purple, blue, maroon, brown, and clay.
This turf doesn't require a rubber infill, so you'll save both time and money on the installation. You can use the turf for trade shows and different applications, and can easily roll it up because there's no infill needed.
This turf offers a top-quality performance, including in high wear situations, making it a durable addition to your sports facility. It features a blend of nylon and polyethylene plastic, so it looks and feels realistic.
The artificial grass features a ¾-inch pile height to create a natural ball roll for sports like softball and baseball. Its foam backing simulates the softness you'd experience from a rubber-filled turf, but it saves you maintenance and purchase costs.
Since there's no rubber infill, this product is virtually maintenance-free. You can vacuum it as needed to keep it clean, but it's a low-maintenance solution to your athletic or trade show flooring needs.
This turf is available in 12-foot-widths and custom cut lengths.