When Should You Use a Vinyl Floor Runner?
By Kyle Schurman Created: November, 2022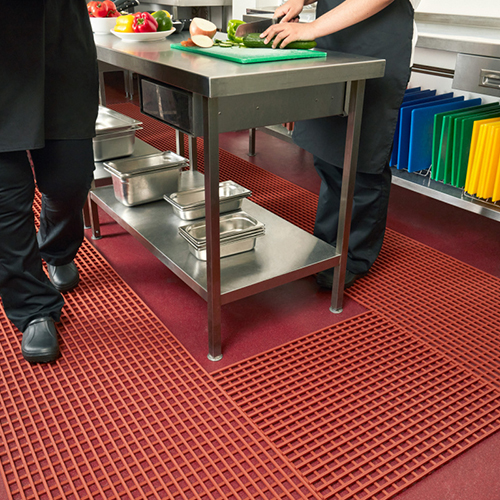 A vinyl floor runner delivers a number of benefits for those who choose to deploy it. These long runners can protect a significant amount of space in an office environment or in a commercial environment.
Vinyl runners are easy to clean, can provide slip resistance, can protect the flooring underneath, or can add cushioning when people must stand to do their work. At Greatmats, we offer many vinyl floor runner products that match up nicely with a few different use cases.
Runners That Emphasize Safety
When you want to create a safer space for people to stand and work, but where they also need to be able to walk around quite a bit, our Diamond Runner product is a strong choice.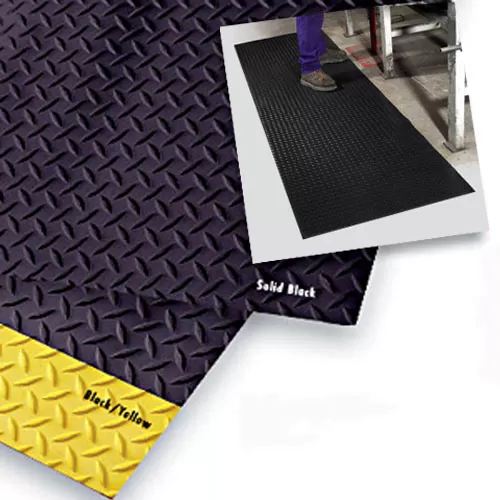 This vinyl floor runner has a diamond tread molded into the surface. This provides extra traction when people must walk across the runner in an area where some moisture may be present. Because the tread pattern is molded into the surface, it will not wear away under significant foot traffic.
Additionally, these runners can include a yellow safety stripe, if desired. The main portion of the runner is black, but the yellow stripe warns people of the change in surface material, helping them to avoid tripping or stumbling.
Customers can order this American-made runner in a pre-cut length of 75 feet or in a custom cut length. Varying widths are available between 2 feet and 4 feet.
Runners That Protect Carpeting
In an office setting where you will be rolling a chair back and forth over a carpet from a desk to a workstation, you may want to use our Anchor Runner Vinyl Carpet Protector Mat to keep the carpet from wearing down under chair traffic or other types of traffic.
This is a clear vinyl floor runner that is available in a size of either 4x50 feet or 3x50 feet. It delivers a large coverage area, which is ideal in a retail setting or in a conference room with multiple rolling chairs. The mat keeps the carpet underneath looking like new.
The underside of the runner has gripper points that hold it in place without the need to use tape or glue. You then can pick up the runner and place it in storage during times where you want to have only the carpet visible.
Runners That Protect Gym Floors
A gymnasium floor that consists of hardwood can be susceptible to water damage. Whether fans are bringing moisture into the gym on their shoes on a winter evening or team members are spilling water in the team bench area, our Gym Floor Cover Vinyl Runner is the perfect protective flooring roll.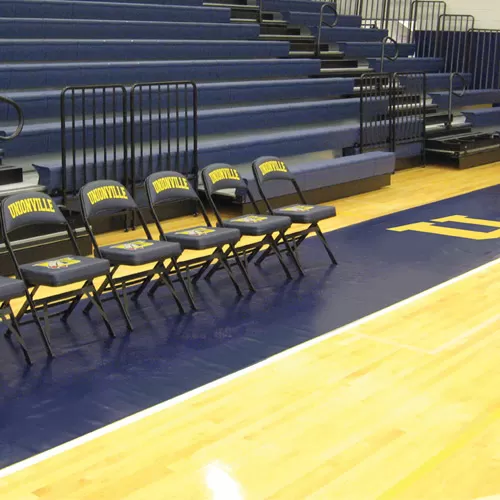 This American-made mat goes directly over the hard floors of the gym, giving people a place to walk. It has slip resistance, reducing hazards for people with wet shoes.
This protector surface consists of highly durable vinyl, so it will last a long time. It's easy to clean as well, whether you need to sweep away dust or to clean up spills.
This mat is available in multiple colors, so you can match the team colors. We offer it in a couple of different sizes, too, of 4x50 feet and 5x50 feet.
Runners That Protect Against Static
When people will be standing, moving, and working in an area where they may generate static electricity, our Conductive Diamond Runner can remove the danger from the static electricity.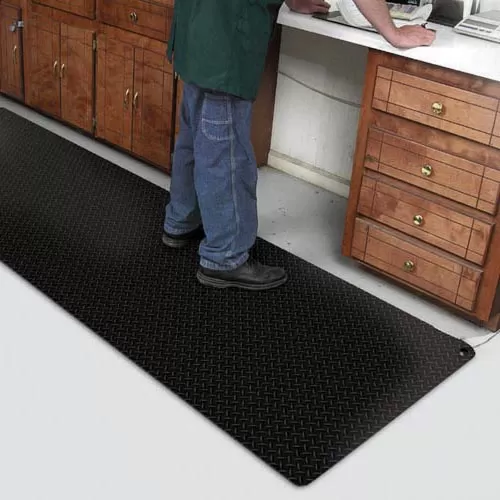 This vinyl floor runner mat ensures that people moving across the mat will not generate static electricity that could cause an issue if they then touch sensitive electronic equipment nearby.
This is an ideal runner to use in an area with a carpet floor, which is a common generator of static.
As a Made in the USA product, this mat has excellent resistance and durability, providing a good value over time.
It also delivers anti-slip properties through the raised diamond texture molded into the plastic vinyl, keeping those walking across the mat safer.
Runners That Protect Against Slips
When working in a commercial kitchen or in a food processing area, spills on the floor can quickly create a slip hazard. Our Herongripa Slip Resistant Matting Roll is a great vinyl floor runner for creating a safer area to stand and work in the kitchen.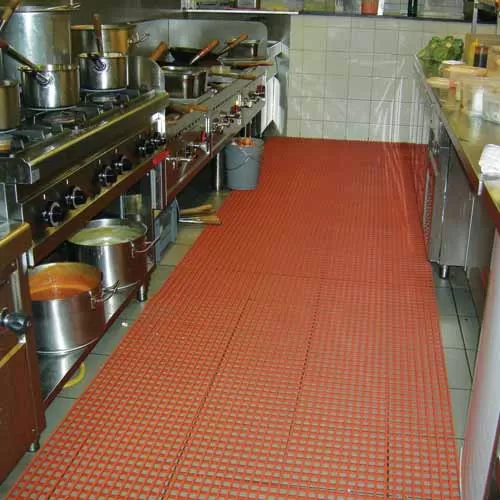 This American-made matting includes a perforated grid pattern, allowing any spills of powders or liquids to fall through to the main flooring. Those working in the kitchen can stand on top of the vinyl roll, keeping them above the spill and helping to reduce the risk of slipping.
Additionally, this vinyl roll includes materials that resist the formation of bacteria and fungus, both of which can be common problems when constant moisture is present in the kitchen setting.
Customers can select among a few different sizes of rolls, including 2x33 feet, 3x33 feet, and 4x33 feet. Should you need a smaller size, it's easy to cut through the 5/8-inch thick vinyl.