Best Gym Carpet Flooring: Mats, Carpet, Fake Turf & Interlocking Tile
By Lisa Hobbie Created: December, 2020 - Modified: September, 2023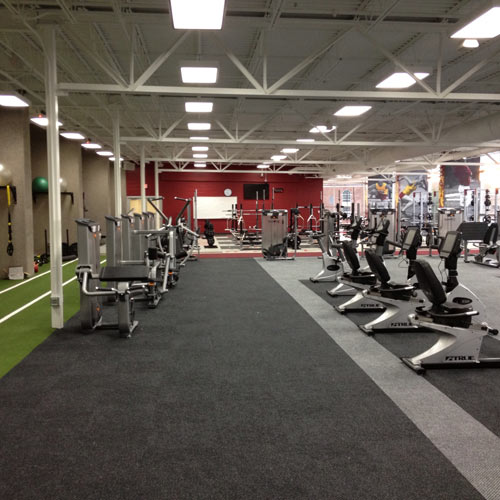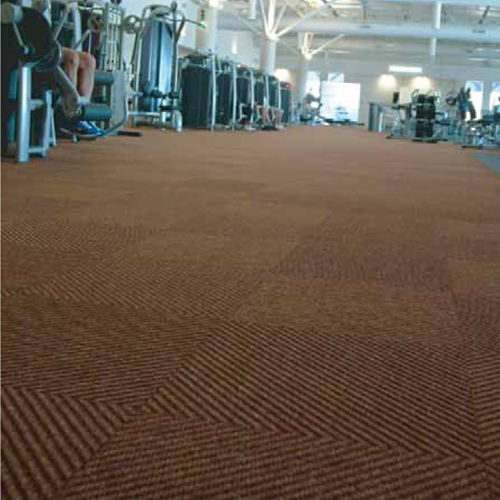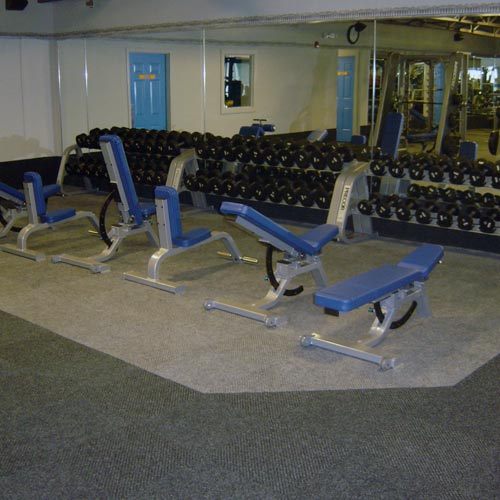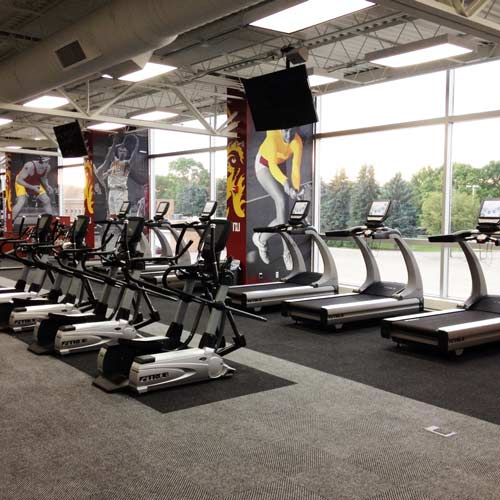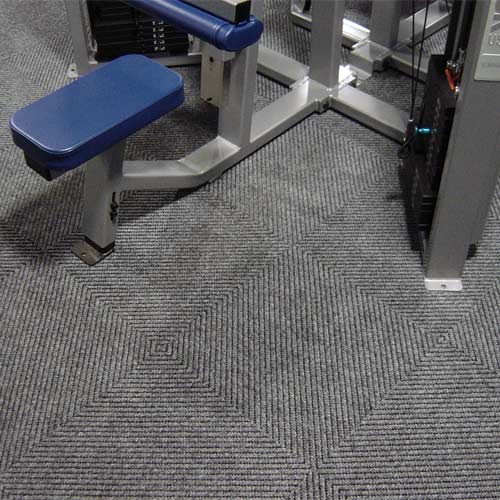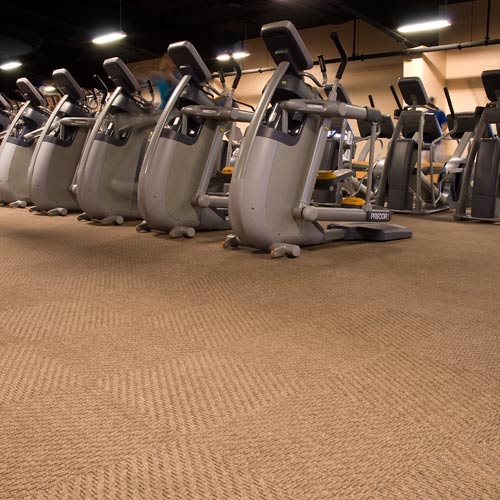 When thinking of gym flooring, you may not think of carpeting. Actually, Greatmats offers a variety of gym carpet flooring options that perform really well in home or commercial settings.
Gym carpet flooring provides a comfortable footing for your athletes or workout connoisseurs, and it is specially designed to hold up to use and abuse from exercise equipment, sweat, and heavy foot traffic. Many of them are suitable for basement workout rooms or garage gyms.
Dominator LP Gym Carpet Tiles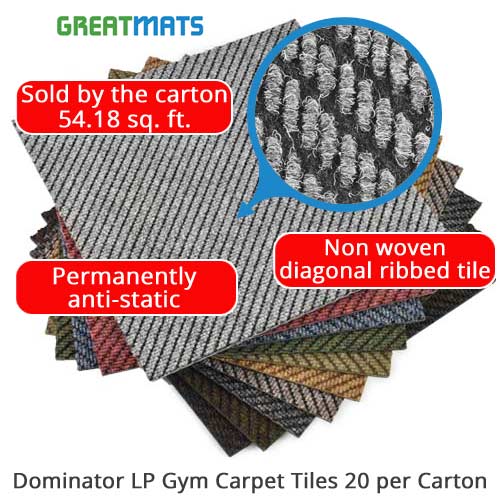 The
Dominator LP gym carpet flooring
is a 100 percent solution dyed polypropylene product. It's permanently anti-static and features Bitumen backing.
These durable carpet tiles have a pile weight of 39 oz. per square yard. The non woven diagonal ribbed gym carpet system boasts superior durability, style, and practicality. It is easy to fit and suitable for gym and pro athletic floors.
This product comes in cartons of 20 tiles, which covers 54.18 square feet. Each carton costs just under $250 and comes with a 5-year warranty.
For a similar product, see our
Diagonal Heavy Duty Carpet Tiles
or
Calypso Carpet Tile
.
Home Cheer Mat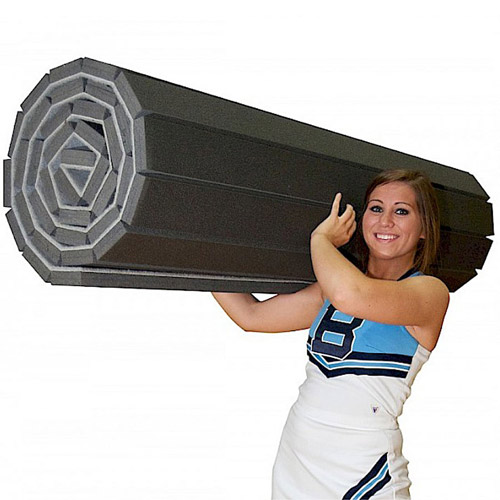 If you're looking for temporary or portable gym carpet flooring, a
Home Cheer Mat
is a great solution.
This 5 x 10 portable practice floor is one that you can just unroll and use. It is made in the USA from high performance sports foam with a durable, needle punch carpet top. These mats are lightweight and portable and can be used for temporary outdoor practice or workout spaces where cushion is needed.
Just make sure to avoid placing them over sharp objects or wet ground or exposed to direct sunlight for extended periods of time as they are not UV treated. The mat can also absorb liquid spills, so be careful there. To clean, the mat can be vacuumed like you would any other carpet. Each mat is just under $250 and comes with a 1 year limited warranty.
Greatmats Gym Turf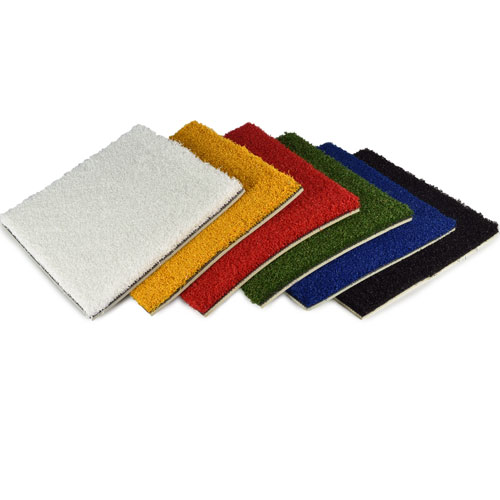 Turf is sometimes considered another type of gym carpet flooring. This
Greatmats Value Gym Turf
works for many applications and is easy to install and uninstall.
This product is great for sport facility and gym applications, and it is virtually maintenance free. It has a 5mm foam backing to provide extra protection during agility and indoor sports, as well as home exercises. This polyethylene product is UV stable and made of 100 percent recyclable materials. It has a pile height of ¾ inch and comes in many different colors, like blue, red, yellow, and more. This product is about $3.60 per square foot and comes with an 8-year warranty.
RageTurf Rally Interlocking Tile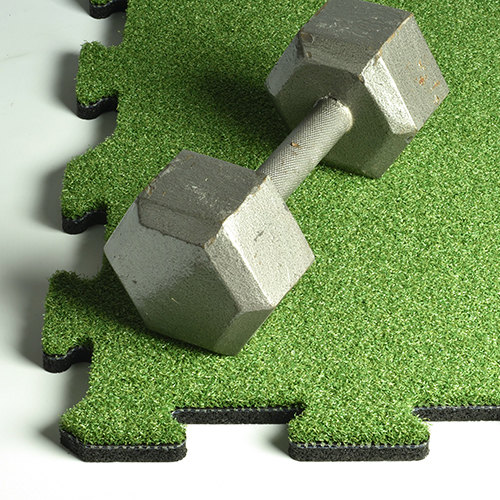 Another turf tile option is the
RageTurf Rally Interlocking Tile
. This gym carpet flooring features 12 mm turf that is fusion bonded to a 12 mm recycled rubber base resulting in portable, interlocking turf tiles. This product provides a safe and reliable training surface for any time of the year that is durable and slip resistant.
It features an extremely durable, textured material with a tight nap that makes it perfect for sled drills and running workouts. It creates a soft surface for athletes' joints, preventing overuse injuries. It is easy to maintain and affordable at barely over $9 per square foot. It is accompanied by a 5-year limited warranty.
Royal Interlocking Carpet Tile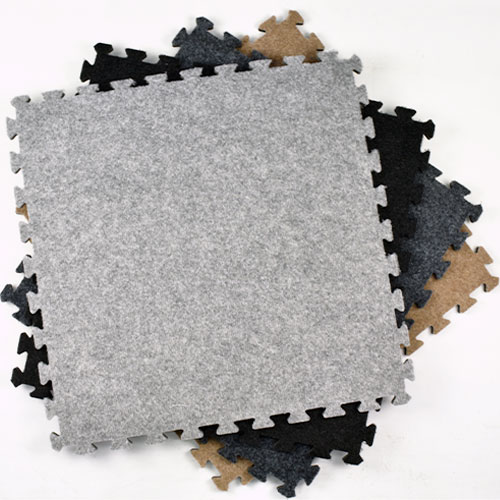 If you want the cushion and warmth of traditional carpet in a product that you can easily workout on, the
Royal Interlocking Carpet Tiles
are among the best products. These square carpet tiles easily interlock for a fast and easy install without an additional pad.
They are non-absorbent and waterproof, and they prevent the growth of mold and bacteria. The tiles have a closed foam base topped with durable carpeting. The tiles stand up to heavy foot traffic, light workout equipment, and furniture.
This home gym carpet flooring is odor proof, easy to clean, and provides a comfortable, anti-fatigue and insulation value similar to traditional carpet. It costs approximately $2.80 per square foot, and it comes with a 1-year limited warranty.
Greatmats - For Gym Carpet Flooring and more!
Having appropriate flooring in place in a gym or workout facility is an essential part of training and exercising. Comfortable, high quality floors help athletes master skills and stunts and build strength, flexibility, and confidence, without worrying about damaging the subfloor - or their body. Where cost and price are likely important to you, choosing a gym carpet flooring system that you can count on should be your top priority.
There are many styles and sizes of gym carpet products available for sale at Greatmats, and those highlighted are just a few. If you would like to discuss these or any other options, just contact the friendly and knowledgeable customer service team at Greatmats. Together, you can decide which products will best suit your needs and preferences.