What Is An Entrance Mat Made Of?
By Paige Cerulli Created: May, 2022 - Modified: September, 2023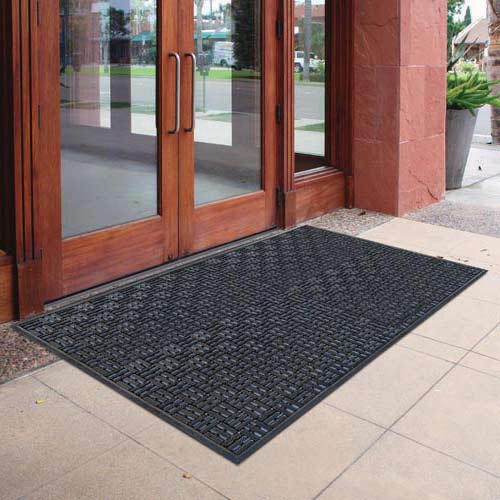 Entrance mats fulfill multiple purposes. They dry off shoes, pull away dirt and debris, and provide important traction as you enter a home or business. The material that an entrance mat is made of directly affects its performance, so it's important to consider the qualities you want in a mat when deciding which mat type is right for you.
Entrance Mat Materials
Whether you're shopping for commercial door mats to be used outdoors or a simple indoor mat for your home, chances are you'll find mats made of the following materials.
Rubber
Rubber is one of the most common materials for entrance mats. Rubber is highly durable and can be used in an indoor and outdoor setting, and it allows for multiple mat designs.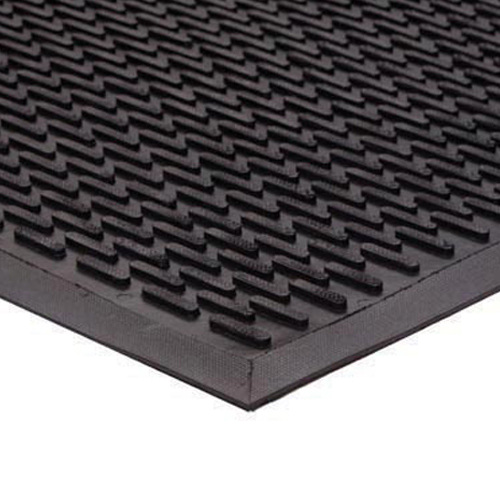 Rubber offers excellent traction whether it's wet or dry, and it creates a forgiving surface that is comfortable to walk on, so it's a popular choice for entrance mats. It also offers the advantage of being black, so rubber mats tend to coordinate well with just about any building color or decor.
Rolled rubber mats are ideal for larger installations. The material tends to be economical, and with large rubber rolls, you can cover a significant area with just a few seams.
For smaller applications, you might find mats made entirely of rubber, or mats that feature a rubber backing topped with a different type of material. When rubber is the only material used for a mat, it often features nubs or raised textures that flex slightly, allowing them to scrape dirt off of shoes.
If you're thinking about purchasing a rubber entrance mat, consider looking for a mat that is made either partially or entirely of recycled rubber. These eco-friendly products may help your project qualify for LEED points.
Carpet
Many mats feature carpeted surfaces that pull both dirt and moisture from shoes. Carpeted surfaces are often paired with rubber or vinyl backings, which tend to be textured and help to keep the mat from sliding and slipping.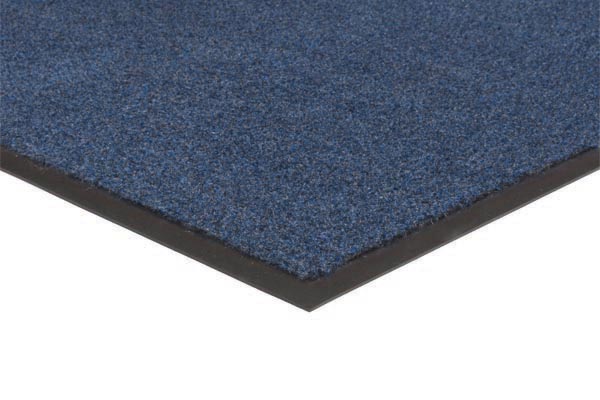 The carpet fibers can be made of many different materials. For example,
Waterhog mats
feature fiber that is made from recycled plastic bottles.
Carpeted surfaces are available in many different patterns and designs, including a flat surface, a waffle pattern, a chevron pattern, and more. The carpet features a tight weave and helps to trap dirt, so it can't be picked up again by shoes or kicked off of the mat.
Carpet tends to dry quickly, and many of these mats feature multi-layer designs that allow moisture to drain down into the mat's base, keeping the upper surface dry so it's able to pull more water and dirt from shoes.
PVC Plastic
You'll also find some entrance mats and tiles that are made of recycled PVC plastic. That recycled content makes the tiles an environmentally friendly choice, and PVC offers many other benefits.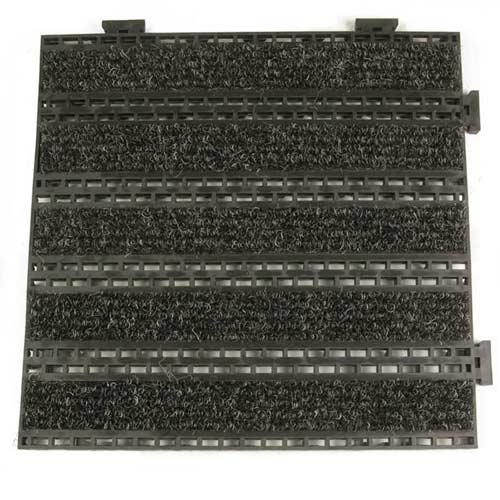 PVC is highly durable and resists oils, solvents, acids, and other chemicals. PVC treated with a UV stabilizer and fungus inhibitor is particularly well-suited to outdoor use.
PVC also offers the advantage of being very strong. Many PVC products are backed by warranties of five years or more.
Tiles made with PVC can incorporate many perforations for drainage, and they can also be designed with a raised base that lets air and moisture circulate underneath them. With tiles, you can create an entire custom system that covers the specific floor area where you want a mat.
Cocoa Fiber
Some mats also feature cocoa fibers, which create a dense brush that helps to scrape mud and dirt from shoes. These fibers are all-natural and are usually mounted onto a vinyl back to make them sturdy.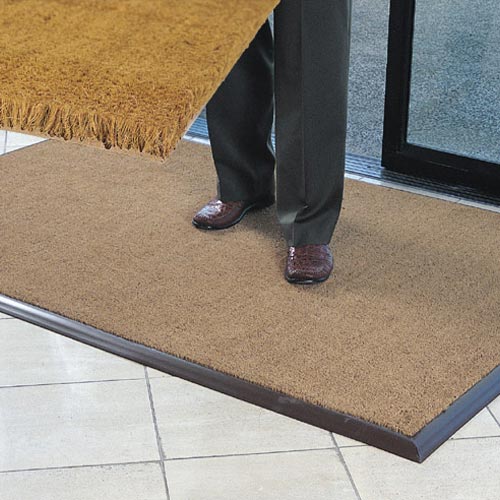 These fibers offer several benefits. They are water resistant, and since the mats dry out quickly, they help to prevent mold and mildew from forming.
The mats are also easy to clean since you can vacuum them or shake them out.
Choosing the Right Entrance Mat
When you're shopping for an entrance mat, it's important to consider where you'll be using the mat. Some mats are designed specifically for indoor use only, while others can be used both indoors and outdoors.
You'll also want to consider the mat size that is right for the area. Larger entrances will require larger mats, so you may want to look for a more economical mat solution if you're working with a larger space.
It's also important to find a mat that can withstand the amount of use that it will see. Residential mats see much less traffic than commercial mats.
Consider the mat's durability, too. Look for a mat built with highly durable materials, like rubber, and consider whether the mat is backed by a warranty.
Finally, consider the mat's color. You'll find the most color variety in carpeted mats, so think about what colors will best match the building and your decor.