What Gym Flooring Is Best For 5x5 Workouts?
By Lisa Hobbie Created: July, 2022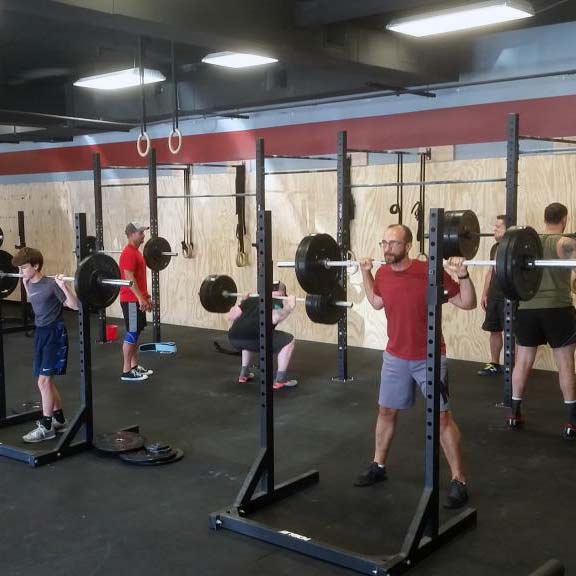 A 5x5 workout is a simple and effective fitness program that can offer many benefits. Designed around completing 5 sets of 5 repetitions, this type of exercise program helps the participant gain lean muscle mass. Using a variety of exercises like squats, lifts, deadlifts, row, and presses, the only equipment needed is a set of dumbbells or a barbell and bench, as well as adequate flooring.
The gym flooring that would be best for a 5x5 workout would be one that is durable enough to withstand weight and heavy use, easy to install, low maintenance, easy to clean, and versatile.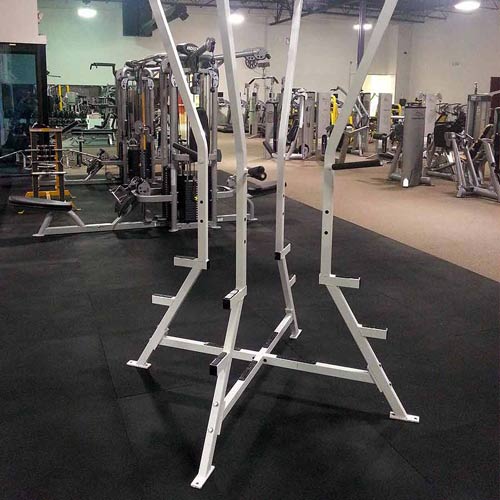 5 Gym Rubber Flooring Options for a 5x5 Workout
Each of these flooring solutions would offer amazing features and benefits that help maximize the 5x5 workout experience and results. This list represents some of the best rubber gym flooring available anywhere, and deciding on which one to purchase will depend on your style preference - tile or roll, color preference, budget, and level of thickness you need. They are all a breeze to install, clean, and maintain, and you really can't go wrong with any of them.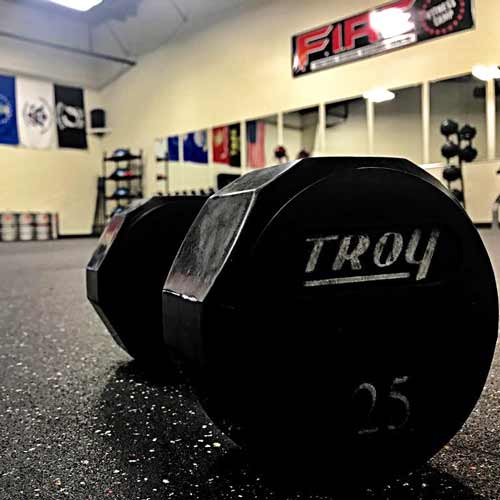 1. Rubber Flooring Rolls 3/8 Inch Regrind Confetti Per SF
The Rubber Flooring Rolls 3/8 Inch Regrind Confetti Per SF is a super affordable gym flooring option made from recycled material. The rolls are 4 feet wide, and they can be cut to any length over 25 feet long, so it's easy to cover a small space or entire room with this rubber floor. This product is made in the USA and delivers a ⅜ inch thickness and 10 percent color confetti throughout. It's made with a greater density than many other rolls, so it will protect subfloors and equipment from damage.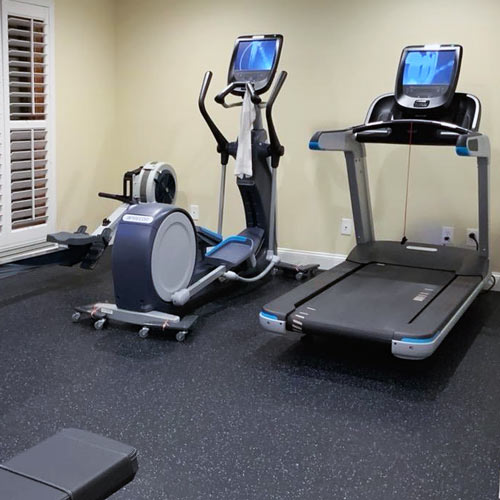 2. Geneva Rubber Tile 3/8 Inch 10% Color
Geneva Rubber Tile 3/8 Inch 10% Color is another durable rubber product, but this one comes as a ⅜ inch thick tile solution with a 10 percent distribution of color flecks throughout. Made in the USA, this product is a breeze to assemble and install without adhesive, and it boasts a Shore A 60 material hardness ratings. Offering an excellent level of performance and value, this tile will look and perform well in your 5x5 workout space.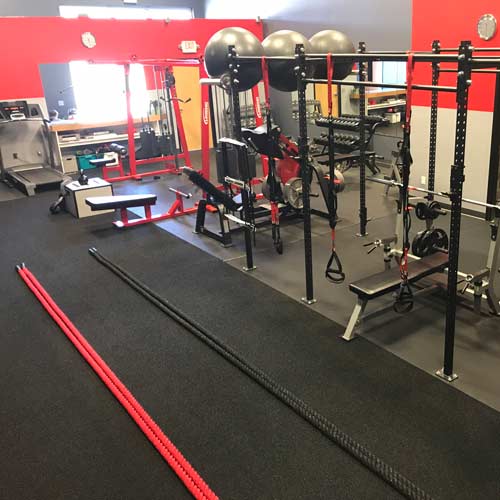 3. Rubber Flooring Rolls 1/2 Inch Black Geneva Per SF
Rubber Flooring Rolls 1/2 Inch Black Geneva Per SF are durable, long lasting rubber rolls made from recycled rubber. This green product is ½ inch thick and can be cut to any length from 25 to 100 feet long. They are 4 feet wide. This flooring solution offers protection to subfloors from heavy weights and equipment, and it offers sound dampening benefits, as well. This option is affordable and eco-friendly.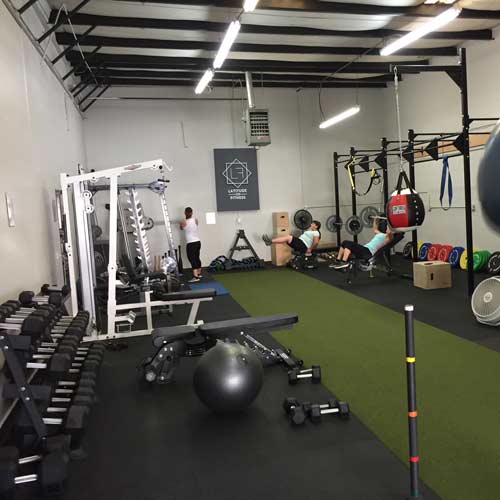 4. 4x6 Ft x 1/2 Inch Gym Rubber Floor Mats Black
4x6 Ft x 1/2 Inch Gym Rubber Floor Mats are a super sharp looking black product. They can be loosely laid on a smooth, flat surface for a glue-free installation. They are pure, 100 percent black in color and have an anti-skid, wire mesh texture surface on one side with the other side being flat. Both sides are non-porous and offer comfort, durability, noise suppression, and insulation. If you want a clean, classic look with no trace of color, this may be the best option for you.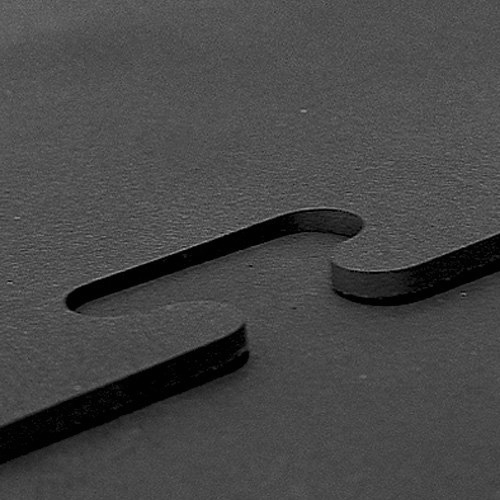 5. Mega Lock Rubber Tile 1/2 Inch Black
Mega Lock Rubber Tile is a ½ inch black recycled rubber tile with a low-odor. These tiles provide excellent traction and are slip resistant. They also offer sound and shock absorbing qualities, and they are very easy to install with their adhesive-free interlocking design. Use this product in weight rooms, locker rooms, gyms, skating rinks, and any other area where you will do a 5x5 workout. The tiles are made of the most durable rubber available and will last for years under the heaviest use.
Gym Rubber Flooring - For the Best 5x5 Workout Flooring
Depending on the home gym or workout space you're using, your budget, and other factors such as portability and the other fitness activities you're seeking to accommodate, the 5x5 workout mats or tiles you choose may combine one or more of the products highlighted.
Choosing the right mat or mats will depend on the method in which it will be used and the space it will be used in, and the customer service team at Gym Rubber Flooring provides top notch service and levels of expertise to help you select the products that are perfect for you and your space. The mats and flooring solutions are second to none with a price-match guarantee, and with Gym Rubber Flooring, you can feel confident in your purchase - no matter which product you choose.