Parquet Tiles vs Parquet Flooring
By Paige Cerulli Created: December, 2022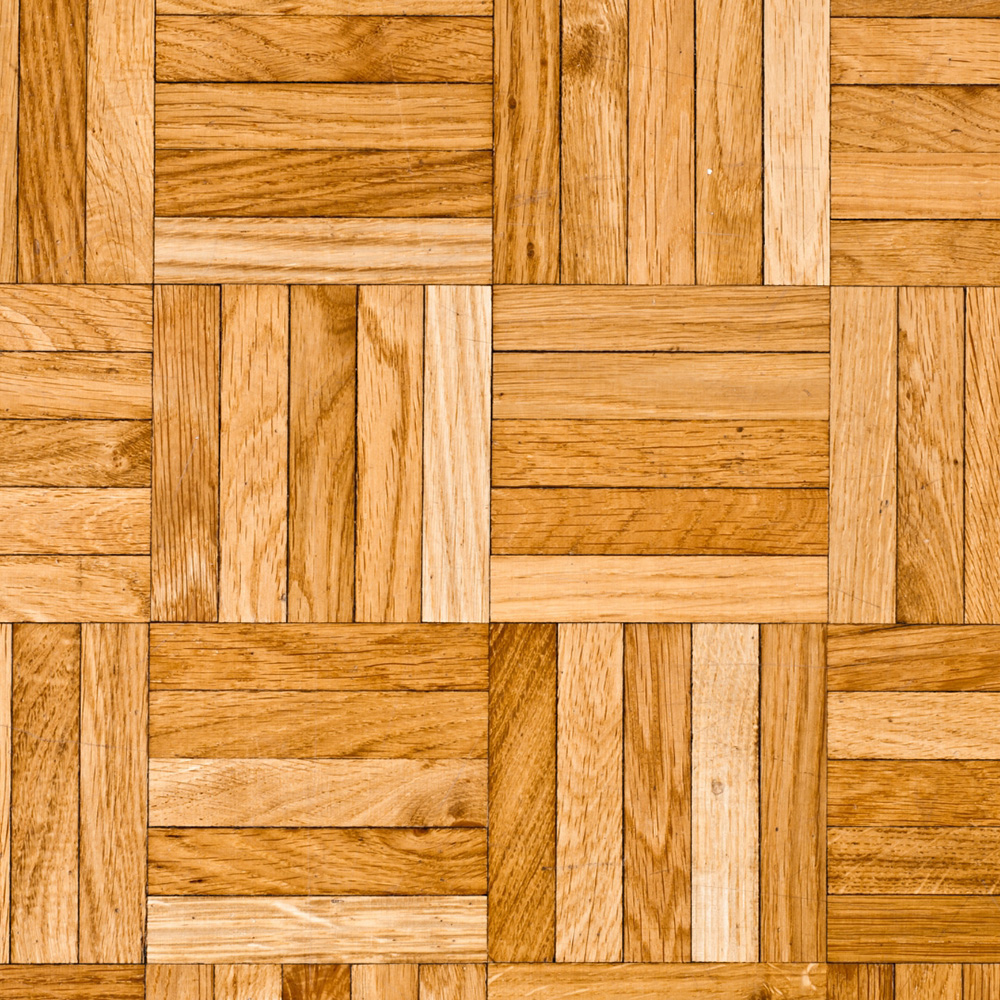 One of the benefits of hardwood flooring is that it's available in many different styles. Parquet flooring produces a highly detailed aesthetic, and it's a popular choice. While traditional parquet flooring has some drawbacks, there are ways to achieve the look with flooring tiles and solve many of those challenges.
What Are Parquet Tiles?
Parquet flooring is a type of wood flooring with a highly distinctive look. The floor is created with small wood blocks or strips that are used to create a repetitive geometric pattern.
Parquet flooring typically has certain shapes, including squares and triangles, and some more vintage patterns also feature stars and even suns. Herringbone and chevron patterns are also often used, and these patterns have become more popular with modern parquet patterns.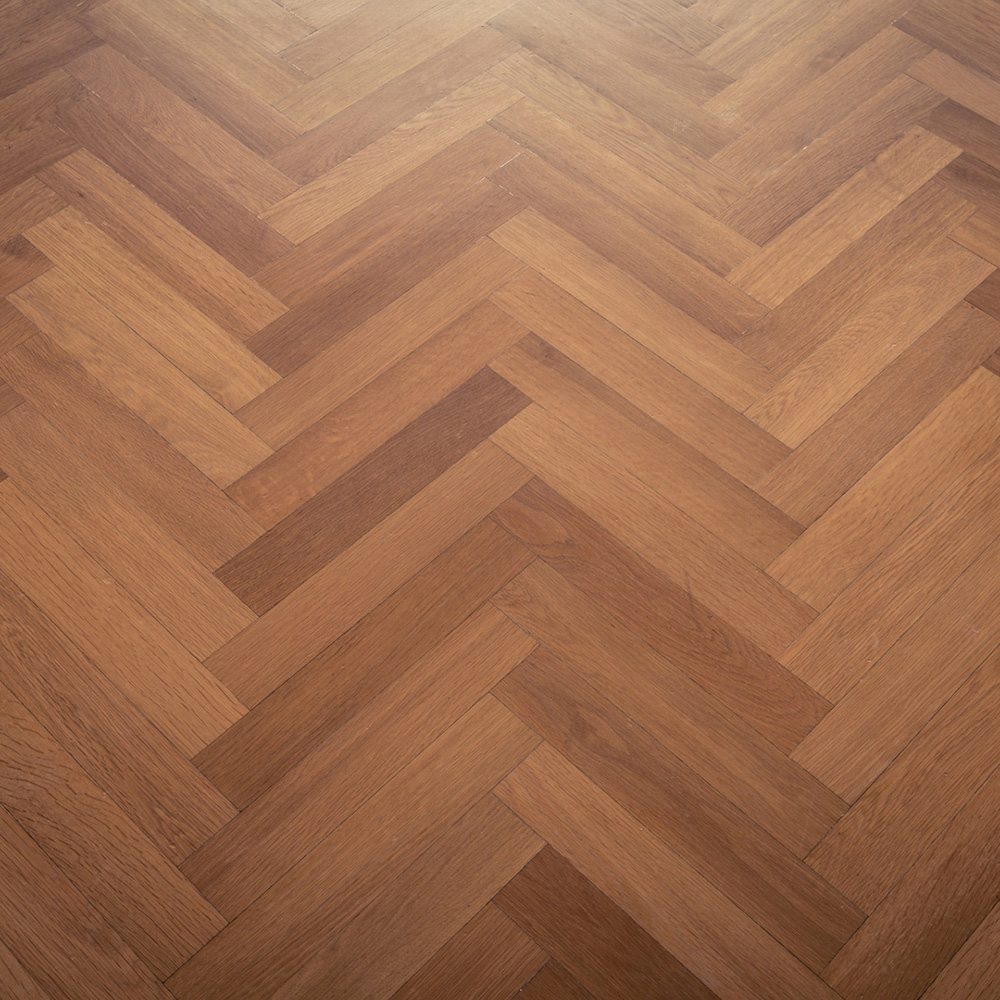 Traditionally, this type of flooring is created from solid wood, including oak, walnut, cherry, and maple. It's also possible to buy engineered flooring, which features a thin layer of the wood pattern that's placed over a base wood.
While parquet flooring offers an elegant, clean, and eye-catching look, the flooring is labor-intensive to install. As a result, it's more expensive than a traditional hardwood floor.
Installing a parquet floor is a time-consuming process that is a job for a professional, not for a homeowner looking to DIY their home's floors.
That's why parquet tiles can be so helpful. These tiles give you the look of a parquet floor without your having to cut or glue down a single piece of wood.
These highly realistic tiles allow you to perform the installation yourself, without the time or expense of hiring a professional. They are much more versatile than real wood parquet flooring, and you can save substantial money by using tiles and installing them yourself.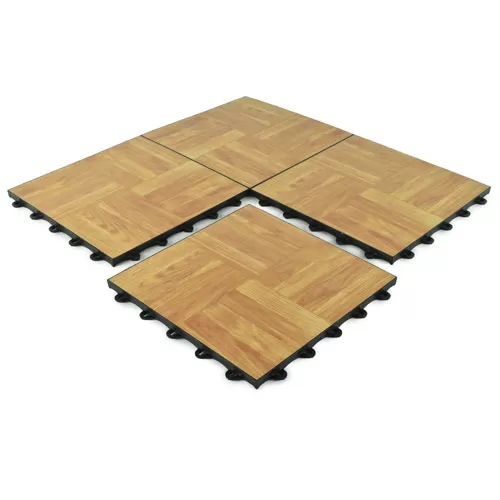 Because parquet tiles are often made of materials like plastic and vinyl, they offer some distinct advantages when compared to hardwood. These tiles are waterproof and extremely strong, while also being much lighter and easy to manage than traditional hardwood.
When you work with modular tiles, you can replace any tile that becomes damaged or worn. There's no need to worry about refinishing the floor, and you can even remove the tiles if needed, such as after a flood.
Modular parquet tiles also give you more control over the installation. You can choose to expand the floor in the future simply by adding on more tiles.
Since these tiles are so versatile and more affordable than wood, using parquet tiles allows you to get that parquet look in spaces where you couldn't install wood floors, such as in basements or laundry rooms.
The Best Parquet Tiles for Sale
If you're looking for a tile that will give you the look of parquet flooring at an affordable price, the Max Tile Raised Floor Tile is an ideal option. This vinyl and PVC tile is available in 6 natural finishes, including cherry, and maple.
Measuring 12x12 inches, these tiles feature highly realistic wood grain square patterns. These tiles are durable enough for both commercial and home use, making them a practical solution for your DIY parquet floor.
There are many potential uses for these tiles, including as portable dance floors, basement flooring, court floors, garage floor tiles, and even showroom floors. These multi-use tiles are designed to be highly durable, and they're backed by a five-year manufacturer warranty.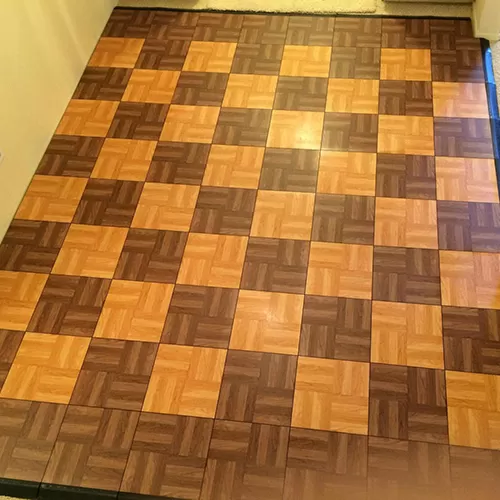 The tiles are waterproof, so they can be used in areas where wood floors cannot. They have been UV treated and feature a 3mm vinyl laminate stop surface that can withstand heavy foot traffic and wear.
If you're installing the tiles in an area where moisture could be an issue, like in a basement or garage, the tiles' raised base will be an advantage. The base allows air and moisture to circulate beneath the tile, speeding drying and helping to prevent mold and mildew growth.
The tiles feature an interlocking design of hook and loop connectors, so they're easy to install. You can install them over some carpeting, but the tiles can also be laid over a hard, flat surface.
Thanks to their modular design, the tiles are suitable for permanent installations, or they can be repeatedly installed, such for use at a trade show or as a portable dance floor. The modular design means you can also add onto the flooring as needed, allowing you to expand a dance floor's size.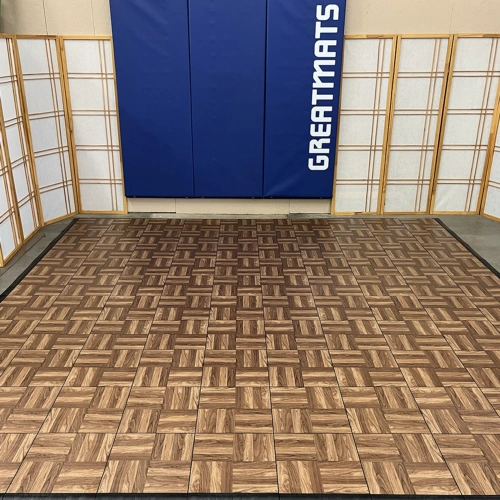 A finished border system is available, which can give you a clean edge to your installation. These tiles are also strong enough to support furniture, like pool tables.
Highly versatile and easy to install, these tiles are a popular choice for many settings, including residential and commercial installations. Don't hesitate to contact Greatmats if you have any questions; our customer service team is always happy to provide shipping quotes and help you to choose the right product for your needs.