Hot Tub Room Waterproof & Slip-Resistant Flooring Options
By Julia Nass Created: August, 2017 - Modified: March, 2023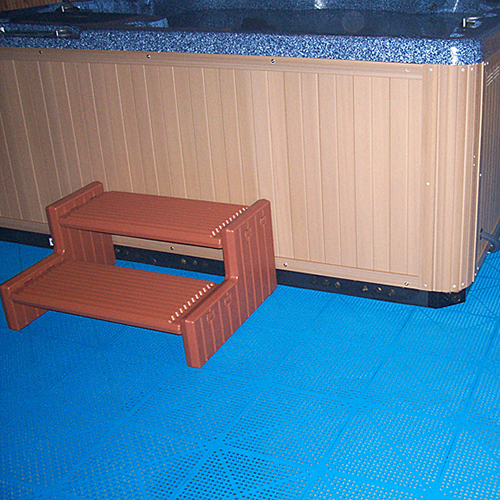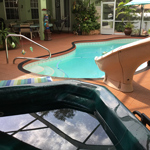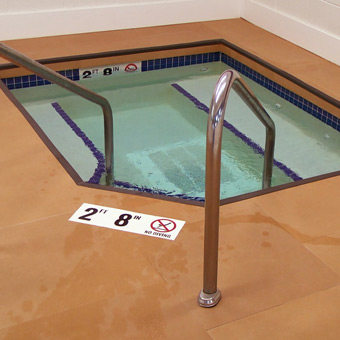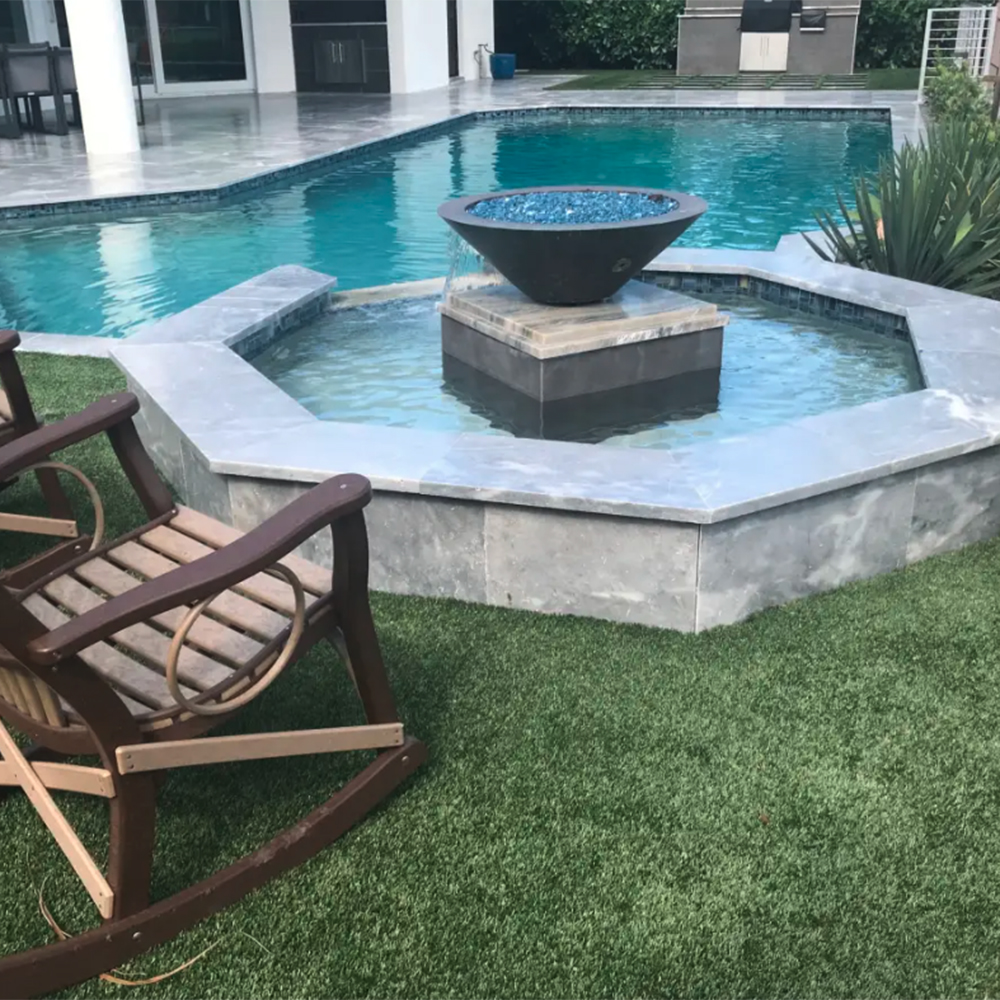 When you think of a hot tub room, you probably think of serenity, comfort and luxury. What many people don't think about are the risks lurking around every jacuzzi corner. The same warm water that is there to soothe and relax you can end up being quite harmful. Danger comes from standing water being where it doesn't belong.
The reality is, it's nearly impossible to keep all the water where it does belong. Even if you're careful, nearly a gallon of water gets out of a hot tub every time you do. When water escapes the hot tub and stands, there a couple hazards of which you should be aware.
Hot Tub Room Risks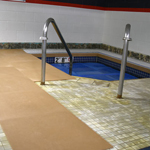 The most dangerous aspect to all that water comes from mold and mildew. Water does not evaporate as easily inside, especially in humid climates, and standing water can harvest harmful bacteria. Even though substances like chlorine protect the hot tub itself from that kind of bacteria, it won't prevent buildup from happening outside of the tub. If you're not careful, your hot tub room could end up growing damaging mold that can cause sickness with exposure.
Secondly, there is always the risk of slipping and falling on wet floors. Puddles of water make hot tub rooms an accident prone space. It's important to have a space that remains safe even when wet.
Wet Area Flooring Makes a Difference
Proper hot tub flooring options can make all the difference in designing a safe and reliable hot tub room. You need flooring that can provide you with ways to combat issues like mold, mildew and water poolage. Fortunately, there are flooring products designed for these exact purposes. Here are a few flooring features in particular that will help keep your hot tub room risk-free.
Waterproof Hot Tub Flooring Options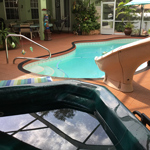 First of all, it's important to use flooring made from water-resistant materials. Waterproof flooring won't harvest bacteria in the same way materials such as carpet and wood can. PVC is a very common material used around hot tubs and pools. PVC won't absorb water and dries quickly. A wide variety of
PVC waterproof flooring
exists. At Greatmats, you can find PVC tiles in almost any color and a plethora of styles.
Slip-Resistant Hot Tub Flooring Options
Next, you'll want slip-resistant flooring for your hot tub room. In order to protect yourself and your guests from falling, it's important to utilize flooring that maintains traction even when it's wet. Slip-resistance goes back to material. Again, many PVC tiles have slip-resistant features. You can look out for tiles with a textured design, which can provide extra traction.
Fast Draining Hot Tub Flooring Options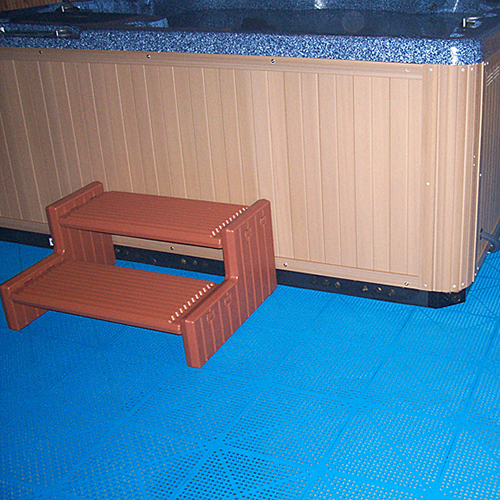 Easy drainage is another smart waterproof flooring feature. There are many tile options, such as perforated tiles, that allow water to drain through the surface of the tile so water never pools up on top.
Raised Hot Tub Flooring Options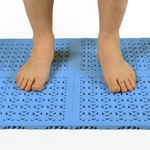 You also have to worry about water pooling up beneath flooring, however. Raised tiles are a great way to combat water resting underneath the flooring and harboring mold where you can't see it. Air-flow and ventilation is important in a hot tub room, and the flooring is no exception. Raised tiles allow air to access the underside of your waterproof flooring, which helps keep the floor dry. Also, there's less maintenance with raised tiles; you don't have to lift up raised flooring to dry underneath it.
Soft Hot Tub Flooring Options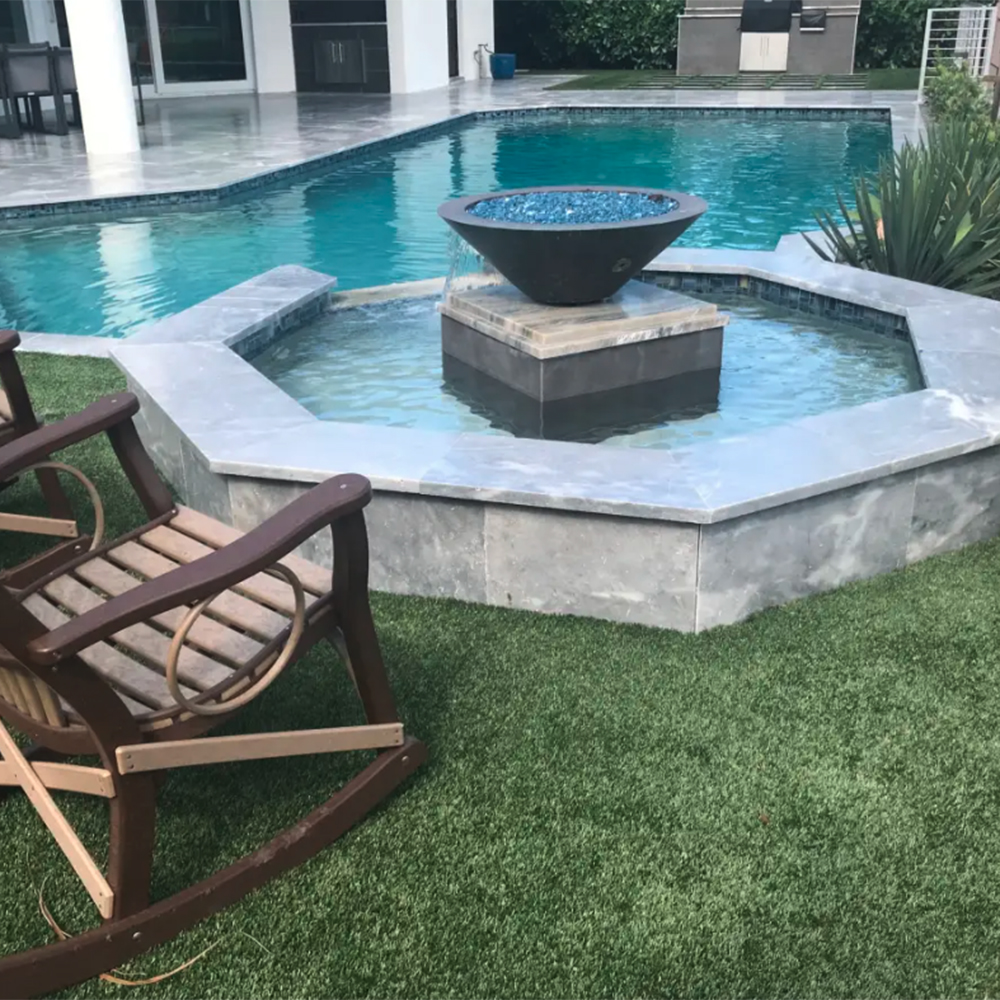 Artificial turf is another option for hot tub and pool deck areas. The turf is soft and comfortable on bare feet. It is also slip-resistant and looks great!
But I Want My Hot Tub Room to Look Awesome
Obviously, the aesthetics of the waterproof hot tub flooring options you choose won't protect from safety issues, but it's a factor for some of us anyway. Of course, you want your hot tub room to look as wonderful as your hot tub feels. There are plenty of slip-resistant flooring options that can provide you with every beneficial flooring feature and still look awesome. Greatmats waterproof flooring comes in tons of different colors and designs, so you don't have to trade in safety for beauty.
It's important to familiarize yourself with the potential risks of your hot tub room as you are planning its creation or renovation. You'll have to prepare yourself for the fact that most of the water that will undoubtedly escape your hot tub will end up on the floor. Choosing the right hot tub flooring options is key in that preparation. With the right hot tub room flooring, you will be well on your way to maintaining a safe and risk-free hot tub room with a look you'll love.