What Are Artificial Turf Tiles Used For?
By Paige Cerulli Created: June, 2021 - Modified: March, 2023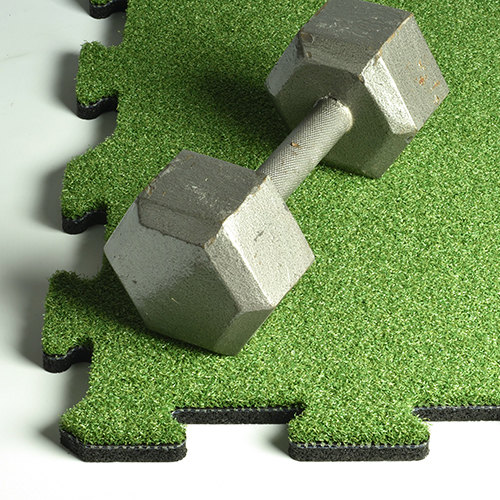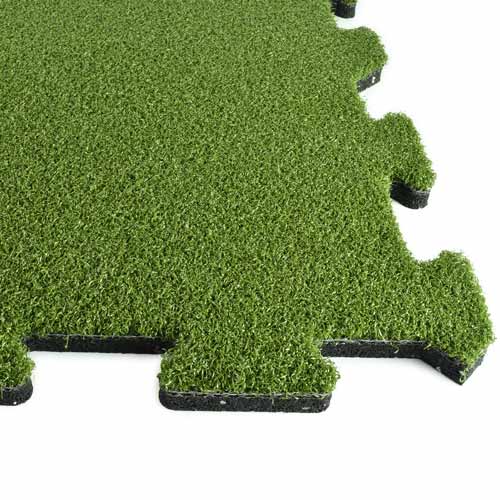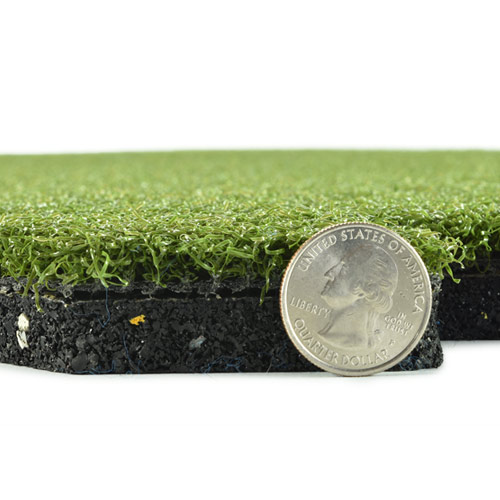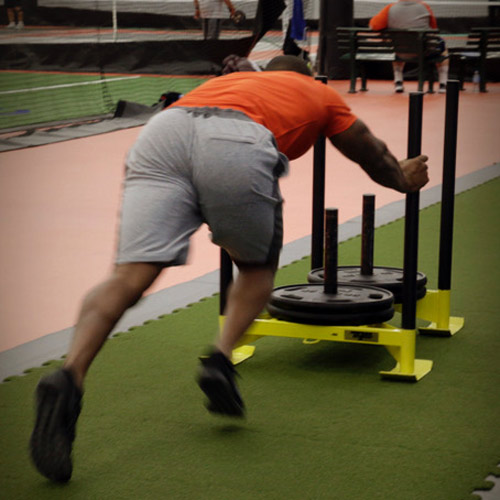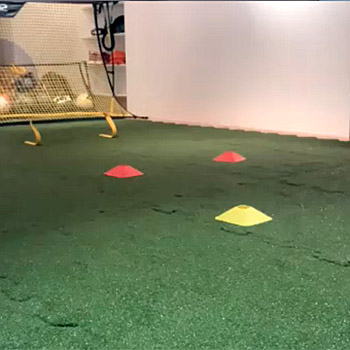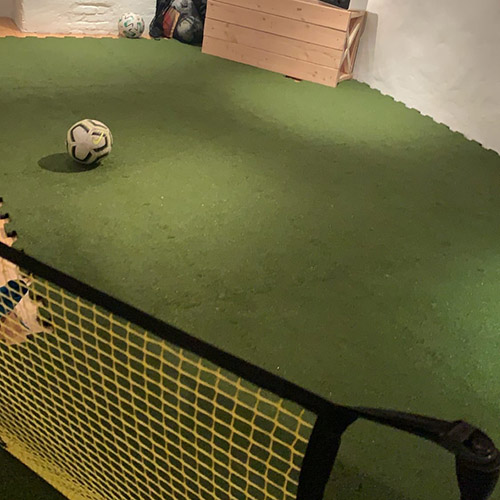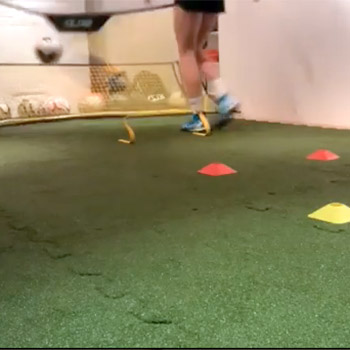 Artificial turf rolls can create an ideal training surface for athletic facilities but can be hard to install yourself. Artificial turf interlocking tiles are a popular alternative because of their ease of installation and portability, and their benefits make them an excellent choice for many different athletic uses.
Ways to Use Modular Turf Tiles
The days of maintaining expensive genuine turf are over, and modular turf tiles are an ideal alternative. You can put these versatile tiles to use in many different ways.
Track and Field Arenas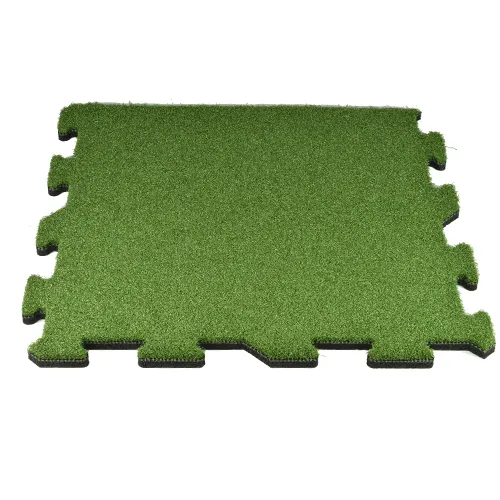 These durable turf tiles are ideal for use in track and field arenas. They're suitable for year-round use, and they're strong enough to withstand significant traffic. They can be used both permanently and temporarily, so you can add them to your facility during training and competition seasons, then remove them and store them for greater longevity.
These mats offer the benefits of natural grass, so athletes can train over an ideal surface that's supportive yet also forgiving. The tight nap creates a feel that sprinters love, since its soft surface can help to reduce joint shock and help prevent overuse injuries.
These tiles also make for a beautiful aesthetic that will look eye-catching in event and team photos. That aesthetic can make a training venue more appealing and can be a valuable addition to your marketing materials.
Footwork Drill Areas
Sports teams can benefit from a footwork drill area outfitted with artificial turf tiles. Unlike actual turf, which can be worn down by overuse and wet weather, these tiles provide a safe, consistent surface that can withstand the repetitive nature of drills – even when you have multiple teams practicing on the same space.
These tiles create an optimal surface with just the right amount of cushion to help keep athletes safe. That cushion reduces the impact to joints, an important benefit given the repetitive nature of drills.
The surface may help to prevent repetitive use injuries and helps to keep athletes performing at their best. This is a significant advantage for teams that are preparing for competition seasons and need their top athletes to be fit and able to compete.
Indoor Soccer Fields
With modular turf tiles, it's easy to create an indoor soccer field. These tiles can be used for a large-scale indoor competitive and training facility, or they're also perfect for
soccer enthusiasts
who want to be able to practice drills in their basements.
Because these tiles are modular and portable, they're a perfect choice for temporary use, and they're ideal for spaces that may need to be used for multiple activities.
The tiles' tight nap is perfect for soccer practice and drills. The tiles create a surface that's forgiving on joints, keeping athletes comfortable and encouraging them to spend more time practicing and training.
You might even want to install these tiles in your own home. They can help to create a basement or garage into a play space or practice space for young athletes.
Because the tiles require no adhesive and offer a DIY-installation, they're a great choice for home use. If your kids move on from sports in the future, you can easily remove the tiles and use your space for another purpose again.
Sled Work Facilities
Extremely durable, this modular turf is also suitable for use in indoor sled work facilities. The turf's strength means it can withstand significant use, so whether you're designing a training space for a sports team or a workout facility, this turf is a practical choice.
The tiles feature a tight interlock system, minimizing seams and preventing sleds from getting caught in those seams. The tiles can even be installed temporarily, so you could potentially convert a space into a sled work facility seasonally, using it for other purposes when your sports team isn't in training.
The tight nap of the tile is also ideal for sled drills, letting the sled move smoothly over the surface. The surface is soft enough to be forgiving on athletes' joints without being so soft or deep that a sled sinks down or digs in.
Benefits of Modular Turf
Ideal for athlete training, these artificial turf interlocking tiles offer enhanced durability. They're suitable for the most intense workouts and applications, thanks to their dense, textured nylon wear layer.
Their design offers significant benefits over grass. Genuine grass turf requires significant maintenance and upkeep. It can be quickly torn up during practice and training, and it's also at the mercy of the weather. Heavy rain can leave a practice field a muddy mess, while lack of rain can leave turf dusty, dry, crunchy and dirty.
Modular turf gives your athletes the benefits of turf's shock absorption in an indoor setting. Your maintenance crew will save time, and there's no need to water, rake, reseed, or otherwise continually invest in the upkeep of your athlete training surface.
These tiles are also slip-resistant and sustainable, and they add an eye-catching aesthetic to any space. There's no need to worry about adhesive and long-term installations.
These tiles are also designed for superior performance. Their 12 mm turf layer is fusion bonded to a 12 mm recycled rubber base layer. That rubber base layer offers a bit of cushion and shock absorption, making the tiles comfortable for athletes.
The shock absorption of the rubber also helps to minimize the shock that athletes sustain on their joints. This is a valuable investment in athlete safety, since the tiles can help to reduce the chances of the injuries and discomfort that can arise from repetitive motions, like drills.
Don't forget that these tiles are modular, meaning you can remove them, store them, reposition them, and reinstall them as needed.
These tiles are backed by a five-year limited manufacturer warranty, so you can invest in them with confidence. They're made right here in the USA and are a top choice for many facilities and uses.
Installing Artificial Turf Interlocking Tiles
You can easily transform an indoor area into a training space, simply by installing this artificial turf system. Each mat measures 23 by 46 inches, meaning it will quickly cover a larger area.
Installing the tiles is as easy as laying them directly on top of a hard, flat floor. There's no need for an underlayment, and your maintenance crew or a facility owner can perform this easy DIY installation themselves.
You can choose to install these tiles in a wall-to-wall or island installation, depending on what works best with your facility.
To install the tiles, line up the tabs on one tile with the slots on the next tile. You can press the seams together with your hands, or step down on the edges. The tiles create tight seams for a secure fit, preventing them from pulling apart and avoiding any edges that could be a tripping hazard.
There's no need to use adhesive with the tiles. They fit together securely, but you can also separate them again and uninstall the flooring.
If you'd like to create clean edges along a wall or for an island installation, you can trim the tiles. Use a sharp utility knife and a straight edge to guide your cuts, removing just the interlocking sides of the exterior-facing tiles. For border ramps, call a representative to order.
The ability to remove tiles as needed has many benefits. You can reposition floors and try out different arrangements for your facility or gym.
If you want to expand your floor's size in the future, it's as easy as ordering more tiles and adding them to the floor. You can change the floor's dimensions and size, ensuring that it always works for your facility's growing needs.
While these tiles are highly durable, it is possible for them to become damaged or worn. Since there's no adhesive needed, you can replace just the affected tiles, keeping your floor looking and performing its best. This saves significant time and money over the challenge of replacing a larger section of a floor that's made of rolled material.
This self installation process saves time and money, allowing you to modify your facility without having to pay for or schedule a professional installation. This can help to keep your new flooring project within your budget.