All You Need to Know about Interlocking Rubber 2x2 ft x 8 mm Tiles
By Sam Butler Created: August, 2017 - Modified: July, 2021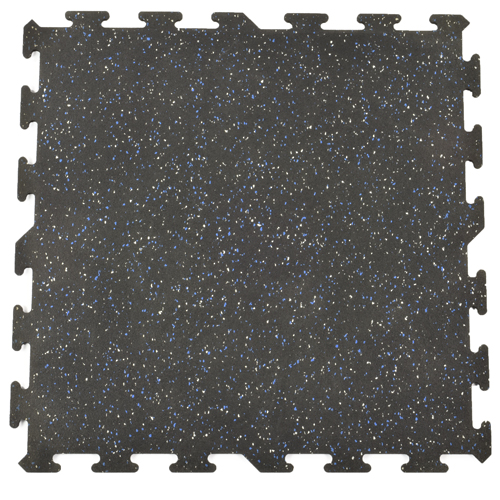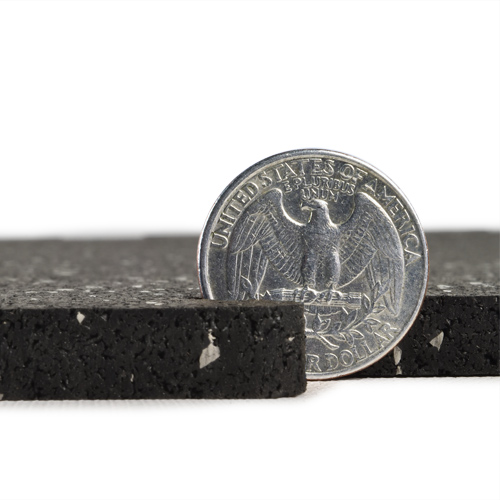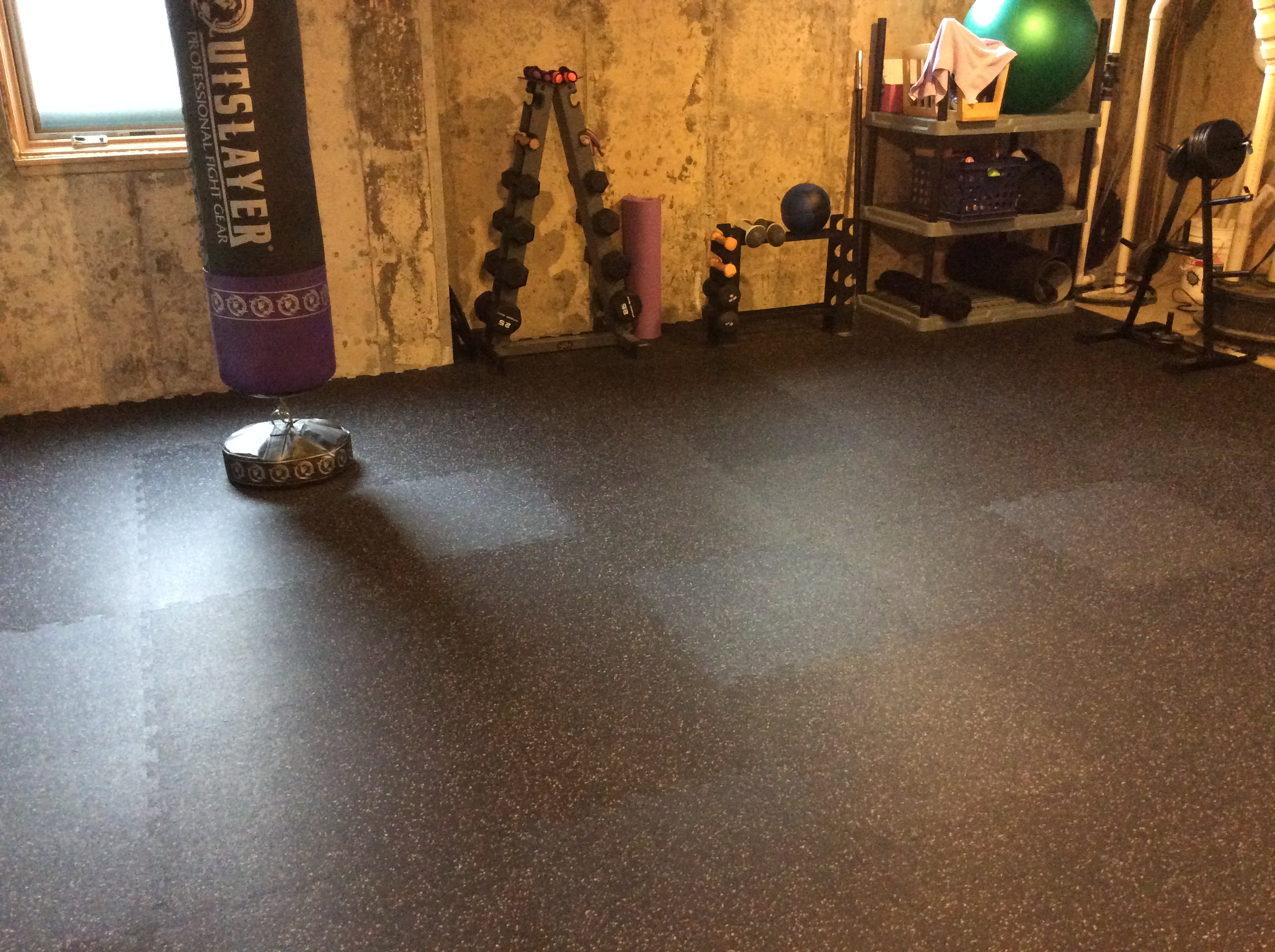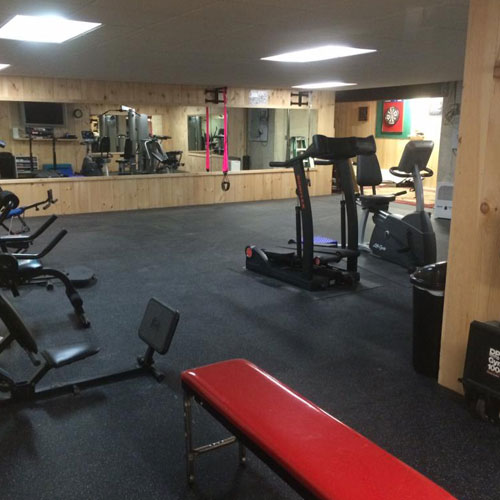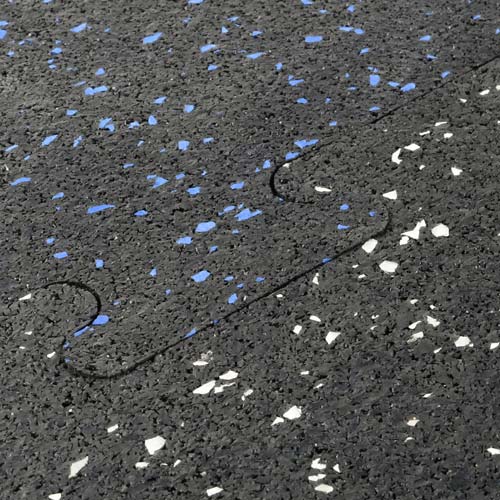 Aug. 18, 2017 -- Interlocking rubber floor tiles are a great choice for home gyms and weight rooms, and are popular options for these applications. Interlocking rubber tiles are also a great choice for school weight rooms, small athletic studios or gyms. As with any flooring product that is going to be used in a gym or weight room, the flooring material must be able withstand the wear of weights and exercise equipment. Interlocking rubber tiles are just the right product for this, as they are a simple and durable flooring option for gyms and weight rooms. Greatmats interlocking rubber tiles are a long-lasting and durable product that's ready to stand up to years of weight room and home gym use.
Our interlocking rubber tiles are 2 feet x 2 feet and weigh approximately 7 pounds each, making them an easy-to-install rubber flooring option. The interlocking rubber tiles are an easier-to-install alternative to the rolled rubber flooring also commonly used in gyms or weight rooms. As the interlocking tiles are precision cut to securely interlock, no adhesive or glue is needed to install them. The interlocking installation method makes for a much easier installation process as compared to heavy rolled rubber, and also makes removing the flooring surface an easier process. In order to fit the interlocking tiles wall to wall, you can use a standard utility knife to cut the mats to fit the perimeter of the room so that the interlocking rubber tiles cover the entire sub-floor.
Our 2x2 ft x 8 mm color interlocking rubber tiles are exactly 23 inches by 23 inches, a manageable size for one person to carry, making this a relatively easy product for one person to install. The interlocking rubber tiles are 8 mm (approximately 0.31 inches) thick, which is a common thickness for home gym and weight room applications. 8 mm provides a small amount of give which is a more comfortable option than a traditional hard floor for athletic activities.
Greatmats.com has further simplified the design of this product by having the same interlocking pattern on all four sides of the mat, which makes for a universal interlocking pattern. This leads to a simple installation procedure. The interlocking rubber tiles will fit together, regardless of which way they are positioned, further simplifying the installation process. As our interlocking rubber tiles are a versatile product, they can be laid on any hard and even flooring surface.
This product does not require adhesive or glue for installation, but you can use it to make the installation more permanent. Another option, besides using adhesive to attach to interlocking rubber tiles to the subfloor, is to use double-sided carpet tape to secure the interlocking tiles to the subfloor. If making an island of flooring, an area in a room where the interlocking tiles will not be flush against walls on all sides, using an adhesive to secure the interlocking tiles may be beneficial. However, if these tiles are going to have heavy furniture or gym equipment placed on them, you won't need to use adhesive to secure the tiles as the weight of the objects will prevent the interlocking tiles from moving beneath them.
Installation of these interlocking rubber tiles works best when they are placed on top of a flat hard surface. While installation of interlocking rubber tiles over carpet is possible, it is not recommended. Installation of interlocking rubber tiles over carpet is only acceptable in limited cases where the carpet is one with an especially low pile, such as industrial carpet. Installation over a plush, shag-like carpet is not advised. Be sure to contact one of our rubber flooring experts before installing rubber flooring of any kind over carpeting.
Greatmats' interlocking rubber tiles are precision cut in the factory to ensure a tight and clean interlocking design. The high quality interlocking system leads to a nearly seamless and smooth rubber surface. This is a great design for surfaces that are going to be used in a home gym or weight room, as there is no seam to trip over while exercising.
The surface of our interlocking rubber tiles is a durable and non-slip surface that will ensure a safe area to exercise and weight lift. Our tiles are built to be commercial grade, so they will stand up to years of use and wear. All of our rubber tiles are made in the USA and come with a 5-year limited warranty that we stand behind.
These tiles are ideal for weight rooms because of their 8 mm thickness, which can protect the subfloor from free weights of up to 100 pounds. The 8 mm thickness is a large enough barrier to protect the subfloor from small free weight drops, but with larger weights over 100 pounds we recommend a rubber flooring of at least 1/2 inch.
These interlocking rubber tiles are somewhat resistant to chemicals, making them a versatile and durable product. Our tiles can resist alcohol, ammonia, bleach, and sweat, but should these chemicals come in contact with the interlocking rubber tiles, we recommend that it is cleaned up as quickly as possible to minimize any possible damage. Our tiles are partially odor resistant due to the rubber's low porosity and non-absorbent properties. These interlocking rubber tiles should not be used in automotive areas as automotive fluids can lead to the breakdown of the rubber.
Daily cleaning of the tiles is as simple as sweeping or vacuuming the tiles, but should the tiles need a more thorough clean, a neutral pH cleaner and hot water can be applied to the tiles using a mop.
If a tile is damaged, the interlocking installation system for the rubber tiles allows for a damaged tile to simply be easily swapped out with a new tile.
Due to their weight, Greatmats' interlocking rubber tiles only ship by freight delivery.
As always, feel free to contact our knowledge sales team with any questions or concerns you may have about your flooring needs.