Home Gym Noise Reduction Mats - Rubberized ShokLok Floor Tiles
By Paige Cerulli Created: February, 2017 - Modified: January, 2023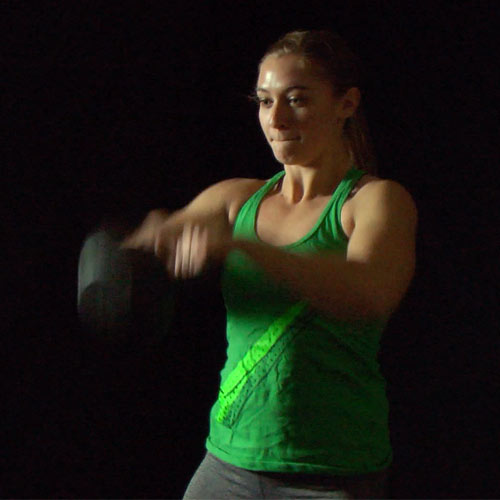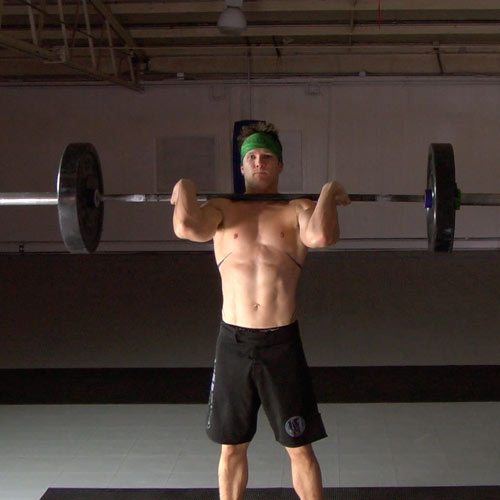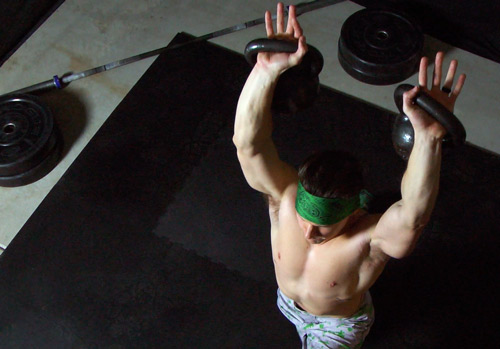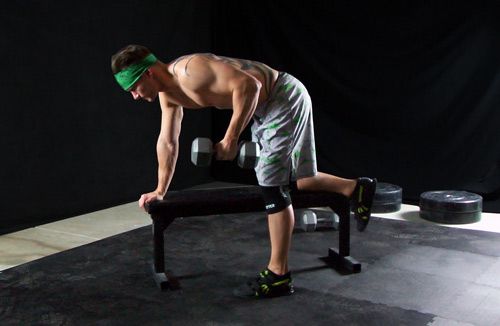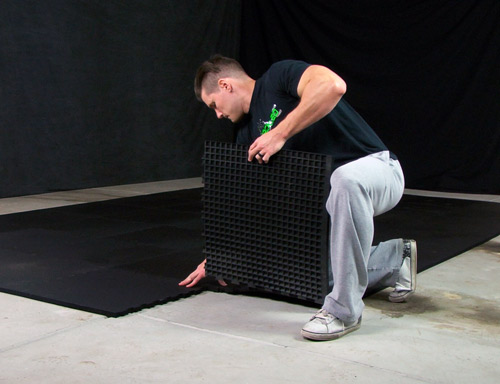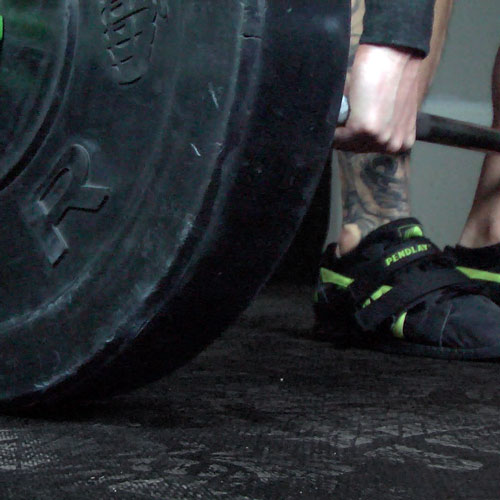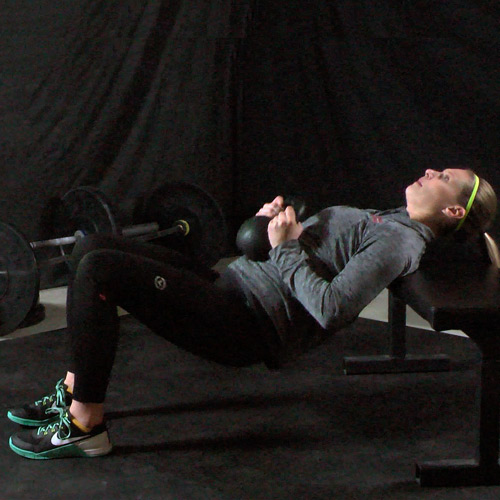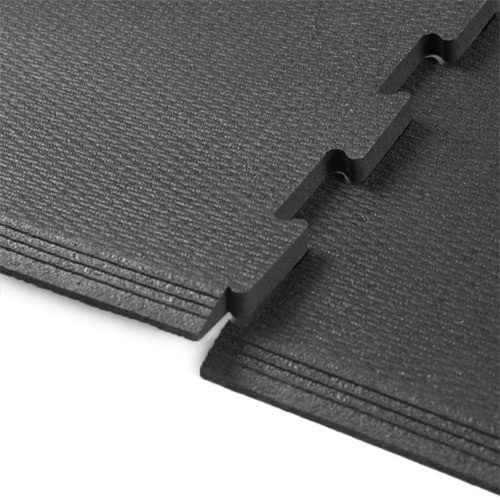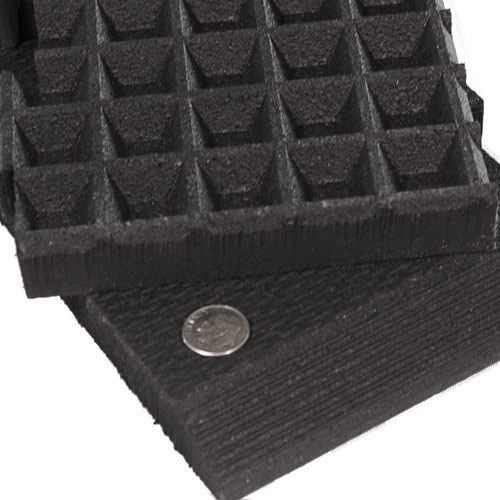 Having the convenience of a home gym can help you to fit in workouts around your busy schedule. Plus, you can work out any time you want – with some exceptions. Certain workouts, like dropped weights, can generate large amounts of noise that might wake or disturb your family or neighbors. If you want to be able to enjoy your home gym freely, you'll need to invest in noise reduction workout mats to help keep your workouts quiet.
The good news is that making your gym quieter isn't too difficult. A noise reducing exercise mat like the
ShokLok 2x2 Ft 3/4 Inch tile
can help to reduce both the noise and the vibration that your workouts produce. Made of highly durable rubber, these mats feature a waffle style bottom to help reduce vibration and noise. A diamond textured top creates a non-slip surface, but it's also gentle on your skin. The ¾-inch vulcanized rubber is durable enough for use in both home gyms and in commercial operations.
These tiles are built with quality materials and craftsmanship. Backed by a 5-year warranty, you can buy them with confidence, knowing you're investing in a product that will last.
You deserve to work out in a home gym that you enjoy, and you shouldn't have to worry about the noise that you create during your workouts. These rubber gym tiles can not only reduce vibration and sound, but they can also make your gym a safer and more enjoyable space. With excellent shock absorption properties and traction, these rubberized mats can make your home gym safer. They won't harbor or promote bacteria growth, and they're easy to clean, too.
Installing rubberized mats in a home gym
Installing ShokLok 2x2 Ft 3/4 Inch floor tiles is easy enough that you can do it yourself. Because these black tiles are just 2x2 feet, you can lift them and carry them into your home – pick up a few at a time to get a workout in! Rather than dealing with bulky rubber flooring rolls, these tiles are better suited to maneuver through your home and install in tight spaces.
These tiles feature water jet cut edges and a puzzle piece design, so connecting them is as simple as aligning them and fitting them together. The edges create a secure connection that won't pull apart - even with heavy use.
If you're installing the tiles around corners, pillars, poles, and other obstacles, you can cut them to fit the space. Use a sharp utility knife and a guide, and you'll be able to finish your installation. These tiles are available with beveled edges to make a smooth transition onto and off of the surface.
How do these rubberized mats reduce noise in a home gym?
This
rubberized flooring
features a specialized waffle bottom structure that helps to both reduce vibration and noise. By absorbing the shock of a dropped weight or other impact, these mats reduce the sound associated with that impact, too.
The rubber material of the black mats also helps to reduce noise, especially when it's laid over a more live surface like a wooden or concrete floor. These mats can help to reduce some of the noise rebound effect that so often occurs in spaces like garages and basements.
What types of workouts generate the most noise?
Certain types of workouts naturally generate more noise than others. Dropping weights, particularly deadlift, produces a large amount of noise. Some gym machinery generates noise, but that can be reduced by putting the machines on a noise cancelling exercise mat. The noise level of your workouts will also increase when you have multiple people working out in the same space at the same time.
Will rubberized mats smell?Most rubber products do have a smell, but that smell generally dissipates over time. ShokLok 2x2 Ft 3/4 Inch tiles have been treated with a fresh mitigating agent to significantly reduce their aroma. While that smell has been reduced, the tiles do smell a bit more than some other rubber gym flooring products. We recommend that you avoid using these tiles if you are highly sensitive to scents, or if you're installing the tiles in a location in your home with little fresh air intake. Customers have commented that the smell is similar to a new car smell and dissipates over weeks.
What other gym noise reduction techniques can I use?Investing in a soundproof workout mat and shock absorbing gym flooring will go a long way in reducing the noise you produce in your home gym. In addition to these changes, consider investing in sound dampening panels for your gym walls and ceiling. If you like to listen to music during your workouts, use headphones instead of playing the music over a sound system. Making these changes can help to keep your workouts quieter, so you won't disturb your family or neighbors.