Rubber Gym Flooring Material Options
By Kim Butler Created: August, 2017 - Modified: May, 2020
Time for new gym flooring? Decided on rubber, but unsure of the type of rubber flooring? Rubber is a great choice for home and commercial gym flooring and will give you decades of use. It is an environmentally friendly product, often incorporating recycled rubber. Plus many rubber products are made in the United States, making this a great green building choice. It is tough as nails, durable, and long lasting. In the right thicknesses and densities, it can stand up to heavy machines, dropped weights and the toughest fitness workout.
Durability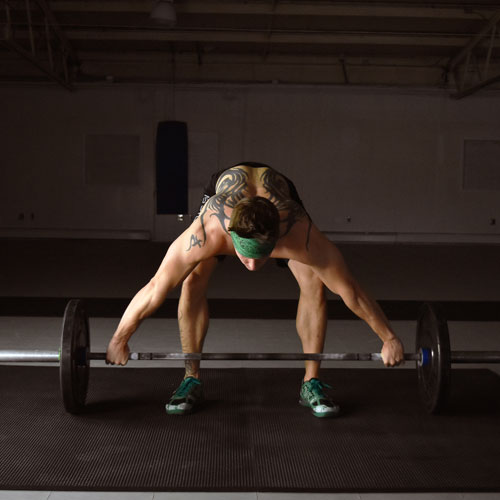 If your focus is weight lifting or exercise machines, rubber is one of the most popular options. Unlike other products such as foam, rubber is tough enough to protect the floor underneath from heavy equipment like treadmills and weight racks, and from dropping weights. Rubber won't be compressed by heavy equipment, or damaged by moving equipment, or lots of impact. Rubber is affordably priced, highly durable and fairly easy to install.
Pros and Cons of Heavy Rubber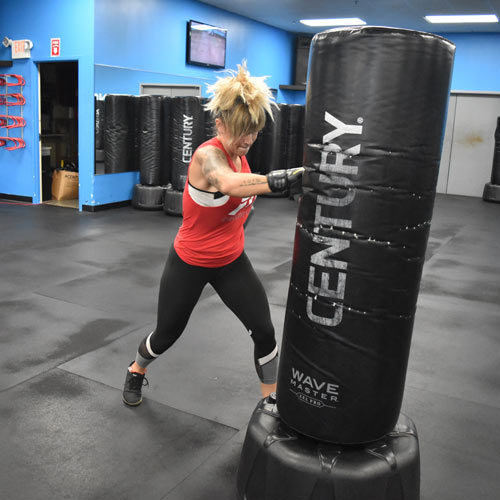 The drawback with rubber installation is the weight. Tiles are lighter weight, but rolled rubber results in fewer seams.
Because rubber is heavy, it tends to stay in place, so adhesive is generally unnecessary except for some double sided carpet tape around the the perimeter of your space. This holds the rubber in place. Be aware that rolls of rubber are heavy, and will require at least 2 people to move.
Rubber will expand and contract due to temperature. A more permanent option is using adhesive, but this is more complex and best done by an experienced installer.
Effects on Sound
Another benefit is that rubber will deaden sound, whether from a noisy elliptical machine or dropping weights. Rubber is a common underlayment material for just that reason.
Cleaning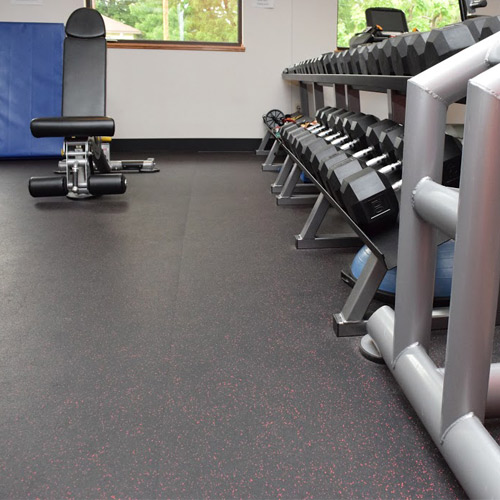 Water resistant, rubber is also easy to clean, with regular vacuuming and a damp mop - especially with smooth surfaced rubber products. With proper care, rubber will perform effectively for decades.
Rolls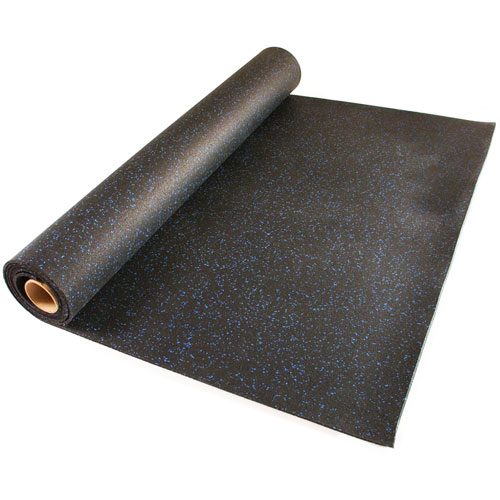 For the least expensive option, go with a rolled rubber floor. Rolls come primarily in 4 foot widths, with lengths from 10 to 200 feet. 8 mm thick rolls are available, along with 1/4-, 3/8-, and 1/2-inch thicknesses. Some rolled rubber come in multiple layers, including a base or underlayment layer. For others, you may want to purchase an additional underlayment. Using rolled rubber will result in fewer seams, giving your space a custom look, and can be laid over concrete, ceramic tile, or other smooth hard surfaces. Rubber flooring, including rolled rubber, can be made from virgin, synthetic or recycled rubber materials, or combinations thereof.
Specialty online flooring retailer, Greatmats.com, offers rolled rubber from several factories across the nation. This gives you the option of choosing the factory closest to you, reducing shipping costs, and saving you money.
Rolled rubber comes in Solid Black or a multitude of flecked options in over a dozen colors. With some product lines, you can choose the amount of color mixed in - either 10 percent, 25 percent or up to 90 percent color mix. Confetti, which is a black base with a mix of multi colored flecks is another popular choice because it is priced less than other color options which have a color guarantee. Regrind, which has small flecks of tire's white sidewalls interspersed is another option when cost matters more than appearance.
Interlocking Tiles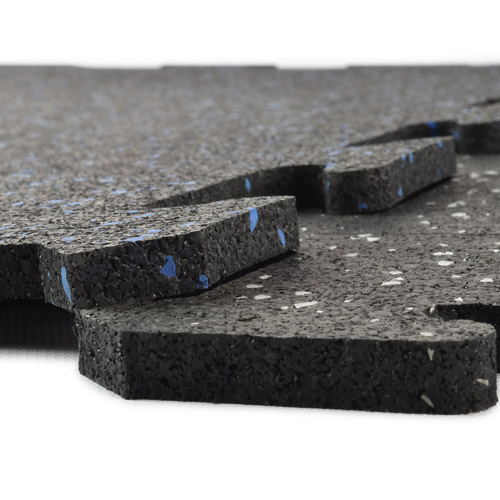 For a lighter weight option, that is easier for one or two people to handle, try a rubber interlocking tile.
When looking at rubber tiles, one American-made option, ideal for Midwest customers is the Geneva Interlocking Rubber tiles. The 2x2 foot size is popular for home gyms and easy for homeowners to install. These tiles are available in several thicknesses, with 8mm being the most popular choice for home gyms, and thicker ones for commercial applications.
Geneva tiles are made from a combination of recycled scrap rubber and virgin rubber, keeping millions of pounds of tires out of landfills. These tiles have low odor, a 5 year manufacturer's warranty and qualify for Leadership in Energy and Environmental Design (LEED) points in five different categories.
A great rubber tile option for East Coast buyers are interlocking puzzle tiles from Eureka. These 23x23-inch tiles are available in several different color flecks, have a non slip surface, and are commercial grade quality.
If black isn't your design choice, West Coast customers may enjoy the options available with Color Plus Rubber tiles offer a choice of nine different colors to give your space a designer look.
Budget Rubber Mats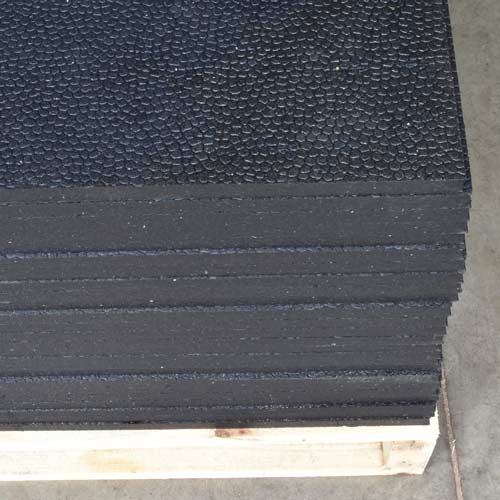 Budget conscious bodybuilders are turning to horse stall mats as a lower cost rubber gym flooring option. They are designed to protect the joints of horse weighing a thousand pounds or more, so they can handle a few dropped weights. In the pro column, these are affordable, and readily available locally, which eliminates shipping costs. Since rubber is heavy, shipping can add a substantial cost to what is otherwise an affordable flooring material.
Some of the cons are that horse stall mats are designed for horses. Horses who aren't too picky about odor. Stall mats can have a strong odor, somewhat akin to rotten eggs or asphalt. Some people have success with washing the mats, or airing them out in sunny locations. Others can't get rid of the smell and end up returning them. Stall mats are also heavy (100 pounds each) and can be cumbersome to move, especially down narrow basement stairs. Mats also vary widely in height - it can be hard to find two mats that are an exact even height, even after digging through a whole stack of mats at the farm supply store. The uneven appearance of seams can also be unattractive. For extra help dispersing the impact weight and protect your floor from things such as deadlift drop backs, some bodybuilders or powerlifters also use plywood underlayments in addition to stall mats.
While rubber is durable, most forms really don't add much, if any, cushion for aerobic activities like Zumba, cardio activities, tumbling, grappling or floor exercises. The one exception is plyometric rolled rubber which can be a good, affordable option, offering enough cushion for a safe cardio workout, whether it is HIIT, P90X, Tae Bo or Zumba. This is highly shock absorbent material is available in 4 foot rolls, starting at lengths of 25 feet. 3/8 inch, 1/2 inch and 8mm are standard thicknesses. While less dense than standard rubber, plyometric rubber still comes with a 5 year guarantee.
If this hasn't helped you chose the option best for your project, the helpful, knowledgeable customer service reps at Greatmats.com can help you narrow down the wide range of rubber flooring products to the one that best suits your individual project and budget.
How to Clean Rubber Floor Mats
Vacuum with a beater brush for routine cleanings.
For more stubborn grime, a nylon mop with warm water and a mild neutral pH cleaner works best.
To reduce the rubber odor, try Pine Sol or Simple Green.
Be sure to mop up all residue.
Do not use petroleum-based cleaners or those containing a wax agent.