What Are The Pros And Cons Of Polyester Carpet?
By Paige Cerulli Created: June, 2022 - Modified: August, 2023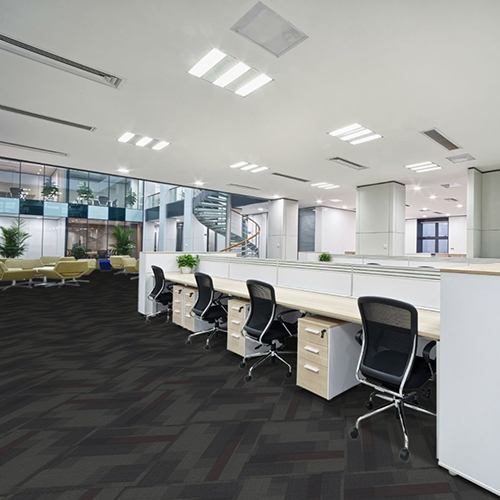 If you're considering buying new carpet for your home or business, you'll find that you have several types of carpet to choose from. Polyester carpet is a popular choice for multiple reasons, and it offers many benefits. However, it's also important to be aware of the downsides of this product.
The Pros of Polyester Carpet
Polyester carpet offers many advantages, but one of its most well-known benefits is its economical price point. Polyester carpet tends to be much more affordable than nylon carpet, so it's a budget-friendly choice suitable for many projects.
You'll also find that polyester carpet tends to have excellent color intensity and vivid colors. The yarn is easy to dye and holds colors well, so this type of carpet is available in many different shades that can add a beautiful touch to a room.
Polyester also has heavier yarns that make it comfortable and soft. It offers a luxurious, quality feel while also being affordably priced.
You will also be choosing an eco-friendly product when you use polyester carpet. Fibers are often made of recycled plastic bottles, and when your carpet reaches the end of its lifespan, it can be recycled, too.
The Cons of Polyester Carpet
Polyester carpet is less durable than nylon carpet, so it's best used in lower-traffic areas in your home, like bedrooms or guest rooms. Polyester can also become stained and matted, so it's important to keep it clean and address spills promptly.
The Best Polyester Carpet Products
Whether you're looking for tiles, mats, or planks, you'll find plenty of polyester flooring products at Greatmats. Polyester carpet might be the perfect solution to your home flooring needs.
LCT Plush Luxury Carpet Tile
The LCT Plush Luxury Carpet Tile offers a plush feel and a designer look that complements many existing color schemes. These carpet tiles are washing machine safe; you can wash them up to three times for easy, thorough cleaning.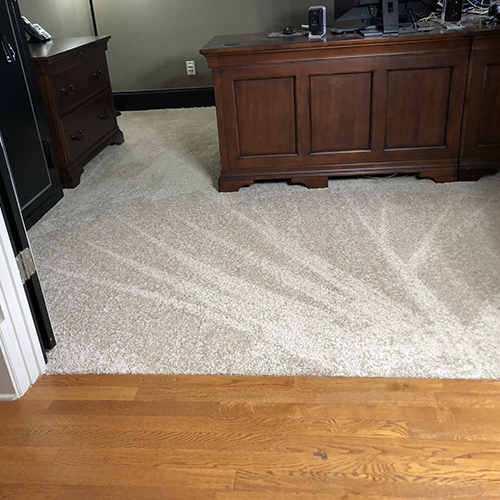 The carpet is hypoallergenic and kid-friendly. The solution-dyed polyester looks great and is backed by a 15-year limited residential manufacturer warranty.
Available in five neutral base colors, the carpet tiles feature multiple shades for an eye-catching pattern that appears random when installed. The tiles are made with 30% recycled materials, so they're an eco-friendly choice.
Waterhog Eco Elite Roll
The Waterhog Eco Elite Roll is a heavy-duty entrance mat that's made entirely from recycled plastic bottles. The scraper door mat features a rubber backing that's made of 20% recycled rubber, so this mat is an environmentally friendly choice.
It's highly durable and versatile. You can use it indoors and outdoors, and it can withstand wet and dry areas.
The rubber reinforced nubs help to support the pile so it doesn't get crushed or compacted down. The polypropylene fibers dry quickly, which helps to prevent rotting and fading.
This mat is ideal for use in commercial buildings, and is certified slip resistant for enhanced safety. Its bi-level helps to pull dirt and moisture from shoes, and its ridged design traps that dirt and moisture so it isn't tracked into your building.
Daily Wire Commercial Carpet Tiles
The Daily Wire Commercial Carpet Tiles are stain-resistant, so they're ideal for use in busy areas, including commercial spaces, offices, reception areas, and more. The solution dyed polyester offis available in many modern color accents, so it fits in well with existing decor.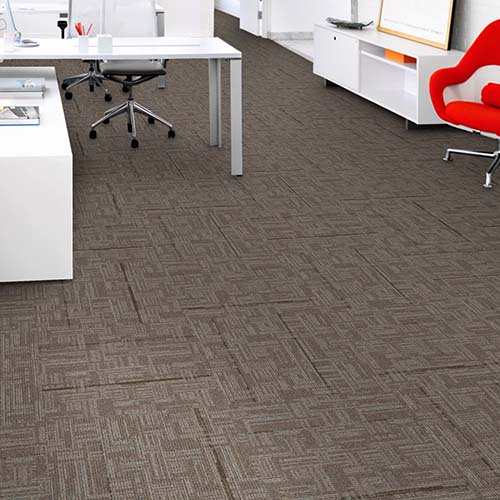 The fibers are made with 91% post-consumer and 1% pre-consumer recycled materials, while the backing is made from 40% pre-consumer recycled material for environmentally friendly benefits. The tiles feature a textured loop design and are backed by a 10-year manufacturer's warranty.
The tiles are designed for a glue-down installation with latex releasable adhesive and support multiple design options.
Apache Rib Mat
The Apache Rib Mat is a high-performance mat made with a heavy duty vinyl backing. The mat features a rib textured surface that aggressively pulls dirt and debris from shoes, keeping your building cleaner.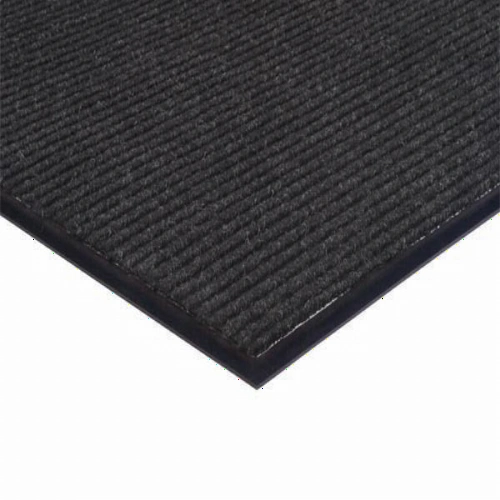 The mat's anti-slip, smooth vinyl backing is ideal for interior commercial use. The mat also provides water-resistance that's ideal in hallways, around water fountains, and in retail areas.
The generously sized mat can be dry laid and is easy to remove for cleaning.
Magnify Commercial Carpet Planks
The Magnify Commercial Carpet Planks are ideal for heavy-traffic areas like classrooms, medical facilities, offices, and commercial spaces. The polyester is stain resistant and highly durable.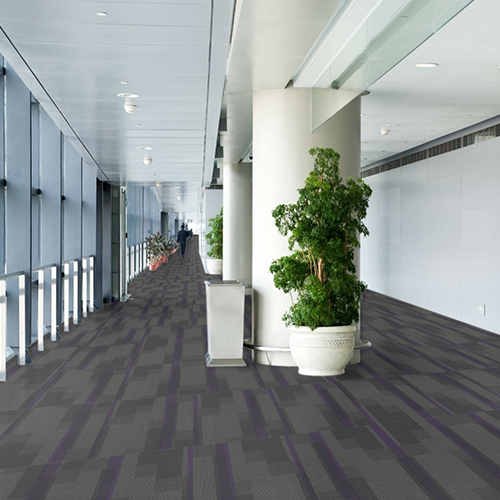 These tiles feature a pattern loop style that makes an attractive addition to a space. The solution dyed polyester features a striped pattern with a streak of color, creating a geometric design, and there are many color options to choose from.
Designed to be installed with a latex releasable adhesive, the tiles can be replaced if they become worn or damaged. They are backed by a limited lifetime manufacturer's commercial warranty.